Whatever flak Airbnb has gotten in recent years, Americans still appear to be plenty happy to book and stay in host homes across the country.
Travelers can find a huge range of rooms or homes to fill their vacation needs, and about 45.6 million people were using the app in 2022 according to Statista estimates.
With that being said, it's pretty easy to find Airbnb horror stories from both guests and hosts alike.
Here are a dozen etiquette rules Airbnb guests and hosts should follow to make traveling and vacationing fun.
Be realistic about chores (Hosts)
Many Airbnb hosts ask their guests to complete some simple chores before checking out, like cleaning up their garbage.
However, more and more guests have taken to social media in the past year to complain about extensive chore lists at Airbnb stays on top of pretty hefty cleaning fees.
Guests have reported hosts asking them to take out the trash, do laundry, and even mow the lawn. If you're hosting, be realistic (and a bit understanding) about what you're asking your guests to do.
Most guests are OK with taking out the trash but may not be into doing all the laundry if they're already paying a $200 cleaning fee.
Respond to guests (Hosts)
Airbnb hosts are required to respond to guest (or potential guest) requests within 24 hours — and many reply much quicker than this.
Hosts can go the extra mile by making sure to be responsive during guest stays as well. If a tenant can't find the extra toilet paper, for example, a quick response will be much appreciated.
Stick to check-in times (Both)
As with hotels, Airbnb guests may be able to negotiate a bit on the listed check-in time. However, travelers should never assume they'll be able to check in early or show up unannounced before the agreed-upon time.
Unlike hotels, which can sometimes put guests in a different room if the one they booked isn't available yet, your Airbnb host likely won't have any extra place to put you.
For hosts, it's important to be responsive as guests are traveling to your home — even if they've opted for a "self check-in" — to ensure they find your space and get in safely.
Obey house rules (Guests)
Airbnb has certain standard rules, like staying out of off-limits areas and abiding by community rules.
However, your host will likely have some additional rules for the property as well, such as a limit on the number of guests who can stay in the home or quiet hours. As a courtesy (and to avoid any issues with your host), it's best to follow both sets of rules.
Report any damage (Guests)
If anything is damaged during a stay, guests should inform their host right away.
Airbnb's policy states that guests and hosts should attempt to work together to find a reasonable solution. That may include guests paying for any item broken, damaged, or needing a deep cleaning after their stay.
As a courtesy, guests should tell their host about the damage rather than let them be surprised when they return to their property. Guests should also expect to be charged either way.
Follow check-out rules (Guests)
Airbnb hosts typically leave check-out instructions for their guests. They may ask you to take the trash out to a bin, separate recyclables, load up the dishwasher, leave a key in a designated lockbox, etc.
These instructions should be followed to the best of your ability. If anything can't be done for any reason, get in touch with the host to let them know.
Keep rented spaces clean (Hosts)
Guests paying to stay in a home or room probably don't want to find full garbage cans and dirty socks strewn across the floor when they show up to their accommodations.
Many Airbnb hosts hire a cleaning service between reservations to make sure the place looks clean enough for their guests.
Hosts who don't want to spare the extra expense should make sure to do a thorough cleaning themselves between stays — or risk getting some less-than-stellar reviews.
Keep bathrooms stocked (Hosts)
Bringing it back to that toilet paper example, it's a good practice for hosts to stock all the items their guests may need in the bathroom.
In addition to toilet paper, it's also helpful to keep several towels on hand (as well as a clear place to hang them after showers), hand soap, and possibly lotion, shampoo, and conditioners.
Wash dirty dishes (Guests)
A good rule of thumb is to avoid doing anything in your Airbnb host's home that you wouldn't do at a friend or acquaintance's home. That includes leaving a big pile of dirty dishes in the sink.
If the home has a dishwasher, you can load your dishes and turn it on before you go as a courtesy. If not, try to wash any dishes you've used before leaving.
Keep in mind that Airbnb hosts rate guests, too, and a heaping pile of stinky dishes is not likely to garner you any favor.
Empty the fridge of your items (Guests)
One of the big benefits of springing for an Airbnb over a hotel is that you can choose a listing with a full kitchen if you so desire and stock the fridge however you see fit.
However, don't assume that an Airbnb host wants your extra beers or leftovers from last night's dinner. They'd probably much prefer a tidy kitchen, so be sure to take those items with you when you leave.
Let hosts know you've left (Guests)
Another courtesy for guests is to let your host know when you've vacated the property.
Even if it's not explicitly listed in the check-out instructions and you've left before your agreed-upon check-out time, it's a nice courtesy to let your host know when you're out. That way they can get started on cleaning up and preparing for their next guest.
Plan for the unexpected (Hosts)
As anyone who owns a home knows, surprise problems just pop up sometimes.
It's a good idea for hosts to have the number of a plumber, electrician, and/or general handyman saved just in case something goes wrong while guests are visiting their home.
As a courtesy to your guests — and to ensure your Airbnb rating doesn't tank — it's smart to be prepared to quickly resolve any problems in the home.
Bottom line
Booking an Airbnb can be a great way to experience a new place and live like a local while you're doing it. But courtesy should be extended by both guests and hosts alike.
New Airbnb users can look for homes with the "Superhost" label on the app. This means that the host is responsive, rarely cancels on guests, and will most likely abide by all of the etiquette rules listed here.
Great travel rewards with no annual fee
Earn 25,000 online bonus points after you make at least $1,000 in purchases in the first 90 days of account opening - that can be a $250 statement credit toward travel purchases
Earn 1.5 points per $1 spent on all purchases
Longer intro APR on qualifying purchases and balance transfers
No foreign transaction fees
Earn unlimited 1.5 points per $1 spent on all purchases, with no annual fee and no foreign transaction fees and your points don't expire.
25,000 online bonus points after you make at least $1,000 in purchases in the first 90 days of account opening - that can be a $250 statement credit toward travel purchases.
Use your card to book your trip how and where you want - you're not limited to specific websites with blackout dates or restrictions.
Redeem points for a statement credit to pay for travel or dining purchases, such as flights, hotel stays, car and vacation rentals, baggage fees, and also at restaurants including takeout.
If you're a Preferred Rewards member, you can earn 25%-75% more points on every purchase. That means instead of earning an unlimited 1.5 points for every $1, you could earn 1.87-2.62 points for every $1 you spend on purchases.
Contactless Cards - The security of a chip card, with the convenience of a tap.
This online only offer may not be available if you leave this page or if you visit a Bank of America financial center. You can take advantage of this offer when you apply now.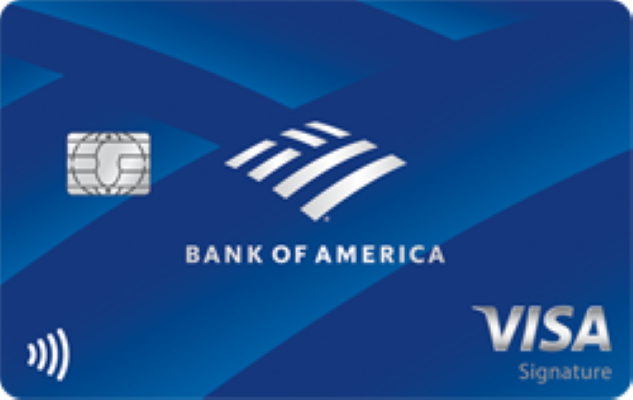 Apply Now

on Bank of America's secure website

Read Card Review
Lucrative welcome offer
Easy-to-earn points you can redeem for travel
$0 annual fee