The coronavirus pandemic was devastating to the travel industry, and especially to the many amusement parks worldwide. From Disney to Universal, park closures led to disappointed guests and furloughed and laid-off employees.
Now, months later, amusement parks are starting to reopen. However, they've adopted new safety and sanitation measures to combat the pandemic and keep their guests and employees safe, which may change how you experience the parks.
17 ways amusement parks will be different when they reopen
Whether you're planning a weekend getaway or a dream vacation, here are 17 things to expect when you visit the amusement parks this summer.
1. Face coverings required
At amusement parks worldwide, including Universal, Disneyland, Walt Disney World, SeaWorld, Six Flags, and Silver Dollar City, face covers are mandatory for guests — and employees, in some cases. Whether you're walking through the park or waiting in line for a ride, expect to wear a mask for the duration of your visit. In the hot summer months, that may be uncomfortable, so make sure you wear light clothing and hydrate to stay cool.
If you have a disability and are unable to wear a mask, contact the park's guest services department. Some parks have alternatives for guests, such as a face shield. However, face shields are not allowed on all attractions, and you may have to switch to a mask for some rides, or the attraction attendant won't allow you to ride.
2. Floor markings in lines
Throughout the parks, you'll see ground markings in ride queues and lines for food to encourage social distancing. Make sure you pay attention to those markings so you can stay at least six feet apart from other guests.
3. Social distancing encouraged
When you're not in line, social distancing is still encouraged. When you're walking through the park or sitting down to eat, make sure to give other guests plenty of space. You may even see arrows on the ground at parks, encouraging guests to walk in a certain direction to help maintain distance. In restaurants, park workers will likely stagger seating and tables to reduce capacity.
4. Temperature checks upon arrival
At most of the major amusement parks, staff will administer temperature checks to guests upon arrival. If your temperature is 100.4 degrees or higher, you and the other members of your group will not be allowed to enter the park, and you'll be encouraged to see a doctor. If there's any chance you or someone in your party is ill or has been exposed to COVID-19, don't risk going to the parks.
5. Hand sanitizer requirements
Before you board the rides, you'll probably have to use hand sanitizer. The parks will likely provide sanitizer to guests so you don't have to worry about bringing your own, but you should be prepared for this extra step.
6. Virtual lines
Some parks are offering virtual lines to minimize lengthy line queues and close spaces. You can use your phone to pre-select a ride time once you're on the park property and skip the line. Some popular rides will be booked quickly, so if you have a favorite ride, make sure you book it as soon as you enter the park.
7. Mobile food and drink apps
To avoid crowds at restaurants and food kiosks, some parks may also encourage mobile food and drink orders. If you download the park app before you arrive, you may be able to order food and drinks and even pay for your order ahead of time. Once it's ready, you can just show up and pick up your order without having to wait in a long line.
8. No extra services
Some amusement parks, like Universal, have kennels for guests who want to board their pets for the day. Because of the coronavirus pandemic, additional sanitation procedures have been put into place, and services like the kennels have been temporarily closed. If you have your pet with you for your vacation, you'll have to make other arrangements, such as hiring a dog-sitter or finding another boarding facility off-property.
9. Staggered parking
In the parking lots, attendants will direct guests to stagger parking and park their cars in every other spot, putting space between cars. This approach is to encourage social distancing measures and to avoid unnecessary contact between guests.
10. Limited park capacity
Many of the parks will be opening at less than 50% capacity. Some may even impose stricter restrictions, including Shanghai Disney which opened at one-third of normal capacity. To keep crowds low, some will start by opening only to season or annual passholders before opening to the general public.
When the park is open to the general public, plan on getting there close to the park's opening time to ensure you're allowed in. Otherwise, the park might reach capacity for the day, and you may not get in.
11. No live events
Until further notice, live events like parades and fireworks are canceled. If you have Fantasmic or the Happily Ever Fireworks show on your Disney bucket list, you may want to postpone your vacation.
12. Touch-free bag checks
Although security will still perform security checks, most parks might eliminate the manual bag checks they usually do. Instead, they may have guests walk through touchless metal detectors. That may mean a speedier security process, as you won't have to empty your pockets or wait for security to inspect your bag.
13. No character meet-and-greets
Unfortunately for kids and the young at heart, you won't be able to meet your favorite princesses or superheroes for a while. Character meet-and-greets are temporarily halted as part of the safety measures. As these meet-and-greets tend to draw heavy crowds, they're canceled for the time being.
14. No buffet-style restaurants
Buffet and self-serve restaurants will be converted to cafeteria-style or sit-down style restaurants at most theme parks to minimize contact between guests. Servers will be wearing gloves and masks and follow strict cleaning and sanitation measures.
15. Increased sanitation measures
The parks will be instituting increased sanitation measures across the board. That will mean you'll likely see longer periods of time between shows, as it will take more time for staff to clean the theaters between showings. There may also be altered line queues. For example, the rides that have interactive queues — like Disney's Haunted Mansion or The Many Adventures of Winnie the Pooh — may have simplified queues to discourage unnecessary contact.
16. Decreased ride capacity
Although decreased park capacities will make the parks easier to navigate and reduce crowds, that doesn't mean you should expect shorter wait times. The rides will also have decreased capacity, with fewer people seated per row, so you may still experience long waits for your favorite rides.
17. Photographers cannot use guests' phones
One of the perks at parks like Disney World is that staff photographers will use guests' phones to take pictures. But with the COVID-19 pandemic, that practice is no longer considered safe or hygienic. Instead, photographers will use their own cameras and encourage you to use the park photo pass program to purchase and download photos.
The final word on theme park reopenings
Travel after coronavirus will likely be a very different experience, but it can still be an enjoyable one as long as you follow proper safety precautions.
If you're planning a theme park vacation, the right credit cards can help offset the cost of your next adventure. With the Citi Double Cash card, you'll earn valuable cash back that you can add to your Disney trip savings. Whether you want to use the money to pay for souvenirs or park tickets, this card is a great option to help sock away some extra cash.
If you'd rather find one of the best travel credit cards, consider the Chase Sapphire Preferred card. This card comes with a generous welcome offer and high-value rewards in popular spending categories. With the Chase Sapphire Preferred, you earn Chase Ultimate Rewards points, which can be redeemed for airfare, hotel stays, rental cars, and more. If you earn enough points, it could go a long way toward paying for your next vacation.

Easy-to-Earn Unlimited Rewards
Earn 25,000 online bonus points after you make at least $1,000 in purchases in the first 90 days of account opening - that can be a $250 statement credit toward travel purchases
Earn 1.5 points per $1 spent on all purchases
Longer intro APR on qualifying purchases and balance transfers
No foreign transaction fees
Earn unlimited 1.5 points per $1 spent on all purchases, with no annual fee and no foreign transaction fees and your points don't expire.
25,000 online bonus points after you make at least $1,000 in purchases in the first 90 days of account opening - that can be a $250 statement credit toward travel purchases.
Use your card to book your trip how and where you want - you're not limited to specific websites with blackout dates or restrictions.
Redeem points for a statement credit to pay for travel or dining purchases, such as flights, hotel stays, car and vacation rentals, baggage fees, and also at restaurants including takeout.
0% Introductory APR for 18 billing cycles for purchases, and for any balance transfers made in the first 60 days. After the intro APR offer ends, 17.74% - 27.74% Variable APR will apply. A 3% fee applies to all balance transfers.
If you're a Preferred Rewards member, you can earn 25%-75% more points on every purchase. That means instead of earning an unlimited 1.5 points for every $1, you could earn 1.87-2.62 points for every $1 you spend on purchases.
Contactless Cards - The security of a chip card, with the convenience of a tap.
This online only offer may not be available if you leave this page or if you visit a Bank of America financial center. You can take advantage of this offer when you apply now.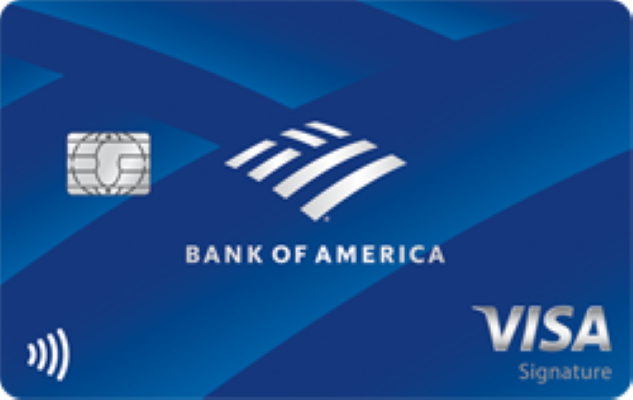 Apply Now
on Bank of America's secure website
Read Card Review
Intro Offer
Earn 25,000 online bonus points after you make at least $1,000 in purchases in the first 90 days of account opening - that can be a $250 statement credit toward travel purchases