Many people are gearing up to go on vacation — some for the first time since the COVID-19 pandemic. The travel industry, particularly the airline sector, is starting to see more travelers again. If you're planning on flying soon, it might be good to refresh yourself on the costs for certain items on your flights.
You might think it's simply a matter of size — and to some degree it is — but airlines have outlined some specific items that will incur added fees. If you're planning to travel with antlers, hang gliders, scuba tanks, or other items that typically don't fit into a suitcase, here is a guide to consider, with details on what will cost you more to bring on a flight.
Instruments
Are you in a band? Did you pick up an instrument during the pandemic and now carry it with you? Be warned that some airlines have specific fees tied to music equipment. Depending on the airline, it might just fall under oversized luggage. And remember, for your instrument's sake and due to the rules, it must be in a case.
American Airlines has instruments listed on the standard checked bagged rule, with added costs if it is too big or too heavy. United has a $25 gate handling fee for anyone traveling on a basic economy ticket.
Antlers
Apparently antlers are a common enough checked item that some airlines have special rules for them. Beyond packing rules requiring the antlers to be fully wrapped with pointed tips covered up, there is a flat $150 fee associated with them with both United and American Airlines.
Frontier Airlines is slightly cheaper, with only $100 per rack of antlers. That's still a steep price when you're trying to manage your money.
Bicycles
Bikes are regularly transported on planes, but rules and fees vary depending on the size. As part of its general rule for specialized sporting goods, Southwest Airlines has a $75 each way fee for bicycles. They must be 51-100 pounds and in a case.
Dutch airline KLM, Delta, and JetBlue also charge fees.
Scuba gear
Heading to the ocean for a spring or summer getaway? Planning to scuba dive? If you're prepared enough that you have your own scuba gear, there might be a cost. If you have an oxygen tank with you, American Airlines charges an added $150, while gear without the tank does not have an extra fee.
The airline will count a tank and an equipment bag as one additional checked item. United also has a $150 or charge for a tank, while dive bags weighing more than 50 pounds will incur more fees.
Windsurfing gear
Windsurfing practitioners can take their gear with them, with a possible added charge. JetBlue has its regular checked baggage costs, but an added $100 flat fee per item. Meanwhile, United will charge extra only if it exceeds size and weight rules.
Pro tip: Traveling far for that ocean vacation? Be on the lookout when booking for airline fuel surcharges as well, particularly while gas prices are so high in light of inflation. The best travel credit cards might score you worthwhile rewards though.
Hang gliders
Apparently people have traveled enough with their own hang gliding kits that American Airlines instituted an extra fee just for that. It's $150 to bring your gliding gear with you, as long as it's broken down and packed away for storage. United and Frontier also charge, but only if the stored hang gliding gear hits a weight or size threshold.
Javelins
For any track and field fans, you can take your javelin with you. Southwest has its $75 each way fee. Since it is a javelin — a pointed, thrown sporting item based on a weapon of war — it must be safely stored in a bag, not in one's hands.
Pro tip: Not sure what deals you can get for flying? Look at this list of the best airline credit cards and rewards you could potentially get.
Dry ice
If you find yourself needing to travel with dry ice to keep frozen items from melting, there is often a fee. Most airlines, including United and Southwest, allow dry ice both as a checked and carry-on bag, as long as it is stored safely and doesn't exceed 5.5 pounds. You can take your dry ice with you for $150.
Media gear
Are you a member of the media, for a film production company or a TV news network? If you have the right credentials and documentation on hand, you can check each overweight or oversized piece for a flat fee, which depends on the airline ($75 for Frontier, $50 for Delta, for instance).
Live animals
Pets incur extra costs when flying (though they don't get their own seat). Frontier Airlines, for instance, charges an extra $99 to take a live animal with you as a carry-on. Your animal needs to be in a kennel with room to move, and that in turn needs to be able to be stowed under a seat.
Bottom line
In general, airlines have extra fees for overweight or oversized luggage. There are some variances in what that is, but each airline lists the approved dimensions and weights for what can be checked or carried on a plane.
JetBlue, for instance, charges $150 for bags that are 51-99 pounds. Consider splitting the load across smaller bags instead of that super sized suitcase, and take advantage of rules regarding carry-on luggage. In some cases airlines charge for the second or third checked bag, but that fee can be smaller than the cost of checking overweight luggage.
If you're flying somewhere soon, be sure to read up on what added fees your airline may have for what you're bringing with you. For things like antlers, hang gliders, and scuba tanks, you'll likely be paying extra.

Easy-to-Earn Unlimited Rewards
Earn 25,000 online bonus points after you make at least $1,000 in purchases in the first 90 days of account opening - that can be a $250 statement credit toward travel purchases
Earn 1.5 points per $1 spent on all purchases
Longer intro APR on qualifying purchases and balance transfers
No foreign transaction fees
Earn unlimited 1.5 points per $1 spent on all purchases, with no annual fee and no foreign transaction fees and your points don't expire.
25,000 online bonus points after you make at least $1,000 in purchases in the first 90 days of account opening - that can be a $250 statement credit toward travel purchases.
Use your card to book your trip how and where you want - you're not limited to specific websites with blackout dates or restrictions.
Redeem points for a statement credit to pay for travel or dining purchases, such as flights, hotel stays, car and vacation rentals, baggage fees, and also at restaurants including takeout.
0% Introductory APR for 18 billing cycles for purchases, and for any balance transfers made in the first 60 days. After the intro APR offer ends, 17.99% - 27.99% Variable APR will apply. A 3% fee applies to all balance transfers.
If you're a Preferred Rewards member, you can earn 25%-75% more points on every purchase. That means instead of earning an unlimited 1.5 points for every $1, you could earn 1.87-2.62 points for every $1 you spend on purchases.
Contactless Cards - The security of a chip card, with the convenience of a tap.
This online only offer may not be available if you leave this page or if you visit a Bank of America financial center. You can take advantage of this offer when you apply now.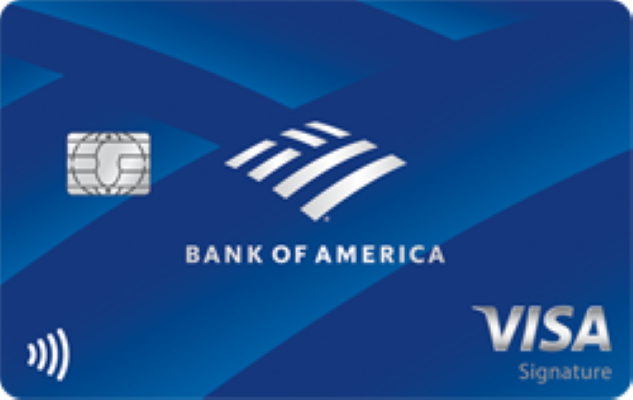 Apply Now
on Bank of America's secure website
Read Card Review
Intro Offer
Earn 25,000 online bonus points after you make at least $1,000 in purchases in the first 90 days of account opening - that can be a $250 statement credit toward travel purchases