If you frequently travel, especially to international destinations, you know how difficult it might be to avoid looking like a tourist. In general, it's likely impossible for travelers to fully blend in with the locals, but that doesn't mean you can't take steps to not fully stand out. Here are 10 ways to avoid being an obnoxious tourist when traveling, especially tourist scams that can suck up your hard-earned money.
Don't wear souvenir apparel
You know that "J'aime Paris" shirt you just bought at a corner store? Maybe you should wait to wear it until you get home. Even if Parisians really do love Paris, they're not likely to wear the type of clothing or anything similar that screams, "tourist!"
This doesn't mean you should avoid wearing any clothing you buy on a trip. In some cases, it might help you blend in more if you wear a particular style that's popular in the area. But for souvenir-type apparel, it may be best to hold off.
Don't carry loads of cash
Is there anything more touristy than reaching into a fanny pack or hidden billfold to retrieve wads of cash? This is especially true if you're about to buy some souvenirs and aren't quite sure how much cash you actually have since it's likely a foreign currency.
Be sure to learn the currency exchange rates and consider using credit cards for the majority of your foreign purchases. Cards with no foreign transaction fees provide an easy way to make purchases worldwide without incurring additional fees, and it's likely safer than having a bunch of cash.
Leave your selfie stick at home
The world's first handheld telescopic monopod or tripod, also known as a selfie stick, was invented in 2004. It's a simple, yet ingenious invention — and you should probably leave it at home on your next trip.
Similar to wearing any sort of souvenir apparel, selfie sticks are nearly synonymous with labeling a person as a tourist. After all, what local would be running around town taking photos of themselves in front of every major landmark?
Avoid photographing locals
Unless you have clear permission to take photos of locals from the locals themselves, it's likely not in good taste to snap photos of them as if they're a tourist attraction. Some people might not care, and some people might encourage you to take their photos. Just make sure that's the case by communicating with them beforehand.
Otherwise, it's a bit of an invasion of privacy and could also come off as insensitive. These are people who work and live, same as anyone else, so remember to be respectful.
Research local customs
One of many international travel tips for anyone traveling abroad is to research the place you're traveling to. Apart from researching the places you want to see and visit, immerse yourself in the culture a bit and learn about local customs and traditions.
This type of research could help you avoid any potential misunderstandings or mishaps, as well as help you to be more comfortable with certain practices. For example, if you didn't know it's natural in certain countries to greet others using physical touch, you could be caught off guard.
Dress appropriately
Part of researching local customs could include learning about how locals dress and how you might want to dress. This could be particularly important in certain areas, such as places of worship or sacred grounds.
You might be used to following specific laws in your own country, but rules aren't always the same in other parts of the world. Pay attention to any signs posted around popular attractions that might indicate what type of clothing is appropriate for the area. It could also help to research message boards and review sites to see what other travelers have said.
Learn the language
You don't have to be fluent in a language to not look like an oblivious tourist. Knowing a few words and key phrases could go a long way in helping you orient yourself, as well as build goodwill with the locals.
As a visitor to a foreign country, it could be considered your responsibility to learn some of the language of the country. It might be embarrassing or you could feel scared to try something new, but the effort is often noted and appreciated.
Skip the tourist traps
Many worldwide attractions are popular for one reason or another, and they're likely worth seeing at least once. But that doesn't mean you have to hang out in all the restaurants and souvenir shops around those attractions. This is where a large majority of tourists are going to be and it would make sense for tourist scams to be happening here, too.
If you've done your research on the area and feel comfortable and safe, consider exploring a bit away from the areas of heavy tourist traffic. It could end up being the highlight of your trip and give you more insight into the lay of the land.
Watch what you say
If you speak English, know that many other people do as well. But even if other people don't speak English or your native language, there's no point in saying anything negative or disrespectful if it's not warranted. If you don't care for a certain dish or drink, it's not a big deal and the whole world doesn't need to hear about it.
At the same time, you might also want to consider your surroundings when speaking in general. In some places, people might simply speak at a lower volume than you're used to. If that's the case, it could make sense to mimic that volume.
Be open and curious
Not everyone gets to travel or travel often. For many people, it's a pleasure and something to be cherished. If you're able to travel to other places and countries, soak it all in. Be open to new experiences and curious about things that are new to you.
This is a way to help ditch the mindset of the everyday tourist, which will show in your interactions with both locals and other travelers.
Pro tip: Use the best travel credit cards to help save money and enhance your travel experiences.
Bottom line
It might not matter to some travelers, but it's likely a good idea to avoid looking like an obnoxious tourist when traveling. It's often a privilege to be able to visit different countries and destinations, and to freely mingle with the people who live there.
Before heading off on your next adventure, consider these and other ways you might be able to avoid actions associated with tourists. Apart from potentially helping you avoid tourist scams that can eat into your hard-earned money, taking certain steps could also help improve the experiences of others you come into contact with.
Easy-to-Earn Unlimited Rewards
Earn 25,000 online bonus points after you make at least $1,000 in purchases in the first 90 days of account opening - that can be a $250 statement credit toward travel purchases
Earn 1.5 points per $1 spent on all purchases
Longer intro APR on qualifying purchases and balance transfers
No foreign transaction fees
Earn unlimited 1.5 points per $1 spent on all purchases, with no annual fee and no foreign transaction fees and your points don't expire.
25,000 online bonus points after you make at least $1,000 in purchases in the first 90 days of account opening - that can be a $250 statement credit toward travel purchases.
Use your card to book your trip how and where you want - you're not limited to specific websites with blackout dates or restrictions.
Redeem points for a statement credit to pay for travel or dining purchases, such as flights, hotel stays, car and vacation rentals, baggage fees, and also at restaurants including takeout.
0% Introductory APR for 18 billing cycles for purchases, and for any balance transfers made in the first 60 days. After the intro APR offer ends, 17.99% - 27.99% Variable APR will apply. A 3% fee applies to all balance transfers.
If you're a Preferred Rewards member, you can earn 25%-75% more points on every purchase. That means instead of earning an unlimited 1.5 points for every $1, you could earn 1.87-2.62 points for every $1 you spend on purchases.
Contactless Cards - The security of a chip card, with the convenience of a tap.
This online only offer may not be available if you leave this page or if you visit a Bank of America financial center. You can take advantage of this offer when you apply now.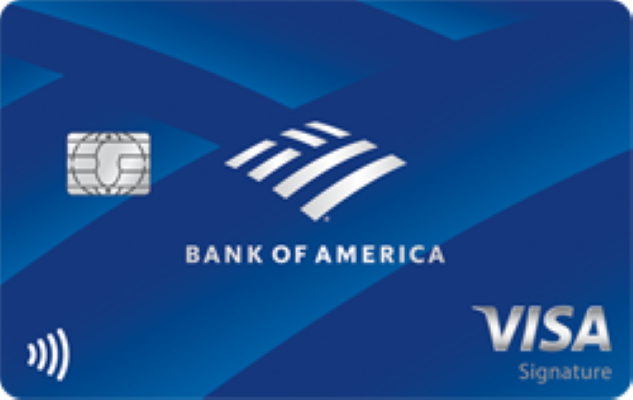 Apply Now
on Bank of America's secure website
Read Card Review
Intro Offer
Earn 25,000 online bonus points after you make at least $1,000 in purchases in the first 90 days of account opening - that can be a $250 statement credit toward travel purchases