Many people travel to explore other cultures and experience new places. In a study completed by Collage Group, Gen Z says they are interested in travel, and their desire to do so is about 15% higher than those of Gen X or the baby boom generation.
That said, if you are longing to see the world and have found ways to make extra money to travel, you may not want to fight the colossal crowds that Gen Z brings to the picture.
These are the 15 best destinations to avoid Gen Z while traveling.
Gen Z: London, England You: Bath, England
London is the top destination for Gen Z, according to some surveys. During the summer months, the capital of England may not be as enjoyable as a trip to Bath, England. 
Bath, located in Somerset, has exceptional castles and Roman-built baths. It's noted for its thermal spas, neoclassical Palladian buildings, and exceptional cuisine. This is a World Heritage Site worthy of your time.
Gen Z: Barcelona You: Seville
Barcelona is certainly worth a trip, especially in the off season when it's not so crowded with Gen Z. However, if you want to travel now, head to Seville, a southern town with beautiful historic churches, including the Cathedral of Saint Mary of the See. 
Watch a Flamenco show, a popular type of dancing the city is noted for, and enjoy the tapas restaurants throughout the city for fabulous, authentic Spanish cuisine.
Gen Z: Dubai, UAE, You: Abu Dhabi, UAE
Instead of visiting Dubai with its over-the-top attractions and impressive luxury lifestyle, try Abu Dhabi instead. It's a cosmopolitan city noted for beautiful architecture, brilliant blue water, and some pretty lavish restaurants. 
Visit the mosques and the artisans, or take in the beauty of Masdar City, which is considered the first carbon-free city in the world.
Gen Z: Paris You: Bordeaux
Paris is a romantic, quintessential city noted for all of its history, culture, and food. But if you want to avoid crowds, head to Bordeaux, one of the wine centers of France. 
You'll find dozens of wineries to visit, and your tasting will probably be in a gorgeous chateau. It's lacking in big-city amenities like tall skyscrapers but replaces that with fabulous cuisine and a clean, welcoming atmosphere.
Gen Z: Amsterdam You: Haarlem
Haarlem isn't far from Amsterdam, and it's where to go to see the tulip fields. This medieval city has much to love on its own including various culinary destinations, shops, and waterways to explore. 
The city is home to Teylers Museum, one of the oldest in the country and noted for beautiful art and natural history exhibits.
Gen Z: Prague, Czech Republic You: Český Krumlov
Prague is one of the most popular destinations for young people, and the crowds can be overwhelming. Český Krumlov in South Bohemia offers Gothic, Baroque, and Renaissance architecture along the Vltava River. 
The castle complex includes a Baroque theater that is still used for performances. Museums in the city house marionettes, wax figures, motorcycles, and the work of the painter Egon Schiele, who lived here.
Gen Z: Berlin You: Munich
If traveling to Munich sounds like a fabulous experience, you would be right. Far less crowded than Berlin, it's a city noted for its art and its beer, both of which you'll find in good supply. 
There's ample history here, including palaces like Schloss Nymphenburg and Residenzmuseum.
Gen Z: Rome You: Florence
Rome is unique because of its religious and historical elements, but choosing a different Italian city could help you skip the Gen Zers, and Florence is a perfect choice. 
Noted for its cafes and pizzerias, Florence is full of fun activities, including jazz clubs with dancing, the Medici Villas, and numerous museums. A climb to the top of the Duomo rewards you with an amazing vista.
Gen Z: Milan, Italy You: Amalfi Coast, Italy
You'll spend some money traveling to either of these cities, but the Amalfi Coast is exquisite and noted for the stunning views from this cliff-side community.
Rent a yacht to spend the day on the water, go scuba diving, spend time eating all of the authentic cuisine, and shop the boutiques to find true Italian treasures, from art to clothing and perfume.
Gen Z: Thailand You: Malaysia
Both of these countries have a vibrant culture to share, but Malaysia is off the radar of Gen Zers. It's home to numerous sandy beaches, a dense jungle to explore, and lots of boating opportunities. 
Explore the Tempurung Cave or see the wildlife at D'Bilut Agro Farm. Don't overlook the unique dishes and drinks here, too.
Gen Z: Montreal, Canada You: Newfoundland, Canada
The province of Newfoundland isn't as populated and crowded as Montreal, but it offers lots of beautiful landscapes and stunning walking trails. You'll also find you can go whale watching, kayak in the clear lakes, and bike through the mountains here.
St. John's, the largest city, is dotted with candy-colored houses and has a vibrant art and music scene. A day trip to Cape Spear will take you to the most eastern point in North America.
Gen Z: Maui, Hawaii You: Molokai, Hawaii
The popular tropical destination of Hawaii is still high on the list for many travelers, and spending some time here is sure to mean dealing with crowds if you head to Maui.
Instead, plan your visit to Molokai, which is just as beautiful and maybe even more so because of its serenity. The beaches are fantastic, and you can snorkel, enjoy amazing food, and avoid the big cruise ships that often ruin the view elsewhere.
Gen Z: Aruba You: St. Croix
Let's say you want to find the best travel credit card to maximize your savings potential for a trip to the Caribbean. Even if you want all of the lavish features, skip Aruba, where the Gen Z crowds are lurking.
Instead, head to St. Croix. Even the busiest of times of the year are not nearly as crowded. You may be able to choose a beachfront condo and get your feet in the sand each morning to watch the sunrise.
Gen Z: Santorini, Greece You: Kefalonia, Greece
The weather, bright blue water, and stunning architecture are quite similar in the city of Kefalonia, Greece, compared to the more popular destination of Santorini. Yet Kefalonia attracts a fraction of the crowds.
The island is noted for the beaches on the Ionian Sea, where you can sail, swim, and enjoy just about any watersport. The restaurants are charming, and there are lots of shopping opportunities here, too.
Gen Z: Edinburgh, Scotland You: Aberdeen, Scotland
Edinburgh is a busy, modern city that's made its way onto the radar of many Gen Zers. You can avoid the crowds in Aberdeen on the North Sea in the Scottish Highlands. St. Andrews Cathedral is a central point in the city and many attractions are within a short walk.
Learn the history of this seaside city at the Aberdeen Maritime Museum and its culture at the Aberdeen Art Gallery (which is free). As you wander the town, you're on the Aberdeen Sculpture Trail, which features public art from classical statues to modern sculptures.
Gen Z: Tokyo You: Kyoto
Kyoto is the cultural center of Japan and is full of incredible art, beautiful historic buildings, and fascinating museums. 
Visit the Sento Palace, an imperial palace noted for its gardens, or the Nijo Castle, another historic treasure. A visit to the Nishiki Market is a must for foodies. 
From the outdoors to the temples, Kyoto is an educational, invigorating location.
Bottom line
You can travel and avoid the Gen Z crowd, but you have to be a bit more creative in choosing where you go and what you do. 
If you want to spend your tax refund on travel and stay closer to home, check out the options in Alaska or Maine or head to Nashville or Florida while Gen Z vacations at the more crowded travel destinations.
Easy-to-Earn Unlimited Rewards
Earn 25,000 online bonus points after you make at least $1,000 in purchases in the first 90 days of account opening - that can be a $250 statement credit toward travel purchases
Earn 1.5 points per $1 spent on all purchases
Longer intro APR on qualifying purchases and balance transfers
No foreign transaction fees
Earn unlimited 1.5 points per $1 spent on all purchases, with no annual fee and no foreign transaction fees and your points don't expire.
25,000 online bonus points after you make at least $1,000 in purchases in the first 90 days of account opening - that can be a $250 statement credit toward travel purchases.
Use your card to book your trip how and where you want - you're not limited to specific websites with blackout dates or restrictions.
Redeem points for a statement credit to pay for travel or dining purchases, such as flights, hotel stays, car and vacation rentals, baggage fees, and also at restaurants including takeout.
0% Introductory APR for 18 billing cycles for purchases, and for any balance transfers made in the first 60 days. After the intro APR offer ends, 17.99% - 27.99% Variable APR will apply. A 3% fee applies to all balance transfers.
If you're a Preferred Rewards member, you can earn 25%-75% more points on every purchase. That means instead of earning an unlimited 1.5 points for every $1, you could earn 1.87-2.62 points for every $1 you spend on purchases.
Contactless Cards - The security of a chip card, with the convenience of a tap.
This online only offer may not be available if you leave this page or if you visit a Bank of America financial center. You can take advantage of this offer when you apply now.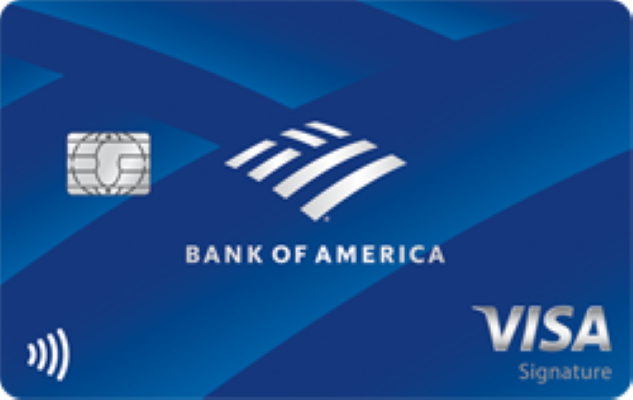 Apply Now
on Bank of America's secure website
Read Card Review
Intro Offer
Earn 25,000 online bonus points after you make at least $1,000 in purchases in the first 90 days of account opening - that can be a $250 statement credit toward travel purchases