Flying is a standard part of American life. As many as 88% of Americans have flown commercially at least once.
You might assume that everyone has good flight etiquette, but that's not always the case. Everyone can engage in proper conduct by following these simple rules.
Taking your shoes off on the airplane
You know that kind of traveler who rests their feet in the aisle of the plane. We have to take our shoes off at security, but that's why socks were invented. Otherwise, it's unsanitary for you.
Also, no one needs to see your feet. So keep those tucked away in your shoes where they belong.
Talking loudly on the phone
We've all been in situations where we've been bothered by someone talking loudly on the phone. It gets irritating to anyone who's near them.
Be aware of your volume while speaking on the phone, whether in the airport or on the plane. Doing this lets you avoid situations where people may be angry with you.
Not showering before the flight
Personal hygiene can be hard some days, but it is crucial to take care of it before you travel. Everyone is on an airplane together, and the air is recirculated. Not showering before a flight will inconvenience your fellow travelers.
Also, make sure you wear deodorant. No one wants to smell bad on a flight, and no one wants to be able to smell you on a flight.
Joining the Mile High Club
Everyone seems to want to be a part of The Mile High. But take a moment and think to yourself, is this considerate to the flight attendants and other flyers?
The airline attendants can open the lavatories from the outside, and are required to do safety checks in the bathrooms every 20 to 30 minutes to ensure that there are no fire risks.
This means that you can be caught in a very uncomfortable position. So please do us all a favor, and don't try to join the Mile High Club next time you fly.
Pretending that your dog is a service dog
Service dogs are welcome on airlines. For your dog to become a service dog, however, you must have a disability that's defined by the Americans with Disabilities Act (ADA).
Additionally, your dog needs to be able to act appropriately in intense situations and perform at least one task that mitigates your disability.
It's a crime to impersonate a service dog because you could endanger actual service dogs and other people surrounding you. Plus, it's just bad form.
As much as we love Fido, either fly him as a pet or keep him home.
Approaching service dogs on flights
Service dogs are working dogs, and it's incredibly rude to come up and try to touch them or distract them.
Service dogs are medical assistants for their owners. Distracting a service dog can cause the dog to miss a critical alert or a task, and cause issues with the handler's safety. Just don't try to approach them and let them do their job.
On a similar note, don't come up to the handler and talk about their dog. Like you, they're just trying to get from one place to another. It can be exhausting to field questions about their dog, what it does, or how they got it.
Not using headphones
We all get that you'd like to watch or listen to something while on a flight. It keeps you occupied and distracted while on the flight.
However, not using headphones or earbuds while listening to things/watching things disrupts other fliers.
When you don't use earbuds or headphones, the people surrounding you also have to listen to what you're watching or listening to. It's just not a considerate thing to do on a flight.
Clapping when the plane lands
We get it, you're not trying to be rude, and you want to congratulate the flight crew for a good flight and a safe landing.
However, what you considered a good landing could have felt very different to the pilots. Your applause could come across as sarcastic rather than sincere.
So do the pilots and crew a favor, and don't clap.
Rushing to get get off the plane
You may want to get off the plane after a long flight, and you don't care how you have to do it. That train of thought is very understandable.
However, it's not good practice to follow through on these thoughts. Everyone else wants to get off the plane too.
It's understandable to be antsy about it, but pushing and shoving people to get off of the plane is just plain rude.
Mistreating airline attendants
Airline attendants are just trying to do their job and ensure no incidents happen on the plane. That means they may not always say what you want them to say. They will enforce the seatbelt rule, even if it irritates you.
Not hearing or getting what you want is not an excuse to be rude to them. They're doing what they can to keep you safe.
You may not like what they do, but they're people too. Think about how what you say or do will affect them before you do it.
Bottom line
Flying commercially can be an amazing experience if you and your fellow passenger follow proper guidelines and are conscious of other peoples' experiences.
For example, whether you avoid pushing and shoving to get off the plane or stay seated until the fasten seatbelt signs turn off, you can make a difference in the entire vibe of the flight.
Easy-to-Earn Unlimited Rewards
Earn 25,000 online bonus points after you make at least $1,000 in purchases in the first 90 days of account opening - that can be a $250 statement credit toward travel purchases
Earn 1.5 points per $1 spent on all purchases
Longer intro APR on qualifying purchases and balance transfers
No foreign transaction fees
Earn unlimited 1.5 points per $1 spent on all purchases, with no annual fee and no foreign transaction fees and your points don't expire.
25,000 online bonus points after you make at least $1,000 in purchases in the first 90 days of account opening - that can be a $250 statement credit toward travel purchases.
Use your card to book your trip how and where you want - you're not limited to specific websites with blackout dates or restrictions.
Redeem points for a statement credit to pay for travel or dining purchases, such as flights, hotel stays, car and vacation rentals, baggage fees, and also at restaurants including takeout.
0% Introductory APR for 18 billing cycles for purchases, and for any balance transfers made in the first 60 days. After the intro APR offer ends, 17.99% - 27.99% Variable APR will apply. A 3% fee applies to all balance transfers.
If you're a Preferred Rewards member, you can earn 25%-75% more points on every purchase. That means instead of earning an unlimited 1.5 points for every $1, you could earn 1.87-2.62 points for every $1 you spend on purchases.
Contactless Cards - The security of a chip card, with the convenience of a tap.
This online only offer may not be available if you leave this page or if you visit a Bank of America financial center. You can take advantage of this offer when you apply now.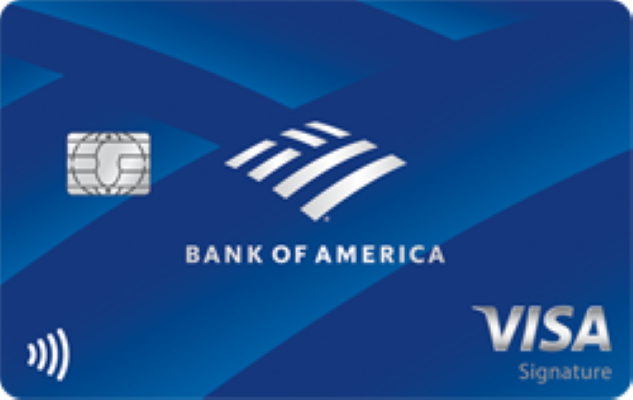 Apply Now
on Bank of America's secure website
Read Card Review
Intro Offer
Earn 25,000 online bonus points after you make at least $1,000 in purchases in the first 90 days of account opening - that can be a $250 statement credit toward travel purchases