Winter can vary drastically depending on where you're situated. Some states are blanketed in snow, while other states barely get a little chilly. This can mean that while some winter activities are popular in certain locations, they're nonexistent in others.
While this may be the case, it doesn't mean there's a shortage of things to do over the winter. But we're taking it a step further by bringing you the best free winter activities in every state. From outdoor recreational activities to festive winter celebrations across the nation, here's what's happening in your state this winter (or any of the states you're considering visiting) — and it won't break the bank.
Alabama, Mobile
Join the University of South Alabama (USA) community for the Annual USA Holiday Concert Celebrate the Season at the Mitchell Center Arena. Admission is free, and performances spotlight faculty and student soloists and ensembles including the choir, wind ensemble, and Jaguar Marching Band.
Attendance is limited to 2,000 people, so make sure you get your spot. This event is on December 6, 2019, at 6:30 p.m.
Alaska, Anchorage
From chasing the awe-inspiring Northern Lights to the Fur Rendezvous, better known as Fur Rondy to locals, there's no shortage of exciting winter activities in Anchorage. Fur Rondy is a 12-day winter festival that has been a significant part of the city's history since 1936, and the festival continues to attract visitors from throughout the world.
With more than 15 "zany" events and 100 other activities, including the Open World Championship Sled Dog Race, the Alaska State Snow Sculpture Championship, and the AT&T Fireworks Extravaganza, visiting Anchorage this winter is a must. Fur Rondy is slated to take place February 28 to March 8, 2020.
Arizona, Tucson
Each year, residents from the Tucson neighborhood of Winterhaven decorate their homes with dazzling lights and elaborate holiday displays for visitors to enjoy. It's called The Winterhaven Festival of Lights, and it's visited by thousands of people each year from all over southern Arizona to celebrate the holiday season. This year, 2019, marks the 70th year Winterhaven residents have hosted the festival.
The festival is free to attend, however, those who come to enjoy the lights are asked to bring a donation of food or money for the Community Food Bank of Southern Arizona. The Winterhaven Festival of Lights runs December 14-29, 2019 from 6 p.m. to 10 p.m. every day.
Arkansas, Fayetteville
Winter in Fayetteville shines bright when the downtown comes alive for the holidays. Known officially as Lights of the Ozarks, more than 3,300 hours and over 400,000 lights go into decorating the Downtown Square where visitors amass with hot chocolate in hand for the nightly holiday activities and festive music.
While the lighting ceremony for this year was on November 22, 2019, the lights brighten the square for free each evening from 5 p.m. to 1 a.m. through December 31, 2019.
California, San Diego
The City of San Diego's 42nd annual holiday festival, Balboa Park December Nights, kicks off the season with a free festival on December 6 and 7, 2019. The festival will feature light displays, choirs, bands, dancers, and fun-filled attractions. Sample food from around the world and listen to live music as you take in the spectacular holiday décor.
Visitors can also enjoy free admission to 18 Balboa Park museums from 5 p.m. to 9 p.m. on December 6 and 7, 2019.
Colorado, Denver
Indulge in delicious cuisine and festive German drinks as you stroll through Denver's Annual Christkindl Market. This event is in its 19th year and delivers authentic German and European holiday traditions to the Mile-High City. You'll find plenty of food (yes, Bavarian-style pretzels), drinks, jewelry, toys, live music, and more.
The Christkindl Market launches every year on the Friday before Thanksgiving and continues through December 23, 2019. The Christkindl Market is free to attend and opens at 11 a.m. every day.
Connecticut, Hartford
For ten years, Hartford has been host to Winterfest Hartford, a holiday tradition made possible by the generosity of donations. Winterfest Hartford is open every day from 11 a.m. to 8 p.m. and runs from November 29, 2019 until January 20, 2020.
You can enjoy free ice skating, free skate rentals, ice skating lessons, photos with Santa, and more. Don't forget to head inside for a giant indoor game room where you can play giant Jenga, chess, and checkers too.
Delaware, New Castle
Visiting New Castle is enchanting in the wintertime as many of the historic homes open for tours and the entire 17th-century neighborhood turns into a Christmas wonderland. Don't be surprised if you stumble upon an outdoor pop-up theater.
On December 14, 2019, join the town between 9:30 a.m. and 5:30 p.m. for their town-wide 19th Annual Spirit of Christmas celebration hosted by the New Castle Presbyterian Church and New Castle Visitors Bureau. It's a full day of concerts, house tours, crafts, and refreshments. All events are free.
Florida, Celebration
Though it may not feel like winter in the Sunshine State, all that changes when you attend Celebration's famous holiday event, Now Snowing. For 21 years, the Now Snowing event has been bringing attendees a variety of community performances, concerts, and one of the area's only synthetic ice rinks.
You'll also find strolling carolers, horse-drawn carriage rides, train rides, and photos with Santa. But it wouldn't be a true winter wonderland without nightly snowfall, which occurs at 6, 7, 8, and 9 p.m. Parking and admission are free, and the event runs from November 30 through December 31, 2019.
Georgia, Thomasville
Preserved with historic charm, Thomasville transforms into a winter wonderland each year during its Annual Victorian Christmas festival. For two days, the historic downtown, rich with Victorian-era architecture, boasts lights, sleigh bells, and live entertainment that's sure to capture the imaginations of festival-goers. You'll find carriage rides, ice sculpting, and a live nativity as you feast on roasted chestnuts and marshmallows.
This annual event is free to attend and runs December 12-13, 2019, from 6 p.m. to 9 p.m. each day.
Hawaii, Honolulu
The Friends of Honolulu City Lights is a non-profit organization that puts on an annual month-long celebration and Christmas display. The opening night kicks off with the lighting of the city tree on December 7, 2019 at 6 p.m. and includes free photos with Santa and a holiday concert. The event continues to run daily from 8 a.m. to 11 p.m. through December 29, 2019. Parking and admittance is free of charge.
If you can make it to the North Shore of Oahu, Hawaii, between December 8 and December 20, 2019, you can also watch the Billabong Pipe Master surf competition for free from a spot on the shore.
Idaho, McCall
There's plenty to do in Idaho during the winter, but there's a particular winter festival that draws crowds of more than 60,000 people each year — and for good reason.
Kicking off the last weekend in January and running through February 2, 2020, the McCall Winter Festival features some of the world's most epic ice sculptures, one of the biggest fireworks displays in the state, and an all-out downtown Mardi Gras parade. There are comedy shows, snow bike races, and live music too.
Illinois, Chicago
As long as Chicago winters may be, the Windy City is jam-packed full of free things to do. Situated downtown, the McCormick Tribune Ice Rink sits right next to the famous Chicago bean and other incredible pieces of art. It also offers free entry to those looking to tear up the ice.
Head to the rink one hour before it opens on Fridays, Saturdays, and Sundays for free ice skating lessons. And, on the first and third Thursdays from December to March, DJs post up to spin music while skaters spin on the ice. Other free activities include the Garfield Park Conservatory and the famous holiday lights at the Lincoln Park Zoo.
Indiana, Indiana Dunes State Park
No matter the time of year, the Indiana Dunes provide a marvelous landscape for visitors to explore. During the winter, freezing temperatures bring the formation of shelf ice, a natural occurrence that mimics landscapes of polar regions. The ice attaches itself to the shores and creates a beautiful, awe-inspiring array of protruding shelves.
Admission to Indiana Dunes National Park is free on weekdays between November and mid-April. Before leaving, grab a sled and head to Devil's Slide, a tall dune that makes for a perfect sledding spot.
Iowa, Walnut
Ditch the holiday crowds at the mall and head to the small city of Walnut, Iowa, for the Christmas Antique Walk, a three-day event running from November 29 through December 1, 2019.
Famous for its many antique stores, Walnut's downtown is where store owners serve up festive treats, coffee, wine, and hot spiced cider. Thousands of lights will outline the storefronts and Walnut's welcome center will have even more festivities, including a tree festival and nativity.
Kansas, Wichita
Creativity is aplenty this winter when the Wichita Art Museum opens its doors with free admission and activities to celebrate December Winter Art Mania. For three days, visitors can enjoy a variety of free activities, including gallery explorations, art projects, movies, and live music from the Wichita Symphony Youth Orchestra. December Winter Art Mania runs December 26, 27, and 28, 2019 from 11 a.m. to 3 p.m.
For even more December festivities, an hour's drive from Wichita will land you in the heart of the Winfield Isle of Lights, a Christmas light display in Winfield's Island Park. Admission is by donation, and the park opens nightly from 6 p.m. to 10 p.m. and runs November 17 through December 30, 2019.
Kentucky, Lake Cumberland State Resort Park
The Lake Cumberland State Resort Park's WinterFest is a two-day festival filled with more than just rosy-cheeks. Take an evening stroll under twinkling lights as you listen to carolers and shop for ornaments, knickknacks, and toys.
This fun-filled festive weekend runs December 6-7, 2019, and includes festivities like a holiday movie double feature, dinner with Santa, and more.
Louisiana, New Orleans
From December 12-15, 2019, the Arts Council New Orleans will create a "visionary wonderland" in downtown New Orleans that you're not going to want to miss. LUNA Fête, now in its sixth year, is where art meets light and technology, featuring some of the most renowned light and projection-based artists in the world.
On top of that, LUNA Fête also provides training to local artists to advance their technical and artistic skills to "create large-scale and interactive art animated with light." LUNA Fête is free and open to the public to attend from 6-10 p.m.
Maine, Kennebunkport
Kennebunkport's Christmas Prelude is a seaside celebration charged with holiday spirit as the whole town transforms with bright lights and everyone comes together to enjoy the festivities.
A great way to kick off the season, this celebration features tours of historic homes, sleigh rides, concerts, caroling, craft fairs, and more. And don't miss Santa when he arrives in town on a real Maine Lobster Boat! Christmas Prelude runs from December 5-15, 2019, and launches with the Dock Square tree lighting.
Maryland/Washington, DC
We know it's not Maryland, but Washington, D.C. is too close and too full of free activities, holiday displays, and unforgettable events to not include it here. In the winter, Washington, DC, serves as a great destination to celebrate any holiday and there's no shortage of things to do.
Take an after-hours stroll through the National Zoo during ZooLights, a free event than runs from November 29 to January 1, 2020, and cast your eyes on more than 500,000 LED lights, listen to live music, and indulge in tasty treats that transforms the zoo into a winter wonderland. And, of course, you can't miss your chance to take a photo next to the National Christmas Tree.
Massachusetts, Boston
SoWa Winter Festival is "the biggest winter shopping village and holiday festival in Boston." From December 6-8, 2019, head to the SoWa Art and Design District to indulge in various Boston food trucks and enjoy live ice sculpting, as well as the many galleries, artist studios, and shops the SoWa District has to offer.
Shop, eat, and savor your favorite winter cocktails, seasonal craft beer, and wines while you stroll and take in the winter festivities.
Michigan, South Haven
South Haven is set to come alive during the 27th Annual Ice Break Festival when locals and visitors come for the amazing ice sculptures, food, drinks, ice skating, and more. And by more, we mean frozen-fish flinging.
There's also plenty of shopping if you need to warm up, and you're going to want to check out the Cardboard Sled Race at Coast Guard Hill. The Ice Break Festival runs from January 31 through February 2, 2020.
Minnesota, Saint Paul
While you could just hang out and stay warm in the Mall of America, you might not want to miss the 134th Saint Paul Winter Carnival. This festival has been bringing family-friendly events and fun activities to the Twin Cities metro area since 1886.
There's live music, a puzzle contest, ice palaces, snow sculptures, and, thankfully, a warming house to escape the cold. Most events are free and open to the public and it runs from January 23 through February 2, 2020.
Mississippi, Canton
The magic of the holidays comes to Canton with the city's Christmas festival, City of Lights. Over 200,000 glittering white lights illuminate the city's Historic Courthouse Square, and thousands of visitors flock to the "Movie Capital of Mississippi" to take in the city's festive holiday spirit.
The festival runs November 29 through December 1, 2019, from 5-9 p.m. and then picks up again from December 6-23, 2019 from 5-9 p.m. Activities include the interactive Christmas village, carriage rides, a carousel, and parades at 6:30 p.m. and 8 p.m. on Friday and Saturday nights.
Missouri, St Louis
It began over a century ago, and has taken place every year since — children and adult sledders alike eagerly await a good Midwestern snowfall to blanket Art Hill at the St. Louis Art Museum. While the first to take to the snowy hill back in 1905 used folding chairs as makeshift sleds, today you'll find the same tradition being upheld with actual sleds, saucers, and maybe the occasional sheet of cardboard.
If you're around mid-January, St. Louis is also home to The Loop Ice Carnival, a three-day event that's filled with fun family activities. You'll find ice carving sculptures and demonstrations, ice slides, and carnival rides. The carnival kicks off January 18, 2020.
Montana, Whitefish
This Rocky Mountain resort town plunges into the winter season with a downtown holiday celebration, known as the Whitefish Christmas Stroll. While there's plenty of shopping that can be done, you'll also find food and drink to indulge in as fire dancers, carnival floats, a yeti (as in an abominable snowman), and more take to the streets.
Head to Depot park so the kids can have their fun too. There will be bungee jumping, wagon rides, and the chance to visit with Santa. The Whitefish Christmas Stroll is December 6, 2019 from 5:30-9 p.m.
Nebraska, Omaha
The KETV Family Festival offers the community an opportunity to experience many of Omaha's downtown attractions for free. The Family Festival will be held on December 1, 2019, from noon to 5 p.m. and each participating location will offer free admission and a variety of activities.
Participating organizations and activities include the Omaha Children's Museum, touring the stables and other activities at the Omaha Police Mounted Patrol Barn, visiting with Santa at the Durham Museum, and more. There's also a free, heated trolley to take you between locations so you can stay warm in between the fun.
Nevada, Mount Rose (Tahoe Meadows)
A short drive south from Reno and Sparks, Tahoe Meadows is a free park that's great for hiking, sledding, and other snowplay. The Tahoe Meadows sledding hill's spacious slopes makes it ideal for families and children looking for a perfect sledding or snow tubing hill. Don't worry too much about crowds as the area is big enough to accommodate a large number of people. Tahoe Meadows also offers separate areas for snowmobiling, snowshoeing, and cross-country skiing.
New Hampshire, Hanover
Dartmouth College's Winter Carnival began in 1911 and has been celebrating everything winter ever since. The college's 110th Winter Carnival is slated for February 6-9, 2020, and this year's theme, A Blizzard of Unbelievable Beasts, celebrates folklore and mysterious creatures around the world.
Events include the Polar Bear Swim and Human Dogsled Races, ice sculpture carvings, and bonfires. The carnival wraps up with a 99-cent Ski Day at Oak Hill and the Skiway.
New Jersey, Asbury Park
On December 6-7, 2019, head to Asbury Park for a slightly darker twist on holiday festivities with Krampus 2019. The two-day celebration includes the Krampus Film Festival and the Krampus Asbury Park Festival, both of which celebrate the ancient yuletide lore of Santa Claus's horrific companion, Krampus.
Swing by for Krampus-themed festivities, including getting your photo with a yeti, a scavenger hunt, and a homemade Krampus mask contest. The festivities begin December 6, 2019, at 7:30 p.m.
New Mexico, Las Vegas
Six miles northwest of Las Vegas is the small community of Montezuma. Here, nestled along the Gallinas River and adjacent to several historic buildings, are the warm, mineral-charged pools of Montezuma Hot Springs. Touted for their healing properties, these hot springs have been visited by people for centuries and remain open to this day, free for public use.
Once you've been rejuvenated by the springs, head back to Las Vegas for the Electric Light Parade on December 14. This event takes place every December, and the street lights are turned low to let the festive parade floats brighten the city streets to celebrate the season.
New York, New York City
It's the year of the rat. Well, it will be come January 25, 2020, when Lunar New Year (or Chinese New Year) is rung in. New York City transforms with festive events, traditional dancing, and performances to celebrate the Chinese New Year.
Colorful parades will be held throughout Manhattan, Queens, and Brooklyn in January and February, but the biggest gala comes February 9, 2020, in Manhattan where roughly 500,000 people turn out each year to gaze upon the dragons, floats, and hail of red and gold that adorn the city streets. The parades are free and you can use the right credit cards for accommodations to maximize your rewards. 
North Carolina, Brevard Area
North Carolina is home to many different types of waterfalls, many of which transform into a frozen cascading scene when the temperatures get cold enough. More than 250 waterfalls are located near Brevard, all of which contribute to the state's picturesque winter scenes.
While there are too many waterfalls to name, you can't visit the area without stopping at Looking Glass Falls. This 35-foot wide waterfall drops 65 feet and is named for the reflective layer of ice that forms on Looking Glass Rock during the winter. Looking Glass Falls is one of the country's most photographed waterfalls.
North Dakota, Lake Metigoshe State Park
Nestled in the scenic Turtle Mountains, Lake Metigoshe State Park has no trouble attracting vacationers, no matter the time of year. During the winter months, cross-country skiing and snowshoeing are popular activities, but the 1,500-acre park also has a number of groomed snowmobile trails for those who enjoy a change of scenery.
If you're up for the drive, about 2.5 hours south of Lake Metigoshe State Park is the city of Garrison. The city transforms into the "Christmas Capitol of North Dakota" for three weekends, starting Thanksgiving weekend.
Ohio, Cleveland
Brite Winter is considered by many to be the premier Cleveland event between New Year's Eve and St. Patrick's Day, and it showcases Northeastern Ohio's artists and musicians. All the event's official programming is free and open to the public, which includes a lineup of diverse musical acts, art tents, local vendors, and live performances.
Brite Winter 2020 will be the 11th year the event has taken place and it is slated for Saturday, February 22, 2020, at the Flats West Bank in Cleveland.
Oklahoma, Oklahoma City
Welcome the holiday spirit during Oklahoma City's popular Downtown in December event. This month-long celebration transforms the city's downtown into a winter wonderland, featuring ice skating, snow tubing, free water taxi excursions on the festively lit Bricktown Canal, free museum Sundays, and more. More than half a million visitors take part in these polar festivities each year. The event runs from November 8, 2019, to February 2, 2020.
Oregon, Portland
Oregon's great outdoors offers wonderful adventures all year-round, but there's nothing quite like the Portland Winter Light Festival. This festival is an annual event of the Willamette Light Brigade, a non-profit arts organization, and last year's festival showcased over a hundred illuminated art installations and over 60 performances and live events. It also drew in over 150,000 visitors.
This year's Portland Winter Light Festival runs from February 6-8, 2020, it's family-friendly and free to attend, and there will be no shortage of food and beverages for sale by the many local food cart vendors.
Pennsylvania, Bethlehem
Fans of the confectionary treats, Peeps, aren't going to want to miss Peeps Fest, the annual two-day New Year's Eve festival celebrating all there is to love about Peeps. Located at Bethlehem's iconic SteelStacks venue, the event features a variety of family entertainment, including kid-friendly bands, magicians, and more.
Join others in enjoying family-friendly activities and marveling at the Peeps Chick Drop — a gigantic 400-pound lit Peeps Chick that descends at 5:15 p.m. on December 31, 2019, to commemorate the beginning of the new year. Peeps Fest runs December 30-31, 2019, from 10 a.m. to 5:30 p.m.
Rhode Island, Newport
Join the rest of Newport for the city's 32nd Annual Newport Winter Festival. Touted as "New England's Largest Winter Extravaganza," the festival features over 150 events with plenty of food, festivities, and music for everyone. Some featured events include a chili cook-off, concerts, and more.
The Newport Winter Festival will take place February 14-23, 2020, throughout Newport and Newport County.
South Carolina, North Charleston
Kick off the holiday season with the City of North Charleston Christmas Festival and Parade. Festivities start with the Mayor's lighting of the 40-foot Christmas tree at 6 p.m. on December 6, 2019, on the front lawn of the Felix C. Davis Community Center.
The Christmas Festival and Parade are the following day, December 7, 2019, from 4 p.m. to 8 p.m. and both parking and the event itself are free.
South Dakota
Sioux Falls is home to Winter Wonderland, a festive winter celebration that transforms the downtown's Falls Park. The Sioux Falls Winter Wonderland features hundreds of wreaths, decorated trees, and light poles, over 25 miles of strings of lights, and several animated lighted features.
The lights are on display daily from 5 p.m. to midnight, beginning November 22 and ending January 6, 2020. Make sure to climb the five-story tower in the Visitor Information Center for the perfect location to catch a 360-degree view of the lights.
Tennessee, Pigeon Forge, Gatlinburg, and Sevierville
Pigeon Forge, and its neighboring cities Gatlinburg and Sevierville, transform into a true wonderland come winter. From November 15, 2019 through February 17, 2020, these three Smoky Mountain cities come together through millions of twinkling lights to form elaborate displays of holiday scenery that are sure to leave you in awe.
Between the three cities, you'll also find live music and entertainment, parades, tree lighting ceremonies, cider sippings, and candy samplings.
Texas, Austin
Considered Austin's largest holiday tradition, the Austin Trail of Lights, is an annual event in Zilker Park that celebrates the city's unique spirit. This December event draws 400,000 people every year to celebrate the holidays, and features plenty of music, food, creativity, and family fun. While not all the events are free, at least half of them are.
According to the event website, visitors can enjoy "interactive environments, Austin's famous food trucks, local musical talent, movies, local merchants and more." Austin Trail of Lights kicks off December 10 and runs through December 23, 2019, from 7-10 p.m. nightly.
Utah, Park City
All of December is filled with holiday festivities in this transformed mining town, from Santa's dramatic entrance down Town Lift (a lift that connects the mountain to the town's historic Main Street) and a 16-day winter festival known as Snowfest to a torchlight parade and New Year's Eve celebration.
If you hang around until after the new year, Park City is just a stone's throw from the 2020 FIS Freestyle Ski World Cup being held at Deer Valley Resort from February 6-8, 2020. All events are free to the public.
Vermont, Stowe
You might not want to miss the 46th Stowe Winter Carnival as it celebrates the 2020 winter season. Over 20 major activities attract children and adults alike, from wacky sports events and ice carving competitions to movies, snow golf, and snow volleyball tournaments.
Tour the town as you listen to live music and watch professional ice carvers create intricate and masterful artwork as they compete in the 20th Annual NICA (National Ice Carving Association) sanctioned ice carving competition. The event takes place January 23-26, 2020.
Virginia, Reston
The holiday season in Reston kicks off on November 29, 2019, at 11 a.m., with the 29th Annual Reston Holiday Parade, featuring Macy's-style balloons, marching bands, dancers, performers, a variety of characters, and, of course, Santa and Mrs. Claus.
The festivities continue throughout the day with a tree lighting ceremony, followed by horse-drawn carriage rides until the festival wraps up at 10 p.m. The event is free to attend and make sure to grab a photo with Santa and Mrs. Claus ahead of the tree lighting ceremony.
Washington, Leavenworth
Leavenworth is a Bavarian-styled village nestled in the Cascade Mountains that kicks off the holiday cheer on December 6, 2019, with the Christmas Lighting Festival. Over half a million lights brighten this quaint mountain town, as it also features live musical performances and an appearance by Santa and other costumed holiday characters.
On January 18, 2020, from 9 a.m. to 4 p.m., the Bavarian town is also home to Bavarian Icefest 2020. This event features a variety of games, snow sculptures, live ice carving, and a fireworks show.
West Virginia, Summersville
Lights in the Park is a drive-through experience that features an array of Christmas light displays throughout the 47-acre Nicholas County Veterans Memorial Park. The opening celebration kicks off November 30, 2019 between 5 p.m. and 8 p.m. with a visit from Santa and Mrs. Claus, free carriage rides, hot chocolate, food, and more.
Then, from December 1-30, 2019, Lights in the Park is open from 5:30 p.m. to 9:30 p.m. nightly. Admission is free.
Wisconsin, Bayfield
Winter is celebrated in Wisconsin, not feared, and that's apparent by the numerous activities and festivals that take place throughout the state. One party being thrown for winter is the Bayfield Winter Festival slated for March 6-8, 2020. In an area that gets over 100 inches of annual snowfall, the Bayfield Peninsula is truly a winter spectacle.
Activities include a candlelit hike, races, fireworks, a polar plunge, and more. Stay warm with complimentary chili at The Creamery, and enjoy live music and a slew of other arctic festivities.
Wyoming, Jackson Hole
Jackson Hole offers an abundance of year-round outdoor activities. But a visit during the winter can be about more than the inevitable dose of skiing. Other activities might include attending the holiday celebrations on Town Square that features free ice skating, a lighting celebration, and Christmas Carolers.
Visitors to Jackson Hole during the winter will also have access to free public stargazing events hosted by Wyoming Stargazing and free tours of the National Fish Hatchery.
Bottom line on the best free winter activities
Wherever you plan on spending your winter, don't forget there are plenty of free activities to keep you entertained and to keep your wallet full. You can save even more when traveling to these destinations if you use one of the best travel credit cards, a little bit of creativity, and a little planning. 

Easy-to-Earn Unlimited Rewards
Earn 25,000 online bonus points after you make at least $1,000 in purchases in the first 90 days of account opening - that can be a $250 statement credit toward travel purchases
Earn 1.5 points per $1 spent on all purchases
Longer intro APR on qualifying purchases and balance transfers
No foreign transaction fees
Earn unlimited 1.5 points per $1 spent on all purchases, with no annual fee and no foreign transaction fees and your points don't expire.
25,000 online bonus points after you make at least $1,000 in purchases in the first 90 days of account opening - that can be a $250 statement credit toward travel purchases.
Use your card to book your trip how and where you want - you're not limited to specific websites with blackout dates or restrictions.
Redeem points for a statement credit to pay for travel or dining purchases, such as flights, hotel stays, car and vacation rentals, baggage fees, and also at restaurants including takeout.
If you're a Preferred Rewards member, you can earn 25%-75% more points on every purchase. That means instead of earning an unlimited 1.5 points for every $1, you could earn 1.87-2.62 points for every $1 you spend on purchases.
Contactless Cards - The security of a chip card, with the convenience of a tap.
This online only offer may not be available if you leave this page or if you visit a Bank of America financial center. You can take advantage of this offer when you apply now.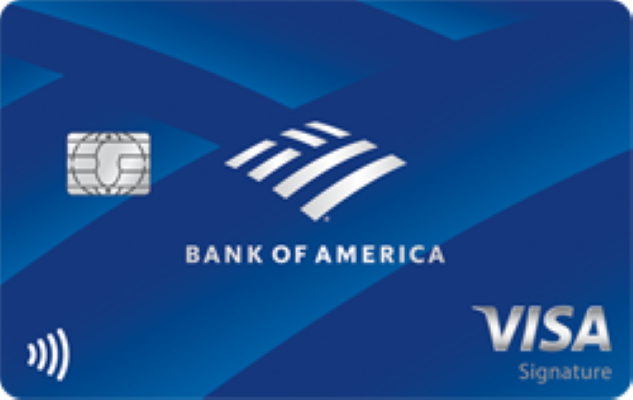 Apply Now
on Bank of America's secure website
Read Card Review
Intro Offer
Earn 25,000 online bonus points after you make at least $1,000 in purchases in the first 90 days of account opening - that can be a $250 statement credit toward travel purchases