Shopping for a digital nomad can be quite difficult. There's an endless amount of tech gadgets and travel products — which are worthwhile to travelers who work remotely?
As a digital nomad myself, I can speak to the core tenet of this lifestyle: "Less is more." While gadgets are fun to have, too many can stress out someone trying to boil their life down to nothing more than a large backpack. I'm guilty of bringing a few too many things on my first trip around the South Pacific and southeast Asia, and I was stuck carrying them until I returned home.
While this list is comprehensive, consider the digital nomad you have in mind before you click purchase. What are their needs versus their wants? Once you have that established, you can check out the list below to see what they may need for their travels ahead.
13 best gifts for digital nomads
1. Mobile hotspot
Finding reliable internet while traveling can be a huge source of stress, especially if your job depends on it.
To provide some relief, consider purchasing your nomad a mobile hotspot. A mobile hotspot allows them to have internet access almost anywhere around the world and operates similarly to a cell phone: You purchase the hotspot device and then pay for a monthly subscription based on how much data you use.
Keep in mind that these devices aren't perfect and they don't work everywhere. Each device will list its limitations in terms of which countries it will work in, so think about where your nomad plans to travel before buying.
Skyroam is one option to consider. You can connect up to five devices at once and it works in more than 130 countries.
2. External battery
While your digital nomad is out and about, running out of battery can be pretty inconvenient — and potentially dangerous. Our phones have become a key resource for traveling and transportation, so a dead battery could mean getting stuck somewhere unfavorable.
A small external battery is easy to toss in a bag and offers nomads a quick charge. I personally use an Anker external battery, as they are affordable, durable, and come with great reviews.
3. Packing cubes
Packing cubes essentially serve two purposes: organization and condensing. Clothes take up a ton of space and can be difficult to keep organized, especially if you use a backpack as your primary luggage.
However, packing cubes can help travelers make better use of the space they have and are a relatively inexpensive investment. If your nomad struggles to keep things organized and sorted, they may appreciate using this gift for their travels.
Eagle Creek Packing Cubes are affordable and come in a variety of sizes and patterns — perfect to help your nomad fit more in their bag and find things more easily.
4. Universal travel adapter
When packing for months at a time, it can be easy to overlook small items like travel adapters. Other countries have various electric outlets that aren't compatible with U.S. plugs, so leaving home without an adapter could mean getting stuck without a way to charge your laptop.
Universal adapters are small and light-weight, and you'd be hard-pressed to find a country where an adapter will not work. It is a small investment, but your digital nomad in mind will appreciate being able to charge their devices nearly anywhere in the world.
The Bonazza adapter has USB ports as well spots for regular plugs and works in more than 150 countries. It also comes with a lifetime warranty for repairs or exchanges.
5. Cord organizer
One of the largest hassles of any traveler is dealing with endless chargers and cords. And for digital nomads, it's even worse.
If your giftee is planning on bringing anything more than a phone and computer charger, a cord organizer could be a great gift idea. It may seem like a "boring" gift, but it will save them time and headaches throughout their travels.
The cord organizer my wife and I use is the Bagsmart Glendale 2-Layer Electronics Organizer. It's able to hold all of our cords for our rechargeable headphones, phones, battery packs, and camera all in one place without any tangles. 

6. Noise-canceling headphones
If you have a larger budget, noise-canceling headphones are an absolute must-have. Whether your nomad is on a long flight with crying babies or at a co-working space focusing on project deadlines, high-quality headphones will be a lifesaver.
While there are more economical options, I wouldn't recommend trying to save a few dollars. My wife and I both have Bose QuietComfort 35 Wireless Headphones II, and they are incredible. With great sound quality, optimal noise-canceling, and a long battery life, these headphones are a must-have for any traveler.
7. Travel pillow
It may seem unnecessary, but having a great travel pillow can make the difference between a sore neck and a good night's sleep.
My wife and I each use our Trtl Travel Pillow on long flights, and it has been a great investment. It's small, portable, and adjustable, so your giftee will never have to worry about being comfortable on a long flight.
8. Streaming subscriptions
As many digital nomads will be without traditional entertainment, an easy way to pass the time is to stream content online. Platforms such as Netflix and Hulu provide endless hours of amusement — plus, this is one gift that won't take up any additional room in their bags.
These services are usually paid on a monthly subscription basis, but if you want to avoid seeing that charge each month, you can simply purchase a gift card from either the platform directly or at a local retailer that sells gift cards, such as a grocery store.
9. Passport wallet
While traveling, it's crucial to protect sensitive items such as a passport, cash, credit cards, and other valuable identification. To keep these items safe and organized, a passport wallet can be a great gift for any traveler.
My wife and I both have individual passport wallets from Leatherology. They are very useful to store some of the best travel credit cards, money, and drivers licenses all in one place.
10. A durable backpack
If your gift recipient is planning to use traditional luggage, you may want to advise them otherwise. A sturdy backpack will do the trick without the hassle of pulling a huge suitcase everywhere. Also, it will help reinforce the idea of minimalism throughout their travels. The more they bring or collect, the heavier their bag will become.
Ditching our traditional luggage and using only backpacks was one of the best decisions my wife and I have made. We've become more efficient travelers and learned to do more with less. We both have Osprey Farpoint 55 Liter backpacks and find them to be the "best bang for your buck" for durability and storage.
11. Refillable water bottle
Traveling full time means your nomad will do a lot of walking and experience many different climates than at home. To avoid adding plastic waste and save money, a refillable water bottle offers the flexibility to use water fountains or other taps for free. It's the gift that keeps on giving!
However, I wouldn't recommend spending too much money on a reusable water bottle. Many studies show how these bottles become germ-infested over time and shouldn't be used for a long period of time.
My wife and I each have a stainless steel bottle from The Flow, which comes with a twist-off cap, straw lid, and flip lid, allowing you to swap them out based on your needs. It's also insulated, so it will keep cold drinks cold and hot drinks warm.
12. VPN subscription
For any digital nomad, a VPN subscription is a necessity. A VPN, or virtual private network, will give you the ability to connect to servers around the world while protecting your internet activities from other users. If you're on a public network at a coffee shop without a VPN, for instance, your personal information could be compromised by hackers.
Purchasing a subscription to a VPN service such as NordVPN can give you secure web browsing. You can purchase monthly or yearly subscriptions, and there's a 30-day money-back guarantee. I have used NordVPN throughout our travels, and have had no issue streaming content or completing work while using the service.
13. First aid kit
If your giftee is an adventurer at heart, buy them the most boring — but useful! — gift ever: a first aid kit. Accidents happen, and every traveler should have a simple first aid kit to help solve these issues.
With supplies such as adhesive bandages, ibuprofen, anti-nausea medication, alcohol pads, ace bandages, tweezers, and gauze, this can be a great help with simple injuries. Gift an easy-to-pack kit from Adventure Medical Kits or a DIY version made with items from your local drug store, and your nomad will thank you next time they're in a pinch.
Bottom line
Becoming a digital nomad is a big decision that requires lots of planning. Additionally, paying for a digital nomad lifestyle can be a financial shock if you suddenly need to purchase all of these things at once.
When we decided to become digital nomads, it came with tons of research, decision making, and effective packing. If you're purchasing a gift for a digital nomad, have a conversation with them about what their needs are. Once you know their necessities, you can help get their travels up and running with a simple gadget or subscription purchase.
Easy-to-Earn Unlimited Rewards
Earn 25,000 online bonus points after you make at least $1,000 in purchases in the first 90 days of account opening - that can be a $250 statement credit toward travel purchases
Earn 1.5 points per $1 spent on all purchases
Longer intro APR on qualifying purchases and balance transfers
No foreign transaction fees
Earn unlimited 1.5 points per $1 spent on all purchases, with no annual fee and no foreign transaction fees and your points don't expire.
25,000 online bonus points after you make at least $1,000 in purchases in the first 90 days of account opening - that can be a $250 statement credit toward travel purchases.
Use your card to book your trip how and where you want - you're not limited to specific websites with blackout dates or restrictions.
Redeem points for a statement credit to pay for travel or dining purchases, such as flights, hotel stays, car and vacation rentals, baggage fees, and also at restaurants including takeout.
0% Introductory APR for 18 billing cycles for purchases, and for any balance transfers made in the first 60 days. After the intro APR offer ends, 17.99% - 27.99% Variable APR will apply. A 3% fee applies to all balance transfers.
If you're a Preferred Rewards member, you can earn 25%-75% more points on every purchase. That means instead of earning an unlimited 1.5 points for every $1, you could earn 1.87-2.62 points for every $1 you spend on purchases.
Contactless Cards - The security of a chip card, with the convenience of a tap.
This online only offer may not be available if you leave this page or if you visit a Bank of America financial center. You can take advantage of this offer when you apply now.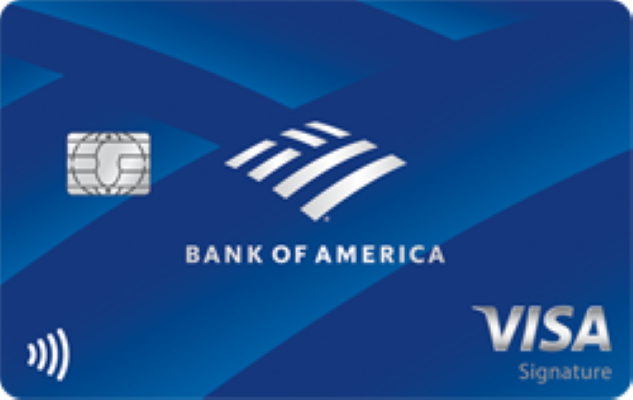 Apply Now
on Bank of America's secure website
Read Card Review
Intro Offer
Earn 25,000 online bonus points after you make at least $1,000 in purchases in the first 90 days of account opening - that can be a $250 statement credit toward travel purchases