What do you look for in a dream vacation? If you're anything like most of us, "breathtaking views" is probably somewhere near the top of your list.
While it's true that many of the world's best views cost a pretty penny, you might be surprised to find that some amazing vistas are within your budget. You could get even more for your money booking your trip with one of these best travel credit cards for beginners. 
Following are 10 hotels that offer spectacular views that won't break the bank. (All prices are in U.S. dollars.)

Hotel Hermitage Luzern
The words "affordable" and "Switzerland" may not go together very often, but the Hotel Hermitage Luzern offers incredible value with rates ranging around $300 per night.
Located in the storybook-perfect town of Lucerne, this hotel offers splendid views of Lake Lucerne and the Swiss Alps that the country is famous for. This is a vista that's hard to beat.
Sky Rock Sedona
There is something about the Arizona desert that is simply magical, and it would only take one night at the Sky Rock Sedona resort for you to agree.
This boutique property receives rave reviews for its beautifully unique red-rock landscapes, which can be easily seen from one of the hotel's spacious rooms. Rates sit at around $300 per night. Sedona is easily accessible — just a short two-hour drive from Phoenix.
Shore Cliff Hotel
Nestled on the central coast of California near the city of San Luis Obispo is Pismo Beach, a small oceanside community with plenty of great views to go around.
California isn't necessarily known as a discount vacation destination, and this hotel is certainly a bit more expensive than others on this list. However, you can find deals for around $350.
That oceanside pool is hard to beat.
Talkeetna Alaskan Lodge
Head up north to the Talkeetna Alaskan Lodge, where spacious rooms go for around $400 a night. Again, this price is on the steep side of "affordable," but it's also worth noting how hard it is to beat this lodge's location.
Not only is it located next to Denali — the tallest mountain in North America — but it also offers a very special type of view in the Northern Lights, the gorgeous display of hues that show up in the night sky.
Grand View Hotel
Let's go overseas for our next hotel, which takes its dedication to good views so strongly that it's reflected in the name.
The Grand View Hotel, which is located in the Himachal Pradesh of northern India, offers some of the most stunning landscapes that this planet has to offer courtesy of the Himalayas. Guests describe it as a "walk in the clouds." Rates at this hotel are around $66.
Aston Waikiki Beach Hotel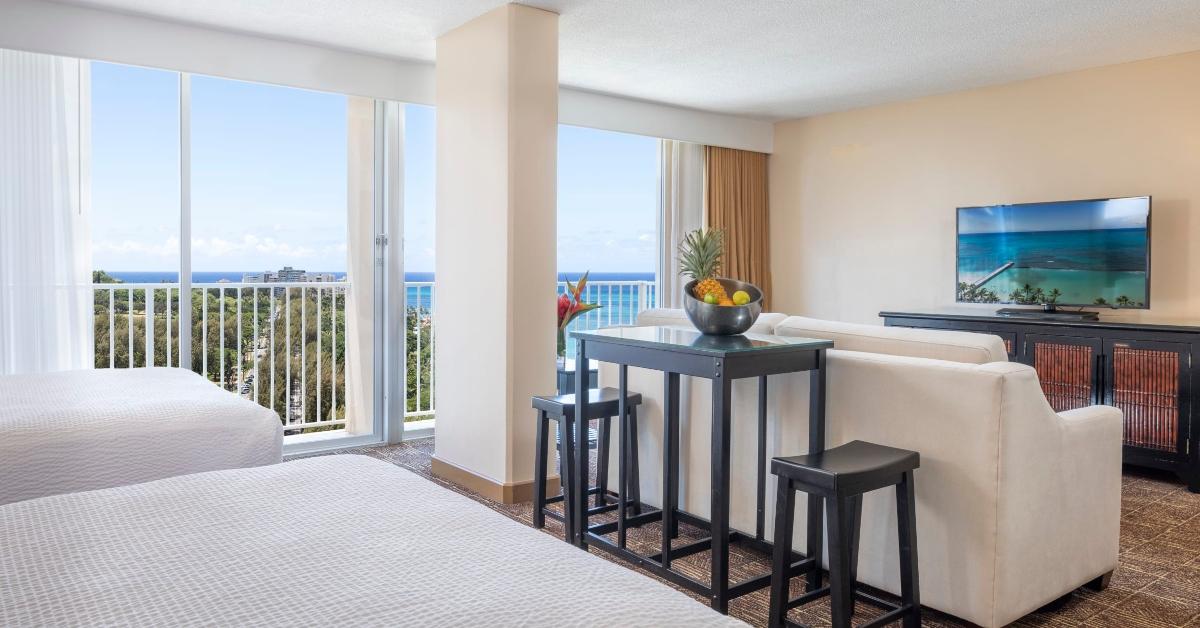 There are few beaches more famous than Hawaii's Waikiki, which is known around the world for its decent surf and rows of dining establishments. Like any popular destination, staying at Waikiki is not exactly cheap — unless you stay at the Aston Waikiki Beach Hotel.
You can find partial ocean-front views for around $360 a night in the summertime, a bargain compared to most other properties.
Pro tip: Make sure you check out the best travel credit cards before going to Hawaii. It's an expensive destination, so you'll want to make sure that your money is working for you.
Hyatt Regency Jersey City
New York City is an expensive place to visit. That's why many visitors to the Big Apple look for accommodations across the Hudson River in New Jersey. Jersey City's Hyatt Regency isn't cheap, but it will offer you one thing that's hard to put a price tag on: Jaw-dropping views of the Manhattan skyline.
Rooms are around $300 to $400, but since Hyatt is a popular chain hotel, you can cash in your rewards if you reserve your trip with one of the best hotel credit cards.
Loch Melfort Hotel
Here is another overseas hotel option, this time in Scotland. For around $100 per night, this property offers breathtaking views of the Scottish Highlands.
One of the best things about this property is how it's gorgeous year-round. You get lovely winds in the summertime, and the ultimate cozy getaway in the wintertime. There is plenty of nature to explore in the surrounding area, but we're not sure that you'll even want to leave your hotel room.
Issimo Suites Boutique Hotel & Spa
A Central American gem, Costa Rica has become a popular tourist attraction for Americans in recent years. And, of course, with this growth in popularity, there has also been an increase in prices.
However, Costa Rica remains a tourist destination where luxury is within reach. The Issimo Suites Boutique Hotel offers guests access to a gorgeous waterfront reserve. The views are unearthly. Rates hover around $300 per night.
Best View Pyramids Hotel
We left the best for last. There are few landscapes on the planet more notable than the Pyramids of Giza. So, would you believe us if we told you that you could stay in a hotel that offered a view of these ancient wonders for as low as $35 per night?
It's not too good to be true. In fact, this hotel has more than 1,000 positive reviews on TripAdvisor. The overwhelming majority of guests state that their hotel room was clean and well-appointed.
Bottom line
Sometimes, it turns out that the vacation of your dreams is closer to you than you think. If amazing views are important to you, these hotels prove you don't need to spend a fortune to enjoy a great vista. 
And if you're thinking of visiting any of these overseas destinations, check out our review of the best credit cards for international travel.
Easy-to-Earn Unlimited Rewards
Earn 25,000 online bonus points after you make at least $1,000 in purchases in the first 90 days of account opening - that can be a $250 statement credit toward travel purchases
Earn 1.5 points per $1 spent on all purchases
Longer intro APR on qualifying purchases and balance transfers
No foreign transaction fees
Earn unlimited 1.5 points per $1 spent on all purchases, with no annual fee and no foreign transaction fees and your points don't expire.
25,000 online bonus points after you make at least $1,000 in purchases in the first 90 days of account opening - that can be a $250 statement credit toward travel purchases.
Use your card to book your trip how and where you want - you're not limited to specific websites with blackout dates or restrictions.
Redeem points for a statement credit to pay for travel or dining purchases, such as flights, hotel stays, car and vacation rentals, baggage fees, and also at restaurants including takeout.
If you're a Preferred Rewards member, you can earn 25%-75% more points on every purchase. That means instead of earning an unlimited 1.5 points for every $1, you could earn 1.87-2.62 points for every $1 you spend on purchases.
Contactless Cards - The security of a chip card, with the convenience of a tap.
This online only offer may not be available if you leave this page or if you visit a Bank of America financial center. You can take advantage of this offer when you apply now.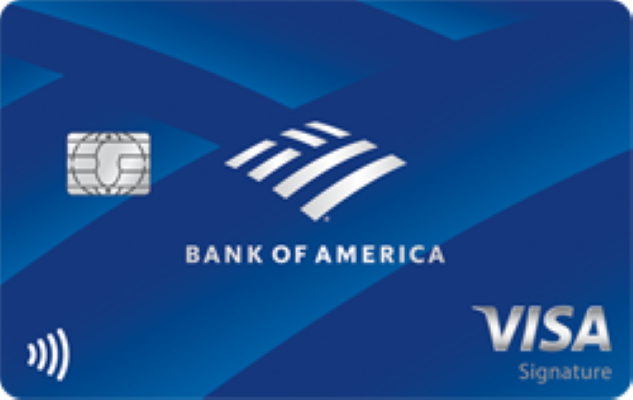 Apply Now
on Bank of America's secure website
Read Card Review
Intro Offer
Earn 25,000 online bonus points after you make at least $1,000 in purchases in the first 90 days of account opening - that can be a $250 statement credit toward travel purchases