If you're an avid traveler, you're probably aware of many of the benefits of traveling. Planning a trip has been shown to make you feel happier and reduce your stress levels. And people who vacation at least twice per year reduce their risk of several physical and mental health problems.
But if you're environmentally conscious, you've probably also realized that frequent travel leads to greater carbon dioxide emissions, which is one of the contributing factors in climate change. So even if you've racked up enough rewards or points from your credit cards to fly for free, there is a cost to the environment from every flight.
Flights around the country and the globe emitted approximately 895 million metric tons of CO2 in 2018, accounting for 2.4% of all energy-related CO2 released in the world. On average, an airplane emits just over 53 pounds of carbon dioxide with each mile. As much as we'd all love to take multiple international trips each year, we can't deny the significant impact of frequent travel on the environment.
That's why the United Nations has developed the Carbon Offsetting and Reduction Scheme for International Aviation (CORSIA), which is intended to offset the rising CO2 emissions from airline travel. And there are ways individuals can help minimize their role in climate change as well.
But does carbon offsetting really work to neutralize your impact on the environment when you travel? Let's take a look at what it entails, and whether it does anything more than just reduce your guilt.
What is carbon offsetting?
The "greenhouse effect," which causes global warming, happens because there are some gases that prevent heat from escaping the planet's atmosphere. Human activities, such as aviation, force more of these gases into the air. CO2 is considered most influential gas in facilitating climate change.
The idea behind CORSIA is to neutralize the impact of airline travel by requiring airlines that increase their emissions to invest in projects that decrease atmospheric CO2 or reduce potential future CO2 emissions elsewhere. Carbon offsetting provides individuals with the opportunity to neutralize their own carbon footprints in the same way.
Avid travelers can calculate the CO2 emissions from their trip and purchase an equivalent amount of carbon offset units, typically available by the metric ton or "tonne." Each carbon offset ton represents one ton of CO2 that will be absorbed or prevented from entering the atmosphere due to green energy efforts, the planting of trees, or other tactics.
The pros and cons of carbon offsetting
Carbon offsetting can be an excellent way to put money into efforts to preserve the environment, but some critics say it's not sufficient when it comes to solving the actual problem — and that it could even be detrimental as it may encourage people to be less conscientious when it comes to the environmental impact of their behavior.
Consider the pros and cons of carbon offsetting before you decide for yourself:
Pros
Carbon offsetting puts money toward sustainable energy. Whether or not you can ever truly neutralize a human activity that puts more carbon dioxide into the atmosphere, industries working toward better energy alternatives need funding.
Some carbon offsetting projects have social benefits. When you purchase a carbon offset unit, you may be benefiting people in developing countries. All Gold Standard projects benefit local communities by providing things like cleaner water and low-smoke stoves while reducing CO2 emissions.
Participating in carbon offsetting holds you accountable for your carbon footprint. It's easy to go through life without thinking about how our actions impact the environment and the future of our planet. With carbon offsetting, you can mentally quantify your carbon footprint so you're aware of how your daily activities are contributing to the problem. This might encourage you to invest in green energy projects as well as motivate you to reduce your CO2 emissions in areas outside of travel.
Cons
Some people may view carbon offsetting as a free pass to pollute. Critics argue that some people might simply pay to alleviate their guilt, which might make them feel they have a license to forget about the environment in their everyday behavior. Frequent travelers who purchase carbon offset units might be inclined to not worry about what kind of vehicle they purchase or how often they drive, for example.
Carbon offsetting doesn't impact pollution right now. The problem with investing in carbon offsetting is that you can't know for sure how effective the associated green energy project will be and whether it will actually reduce carbon emissions. There's no telling whether the environmental improvements provided by carbon offsetting would have occurred anyway through the efforts of individuals or governments. Conversely, critics of carbon offsetting argue that other actions, such as reducing emissions or practicing recycling, have an immediate and measurable impact on pollution.
The carbon offset market is unregulated. There are a number of carbon offset providers, and while there are some standards designed to certify the reputability of a provider, it's difficult for consumers to know whether they're getting what they pay for and whether their money is going to a reputable project.
How to find a reputable carbon offset provider
If you decide that purchasing carbon offset credits is the right choice for you, then it's important to educate yourself about the market and know what to look for. When it comes to reputability, you'll want to choose a provider that can ensure, with validation from a third party, that their projects lead to legitimate carbon savings.
Disreputable carbon offset providers, on the other hand, won't guarantee that their projects will cause additional carbon savings. Look for providers that are either certified under the Clean Development Mechanism or verified under a voluntary standard in order to ensure they are genuine. The following are good options:
You can also check Green-E and the Climate Action Reserve for additional certified or verified sellers.
How much do carbon offset credits cost?
The cost of carbon offset credits will vary between providers and projects. However, analysis from the University of Pennsylvania estimates the cost per ton to be between $9 and $15.
The average airplane emits about 53 pounds of CO2 per mile, which is equal to about 0.024 metric tons. That means a 2,000-mile flight would release approximately 48 tons of CO2 into the atmosphere (2,000 miles x 0.024 metric tons = 48 tons). But since you're sharing the airplane with other passengers, you'll only need to offset a portion of that.
You can use that same equation to calculate the carbon footprint of any flight you are planning. Or you can use an online tool like the carbon footprint calculator. According to the calculator, you'd need to offset about 0.58 tons of CO2 for a roundtrip flight from Los Angeles to New York City. That means you're looking at about a $5-$9 cost to offset the carbon footprint of your flight.
So, what do we do as avid travelers?
Since we can't know for sure whether carbon offsetting is the most helpful solution to the environmental impact of airline travel, we certainly can't ignore other efforts to help the environment now. So one of the best things you can do as an avid traveler is to reduce your carbon footprint outside of travelling.
You can do this in any or all of the following ways:
Eating fewer meat and dairy products
Changing your light bulbs to LEDs
Performing an energy audit on your home
Conserving energy in your daily activities
Reducing hot water use
Driving less
Recycling
Purchasing direct flights
You can also feel good about purchasing carbon offset credits from a reputable organization, provided that doing so doesn't encourage you to be wasteful in your everyday life. If you can keep up the healthy habits listed above while purchasing carbon offset credits when you travel, you'll truly be offsetting your impact on the environment.
Keep in mind that under CORSIA, airlines will have to either buy eligible fuels or offset their carbon emissions as they increase. Some might argue that means individuals are off the hook. However, every time you fly, you are contributing to carbon dioxide emissions, and we're inclined to think it can't hurt to contribute to reducing carbon dioxide emissions as well.
It's also a good idea to support green businesses, such as sustainable clothing companies, environmentally friendly manufacturers, and even eco hotels. In fact, many big-name hotel chains have made the commitment to reduce their carbon footprint, including Hilton, Marriott, and Hyatt. These hotels each have excellent loyalty programs and some of the best travel credit cards, which means you won't have to skip out on your travel rewards to support their environmentally-friendly efforts.
The bottom line
If reading this convinces you to purchase carbon offset credits and you wouldn't otherwise change your habits, then carbon offsetting is better than nothing. But this only holds true if you're contributing to reliable projects and not giving yourself a free pass to forget about your environmental impact.
However, if you really want to reduce your carbon footprint, carbon offsetting is probably one of the least productive things you can do. It's no replacement for monitoring your daily activities to reduce carbon emissions.
That said, while you may be able to drive less without seriously impacting your quality of life, flying less prevents you from seeing the world and having new experiences, both of which can make you healthier and happier. As an avid traveler, you might want to consider reducing your carbon footprint in all other aspects of your life, as well as purchasing carbon offset credits, while you continue to travel and expand your horizons.
Easy-to-Earn Unlimited Rewards
Earn 25,000 online bonus points after you make at least $1,000 in purchases in the first 90 days of account opening - that can be a $250 statement credit toward travel purchases
Earn 1.5 points per $1 spent on all purchases
Longer intro APR on qualifying purchases and balance transfers
No foreign transaction fees
Earn unlimited 1.5 points per $1 spent on all purchases, with no annual fee and no foreign transaction fees and your points don't expire.
25,000 online bonus points after you make at least $1,000 in purchases in the first 90 days of account opening - that can be a $250 statement credit toward travel purchases.
Use your card to book your trip how and where you want - you're not limited to specific websites with blackout dates or restrictions.
Redeem points for a statement credit to pay for travel or dining purchases, such as flights, hotel stays, car and vacation rentals, baggage fees, and also at restaurants including takeout.
0% Introductory APR for 18 billing cycles for purchases, and for any balance transfers made in the first 60 days. After the intro APR offer ends, 17.74% - 27.74% Variable APR will apply. A 3% fee applies to all balance transfers.
If you're a Preferred Rewards member, you can earn 25%-75% more points on every purchase. That means instead of earning an unlimited 1.5 points for every $1, you could earn 1.87-2.62 points for every $1 you spend on purchases.
Contactless Cards - The security of a chip card, with the convenience of a tap.
This online only offer may not be available if you leave this page or if you visit a Bank of America financial center. You can take advantage of this offer when you apply now.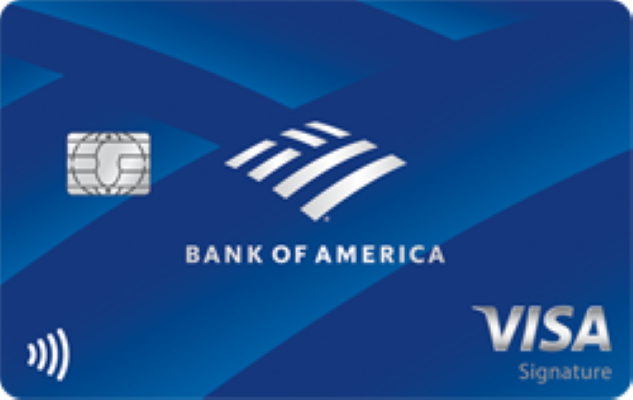 Apply Now
on Bank of America's secure website
Read Card Review
Intro Offer
Earn 25,000 online bonus points after you make at least $1,000 in purchases in the first 90 days of account opening - that can be a $250 statement credit toward travel purchases