When traveling to a new destination, it's always fun to find out what its signature dishes and drinks are. Since travel is picking up again in a big way, we've put together a list of must-try cocktails from around the world.
Even if you have no big travel plans in the near future, plenty of these cocktails are simple enough to make, so you can try some international sensations from the comfort of your own home.
Margarita — Mexico
There are conflicting stories about who invented this classic summer cocktail, but all agree that the popular Mexican drink has been delighting travelers for decades. Margaritas are simple enough to mix up on your own (no, you don't need a margarita machine).
The drink, in its most classic form, calls for tequila, lime juice, and triple sec, mixed together and served in a glass with a salted rim.
Aperol Spritz — Italy
It's said that the "spritz" concept was around way before Aperol was invented in Italy in the early 1900s, but the aperitivo put a new spin on the drink — one that's been popular for decades.
The light, sweet cocktail calls for equal parts Aperol and prosecco and a splash of soda.
Mojito — Cuba
Like many popular cocktails, there are several stories about exactly how and when the mojito was concocted. The traditional Cuban cocktail calls for spearmint leaves, white rum, cane sugar, lime juice, and soda or mineral water. This is another classic that's simple enough to make at home.
Chūhai — Japan
Chūhai was originally made with soda water and shōchū, a Japanese spirit. Now, the drink is often made with vodka instead and mixed with soda water, fruit juices, or syrups.
The drink is popular in Tokyo and, though it is prepared fresh in bars, there are also canned versions available for sale throughout the country.
Pro-tip: These are the best hotel credit cards for every type of traveler that offer valuable rewards and special perks.

Sangría — Spain
Though recipes for sangría vary greatly — and now you can find a dozen different types at your local Spanish restaurant — this drink has been a staple for centuries.
In its most basic form, the recipe calls for red wine (typically from the Rioja region in Spain), triple sec, brandy, simple syrup, soda, and a mixture of cut-up fruits.
Pimm's No. 1 Cup — London
The Pimm's Cup is said to have originated in London and is made of a gin-based liqueur (Pimm's No. 1 Cup) mixed with a sparkling lemonade or ginger ale and served with ice, assorted fruits, and mint.
The UK staple was reportedly invented by James Pimm, who owned a London bar, sometime in the early 1800s and has remained popular in the city and beyond ever since. It's the signature drink at Wimbledon.
Singapore Sling — Singapore
If you're traveling to Singapore, first you should book the long flight with the best travel credit cards. When making your to-do list as a visitor, be sure to add a stop at the Long Bar at the Raffles Hotel to indulge in a Singapore Sling.
The drink, a gin-based cocktail that contains pineapple juice, lime juice, curaçao, and Bénédictine, is said to have originated in the early 20th century at the Raffles Hotel. At the time, it was frowned upon for women to drink in public, but the colorful look of the Singapore Sling made it appear that the drinkers were simply sipping on fruit juice and they could indulge where they pleased.
Piña Colada — Puerto Rico
It's known that the piña colada was invented in San Juan, Puerto Rico, though there is some disagreement about who truly created the world-famous cocktail. Three bartenders at San Juan hotels in the 1950s and '60s claimed they concocted it first.
Regardless of who invented it, this sweet mix of coconut cream, pineapple juice, white rum, and ice has become a summer staple far beyond San Juan's beaches. If you've got a blender, these are simple enough to make at home, too.
Manhattan — New York City
While everyone seems to agree that the Manhattan cocktail was invented in New York City (hence the name), its true origin story seems to be lost in time.
The recipe made its first appearance in a bartenders' guide published in 1884, and involves a mix of rye or bourbon, sweet vermouth, and bitters. A fun thing about the Manhattan is how versatile the recipe can be by simply switching up the whiskey, bitters, or even the garnish.
Mai Tai — Hawaii
While the Mai Tai is said to have been invented in the mainland United States, the recipe made its way to Hawaii around the 1940s, where it soon became a bar staple and a fan-favorite for tourists visiting the Aloha State.
The original drink calls for a mix of rum, rock candy syrup, lime, orange curaçao, and orgeat (pronounced or-zhat) syrup, though many Hawaiin Mai Tais will also include pineapple and orange juice.
Pisco Sour — Peru
While the origin of the pisco sour has been hotly debated as well, it's largely accepted that the drink was invented at a bar in Lima in the early 20th century.
The drink consists of pisco brandy, egg whites, bitters, lime juice, and sugar syrup — and it's believed that it was created as an alternative to the whiskey sour.
Irish Coffee — Ireland
If you're visiting Ireland, Guinness and Jameson are a must-try drinks, but you may want to try an Irish coffee as well. The drink, which mixes hot coffee with brown sugar, cream, and a shot of Irish whiskey (like Jameson), is said to have been invented by a bartender in County Limerick who was whipping up drinks for tired travelers in the 1940s.
The drink reportedly exploded in popularity after a travel writer brought the recipe back to a hotel in San Francisco.
New Orleans — Sazerac
New Orleans' signature drink, the Sazerac, was invented back in the early 1800s. Apparently, the drink was originally made of a French brandy called Sazerac-de-Forge et fils (which is where the drink gets its name), but somewhere along the line the brandy was replaced with whiskey.
Nowadays, the Sazerac is made with rye or bourbon, Herbsaint (an anise-flavored liqueur), bitters, a cube of sugar, and a lemon peel.
Kir Royale — France
It's widely believed that the Kir cocktail, and the Kir Royale, were created as part of France's resistance to Germany during World War II.
Legend has it that when Nazi soldiers confiscated Burgundy's famous red wines, a priest named Felix Kir decided to create a cocktail using available dry white wine and mixing it with blackcurrant liqueur, which turned it red.
The Kir Royale, popular today, mixes one part blackcurrant liqueur with four parts Champagne.
Mint Julep — Kentucky
Though the origins of the mint julep date back hundreds of years, it became the official drink of the Kentucky Derby in the 1980s and that is what it's most known for today.
The simple, refreshing cocktail mixes rye and a splash of brandy with muddled fresh mint leaves, a sugar cube, and a dash of water.
Spritzer — Austria
Another popular summer drink, the Spritzer is thought to have originated in Austria at some point during the 19th century. The light and refreshing beverage is perhaps the easiest on this list to make on your own (making in the ideal staycation cocktail) as it simply mixes
three parts white wine with one part club soda.
B-52 — Canada
Rumor has it this famous Canadian cocktail, created in Alberta in the 1970s, was named after the band — known for timeless hits like "Love Shack" — of the same name.
And the drink — which stacks coffee, Irish cream, and orange-flavored liquors on top of each other in a shot glass — is just as fun.
Yogurt Soju — South Korea
Soju, the national drink of Korea and the best-selling liquor in the world by volume, can certainly be sipped alone. The liquor is watered down and versatile, so it can be added to many different cocktails.
Yogurt soju cocktails are a popular choice. They combine the liquor with an Asian yogurt drink and a fizzy soda. Like vodka, soju also comes in different fruity flavors that can be substituted into this cocktail.
Bottom line
Alcohol is a big part of cultural traditions all over the world. So if you are planning to travel in the near future, definitely make a list of the customary drinks and dishes at your destination. You may end up spending a lot on dining and drinks if abroad, but bringing along credit cards with no foreign transaction fees can help you save some cash along the way.
If you're not traveling, most of the ingredients and alcohol listed here can be picked up at your local liquor store.
Easy-to-Earn Unlimited Rewards
Earn 25,000 online bonus points after you make at least $1,000 in purchases in the first 90 days of account opening - that can be a $250 statement credit toward travel purchases
Earn 1.5 points per $1 spent on all purchases
Longer intro APR on qualifying purchases and balance transfers
No foreign transaction fees
Earn unlimited 1.5 points per $1 spent on all purchases, with no annual fee and no foreign transaction fees and your points don't expire.
25,000 online bonus points after you make at least $1,000 in purchases in the first 90 days of account opening - that can be a $250 statement credit toward travel purchases.
Use your card to book your trip how and where you want - you're not limited to specific websites with blackout dates or restrictions.
Redeem points for a statement credit to pay for travel or dining purchases, such as flights, hotel stays, car and vacation rentals, baggage fees, and also at restaurants including takeout.
0% Introductory APR for 18 billing cycles for purchases, and for any balance transfers made in the first 60 days. After the intro APR offer ends, 17.99% - 27.99% Variable APR will apply. A 3% fee applies to all balance transfers.
If you're a Preferred Rewards member, you can earn 25%-75% more points on every purchase. That means instead of earning an unlimited 1.5 points for every $1, you could earn 1.87-2.62 points for every $1 you spend on purchases.
Contactless Cards - The security of a chip card, with the convenience of a tap.
This online only offer may not be available if you leave this page or if you visit a Bank of America financial center. You can take advantage of this offer when you apply now.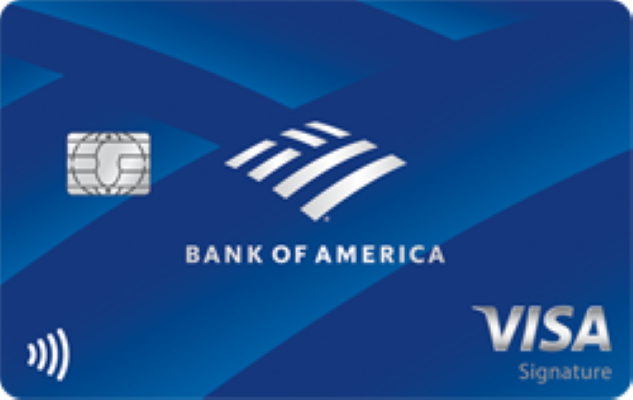 Apply Now
on Bank of America's secure website
Read Card Review
Intro Offer
Earn 25,000 online bonus points after you make at least $1,000 in purchases in the first 90 days of account opening - that can be a $250 statement credit toward travel purchases