We're approaching Memorial Day again, and if you're a frequent Costco shopper, you know what that means. Big deals are coming your way.
If you're busy with end-of-school events and can't comb through the limited-time deals, we've done the work for you. Here's what we found (spoiler alert: most of them are summer-themed deals, which will help you prepare for a great sunny season ahead).
These sales all have an end date, and they're only available while supplies last. This means that once they're sold out, the sale is over.
Gorilla Playsets Adventure Wave Playset
With warmer weather approaching countrywide, many parents are trying to find new ways to encourage their kids to play outside. And what better way to do this than to surprise your kids with a brand-new outdoor playset?

This playset from Gorilla Playsets is a real winner. Called the Adventure Wave, it is made from premium cedar materials and features two wavy sides, two sitting swings, a stand-up swing, a trapeze bar, and even a built-in playhouse. As if this wasn't enough, this set also comes with a built-in chalkboard and tic-tac-toe activity center.

This set usually retails for $1,799.99, but there's a promotion going on right now that takes $300 off your purchase. This puts the price at $1,499.99, a real bargain. It's best to act fast, though — this sale ends on May 26.
Little Giant MegaLite 17 Ladder with Tip and Glide Wheels
Looking to do some projects around the house this summer? Whether you're cleaning out your eaves or finally taking down your Christmas lights (hey, we won't judge), you're going to want a quality ladder. And while we're all for clever budgeting, a ladder isn't something that you should cheap out on. If your current ladder is uneven or at risk of breaking, you could be putting yourself in serious danger.

Fortunately, you can get yourself a trustworthy ladder at Costco. The Little Giant MegaLite ladder can extend up to 15 feet, making it the perfect size for most jobs around the house. Usually $199.99, the ladder is on sale for $149.99 until June 16, 2022.
Polywood Long Beach Adirondack Chair
Is there anything that screams "summer" more than sipping a glass of fresh lemonade while relaxing on an Adirondack chair? We think not. This Adirondack chair deal from Costco doesn't come with lemonade, but it does come with a price tag that's $30 off its regular price. Usually fairly priced at $199.99, the Adirondack chair is now a bargain at $169.99.
Thirty dollars off may not seem like a lot, but looking it's always helpful to find clever ways to save money whenever you can. This chair is on sale until June 12 and is online-only.
Wallingford 7-Piece Leather Modular Sectional With Ottoman
Thinking of changing up the furniture in your living room? This awesome sectional sale from Costco might be your sign to do exactly that.
This large leather couch usually retails for $4,999.99, but Costco is running a sale that offers customers $1,000 off. This means that you'd pay $3,999.99, which is a great price for a couch of this size and quality. This price is available until June 12.
Stirling 10-ft-by-12-ft Storage Shed
This is one of the things we love about Costco: You can always be impressed by the items that you find there. This Stirling DIY shed isn't exactly something that you would think to pick up on a casual Tuesday afternoon grocery shopping, but if you're shopping at Costco, you sure can.

This storage kit is a great solution for anyone looking to add a shed to their backyard. Not only does it come with fully operational windows, but it also has locking doors. In total, this shed unlocks 1,018 cubic feet of storage. You'll have to check your local building codes to make sure that you can construct this shed on your property.
This shed usually retails for $3,999.99, but it's on sale for $3,199.99 until June 12. That's $800 in savings. Plus, you could earn cash back on your purchase if you are a Costco Anywhere Visa card holder. This item has to be purchased online.
Liquid I.V. Hydration Multiplier
One of the hazards of the summer season is dehydration in the heat. These Liquid IV hydration packs claim to have the cure for this dilemma, with three times the electrolytes (when compared with sports drinks) and 11 important vitamins and minerals. The company goes as far as to say that drinking one package of liquid IV is equal to drinking three bottles of water.
It's great to have these on-hand at music festivals, sporting games, or just for guests who are hanging out in your backyard.

A package of 30 pouches usually sells for $29.99, but Costco is running a sale until June 12. You can get $8 off each box, for a total of $22.99 a box.
Husqvarna 2000 PSI Electric Pressure Washer
Don't underestimate the power of a good pressure washer. Though it's not one of the most common cleaning machines for many of us to keep on hand, there is nothing more satisfying than power washing a giant mess.
You can use this Husqvarna power washer to clean a driveway, clean a sidewalk or backyard area, or even to clean the outside of your house and garage door. Costco usually sells this power washer for $199.99, but it's on sale for $169.99 until June 12.
Paragon Santa Monica Aluminum Gazebo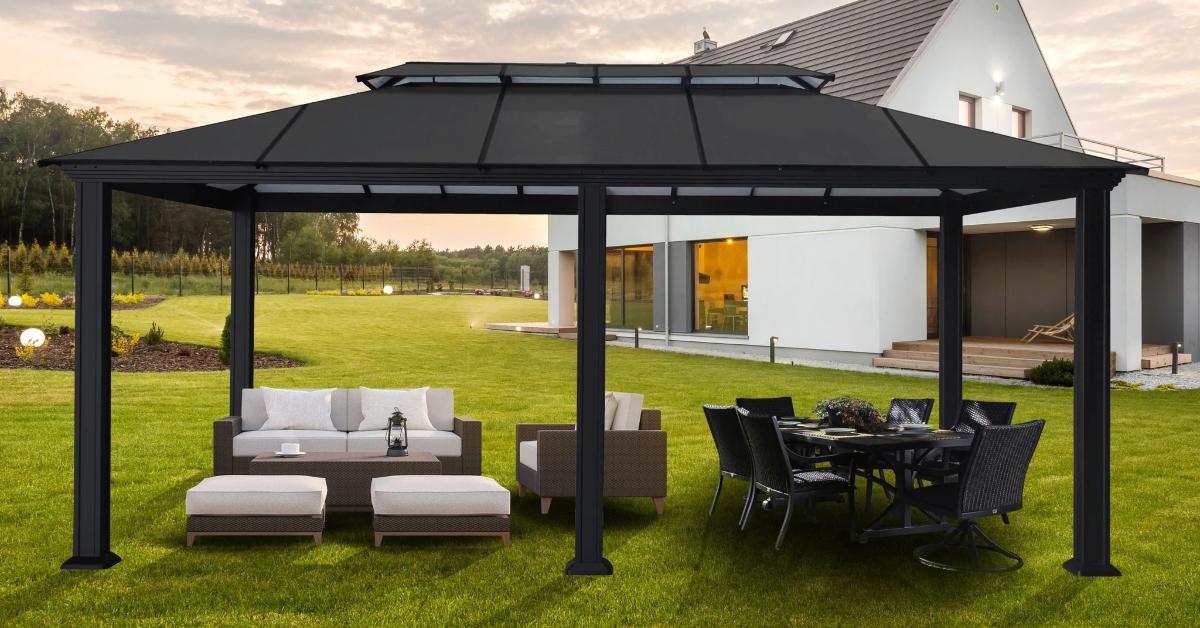 Not only do gazebos offer a welcome refuge from the sun, but they also add a beautiful decorative touch to the backyard. You can make your outdoor area feel like a luxury resort by purchasing the Paragon Santa Monica Aluminum Gazebo from Costco.
This item is designed for year-round use and comes with layered roof paneling. It's already a pretty good deal at $1,899.99, but until June 12 you can snag up to $700 off. This item is online only.
Bottom line
If you want to take advantage of any of these deals, it's best to act fast before supplies sell out.
Chances are you won't be the only one shopping the sales. Memorial Day weekend is one of the most important sales events of the year, and it's not unusual for two-thirds of Americans to shop on this weekend each year. This is a great opportunity to save your money by snagging a few wants and needs now instead of paying more later on.
So if you do find yourself among the crowds, remember to go early, wear comfy shoes, and exercise patience.