Picture this. You're at the airport waiting to go through a TSA checkpoint. You used a perk on one of your travel credit cards to get access to the TSA PreCheck line, but for some reason, the line isn't moving. There's a delay, but nobody seems to know why.
It's frustrating, but we've all been there. After saving up to pay for a dream trip, the last thing you want is to be stuck at airport security. But maybe the TSA just found a "methritto" (more on that later) or, you know, a hairbrush that potentially doubles as an assassin's weapon of choice. The things they find are pretty insane, which you can see for yourself.
Here are some of the craziest items the TSA found in 2021, according to their Instagram account.
Brass bullet knuckles, LaGuardia (LGA), New York
So you're saving for an epic vacation and deciding what to pack in your carry-on bag. You know what would go great with that cute top? Some brass knuckles attached to bullets. Yeah, it's the new thing and totally allowed by the TSA. (No, it's not.)
OK, probably not this person's best idea ever, but we must simply applaud the creation of this item. Brass knuckles and bullets? Very cool. Just put it in your checked baggage next time.
Assassin brush, Richmond International (RIC), Virginia
Is "assassin brush" the technical name for this next item? We think so. I mean, take a look at this thing. You've got your typical brush head and brush handle when you put the pieces together. But take the pieces apart and you've got… your typical brush head and then Buffy's plastic equivalent for killing vampires.
Methrrito, William P. Hobby (HOU), Texas
"Whether it's late at night or early in the morning, a big ol' burrito just hits the spot. Everyone has their go-to options, but a personal favorite of mine is what I like to call the 'methritto.' You get all the normal fixins' of a breakfast burrito and just throw a sandwich bag of meth in the middle. That's the secret ingredient — it gives it a bit of zing," said nobody ever.
Assassin comb, Boston Logan International (BOS), Massachusetts
You've seen the assassin brush, but what about the assassin comb? This new technology puts all the fun and enjoyment of combing your hair into a neat, pink package. But wait, there's more! Pull on the comb part and the handle simultaneously, and you'll reveal… a knife! I mean, a nail cleaner. Yeah, just a nail cleaner, officer.
Dynamite clock, O'Hare International (ORD), Illinois
What time is it, you ask? Let me check my vintage alarm clock and radio that I've attached some dynamite with a clock face to. Yes, dynamite, attached to a vintage alarm clock and radio. But do you know the weirdest part of this picture? That Sears logo in the corner. (That's how I know it's vintage.)
Claymore mine, Dulles International (IAD), Virginia
If you're on the fence about bringing replica explosives onto an airplane in your luggage (checked or carry-on), I'd like to hear your reasoning. Does your replica look real? If so, you better not. Even if it doesn't, which isn't the case with this claymore mine, you still better not. Because if there's one thing the TSA doesn't want on a plane, it's something that could blow it up. Who knew?
Flintlock firearm, Bradley International (BDL), Connecticut
While very cool, your flintlock dueling pistol won't be allowed in your carry-on luggage at dawn or even high noon. We can discuss low noon, though. Ba dum tss. OK, not really. And not just because I'm not sure what time that would be.
Mentos bullets, LaGuardia (LGA), New York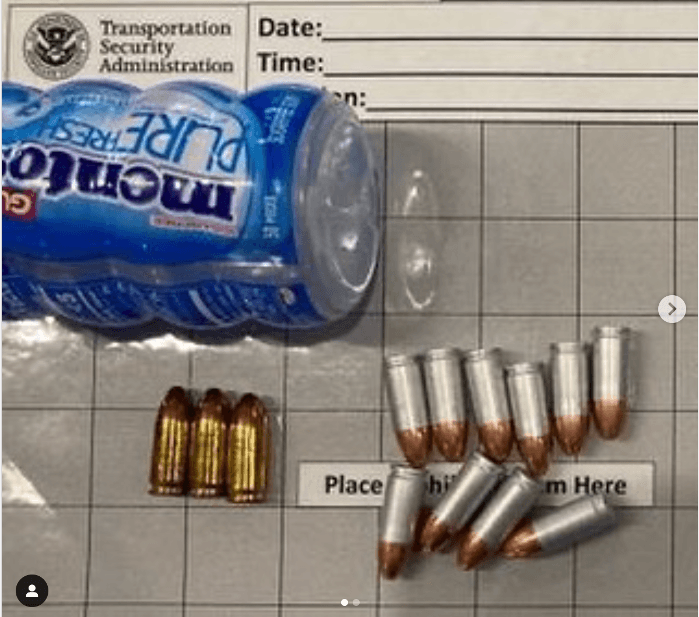 Fresh goes better, it's easy when you're full of life! But you know what's not easy? Getting through the security checkpoint when your Mentos container is filled with bullets. I mean, don't get me wrong, there's nothing quite as refreshing to chew on as brass and steel casings. But maybe just put them in your checked baggage next time.
Meat cleaver, Harrisburg International (MDT), Pennsylvania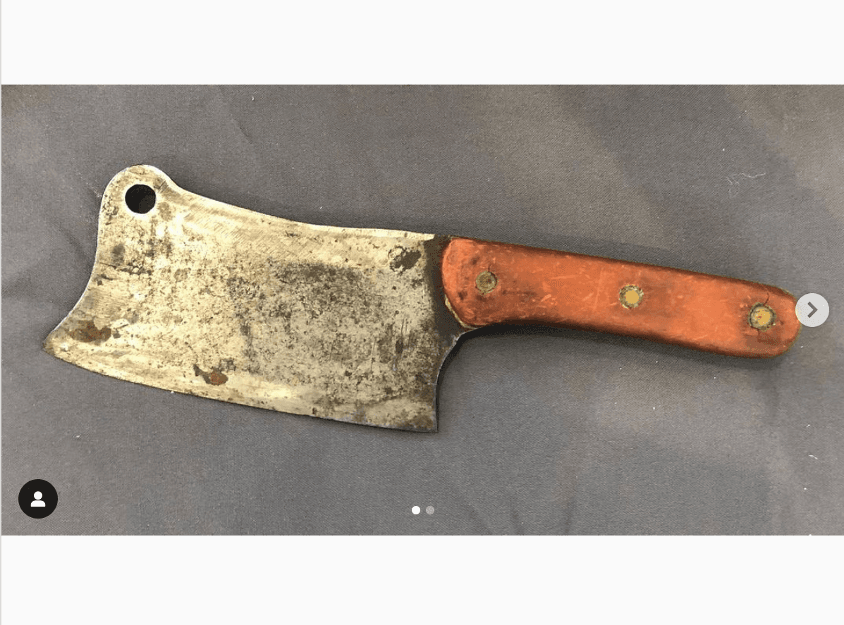 Ah, darn. I forgot to take my meat cleaver out of my purse. Again. Foolish me. I'm usually pretty good about remembering to remove Choppy (that's her name) from the old bag-a-roo. Maybe you can give me a pass this time?
Ninja throwing stars, Baltimore-Washington International (BWI), Maryland
If I know anything about ninjas, it's that they're supposed to be secretive and stealthy. First off, what self-respecting ninja is using multi-colored throwing stars? And then, who puts them in their carry-on? You're just asking to draw attention to yourself, phony ninja.
Batarangs, Richmond International (RIC), Virginia
Duh-nuh-nuh-nuh-nuh-nuh-nuh-nuh, batarang! Three batarangs, to be exact. Unfortunately, this shipment of iconic throwing weapons won't be showing up to The Caped Crusader's cavestep anytime soon. Next time, splurge on the checked bag fee, Bruce (sorry, spoiler alert).
Knife bandage, Los Angeles International (LAX), California
Sorry officer, I had this really weird accident where I broke my arm. Because of shipping delays, the doctors had to use a knife as a splint. Over time, the knife grafted itself to my skin and I became the next… bionic man! Or budget Wolverine.
Stunning lipstick, Dallas/Ft. Worth International (DFW), Texas
When flying across the country to meet the person of your dreams you matched with on your favorite dating app, you have to make an impression. The whole "if looks could kill" vibe is what you want. Something shocking, maybe even stunning. Like using this new lipstick with a shade called "high voltage and intolerable pain."
Jigsaw, Burlington International (BTV), Vermont
I sometimes get worried about having a pen in my carry-on bag, let alone a handheld power tool. Maybe I'm just overly cautious about what I pack, but I don't think I'd have any second thoughts about leaving the jigsaw at home. Powered up or not, it seems like a no-brainer.
Harpoon, Portland International (PDX), Oregon
If you're thinking of trying to bring a harpoon through airport security, just know it's not going to go over very whale. Simply put, people might think you're a little cray-sea for even making an attempt. Rather than giving into pier pressure and trying to orca-strate such an effort, put your harpooning ventures a-tide before you seal your fate.
Bottom line
Oh, the things the TSA gets to deal with daily. Not an enviable position, but at least we get some comedy out of it. But if you like to travel, please don't try to bring weird and potentially dangerous things through airport security. Despite the comedic value for us, it's not worth the risk or the potentially hefty fines.
Rather, find ways to live and travel safely and intelligently. For example, if you want to help crush your debt and travel for (almost) free, use the best airline credit cards. These cards can help cover your flights and many provide additional perks, such as free checked bags.
Easy-to-Earn Unlimited Rewards
Earn 25,000 online bonus points after you make at least $1,000 in purchases in the first 90 days of account opening - that can be a $250 statement credit toward travel purchases
Earn 1.5 points per $1 spent on all purchases
Longer intro APR on qualifying purchases and balance transfers
No foreign transaction fees
Earn unlimited 1.5 points per $1 spent on all purchases, with no annual fee and no foreign transaction fees and your points don't expire.
25,000 online bonus points after you make at least $1,000 in purchases in the first 90 days of account opening - that can be a $250 statement credit toward travel purchases.
Use your card to book your trip how and where you want - you're not limited to specific websites with blackout dates or restrictions.
Redeem points for a statement credit to pay for travel or dining purchases, such as flights, hotel stays, car and vacation rentals, baggage fees, and also at restaurants including takeout.
0% Introductory APR for 18 billing cycles for purchases, and for any balance transfers made in the first 60 days. After the intro APR offer ends, 17.99% - 27.99% Variable APR will apply. A 3% fee applies to all balance transfers.
If you're a Preferred Rewards member, you can earn 25%-75% more points on every purchase. That means instead of earning an unlimited 1.5 points for every $1, you could earn 1.87-2.62 points for every $1 you spend on purchases.
Contactless Cards - The security of a chip card, with the convenience of a tap.
This online only offer may not be available if you leave this page or if you visit a Bank of America financial center. You can take advantage of this offer when you apply now.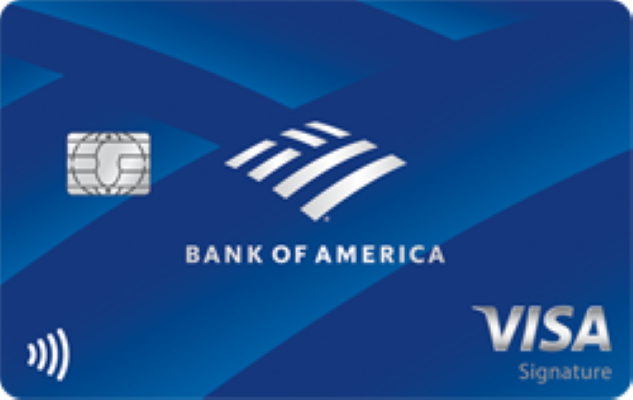 Apply Now
on Bank of America's secure website
Read Card Review
Intro Offer
Earn 25,000 online bonus points after you make at least $1,000 in purchases in the first 90 days of account opening - that can be a $250 statement credit toward travel purchases