There's no doubt about it, the holiday season just feels different. Apart from the craziness of shopping and sometimes awkward family get-togethers, it can be a magical time. You get seasonal dishes and drinks, and there's a general feeling of joy in the air that you want to share with others.
And what's the best way to share your happiness? With weird Christmas traditions, of course. If you feel like you're about to be called out on the weirdness in your city, you might be right. From Alabama to California, we've got some strange traditions happening. And I'll admit, some of them look pretty fun, too. So if you're on the hunt for how to spend a few wacky days this month, just check out these 13 cities.
Save money for your holiday gift budget:

Mobile, Alabama - Elfapalooza
The city of Mobile, Alabama plays host to the annual Elfapalooza event. Which, if you don't know what that is, you might attempt to conjure up an image of it in your mind. If that image is an excessive number of strangers dressing up as Christmas elves together, you nailed it. If you suffer from fayophobia (the fear of elves), I'd suggest you stay far away from this event.
Orlando, Florida - Disney Christmas
There's nothing weird about being a grown adult and having a Disney obsession. Nothing weird at all — we've all been there. And in case you can't tell, I'm only being half-sarcastic. Mainly because I see both sides of the argument.
The kids that grew up with Disney are now adults and, to be honest, there's a lot of cool stuff to do at Disney World. Disney already goes all out on any random day of the week you're visiting, so can you imagine during the holidays? We're talking limited-time treats, seasonal decorations, and the Very Merriest After Hours. My goodness, my feeble brain can't handle the thought of so much pure joy and Disney happiness.
But the cost can be a bit off-putting. Help lower your expenses (like flights and hotel stays) by using travel credit cards.
Chandler, Arizona - Tumbleweed Christmas tree
"I say we take one of the most uninteresting things about where we live and put it on display during one of the busiest times of the year for everyone to see," said the imaginary mayor of Chandler, Arizona in my head when I found out about this tradition.
But really, I think it's awesome. A bit strange, but pretty awesome, nonetheless. Embrace where you live!
Laguna Niguel, California - Santa surfing
I'm not gonna lie, I'd like to see someone in a Santa costume catching a gnarly wave. And if you're in the Laguna Niguel area during the annual Surfing Santa & Stand Up Paddle Board Contest, that's exactly what you'll get.
Apart from the obvious merriment involved, this contest supports Surfers Healing, a nonprofit organization dedicated to helping children with autism find confidence and peace through surfing. That's an amazing mission.
Jacksonville Beach, Florida - Deck The Chairs
Instead of decking the halls, the Jacksonville Beach community resorts to decking the chairs. In particular, they deck lifeguard chairs with festive artwork. It's not surprising that a tradition like this sprung up in Florida — I mean, you make do with what you have and there just aren't many halls to deck on the beach.
And on a serious note, Deck The Chairs is actually a nonprofit organization that helps offer a genuine holiday experience for families in the community. The organization promotes the arts and art education.
Lindsborg, Kansas - St. Lucia Festival
If there's one thing I know, it's that fire and hair aren't a good combination. But in America's own Little Sweden (Lindsborg), lighting a wreath of candles atop a young woman's head is all the jazz.
During the St. Lucia Festival each year, the eldest daughters of families following this tradition (typically Swedish families) wear white gowns and a crown of lingonberry branches with seven lit candles. This holiday tradition honors the legend of one Lucia of Swedish folklore that saved the people of Sweden from starvation.
Crested Butte, Colorado - Santa Ski & Pub Crawl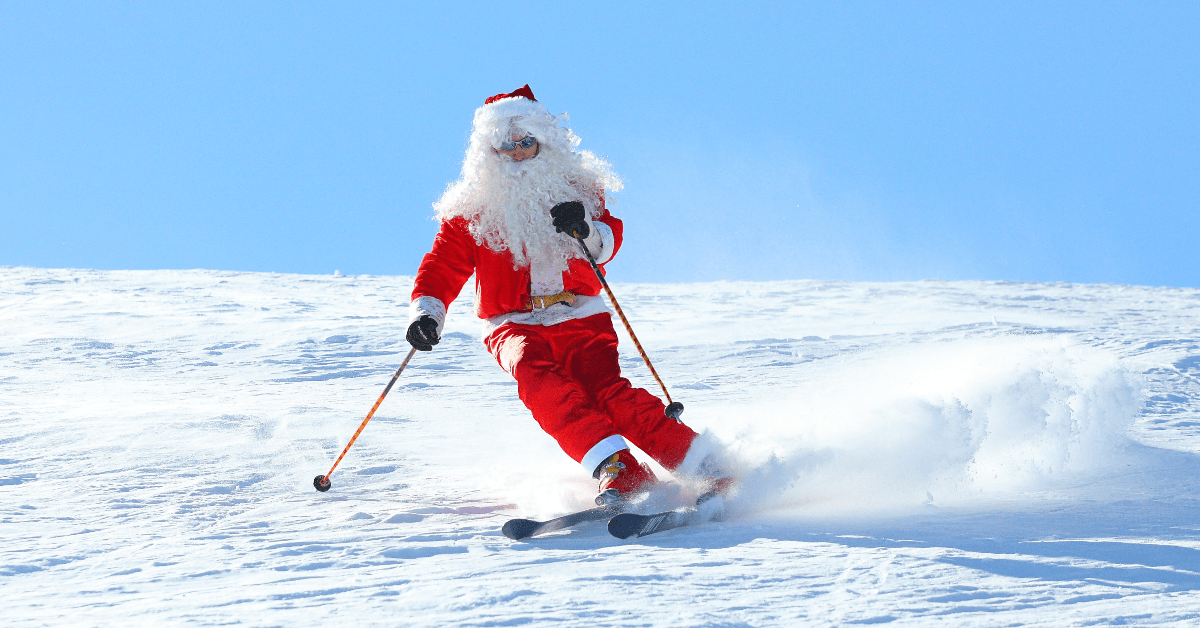 If a bunch of elves in Alabama wasn't enough for you, move onto the Santa Ski & Pub Crawl event in Crested Butte, Colorado. Held annually, this event sees loads of Santa-costume-clad individuals gather for general merriment on the slopes (you get a discount at Crested Butte if you're dressed up as Santa). Once you've had your fill of skiing, start the pub crawl across town. As you may have guessed, this doesn't end up being a kid-friendly event.
Garyville, Louisiana - Papa Noel bonfire
What can we expect from Christmas traditions down south? For starters, I hope there are alligators involved. Because nothing says "Louisiana" like a big ol' 'gator. And if there are a few alligators and they're magical and they're pulling Papa Noel (think Cajun Santa) in a canoe through a bayou. Well, how can you top that? I guess the only way is to make a massive 78-foot wooden alligator and set it on fire. And that's basically Christmas in Garyville, Louisiana.
Chimney Rock, North Carolina - Rappelling Santa
Somewhere in the world, someone is creating a new holiday tradition from a crazy idea. At one point in time, the same thing happened with someone in or near Chimney Rock State Park in North Carolina. They figured, if Santa can crawl down a chimney, he'll have no problem with a chimney rock. I'll admit, seeing a Santa scaling a rock face seems like a pretty cool spectacle. Though, all the rock climbing seems to have reduced the size of his midsection...
Calistoga, California - Lighted tractor parade
California might be the last place you'd expect to find a tractor parade. I mean, what kind of tractors are these? Lamborghinis? Teslas? None of the above, actually (I think). It turns out the Napa Valley has loads of tractors around because of its agricultural setting. (Who knew?) And what better way to get into the holiday spirit than doing an annual parade out of all your farming equipment.
Madison, Wisconsin - Lutefisk dinner
Do you do turkey or ham for Christmas dinner? Neither? Maybe roast beef or chicken? Prime rib? Not those either, huh? Goose, lamb, duck... Cornish game hen?!
Ohhh, you do lutefisk. Of course, that makes sense. You must be from a Scandinavian country, or parts of Minnesota and Wisconsin. Where "chemical-soaked, gelatinous fish" (as described by Smithsonian Magazine) is the prized holiday meal. But really, I think only the descendants of vikings can eat something that's soaked in lye, also known as caustic soda.
Las Vegas, Nevada - Great Santa Run
Still haven't had enough of Santa and elves in this list? Well then pull out your favorite airline credit card and book a flight to Sin City. Here, you can participate in the Great Santa Run 5K or 1-mile events. Because we all know there's nothing quite as pleasing to run long distances in as a full Santa suit. I'd also recommend hitting up one of the many buffets right before the race. For extra energy, of course.
Kansas City, Missouri - TubaChristmas
Which instrument best represents Santa? I don't think I ever would have guessed this, but a tuba just kinda makes sense. At least if you're thinking of the traditional big ol' jolly fella.
If you didn't know, the first TubaChristmas, a symphonic event featuring tuba and euphonium players (no, I had never heard of a euphonium before writing this), was held in New York City in 1974. Now it's an annual event in Kansas City.
Bottom line
So what kind of Christmas traditions are you into? Across the country, there are plenty of interesting options to choose from — with some appearing slightly more interesting than others. But it's all in good fun, and there's something that feels right about keeping up with certain traditions. So whether you're experiencing a new tradition or sticking with an old favorite, have fun and happy holidays!
Easy-to-Earn Unlimited Rewards
Earn 25,000 online bonus points after you make at least $1,000 in purchases in the first 90 days of account opening - that can be a $250 statement credit toward travel purchases
Earn 1.5 points per $1 spent on all purchases
Longer intro APR on qualifying purchases and balance transfers
No foreign transaction fees
Earn unlimited 1.5 points per $1 spent on all purchases, with no annual fee and no foreign transaction fees and your points don't expire.
25,000 online bonus points after you make at least $1,000 in purchases in the first 90 days of account opening - that can be a $250 statement credit toward travel purchases.
Use your card to book your trip how and where you want - you're not limited to specific websites with blackout dates or restrictions.
Redeem points for a statement credit to pay for travel or dining purchases, such as flights, hotel stays, car and vacation rentals, baggage fees, and also at restaurants including takeout.
0% Introductory APR for 18 billing cycles for purchases, and for any balance transfers made in the first 60 days. After the intro APR offer ends, 17.99% - 27.99% Variable APR will apply. A 3% fee applies to all balance transfers.
If you're a Preferred Rewards member, you can earn 25%-75% more points on every purchase. That means instead of earning an unlimited 1.5 points for every $1, you could earn 1.87-2.62 points for every $1 you spend on purchases.
Contactless Cards - The security of a chip card, with the convenience of a tap.
This online only offer may not be available if you leave this page or if you visit a Bank of America financial center. You can take advantage of this offer when you apply now.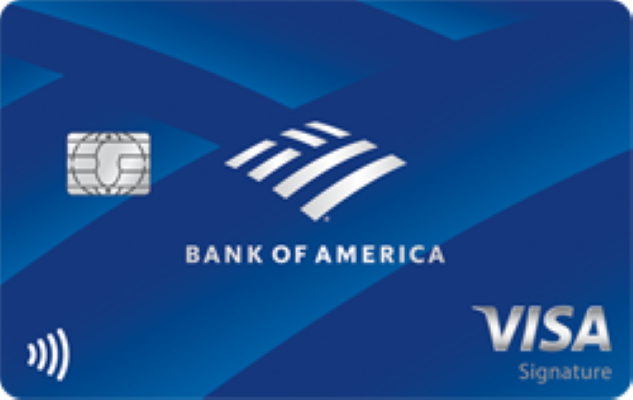 Apply Now
on Bank of America's secure website
Read Card Review
Intro Offer
Earn 25,000 online bonus points after you make at least $1,000 in purchases in the first 90 days of account opening - that can be a $250 statement credit toward travel purchases