Ah, plane travel. It's a wonder that we get to hurtle through the air at unbelievable speeds while patiently (or impatiently) waiting for the drink and snack carts to roll by. But before you can start sipping your ginger ale — before you actually even get on the plane — you have the wonderfully dismal or surprisingly joyful experience of going through an airport.
Sometimes, certain delays and cancellations may be well out of your control. This is where making small moves to set yourself up in life becomes important — including at the airport. In fact, just having the right credit cards could help you improve your chances of having more enjoyable travel days.
Let's see which credit card perks can help shift your airport experience from bad to good — and maybe even all the way to amazing.
Airport lounge access
You have to be rich or flying first class (rich) to get into airport lounges, right? Wrong! Airport lounges are quite accessible for many travelers, especially if you have one of the best travel credit cards.
Many of these cards offer complimentary airport lounge access as one of their benefits, which means you often get entry into a world of free Wi-Fi, food, and drinks. Plus, the seating and lounge spaces are typically more comfortable and peaceful than waiting at a gate, especially if you have a delay.
Want to see some excellent lounge choices and how you can access them? Check out our list of top U.S. airport lounges.
Credits at Priority Pass restaurants
Lounges are great ways to pass the time in an airport, whether your flight has been delayed or not. But if you want to take it one step further, check out the restaurants that are part of the Priority Pass lounge network.
Your typical travel card with Priority Pass access won't get you free credit to use at these restaurants, but the Chase Sapphire Reserve will.
Yes, you heard that right — having this card gives you free credits to eat at certain airport restaurants. If that's not a great way to kill some time, we're not sure what is.
Trip delay insurance
One of the biggest downfalls of flying is having to endure the eventual flight delay. Because, yes, it's going to happen at some point. According to the Bureau of Transportation Statistics, U.S. flight delays and similar events happened about 15% of the time in 2020. This means flights were on time about 85% of the time, which isn't bad. But it leaves room for a delay to occur.
Having a certain credit card doesn't mean you can prevent delays, but you can get the benefit of trip delay insurance on travel cards like the Chase Sapphire Preferred and The Platinum Card® from American Express. This benefit could reimburse you for certain expenses in case your flight is delayed.
Trip cancellation and interruption insurance
Apart from protecting yourself from the costs of departure delays, you might also want to prepare for having to completely cancel your trip for one reason or another. This could include becoming sick or injured before or during your journey, including the time you're stuck waiting at the airport.
There's nothing worse for a traveler than being sick. That sickness comes with a price tag for flights, hotel stays, attractions, and more. Fortunately, trip cancellation and interruption coverage can take the financial sting out of the situation if you can't continue or start your journey.
You can find this perk on the Chase Sapphire cards and other travel credit cards. Read our guide to find out the differences between the Chase Sapphire Preferred vs. Reserve.
Lost luggage reimbursement
Airline lost your luggage? Well, now you have to wait around at the airport to go through the process of trying to find where it is. And that can be a long and frustrating wait.
In this case, the right credit card won't make the process easier or magically return your luggage. But it could take some of the frustration out of the situation if you have a credit card with a lost luggage reimbursement benefit. At least then you'd know you should be getting some money to replace your belongings, including if your luggage is damaged rather than lost.
It's not uncommon for more premium travel cards, such as the United Club Infinite Card, to have this coverage.
Priority screening services
Delays at the airport don't have to do with flights alone — you could be delayed simply getting to your gate because the security lines are so crowded and long. This is frustrating because it's not like you get a comfortable lounge chair or something to rest your feet on while waiting. And in some cases, you might risk missing your flight, even though you're actually in the airport.
But if you have a credit card that offers reimbursement for priority screening services, such as Global Entry, TSA PreCheck, or CLEAR, your chances of skipping long security checks are much better.
The Amex Platinum offers annual CLEAR Plus credits (enrollment is required), and then there's this list of credit cards that offer free TSA PreCheck or Global Entry.
Companion pass
If you have to wait at the airport because of a flight delay, you might as well have a friend along to share in the misery. Then you can reminisce later on that one time you used your Delta SkyMiles® Platinum American Express Card or something similar to book a companion ticket and then spent a quarter of the trip sitting around at the airport. Fun times.
Travel credit
Did you know loads of credit cards come with free credits that you can use on different things? These credits are typically good for flights or hotel stays, which means you won't feel quite as bad during a flight delay if you know part of your trip cost was basically covered for free.
The Chase Sapphire Reserve and U.S. Bank Altitude Reserve Visa Infinite Card are two examples of cards with annual travel credits.
No baggage fees
To further the argument that everything feels slightly better when you're saving money, have you seen how much baggage fees are these days? It's not uncommon to see prices of at least $30 to $35 per bag and most U.S. airlines are charging for each piece of checked luggage depending on your route and fare class.
Want to avoid these fees? Get one of the best airline credit cards that provides a free checked bag benefit.
Priority boarding
Finally, the flight delay is over and it's time to board the plane. People are scrambling into position because, let's be honest, that's just what people do when it's time for boarding. To avoid the general feeling of uneasiness and competition for who's getting on first, consider credit cards that provide priority boarding benefits.
The United Explorer Card and Citi / AAdvantage Platinum Select World Elite Mastercard are two options for getting priority boarding on eligible flights.
No foreign transaction fees
If you're looking for things to do while sitting around in an airport, you'll likely end up walking around and potentially buying something, even if it's just a snack or drink. However, many airports have loads of options for shopping.
If you're in an airport abroad, make sure to use a credit card that doesn't charge foreign transaction fees. This will help you avoid an added fee on your shopping purchases, which, though small, would only add to the frustration of being in a flight delay situation.
Most travel-focused cards don't have these fees, but here's a list of 10 credit cards with no foreign transaction fees to get you started.
Free hotel nights
How might one of the best hotel credit cards be helpful at the airport, you wonder? Well, if your flight is delayed long enough or canceled and it's late at night, you might want to find some comfortable accommodations to rest your head.
Many hotel credit cards offer free hotel stays that could come in handy during this type of situation. And because it's common for travelers to stay a night or two near an airport, you should have plenty of options for lodging.
Food credits
Have you ever sat around for six or more hours and not gotten a bit peckish? I can barely go 30 minutes without feeling like my body is going into starvation mode. If you're bored and stuck at an airport, eating food is high on the short list of things you can do. But if you want to avoid the overall high prices of an airport, consider a credit card that comes with food credits.
Cards like the American Express® Gold Card and Amex Platinum offer food credits (enrollment is required) that can be used at certain restaurants, even in some airports. If you're going to sit around anyway, it might as well be with a tasty (and free) bite to eat.
Travel concierge
You know you've made it when you have a travel professional helping you book reservations at fancy restaurants and finding tickets to the show you thought was sold out. Yes, you're living the high life now. Or at least, you have a credit card that offers travel concierge services, which is one of the many World Elite Mastercard benefits.
But how does this help at the airport? An airport concierge could help speed you through certain airport processes and make sure you know how to get around. In addition, if your flight is delayed or canceled, you may need to change some reservations, which a concierge might be able to help you with.
Streaming credits
With plenty of downtime at the airport, your phone, tablet, or laptop becomes an important source of entertainment. It's amazing how quickly time can fly by when you watch a movie (or five) or binge a few seasons of a show.
The Amex Platinum is the go-to card for credits on streaming services, as it provides up to $240 credits each year for digital entertainment. This includes Disney+, The Disney Bundle, Hulu, ESPN+, Audible, Peacock, The New York Times, and SiriusXM.
Bottom line
Travel is supposed to be fun for most people, but it can be a real drag if you get stuck at the airport because of flight delays or cancellations. To help improve your time at the airport, consider the different ways credit card perks can be used. Some perks are good for passing the time, whereas others are good for helping keep your finances secure.
But one credit card alone won't likely have all the perks on our list, so it's up to you to compare credit cards and find the one(s) that have the benefits you're looking for. Keep in mind that premium travel cards, such as the Chase Sapphire Reserve and Amex Platinum, typically have more perks and benefits than other cards and that can make them more than worth the annual fee.
Easy-to-Earn Unlimited Rewards
Earn 25,000 online bonus points after you make at least $1,000 in purchases in the first 90 days of account opening - that can be a $250 statement credit toward travel purchases
Earn 1.5 points per $1 spent on all purchases
Longer intro APR on qualifying purchases and balance transfers
No foreign transaction fees
Earn unlimited 1.5 points per $1 spent on all purchases, with no annual fee and no foreign transaction fees and your points don't expire.
25,000 online bonus points after you make at least $1,000 in purchases in the first 90 days of account opening - that can be a $250 statement credit toward travel purchases.
Use your card to book your trip how and where you want - you're not limited to specific websites with blackout dates or restrictions.
Redeem points for a statement credit to pay for travel or dining purchases, such as flights, hotel stays, car and vacation rentals, baggage fees, and also at restaurants including takeout.
0% Introductory APR for 18 billing cycles for purchases, and for any balance transfers made in the first 60 days. After the intro APR offer ends, 17.99% - 27.99% Variable APR will apply. A 3% fee applies to all balance transfers.
If you're a Preferred Rewards member, you can earn 25%-75% more points on every purchase. That means instead of earning an unlimited 1.5 points for every $1, you could earn 1.87-2.62 points for every $1 you spend on purchases.
Contactless Cards - The security of a chip card, with the convenience of a tap.
This online only offer may not be available if you leave this page or if you visit a Bank of America financial center. You can take advantage of this offer when you apply now.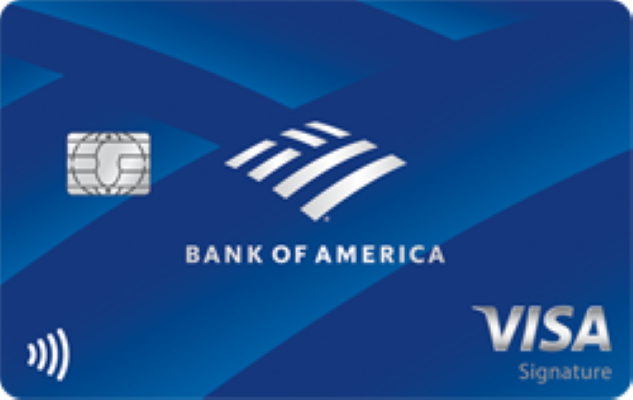 Apply Now
on Bank of America's secure website
Read Card Review
Intro Offer
Earn 25,000 online bonus points after you make at least $1,000 in purchases in the first 90 days of account opening - that can be a $250 statement credit toward travel purchases