You've booked your next vacation and can't wait to get on that cruise ship to enjoy everything it has to offer. Lurking behind that shore excursion or drink with a little umbrella could be a costly cruise mistake. Avoid all that by checking out these possible cruise-ship missteps so you can fully relax.
Letting your bar tab get too high
You're on a cruise to unwind, and for many people, that includes visiting the bars on the ship. It's easy to just charge drinks to your room, but that can lead to a shocking bar bill when you disembark. Cruises make lots of money with high alcohol pricing, so check on how much a gin and tonic costs before you drink several and wake up the next morning with a dreadful receipt.
Squeezing too many people into a room
A cruise ship room, including the bathroom, is much smaller than a hotel accommodation, so don't get too ambitious with your roommate list. Even though you're probably not spending much time in your room, it might be a good idea to book adjacent cabins instead.
Missing your ports of call
One of the best things about going on a cruise is visiting all the ports of call. Don't miss out on these gems of opportunity. Do a little research before your trip to learn about cozy restaurants and eclectic shops off the beaten path that may not be clogged up with other cruise passengers.
Picking the wrong excursions
Excursions offered through your cruise often fill up quickly if not booked ahead of time. They can also be pricey. Looking into local excursions that aren't affiliated with the cruise line may not only cost less, but be more in-tune with your interests.
Pro tip: Some of the best travel credit cards can help you earn extra points when paying for an excursion, regardless of whether you book it through a cruise line or on your own.
Forgetting about the calendar
The popularity of cruises and their prices fluctuate seasonally. Booking for the spring may mean more college students vacationing while on break. A cruise during the summer may have more families and younger kids. Cruising during low season — typically during colder months — may be less expensive. If you don't remember to check your calendar, you may not have your ideal cruise companions.
Ignoring the daily paper
Many ships offer a daily cruise planner delivered to your room every night, sharing details of the activities awaiting you the next day. Often, there are apps for your smartphone with the same information. Keeping up on what's offered will help you not miss out on exciting options.
Booking too late
Many attractions offered during a cruise require reservations, and they fill up fast. Look into scheduling online before you arrive to reserve your spot before it's booked. Cruise lines often offer things like climbing walls, go-kart tracks, surf simulators, and roller coasters that add to your experience.
Getting to the port too late
You're ready to leave the snow behind and head out on a tropical vacation. Except now you can't leave because that snow shut down your flight and you won't get out until tomorrow. Your ship, however, leaves today.
To avoid travel issues like this, think about booking planes, trains, or automobiles to arrive a day before your ship's departure and spend the night at a nearby hotel. It can also give you an extra vacation day to explore your port city before you head out on your cruise.
Roaming with your phone
Sure, there may be unforeseen expenses on a cruise ship like gratuities or the price of a latte. But one of the biggest expenses you may not have considered is sitting right in your pocket. When you're out on the open seas or at a port your phone service doesn't reach, your smartphone is still roaming, which may add a lot to your next phone bill.
Switch your phone to airplane mode, and think about how much time — and money — you want to spend to check in with those at home.
Paying for Wi-Fi
The cost of Wi-Fi on a cruise ship might surprise you. Wi-Fi packages often start at $15 and some are even more expensive. Cruise lines may give you a discounted rate if you lock in your internet package before you get on the ship.
Pro tip: If you decide to pay for Wi-Fi coverage, use one of your best rewards credit cards to get some points for the extra cost.
Bottom line
When heading out on a cruise, there are extra things you'll have to plan for, and yes, your trip can get expensive. Most importantly, you're vacationing to relax and have fun. Avoiding these cruise-ship pitfalls will help you enjoy the smooth sailing.
Easy-to-Earn Unlimited Rewards
Earn 25,000 online bonus points after you make at least $1,000 in purchases in the first 90 days of account opening - that can be a $250 statement credit toward travel purchases
Earn 1.5 points per $1 spent on all purchases
Longer intro APR on qualifying purchases and balance transfers
No foreign transaction fees
Earn unlimited 1.5 points per $1 spent on all purchases, with no annual fee and no foreign transaction fees and your points don't expire.
25,000 online bonus points after you make at least $1,000 in purchases in the first 90 days of account opening - that can be a $250 statement credit toward travel purchases.
Use your card to book your trip how and where you want - you're not limited to specific websites with blackout dates or restrictions.
Redeem points for a statement credit to pay for travel or dining purchases, such as flights, hotel stays, car and vacation rentals, baggage fees, and also at restaurants including takeout.
0% Introductory APR for 18 billing cycles for purchases, and for any balance transfers made in the first 60 days. After the intro APR offer ends, 17.99% - 27.99% Variable APR will apply. A 3% fee applies to all balance transfers.
If you're a Preferred Rewards member, you can earn 25%-75% more points on every purchase. That means instead of earning an unlimited 1.5 points for every $1, you could earn 1.87-2.62 points for every $1 you spend on purchases.
Contactless Cards - The security of a chip card, with the convenience of a tap.
This online only offer may not be available if you leave this page or if you visit a Bank of America financial center. You can take advantage of this offer when you apply now.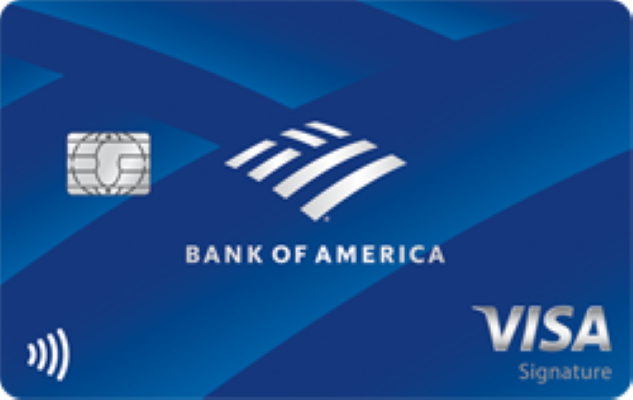 Apply Now
on Bank of America's secure website
Read Card Review
Intro Offer
Earn 25,000 online bonus points after you make at least $1,000 in purchases in the first 90 days of account opening - that can be a $250 statement credit toward travel purchases