Every fast food connoisseur has heard of the Big Mac, the Whopper, and the ubiquitous fried chicken sandwich everyone seems to serve. However, just because these items are iconic doesn't mean you should ignore the rest of the offerings on fast food menus.
In fact, some of the most beloved offerings are limited time offers or seasonal returners. So if you're curious about what you might be missing, read on to discover the 12 cult fast food items you have to try. While fast food is often synonymous with unhealthy, it also offers eaters an occasional cheap bit when you're on a budget (here are other ways you can save money). 
McDonald's Shamrock Shake
Nothing heralds St. Patrick's Day more than McDonald's Shamrock Shake. With its green color and sweet vanilla flavor with a hint of mint, this dessert beverage has pleased fast food fans for five decades.
It's also complemented with a whipped cream dollop on top that completes the flavor trifecta. The Shamrock Shake rolls out in February and stays around until after St. Paddy's every year, reminding devotees of the beverage that spring is around the corner.
KFC Pickle Fried Chicken
There is no shortage of fried chicken sandwiches in the fast food space, as was evidenced by the great chicken sandwich wars of 2019. However, not all of these offerings became cult classics like one of their predecessors, KFC's Pickle Fried Chicken.
Debuting in 2018, this item (available in a sandwich or on its own) brought the bright, intense, acidic flavor of pickles to delicious fried chicken. Combined with the pickle sauce, it's a flavor bomb — one to eat again and again.
Popeyes Chicken Sandwich
Speaking of the great chicken sandwich wars, if there was one standout sandwich from the era, it would be the Popeyes Chicken Sandwich. It was the OG sandwich that kicked off the battles, only to shoot into mega-popularity.
This cult classic is served on a brioche bun with pickles and mayo or Cajun sauce, and is arguably perfect as is.
McDonald's McRib
The legend, the myth, the sandwich — McDonald's McRib is a pork institution in a fast food world that usually relegates that meat to the breakfast menu. While the McRib's 1982 debut was less-than-stellar, over time the restructured meat sandwich has become increasingly popular.
This is in large part to McDonald's slick marketing, which leads fans of the McRib to believe that they might not be able to have the sandwich again — though it inevitably comes back every year, and fans are here for it.
Taco Bell's Nacho Fries
Sure, McDonald's fries get all the attention for being perfectly executed, but don't sleep on Taco Bell's Nacho Fries. Their deliciousness is contingent on two elements of this fast food cult favorite — the seasoning on the fry and the accompanying nacho cheese sauce.
Taco Bell put them on the menu with great fanfare in 2018, and brought them back for a spin in 2019. Fortunately for aficionados of this dish, you can try them for yourselves in 2022.
Dunkin' Omelet Bites
This year brought us Dunkin's delicious omelet bites. In a nutshell, these offerings are indeed tiny omelets packed with flavor, depending on the variety you order — bacon and cheddar or egg white and veggie.
They've quickly become a cult classic and also have the added bonus of being relatively healthy when compared to their fast food competitors, thanks to their protein content vs. calorie count. Here's hoping Dunkin' brings them back for another spin.
Pro tip: When ordering at your favorite fast food spot, use the best rewards credit cards to hopefully score some cash back or rewards on your spending.
In-N-Out Animal Style
Folks on the West Coast will be the first to sing the praises of In-N-Out Burger, thanks to their, well, burgers. However, it's the Animal Style preparation of burgers and fries that has landed In-N-Out on this cult favorite list.
In a nutshell, Animal Style consists of grilled onions with tomato, lettuce, pickles, ooey gooey cheese, and In-N-Out's secret sauce (which is not unlike Big Mac sauce). The result is a flavor bomb that keeps this item perennially on the menu.
McDonald's Arch Deluxe
Some of you who were around in the '90s may be shaking your head at this one, but The Arch Deluxe deserves a seat at the table of iconic fast food. While it flopped during its initial (and quite hyped) debut, the ingredients were higher-quality than the norm at the time, notably beef that had never been frozen.
And while McDonald's has brought back similar items since, we're hopeful the Arch Deluxe will one day make a true and triumphant return.
Starbucks' Pumpkin Spice Latte
While many of the ingredients on this list are limited edition fast food items, one stands out as the one true harbinger of fall and the holiday season: Starbucks' Pumpkin Spice Latte. Adored by millions and maligned by haters, the Pumpkin Spice Latte was born in 2003, and since then has spawned a rash of pumpkin spiced everything.
Fans look forward to sipping on the sweet, cinnamon, and clove flavored beverage with or without whipped cream every fall. Haters gonna hate.
Dunkin' Glazed Donut Breakfast Sandwich
While this menu option might not be the healthiest, there's no denying that the Dunkin' Glazed Donut Breakfast Sandwich is a thing of culinary beauty. Combining a sweet doughnut (as the bun), a spicy egg, and salty bacon, all of the flavor elements you could want are found in this ooey gooey sandwich.
While it was a hit for the chain back in 2013, the hope is that they resurrect this cult favorite.
Taco Bell's Mexican Pizza
If there's anything that will tempt you to sign up for a fast food subscription to Taco Bell, it would be their iconic Mexican Pizza. This simple yet delicious cult classic consists of beans or beef sandwiched between two tortillas, topped with chopped tomatoes, cheese, and sauce.
It's also a great menu option for those who are working on saving money, as it's under $5.00. This classic is once again on the menu at Taco Bell.
Starbucks' Unicorn Frappuccino
Last but certainly not least on our list of cult classic fast food items is the famous (or infamous) Starbucks Unicorn Frappuccino. A multi-colored feast for the eyes, this sweet blended beverage was a delight for folks with a serious sweet tooth.
In a twist, the Unicorn Frappuccino also alternated between that sugary flavor and a sour punch, making for a truly unique drinking experience. Will the colorful treat return, or will the five-day run it had in 2017 be the last time we see it? Only time will tell.
Bottom line
Some fast food staples will always be on the menu given their popularity and reliability. However, cult classics that are either seasonal or limited-edition runs also make their mark on consumers' hearts.
The big trends in fast food add a bit of excitement to the affordable quick eats scene; a way to fight your hunger and save a little money. Stay on the lookout for the latest favorites.
Easy-to-Earn Unlimited Rewards
Earn 25,000 online bonus points after you make at least $1,000 in purchases in the first 90 days of account opening - that can be a $250 statement credit toward travel purchases
Earn 1.5 points per $1 spent on all purchases
Longer intro APR on qualifying purchases and balance transfers
No foreign transaction fees
Earn unlimited 1.5 points per $1 spent on all purchases, with no annual fee and no foreign transaction fees and your points don't expire.
25,000 online bonus points after you make at least $1,000 in purchases in the first 90 days of account opening - that can be a $250 statement credit toward travel purchases.
Use your card to book your trip how and where you want - you're not limited to specific websites with blackout dates or restrictions.
Redeem points for a statement credit to pay for travel or dining purchases, such as flights, hotel stays, car and vacation rentals, baggage fees, and also at restaurants including takeout.
0% Introductory APR for 18 billing cycles for purchases, and for any balance transfers made in the first 60 days. After the intro APR offer ends, 17.99% - 27.99% Variable APR will apply. A 3% fee applies to all balance transfers.
If you're a Preferred Rewards member, you can earn 25%-75% more points on every purchase. That means instead of earning an unlimited 1.5 points for every $1, you could earn 1.87-2.62 points for every $1 you spend on purchases.
Contactless Cards - The security of a chip card, with the convenience of a tap.
This online only offer may not be available if you leave this page or if you visit a Bank of America financial center. You can take advantage of this offer when you apply now.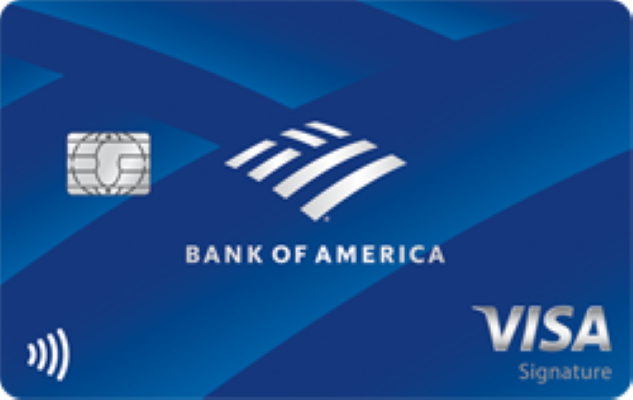 Apply Now
on Bank of America's secure website
Read Card Review
Intro Offer
Earn 25,000 online bonus points after you make at least $1,000 in purchases in the first 90 days of account opening - that can be a $250 statement credit toward travel purchases