While budget travel is a great option if you want to save money – always a wise idea, especially if you want to retire early – vacationing on the cheap isn't always an option, depending on where you want to go. 
This is especially true if you're venturing off to far-flung locales with unparalleled experiences.
Whether you're on the quest to see natural wonders or are seeking culinary and cultural experiences that are second to none, these places are 100% worth the thousands of dollars you'll pay to visit them.
Jerusalem
You don't have to be religious to appreciate the rich history you'll find in Jerusalem, the crown jewel of the Middle East. From the Wailing Wall to the Dome of the Rock to the Church of the Holy Sepulcher, this city is holy to three religions: Jews, Muslims, and Christians, who all share the space.
There is also a deep culinary history here as well. And don't miss out on a day trip to Petra – one of the wonders of the world – in nearby Jordan, either.
Rome
Another city steeped in religious history is Rome, the beating heart of Italy. Here you'll find Vatican City, which is home to some of the most stunning art and architecture in the world.
Rome is also famous for ancient ruins, abundant museums, bustling markets, and more amazing art and architecture. And of course, the food in Rome is world-famous for a good reason – it's delectable.
Southern Africa
There are several African countries that offer bucket list safari experiences, but only South Africa has those as well as other amazing tourist delights. These include a sojourn into the Kalahari Desert, a few days at the beach, world-class food, and wine.
If you can swing it after taking in all a safari has to offer, a side trip to Zimbabwe's famed Victoria Falls is absolutely worth the splurge as well.
Maldives
There are beautiful beaches all over the world, but the Republic of Maldives is a standout spot located in the Indian Ocean. 
This locale is known for its overwater bungalows that provide endless water views by day and starry skies by night. There are also ample outdoor activities.
Getting to Maldives will take you a full day, but it's totally worth it if a secluded, semi-private beach getaway is what you're after.
Tokyo
You'd be hard-pressed to find a city more worth visiting than Tokyo. This teeming metropolis literally has it all: world-class dining, endless entertainment, unmatched technological savvy, rich cultural destinations, quirky museums, cutting-edge fashion, and stunning outdoor spaces.
Tokyo also has a remarkable public transportation system that will shuttle you around the city, which is an experience in and of itself.
Galapagos Islands
Off the coast of Ecuador are the iconic Galapagos Islands, a must-see destination for eco-tourists. 
Home to giant tortoises, blue-footed boobies, frigate birds, sea lions, iguanas, and lava lizards, this natural wonder is a unique ecosystem unto itself.
An eight-day cruise of the islands will allow you to experience all the Galapagos have to offer. But no, it's not cheap.
Machu Picchu
Peru, Ecuador's neighbor to the south, is home to the architectural wonder that is Machu Picchu. This UNESCO heritage site built by the Inca attracts millions of curious explorers every year, who go there to drink in the sweeping views and see the ancient ruins for themselves.
If you are up for the trek, there are plenty of porter companies who will help you hike in. Otherwise, you can take the train from Cusco.
Amalfi Coast
This romantic Italian destination has so much going for it: unparalleled cuisine, luxe accommodations, stunning sea views, and an old-school road system ripe with dramatic mountain switchbacks. It's even a UNESCO heritage site.
Once you've finished dining at Michelin starred restaurants, explore old churches, stunning frescos, and breathtaking architecture that will transport you.
Amsterdam
The Van Gogh Museum. The Rijksmuseum. The Anne Frank House. These are just three of the iconic places you can visit in Amsterdam, the stunning canal city of The Netherlands. This walkable metropolis also boasts thrilling nightlife for curious revelers.
We recommend taking a canal tour so you can see Amsterdam from the water, which gives you a new perspective of the place. The food scene is of course great, too.
The Great Barrier Reef
This natural wonder of the world is an absolute must-see for fans of snorkeling and scuba diving. The Great Barrier Reef is the biggest coral reef in the world – it's the sole living thing that you can see from space – and is a crucial habitat for countless species of marine life.
When you're done snorkeling, you can repose on one of the many gorgeous beaches in the area. You can also take in Australian history in the local urban areas.
Egypt
Who hasn't dreamed of visiting Egypt? This historic country is home to the Great Pyramids of Giza, the tomb of King Tutankhamun, the Great Sphinx of Giza, and the Valley of the Kings, arguably the most important archeological wonders in the entire world.
Egypt also has beautiful beaches and exciting diving, as well as hot springs where you can soak your ailments away. Don't forget the cuisine, either, as it's downright magical.
Paris
We don't have to tell you that the wine and food in Paris are both world-class, or that the art at the Louvre is an absolute must-see. And you likely know the Eiffel Tower is worth visiting.
If you have an interest in the morbid, you must venture down into the catacombs, which are lined with skulls and bones. The place is spooky, but utterly fascinating as well.
Hong Kong
With its stunning concentration of skyscrapers, Hong Kong thrills just looking at it. Once inside this bustling and youthful Chinese city, gourmet cuisine and creative cocktails abound. Along with these delights, urban temples dot the streets, merging the traditional with the new.
If you find yourself weary of the big city, slip into Yau Ma Tei in Kowloon, where you can drink tea and play mahjong, old world style.
Alaska
Alaska may be in the United States, but you need to trek fairly far to get to this rugged and remote place. Once you're there, though, wonder awaits in the form of majestic whales breaching, the Northern Lights twinkling in the sky, and glaciers shining in the midnight sun.
Don't miss the chance to stand in the Shadow of Mt. Denali, or glimpse bears and other wildlife at the Alaska Wildlife Conservation Center. Both are once in a lifetime experiences.
Bottom line
Travel is a great way to open your eyes to new sights, histories, and cultures, but it usually doesn't come cheap. These places may be expensive to visit, but they are more than worth the money.
That said, there are ample destinations that are worthy of your bucket list that you can do on a budget, like Costa Rica or Puerto Rico. Pro-tip: That's a great way to make money moves that will keep your bank account bountiful.
Easy-to-Earn Unlimited Rewards
Earn 25,000 online bonus points after you make at least $1,000 in purchases in the first 90 days of account opening - that can be a $250 statement credit toward travel purchases
Earn 1.5 points per $1 spent on all purchases
Longer intro APR on qualifying purchases and balance transfers
No foreign transaction fees
Earn unlimited 1.5 points per $1 spent on all purchases, with no annual fee and no foreign transaction fees and your points don't expire.
25,000 online bonus points after you make at least $1,000 in purchases in the first 90 days of account opening - that can be a $250 statement credit toward travel purchases.
Use your card to book your trip how and where you want - you're not limited to specific websites with blackout dates or restrictions.
Redeem points for a statement credit to pay for travel or dining purchases, such as flights, hotel stays, car and vacation rentals, baggage fees, and also at restaurants including takeout.
0% Introductory APR for 18 billing cycles for purchases, and for any balance transfers made in the first 60 days. After the intro APR offer ends, 17.74% - 27.74% Variable APR will apply. A 3% fee applies to all balance transfers.
If you're a Preferred Rewards member, you can earn 25%-75% more points on every purchase. That means instead of earning an unlimited 1.5 points for every $1, you could earn 1.87-2.62 points for every $1 you spend on purchases.
Contactless Cards - The security of a chip card, with the convenience of a tap.
This online only offer may not be available if you leave this page or if you visit a Bank of America financial center. You can take advantage of this offer when you apply now.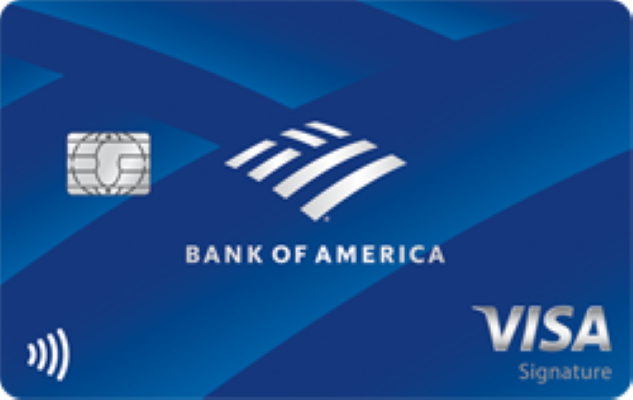 Apply Now
on Bank of America's secure website
Read Card Review
Intro Offer
Earn 25,000 online bonus points after you make at least $1,000 in purchases in the first 90 days of account opening - that can be a $250 statement credit toward travel purchases