If you dream about Dole Whips, turkey legs, and Mickey Mouse ice cream bars, you're in good company. According to the Themed Entertainment Association's Global Attractions Attendance Report, Disney is the largest theme park company in the world. In 2018, more than 157 million people walked through Disney turnstiles worldwide.
Despite temporary closures due to the COVID-19 pandemic, Disney parks have reopened worldwide. Disneyland Shanghai, Hong Kong Disneyland, and Tokyo Disney Resort are welcoming guests once again even with new disease variants coming and going. Most Disney parks are requiring advance online reservations in addition to a valid admission ticket, so make sure to check the website for the park you plan on visiting. 
While the amusement park experience may be forever changed due to the pandemic, now is an excellent time to start thinking about attractions to add to your Disney bucket list. If you're planning to book a Disney trip in the future, keep reading for some must-do ideas for your upcoming vacation and a few of the best travel credit cards that help maximize your rewards. 
18 must-do Disney experiences
As you make your Disney travel plans, keep these 18 bucket-list experiences in mind. While it may take time for all of these experiences to reopen — be sure to do your research before your trip — they're something every Disney fan should do at least once:
1. Star Wars Day at Sea Disney cruise
During 2022, select seven-night Caribbean cruises will be themed as Star Wars Day at Sea. These cruise itineraries depart from Port Canaveral in Florida and may include stops in San Juan, St. Maarten, Grand Cayman, Jamaica, and Disney's Castaway Cay — Disney's tropical private island.
Along with the usual Disney cruise dining and entertainment, these specially themed cruises include encounters with Star Wars characters like R2-D2 and Chewbacca; Star Wars-themed stage shows; fireworks set to the Star Wars theme; and costume parties for the whole family. If you're interested in going this route, check out our picks for the best credit cards for cruises.
2. Adventures by Disney
If you're looking for a unique experience outside the theme parks, but you still want the legendary Disney customer service, consider a trip through Adventures by Disney. Adventures By Disney is an all-inclusive vacation package that includes your lodging, most meals, group activities, and a tour guide. You can take trips in Europe, Africa, Asia, Central America, South America, and throughout the U.S.
Prices vary based on your location and the season. You can choose a short trip that lasts for a few nights, or opt for a luxurious two-week European tour. Regardless of your choice, feel confident that Disney has thoroughly vetted the accommodations and restaurants so you can feel safe and comfortable throughout your trip.
3. Disneyland Avengers Campus
If you love the Marvel movies, you'll want to be one of the first to visit Disneyland's Avengers Campus. This all-new land will feature a "Spider-man" attraction, a fast-paced "Guardians of the Galaxy"-themed ride, and unique locations to meet your favorite heroes like "Iron Man" or "Thor." It will also have new dining and merchandise, such as comics, toys, and collectibles.
Check Disney's website for updates before you book. Similar Avengers Campuses are also under construction at Disneyland Paris and Hong Kong Disneyland; they're scheduled to open in 2022 and 2023, respectively.
4. Star Wars: Galaxy's Edge
Star Wars: Galaxy's Edge is open at both Disneyland in California and Disney World in Florida. In this new land, Disney has created an immersive experience and two new attractions, the Millennium Falcon: Smuggler's Run and Star Wars: Rise of the Resistance. Each ride uses the latest technology and is unlike any other attraction within the parks.
Throughout Galaxy's Edge, there are shops to build your own droid or lightsaber, sample Star Wars-themed foods, and even grab a drink at the cantina. You can also try the iconic blue milk from the films or other galactic concoctions.
Disney is building a new Star Wars-themed resort that will be connected to Galaxy's Edge in Orlando. Star Wars: Galactic Starcruiser is open now for two-night immersive adventures.
5. Pandora – The World of Avatar
In Disney's Animal Kingdom in Orlando, guests can visit Pandora – The World of Avatar. Themed around James Cameron's hit movie, visitors can journey into the rainforest amid floating mountains and glowing plant life. There are two main rides: the Na'vi River Journey and the Avatar Flight of Passage, in which guests can fly on a banshee with the Na'vi.
The World of Avatar features some excellent shopping opportunities too. One major attraction is The Rookery, where shoppers can "adopt" a miniature banshee. These adorable creatures come in different colors and can sit on your shoulder or on a special perch. They have different motions you can control, such as flapping their wings. They're a common sight on guests throughout the park and are extremely popular purchases.
6. Challenge Trails at Camp Discovery
Not to be mistaken for a kids' play area, the Challenge Trails aerial ropes courses at Shanghai Disneyland are a thrilling adventure for both the young and the young-at-heart. Challenge Trails features three high-flying ropes courses designed for the littlest to the most fearless adventurers. Visitors strap into a harness and explore the rocky terrain of Roaring Mountain — traversing cliffs, caverns, and gorges. Expect a thrilling experience and one-of-a-kind views you won't get from anywhere else in the park.
7. Epcot International Food & Wine Festival
During Epcot's International Food & Wine Festival, Disney has kiosks all over the park featuring dishes and drinks from countries around the world. You can sample wine and escargot in the French pavilion, have a beer flight in Germany, and enjoy steak and soup in Canada.
The Food & Wine Festival is typically held in the fall. But with the coronavirus outbreak, Disney may have to adjust the schedule, so be sure to check the Disney website for updates.
8. Fantasmic
Fantasmic is one of the most popular shows at Disney World. Held at Disney's Hollywood Studios, this 30-minute nighttime performance features pyrotechnics, dancing water, and live performers. The show is included with your theme park admission.
It's always in high demand, so it's recommended you get in line about 90 minutes before the scheduled showtime to ensure you get a seat. It is an outdoor event, so it may be canceled if there is inclement weather.
8. Happily Ever After
Happily Ever After is the fireworks show that takes place at Walt Disney World's Magic Kingdom behind Cinderella's Castle. On most nights, the fireworks will light up the entire sky for about 18 minutes. The show uses fireworks, lasers, projectors, and other special effects for a truly spectacular experience.
9. Rivers of Light
Rivers of Light is a unique nighttime show at Disney's Animal Kingdom in Orlando. Because of its location, it doesn't use fireworks or pyrotechnics — Disney doesn't want to frighten the animals who call Animal Kingdom home. Instead, it uses lights, water, and projectors to create an innovative and stunning show. The show lasts about 17 minutes and seating is limited, so plan to arrive early.
10. Journey to the Centre of the Earth
Journey to the Centre of the Earth at Tokyo DisneySea is a Disney experience unlike any other. The queue itself is a marvel — riders walk past smoldering lava pits and get a glimpse of Captain Nemo's laboratory before riding a "terravator" down into the Earth's crust. You'll eventually board an excavator which takes you on an unforgettable journey through a crystal cavern, mushroom forest, and subterranean sea. Expect some thrilling surprises along the way, and make this one of your first stops at DisneySea — it's one of the most popular attractions in the park.
11. Expedition Everest
One of the most popular attractions at Disney's Animal Kingdom, Expedition Everest, is a high-speed roller coaster themed around Mount Everest. You'll board a train to climb the mountain, but end up making contact with the infamous Yeti. It's a fun, thrilling ride — but it doesn't go upside down so it's not too scary for families with children.
Fun tip: As the train climbs the mountain, make sure you look around. You can spot the Epcot ball and Hollywood Studios' Tower of Terror from the very top.
12. Turtle Talk with Crush
Turtle Talk with Crush is open at Epcot, Disney California Adventure, and Tokyo DisneySea. Although it's a wonderful experience for kids, it's great even if you're traveling with adults — especially if you have Finding Nemo fans in your group. It uses incredible technology to deliver a seamless performance.
During this show, kids get to meet Crush, one of the stars of the movie, "Finding Nemo." They get to interact with Crush and ask him questions. Crush's responses are often hilarious, and trying to figure out the trick behind how it works is part of the fun.
13. Pirates of the Caribbean
Pirates of the Caribbean is one of the oldest rides at Disneyland, Magic Kingdom, Tokyo Disneyland, Disneyland Paris, and Shanghai Disneyland. Although repeat visitors will enjoy the nostalgia of the ride, it's still captivating for newcomers, as well. Featuring incredibly lifelike animatronics, the iconic "Yo Ho, Yo Ho (A Pirate's Life for Me)" anthem, and appearances by Captain Jack Sparrow, Pirates of the Caribbean is a classic.
14. Kilimanjaro Safari
If you're visiting Disney's Animal Kingdom, then the Kilimanjaro Safari is a must-see attraction. It may ruin zoos for you forever, but it's worth it. The ride is an open-air guided tour through habitats in which you'll see giraffes, elephants, rhinos, cheetahs, lions, and more.
Every safari ride is unique, and the animals have minds of their own; it's not uncommon for your safari to be disrupted because a rhino decides to take a nap in front of your vehicle or because a giraffe wants to say hello. The views are incredible so make sure you have your camera ready.
If you can, try to get on the safari soon after the park opens. The animals tend to be the most active in the morning so you'll have the best chance of seeing all of your favorites — and getting great photos.
15. La Tanière du Dragon
If you've ever dreamed of getting up close and personal with a dragon, you'll finally get your chance at Disneyland Paris. Located underneath Sleeping Beauty's castle, La Tanière du Dragon is a walk-through attraction that lets you explore the dark lair of a sleeping dragon. But watch out: one wrong move could wake the 89-foot beast from its slumber.
16. Very Merry Christmas Party
Although Christmas in Florida may sound odd, it can be an amazing experience and is one of the best theme park holiday events. On select nights in November and December, Disney World hosts the Very Merry Christmas Party at Magic Kingdom.
It's a separately ticketed event — meaning you have to buy a ticket separate from your regular theme park admission — but it features special parades, shows, holiday treats, and decor. The entire park is decorated for the holidays, with the highlight being Cinderella's Castle covered in thousands of icicle lights. At the end of the night, snow even comes to Florida, with faux snow coming down Main Street after the fireworks end.
17. Paint the Night Parade
If you want to close out your Hong Kong Disneyland experience with some magic, the Paint the Night Parade is a must for your Disney bucket list. This 30-minute parade features special appearances from your favorite Disney characters, over 1.5 million LED lights, and performances in both Cantonese and English. Guests can purchase Mickey Mouse Paintbrushes at the park to become part of the action. When activated, these magical paintbrushes let you change the colors of the performers' costumes.
18. Winter Summerland Miniature Golf Course
If you need a break from the theme park crowds, have fun with a round of miniature golf. A hidden gem is the Winter Summerland Miniature Golf Course by the Blizzard Beach water park. At this course, it's Christmas year-round. There are two different 18-hole courses to choose from, and both are ornately themed, with all kinds of Disney surprises along the way. Adults can play for $14, and children between the ages of 3 and 9 can play for $12.
How to offset the cost of your Disney trip
Although a Disney vacation can be fun for kids and adults, there's no getting around the fact that it can be prohibitively expensive. However, the right rewards credit cards can help offset the cost of your vacation expenses. If you're looking for a new credit card, consider our picks for the best credit cards for Disney. Here are a few of our top choices:
Chase Disney Premier Visa: If you're planning a Disney vacation, the Chase Disney Premier Visa can be a valuable addition to your wallet. It offers special financing for Disney vacations and 10% select Disney merchandise.
Citi Double Cash: Although the Citi Double Cash doesn't offer Disney-specific benefits, it offers valuable cashback rewards for your everyday purchases. You can use these rewards to offset the cost of your Disney vacation.
Chase Sapphire Preferred: The Chase Sapphire Preferred card is a popular travel credit card offering generous rewards. These rewards can reduce the cost of your trip, so you can keep more money in your pocket while you enjoy the Disney magic.
The bottom line
Disney theme parks and vacation packages offer unique experiences for people of all ages. Whether you're new to the Disney magic or a seasoned veteran, Disney is always finding innovative ways to introduce novel technologies and fun twists throughout its properties.
As you plan your Disney vacation, make sure you incorporate some of the must-see experiences, but leave plenty of time for other attractions and sightseeing too. There are lots of little touches and pixie dust scattered throughout the parks that can make your trip even more magical.
Not ready to vacation because of the pandemic and shelter-in-place orders? Check out these quarantine vacation ideas.
Easy-to-Earn Unlimited Rewards
Earn 25,000 online bonus points after you make at least $1,000 in purchases in the first 90 days of account opening - that can be a $250 statement credit toward travel purchases
Earn 1.5 points per $1 spent on all purchases
Longer intro APR on qualifying purchases and balance transfers
No foreign transaction fees
Earn unlimited 1.5 points per $1 spent on all purchases, with no annual fee and no foreign transaction fees and your points don't expire.
25,000 online bonus points after you make at least $1,000 in purchases in the first 90 days of account opening - that can be a $250 statement credit toward travel purchases.
Use your card to book your trip how and where you want - you're not limited to specific websites with blackout dates or restrictions.
Redeem points for a statement credit to pay for travel or dining purchases, such as flights, hotel stays, car and vacation rentals, baggage fees, and also at restaurants including takeout.
0% Introductory APR for 18 billing cycles for purchases, and for any balance transfers made in the first 60 days. After the intro APR offer ends, 17.99% - 27.99% Variable APR will apply. A 3% fee applies to all balance transfers.
If you're a Preferred Rewards member, you can earn 25%-75% more points on every purchase. That means instead of earning an unlimited 1.5 points for every $1, you could earn 1.87-2.62 points for every $1 you spend on purchases.
Contactless Cards - The security of a chip card, with the convenience of a tap.
This online only offer may not be available if you leave this page or if you visit a Bank of America financial center. You can take advantage of this offer when you apply now.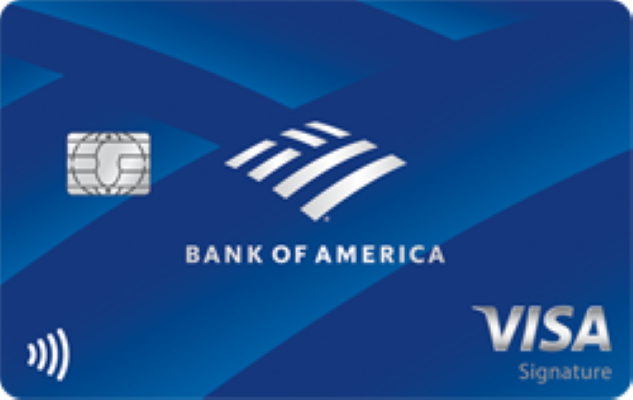 Apply Now
on Bank of America's secure website
Read Card Review
Intro Offer
Earn 25,000 online bonus points after you make at least $1,000 in purchases in the first 90 days of account opening - that can be a $250 statement credit toward travel purchases