While most folks spent the better part of 2020, 2021, and even 2022 at home, air travel is once again a regular part of our lives.
Whether for business or pleasure, we're happy to be back on planes even though the experience can be less-than-stellar.
If you're lucky and can afford it, booking first class is one way to make the trip a better one. But even if you're stuck in coach with the rest of us, air travel doesn't have to be so bad.
Here are some simple things you can do to make your next flight more enjoyable.
Book the seats you know you need
The first step is booking the seats you fare best in, whether that's snuggled at the window, on the aisle, or in an exit row if you're tall and just can't be squeezed into a normal aisle.
That way you won't bother anyone when you have to get up, want to gaze out the window at the miniature world below, or snooze against the wall.
Download movies/shows to your device
One good way to prepare for a long flight is to download your favorite films or shows onto your device. That way, you won't be at the mercy of in-flight entertainment options — if there are any.
You also don't want to rely on the plane's WiFi, since it could be shoddy or cost an arm and a leg.
Take a picture of your passport
For those of you traveling internationally, one of the smartest things you can do is take a picture of your passport. That way if anything happens, you have all of the information you'll need at the consulate if it gets lost.
It's also wise to make paper copies, giving one to a trusted friend and holding on to the other.
Put an AirTag in your luggage
It happens to the best: You hop off of the plane, head to the baggage claim, and alas, your suitcase has been lost. Then you spend hours trying to track it down with customer service.
Sometimes you get lucky and find it, but others you don't.
Save yourself the headache and put an Apple AirTag in your luggage beforehand so you can track it yourself.
Take a picture of your luggage
Another smart way to protect your suitcase is to take a picture of it before you send it into the baggage chute.
There's always a risk that your luggage can get lost, and this gives you a record of exactly how it looked before you handed it over.
And if your luggage is damaged or lost, you can claim up to $3,800 from your airline.
Dress in comfortable layers
Comfortable clothes on a plane are a must, so leave the tight stuff and bulky accessories at home.
You'll also want to dress in layers for a few reasons. For example, if the weather at your destination is warmer than where you're departing from.
Don't forget that temperatures can fluctuate wildly on a plane from the time you board to the moment you finish taxiing, so be prepared for that.
Bring a blanket and travel pillow
Speaking of those fluctuating temperatures, it's a good idea to bring a light blanket with you.
There's nothing worse than freezing on a plane and finding out the flight attendant doesn't have any blankets handy (especially post-COVID).
You also want to have a travel pillow, ideally a compact option that sits around your neck. That way you can sleep comfortably without straining anything or cramping your neighbor's style with a bulky pillow.
Wear comfortable, close-toed shoes
While some advise you to wear slippers, sandals, or thick socks to keep your feet warm when you kick off your shoes, we suggest wearing comfortable, close-toed shoes throughout the flight.
Why? To put it simply, it's never water that's on the bathroom floor.
Aside from hygienic reasons, close-toed shoes are also safer in case there's an emergency that requires evacuation.
Bring wipes and a mask
Another smart hygienic practice is to bring a face mask and wipes.
We all know that masks can protect you from germs, so it's smart to wear one on a plane. As for wipes, you can use them to clean your seat and tray.
Once the plane ride is over, you can freshen up your hands and face, especially if it's been a long flight or a red eye.
Don't forget your empty water bottle
Per the TSA, you can't bring liquids through security unless they are in 3.4-ounce or smaller bottles, grouped in a clear plastic bag. Of course, all the beverages on the other side of security are super expensive.
What you can do, however, is bring an empty water bottle and fill it up at the water fountain near your gate. Problem solved!
Bring lotion, eye drops, and lip balm
Staying hydrated on a plane is important. In addition to a water bottle, you also want to prepare for the dry air that circulates and can do a number on your skin.
To that end, bring these items so you can lather up as needed during the flight. Your lips, eyes, and hands will thank you.
Don't forget the snacks
Let's face it, in-flight dining is not what it used to be. Fortunately, you can bring solid foods onto a plane.
Keep the munchies at bay by bringing your favorite snacks in your personal item. That will save you the money you'd spend on an overpriced snack box.
You may need a meal for longer flights, so just be sure to plan accordingly.
Bring an eye mask and headphones
If you're on a long flight and you hope to get some peace and quiet — and maybe even some rejuvenating shut-eye — bring an eye mask that will block out the light.
Headphones are also handy, ideally high-quality, noise-canceling models.
That way you won't be disturbed when the captain makes announcements from the cockpit, or your neighbor is readying a book with the light on.
Take bathroom or walking breaks
If your flight is only an hour or two, you don't need to worry about this one. But if you're going to be in the air for three to seven hours, plan to take regular bathroom or walking breaks.
This is especially important if you're at risk of developing blood clots, so stand up, walk up and down the aisle, and stretch a bit every few hours.
Give your ride your flight number
At long last you are ready to land, then meet up with the person picking you up on the ground.
To make this process easier, give them your flight number before you take off. That way they can track you in the air and adjust accordingly if there are any delays.
This is especially easy to do if you have no WiFi while you're in the air.
Bottom line
Flying on a plane is not always a pleasant experience, especially if you're crammed into a middle seat in economy class.
That's why it's important to prepare beforehand to make the experience as painless as possible. And remember to book your flight with a top travel credit card to rack up your travel rewards.
In addition to everything you can bring to keep yourself comfortable and entertained, remember to be grateful that air travel is possible again.
It wasn't long ago that we were all stuck at home dreaming of when we'd be able to travel again.
Easy-to-Earn Unlimited Rewards
Earn 25,000 online bonus points after you make at least $1,000 in purchases in the first 90 days of account opening - that can be a $250 statement credit toward travel purchases
Earn 1.5 points per $1 spent on all purchases
Longer intro APR on qualifying purchases and balance transfers
No foreign transaction fees
Earn unlimited 1.5 points per $1 spent on all purchases, with no annual fee and no foreign transaction fees and your points don't expire.
25,000 online bonus points after you make at least $1,000 in purchases in the first 90 days of account opening - that can be a $250 statement credit toward travel purchases.
Use your card to book your trip how and where you want - you're not limited to specific websites with blackout dates or restrictions.
Redeem points for a statement credit to pay for travel or dining purchases, such as flights, hotel stays, car and vacation rentals, baggage fees, and also at restaurants including takeout.
0% Introductory APR for 18 billing cycles for purchases, and for any balance transfers made in the first 60 days. After the intro APR offer ends, 17.99% - 27.99% Variable APR will apply. A 3% fee applies to all balance transfers.
If you're a Preferred Rewards member, you can earn 25%-75% more points on every purchase. That means instead of earning an unlimited 1.5 points for every $1, you could earn 1.87-2.62 points for every $1 you spend on purchases.
Contactless Cards - The security of a chip card, with the convenience of a tap.
This online only offer may not be available if you leave this page or if you visit a Bank of America financial center. You can take advantage of this offer when you apply now.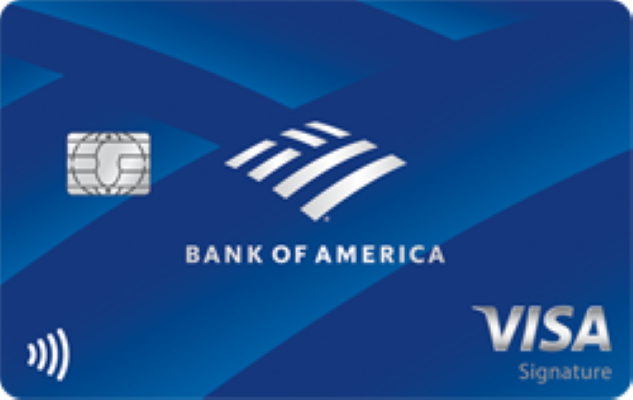 Apply Now
on Bank of America's secure website
Read Card Review
Intro Offer
Earn 25,000 online bonus points after you make at least $1,000 in purchases in the first 90 days of account opening - that can be a $250 statement credit toward travel purchases