No matter how much research and organizing you do ahead of time, travel mishaps can still derail the best-laid plans. Delayed flights, lost luggage, or misplaced documents all threaten to ruin an otherwise picture-perfect trip.
Other times, you make an incredibly dumb mistake — just like I did. I found myself in an unlucky situation before a flight to Spain, when I arrived at the airport with an invalid passport. (Cue the first of many freakouts.) Here's how I resolved the issue quickly and delayed my trip by only 24 hours.
At the airport with an invalid passport
I woke up early on the morning of my trip, when I was due to fly from Los Angeles to Barcelona to meet friends for a 12-day trip through Spain. I was especially proud of myself for booking my flights entirely with points, thanks to my Chase Sapphire Reserve card, one of the best travel credit cards for racking up points. Through a combination of the lucrative sign-up bonus and careful spending, I had saved up enough points to cover the flight in less than six months.
My bags were packed, and I was sitting in an Uber on the way to the airport. I decided to do some last-minute research on American Airlines' baggage fees when I stumbled on a terrifying notation: Passports should be valid for six months after the date you enter a foreign country. Mine was set to expire in just eight weeks.
Before you think too poorly of me, I had checked my passport ahead of time. But since it would still be valid for the entirety of my trip, I thought everything was fine. Clearly, I was mistaken.
I kept my cool in the backseat until we reached LAX, where I made a beeline for American's check-in counter. I explained my dilemma to the sympathetic gate agent, who immediately said he needed to get a manager. (Not a good sign.)
The manager's advice? Rebook my flight, then hoof it to the Los Angeles Passport Agency to get an expedited passport renewal. The agent got me on an identical flight the next day, gave me the phone number to the National Passport Information Center, and wished me luck.
After calling the information center to confirm details, I had a game plan in place — and it was a race against time. It was now noon on a Friday: I had to get myself a new passport photo and arrive at the Passport Agency before it closed by 3 pm. If I missed that deadline, I'd have to wait until it reopened on Monday — and I'd miss a quarter of my vacation.
The most stressful afternoon of my life
With my heart racing, I hopped into another Uber and booked it the nearest CVS for a new passport photo. After slogging through the usual airport gridlock, waiting for a photo employee to assist me, and having multiple rideshares cancel on me in the CVS parking lot, I was finally on my way to the passport agency.
With fewer than 15 miles to travel, I breathed a sigh of relief — until I remembered I live in LA and it was a Friday afternoon. Traffic was a nightmare; it took me an hour to get to the passport office. As I watched the minutes tick by, my anxiety went through the roof. It shot even higher as I arrived at the office and saw a line stretching around the building. Of course, it was the line I needed to stand in.
After much waiting, hand-wringing, and nail-biting, I had finally cleared the security check, filled out the correct forms, and was called up to the counter. The kind clerk took one look at me — sweaty, wild-eyed, and still carrying my luggage — and said, "Oh honey, it looks like you've had a rough day."
She helped me to submit my paperwork, which included a few forms I filled out in the office, proof of a pending international flight, and my current passport. She told me she'd be able to issue a renewed passport that day; all I had to do was wait another two hours at the office until they called my name.
By that evening, I had a shiny new passport in hand. The next day, I was on my way to Spain after missing just one day of my trip.
Don't be dumb: Learn from my mistake
At the root of my mistake was a lack of research. My friends had planned most of our travel itinerary, so beyond booking my flight and doing some brief research about the cities we were visiting, I didn't do much digging about traveling to Spain.
Here's what to do to ensure you're prepared for your next international trip. For the tips below, you can look up country-specific requirements on the U.S. Department of State website.
1. Review your passport's expiration date
If you're traveling internationally, some countries or airlines require passports to be valid for at least six months after your trip; if you're approaching that deadline, start the renewal process early. Also, consider how long you'll be traveling — if your passport expires in eight months but you're taking a three-month trip, you could run into problems.
If you already have a valid passport, you can usually renew it via mail through the U.S. Department of State in six to eight weeks. If like me, you need to expedite the process, you'll need to visit a passport agency and have a valid reason for a quick renewal, such as a life-or-death emergency or pending travel plans.
2. Make sure your passport has empty pages
It might sound ludicrous, but if your passport's stamp pages are full, you could run into problems — some countries require two to four empty pages, and some airlines may not allow you to board if you don't have space.
If your passport's pages are full, you'll have no choice but to order another one. Unfortunately, you can't simply add more pages, even if your passport is still valid.
3. Research visa requirements
Depending on where you're traveling and how long you're staying, you may need to apply for a visa before you leave. Start this process early, because some applications can be very involved.
Traveling to Australia as a tourist, for example, is relatively painless — U.S. citizens are often eligible for an Electronic Travel Authority, which you can quickly apply for online and only costs a small service fee. If you're planning a trip to Russia, however, buckle up. You'll be required to find a Russian sponsor, complete a thorough application, and include a passport photo to apply for a visa.
4. Consider vaccinations
Depending on your home country and where you've recently traveled, you may be required to show proof of certain vaccines to enter a country.
Other times, it's just good sense to be current on your vaccinations before visiting high-risk areas. The Centers for Disease Control keeps a country-specific list of recommended vaccines to get before you travel.
5. Double check your prescriptions
Some medicines that are common in the U.S. are banned in other countries. For example, some inhalers, allergy medicines, and stimulants such as Adderall are illegal or restricted in Japan.
To avoid a medical emergency while traveling, check with the foreign country's embassy to confirm your medicines are allowed. In some cases, you'll only be allowed to travel with a limited supply or will need to provide a valid prescription note. If your medicine is banned entirely, you may need to discuss alternatives with your doctor before your trip.
How I fared at the end of the day
My passport mishap was an experience I wouldn't wish on anyone; it was stressful, costly, and time-consuming. But I was also incredibly lucky in many ways.
First, I could have boarded my flight and arrived in Spain, only to be denied entry once I got there. That would've been devastating, since my flight would have been used and I couldn't afford to book another on such short notice.
Second, I was flying on a weekday and the passport office was open when I needed it. I was also in a major city that had a regional passport office nearby. And because my passport hadn't formally expired yet, I didn't have to provide supporting documentation such as a birth certificate to renew it.
Costs were also fairly reasonable, given the situation. I had to pay the normal $110 passport renewal fee, plus an added $60 for the rush. By paying with a credit card, I could even accumulate some additional points. Luckily, American Airlines didn't even charge me to rebook my flight.
I did waste money on Uber charges while schlepping around half of LA, and I missed out on a night at the Airbnb we had booked in Spain. But considering this mistake could have cost me an entire 12-day vacation abroad, it feels like I got off relatively easy.
Easy-to-Earn Unlimited Rewards
Earn 25,000 online bonus points after you make at least $1,000 in purchases in the first 90 days of account opening - that can be a $250 statement credit toward travel purchases
Earn 1.5 points per $1 spent on all purchases
Longer intro APR on qualifying purchases and balance transfers
No foreign transaction fees
Earn unlimited 1.5 points per $1 spent on all purchases, with no annual fee and no foreign transaction fees and your points don't expire.
25,000 online bonus points after you make at least $1,000 in purchases in the first 90 days of account opening - that can be a $250 statement credit toward travel purchases.
Use your card to book your trip how and where you want - you're not limited to specific websites with blackout dates or restrictions.
Redeem points for a statement credit to pay for travel or dining purchases, such as flights, hotel stays, car and vacation rentals, baggage fees, and also at restaurants including takeout.
If you're a Preferred Rewards member, you can earn 25%-75% more points on every purchase. That means instead of earning an unlimited 1.5 points for every $1, you could earn 1.87-2.62 points for every $1 you spend on purchases.
Contactless Cards - The security of a chip card, with the convenience of a tap.
This online only offer may not be available if you leave this page or if you visit a Bank of America financial center. You can take advantage of this offer when you apply now.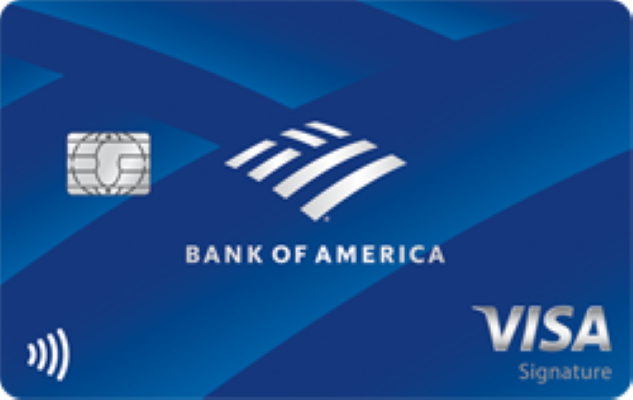 Apply Now
on Bank of America's secure website
Read Card Review
Intro Offer
Earn 25,000 online bonus points after you make at least $1,000 in purchases in the first 90 days of account opening - that can be a $250 statement credit toward travel purchases