Many holidays come with traditions, family gatherings, and great meals. How people celebrate varies greatly from place to place, and that's true for Easter as well.
The Easter bunny, thought to have originated in Germany around the 1600s, made its way into holiday lore in the U.S., as well as the U.K., Denmark, Netherlands, Austria, and Switzerland. Other countries in Europe have their own version of holiday helpers that bring sweet treats to children to celebrate the holiday.
Despite the good fun of it, not everyone indulges in chocolate bunnies and egg hunts. However, these dishes from other parts of the globe sound delicious. Check out 11 traditional Easter meals from around the world.

Poland: Chalka
Several places across Europe have their own versions of Easter bread, and chalka is Poland's. It's a braided egg bread, made of a basic dough with raisins for a sweet taste. The bread can be served year-round, but is especially popular around Christmas and Easter.
If you're making a large loaf and end up with leftovers, they can be used for a delicious French toast or bread pudding.
Mexico: Capirotada
Speaking of bread pudding, capirotada — a type of bread pudding with fruit — is often served during Lent in Mexico. The recipes for this sweet treat vary from region to region, but will include toasted bread and a variety of toppings like nuts, cheese, and/or raisins all layered in a baking dish before being soaked in a syrup of cloves, cinnamon, and piloncillo (raw, pure cane sugar).
The traditional dessert has Christian symbolism for the holiday, as the bread is meant to represent the body of Christ, while the syrup represents the blood.
Pro tip: If you are traveling by plane for Easter this year, whether to see family or experience a new place, it may be wise to look into getting one of the best travel credit cards to maximize your opportunity to earn rewards.
Italy: Pizza rustica
Pizza rustica — also referred to as pizza chiena or pizzagaina — is a flaky pie crust filled with eggs, several types of cheese, and different types of cured meats like salami. Recipes vary, but most call for a mix of cheeses like provolone, parmesan, and ricotta and meats like ham, salami, or even prosciutto.
The traditional dish comes from the southern Italian region of Naples, and traces its roots back to the 17th century as a celebratory staple in the feast that marks the end of Lent.
Greece: Spanakopita
One of Greece's most popular dishes also serves as an Easter staple. This delectable dish can be served in the form of a pie or individual spinach and cheese filled triangles.
To make spanakopita, chopped spinach is mixed with feta cheese and layered between sheets of dough. The popular dish is also a versatile one; it can be used as an appetizer, a side dish, or a meal of its own.
England: Hot cross buns
This British favorite evolved from an old Anglo-Saxon tradition to celebrate the springtime goddess, Eostre. The spiced buns are filled with dried fruit and drizzled with lemon icing in the shape of a cross, hence the name.
While they originally were served as part of springtime celebrations, they evolved to being an Easter staple when Paganism was replaced by Christianity in the U.K.
Jamaica: Escovitch
This fish-based meal is often served on Good Friday with white rice or bammy (a type of flatbread). Escovitch is the Jamaican take on ceviche. Both dishes "cook" fish or other seafoods by using an acidic ingredient.
To make it, red cod is fried then marinated in escovitch sauce, which is made from some variation of vinegar, onions, bell pepper, and carrots.
Lithuania: Cepelinai
Cepelinai, which are meat and potato dumplings, are an Easter staple in Lithuania, and they also happen to be the country's national dish.
To make the dumplings, finely grated potatoes are mixed with onions and seasonings and morphed into a sort of egg shape. They can be stuffed with different types of meat and cheese and are a hearty addition to any Easter celebration.
Ecuador: Fanesca
Fanesca is a traditional Ecuadorian soup that is only served during Easter or Lent. Ingredients for the hearty soup — like cod, milk, cheese, beans, flour, garlic, and grains — come from all over the country and serve as a way to celebrate the nation's diversity.
The soup also includes 12 types of grains to represent Jesus' followers, the 12 apostles. Ecuador offers a beautiful way to honor the holiday and their people.
United States: Roasted ham
Many Easter tables in the United States include a roasted ham. These hams are often glazed after roasting to give the meat a sweet taste. However, the tradition did not start in the U.S.
Food historians believe that the Easter ham tradition dates all the way back to 6th century Germany where pigs were in abundance. Since pig meat was often hung in the fall, it was preserved and ready for springtime celebrations. At some point, settlers seem to have brought pigs — and this tradition — with them to American soil.
Russia: Pashka
Pashka is a type of cream cheese and fruit egg custard that is molded, often into the shape of a truncated pyramid, to celebrate the end of Lent and Easter. The pyramid shape is meant to represent the tomb Jesus was laid to rest in.
The dish is popular in Eastern Orthodox countries. The molded dessert is made of curd cheese (cream cheese), dried fruit, and nuts, and often some sort of alcohol like brandy.
Spain: Mona de Páscua
Spain has its own twist on Easter bread with Mona de Páscua. In their most basic form, Easter monas are just simple brioches decorated with hard-boiled eggs.
However, some like to celebrate the holiday by making elaborate mona that looks much more like a cake than a sweet bread. Some even trade out the traditional hard boiled eggs to chocolate eggs, frosting, or even decorative feathers.
Bottom line
The great thing about the huge variety in traditional Easter dishes is that there's plenty of opportunity to switch up your holiday meal plan if anything on this list sparked your interest. Perhaps you'll try a dish as a nod to your heritage or maybe to explore something new.
There are many recipes to choose from online for each one of the dishes listed here. Technically, you don't even need to leave the comfort of your own home to try a dish from across the world.
Easy-to-Earn Unlimited Rewards
Earn 25,000 online bonus points after you make at least $1,000 in purchases in the first 90 days of account opening - that can be a $250 statement credit toward travel purchases
Earn 1.5 points per $1 spent on all purchases
Longer intro APR on qualifying purchases and balance transfers
No foreign transaction fees
Earn unlimited 1.5 points per $1 spent on all purchases, with no annual fee and no foreign transaction fees and your points don't expire.
25,000 online bonus points after you make at least $1,000 in purchases in the first 90 days of account opening - that can be a $250 statement credit toward travel purchases.
Use your card to book your trip how and where you want - you're not limited to specific websites with blackout dates or restrictions.
Redeem points for a statement credit to pay for travel or dining purchases, such as flights, hotel stays, car and vacation rentals, baggage fees, and also at restaurants including takeout.
If you're a Preferred Rewards member, you can earn 25%-75% more points on every purchase. That means instead of earning an unlimited 1.5 points for every $1, you could earn 1.87-2.62 points for every $1 you spend on purchases.
Contactless Cards - The security of a chip card, with the convenience of a tap.
This online only offer may not be available if you leave this page or if you visit a Bank of America financial center. You can take advantage of this offer when you apply now.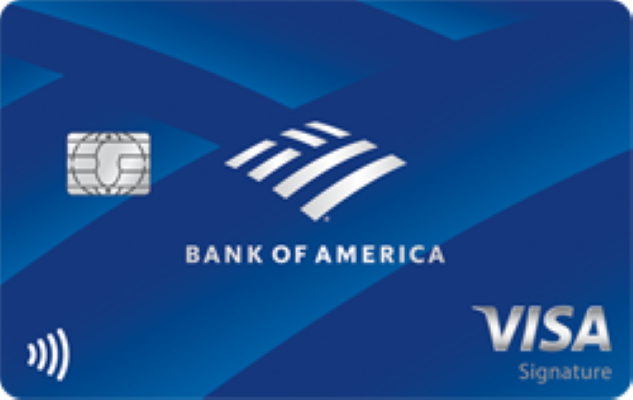 Apply Now
on Bank of America's secure website
Read Card Review
Intro Offer
Earn 25,000 online bonus points after you make at least $1,000 in purchases in the first 90 days of account opening - that can be a $250 statement credit toward travel purchases