Traveling to see specific events around the world is an exciting way to get to know new destinations and experience unfamiliar cultures. With the new year soon approaching, planning your 2020 travel around unique festivities can make an otherwise normal trip something truly memorable.
Whether you're interested in sports, food, music, cultural holidays, or niche hobbies, there's something special to enjoy on nearly every continent this coming year. And with the use of some of the best travel credit cards, you can see the world for less when you use your points and miles. 

13 notable events worth traveling for in 2020
1. Summer Olympics in Tokyo, Japan
Every four years, the much-anticipated Summer Olympics are held for athletes to compete for gold in their respective sports. With 33 different categories of sports, there's endless competition to watch as the best athletes in the world represent their countries.
In 2020, the games will be held in Tokyo, Japan from July 24th to August 9th. An estimated 600,000 people will descend on the world's largest city to watch the games. However, the events will take place in over 40 different venues all over Tokyo as different sports need specific spaces.
2. UEFA Champions League Final in Istanbul, Turkey
If you're a soccer fan (or football, depending on where you are from), some of the best players will convene for the UEFA Champions League Final on May 30th, 2020 in Istanbul, Turkey.
The UEFA Champions League is a group of teams that are deemed worthy by their respective league to represent them in a European tournament. The final match is then held between the two best teams to eventually crown one team the best in all of Europe. This is the most-watched soccer match in all of Europe, as 480 million people worldwide tuned in to watch the 2019 final.
3. Oktoberfest in Munich, Germany
The well-known festival that is Oktoberfest will continue in 2020 in Munich, Germany. A tradition since the early 19th century, it was officially made a "top priority" for Germany in 1819. Since this, the festival has now grown to seat 100,000 people and serve nearly 7 million liters of beer.
While Oktoberfest is a great time for adult activities, there are also events for visitors of all ages, including festival rides, parades, and designated family days. Oktoberfest 2020 will run from September 19th to October 4th, and tickets are already available.
4. Tomorrowland in Boom, Belgium
Tomorrowland is an annual music festival held in Boom, Belgium. As the town's name suggests, this music festival is known for making its own "boom" in the music world, featuring electronic music artists such as The Chainsmokers, Steve Aoki, Martin Garrix, and David Guetta. The festival is held over two weekends and drew an audience of over 400,000 people in 2018.
In 2020, the festival will be held on July 17th to 19th and July 24th to 26th.
5. Day of the Dead in Mexico City, Mexico
Traditionally known as "Dia de los Muertos," Day of the Dead is a festival to honor those who have passed on. And in Mexico City (one of our top cities to avoid overrated tourist destinations), it's an extravagant festival worth seeing.
Day of the Dead celebrations typically take place on November 1st and 2nd, when thousands of people crowd the streets for parades, delicious food, and various activities to honor their loved ones who have passed away.
6. National Buffalo Wing Festival in Buffalo, New York
If you appreciate messy food and lots of it, the National Buffalo Wing Festival in Buffalo, New York could be the perfect event for you.
On September 5th and 6th, 2020, more than 70,000 people from all 50 states will convene to enjoy events such as competitive eating competitions, amateur cook-offs, and bobbing for wings. The event will be in its 18th year and has no sign of slowing down.
7. Florida Keys Underwater Festival in Big Pine Key, Florida
We can all get behind ocean conservation efforts, but what about an underwater music festival to help our oceans? On July 11th, hundreds of scuba divers will gather together with wild costumes and custom-made musical instruments to dive in the Lower Keys of Florida to play in an underwater music festival.
These divers are dressing like mermaids and playing their "air guitars" to raise awareness for ocean reef protection, but real music is piped in through underwater speakers.
8. San Sebastian Street Festival in San Juan, Puerto Rico
Widely known as "SanSe", the San Sebastian festival is celebrated in honor of Saint Sebastian, a devout Christian who was martyred for his beliefs. There is now a street named in his honor, and local Puerto Ricans celebrate his life with this festival. In 2020, festivities will take place on January 15th to the 19th.
I've attended SanSe myself, and it's a cross between 4th of July and Mardi Gras. The streets are lined with parades, delicious food, vendors, and more. During the day, the festivities are great for all ages. As the day turns to night, partiers come out to enjoy the fact that public drinking bans are lifted during the festivities.
9. La Tomatina in Buñol, Spain
We all loved the idea of food fights as kids. Why not live out your childhood dreams by throwing tomatoes at each other? On the last Wednesday in August each year, thousands of people run to the streets to indulge in tossing one hundred metric tons of tomatoes at one another. This event is called La Tomatina, and it will be held on August 26th in 2020.
Because the event is hugely popular, ticketing has now been limited to just 20,000 people.
10. Boryeong Mud Festival in Boryeong, South Korea
Originally designed as a festival to promote cosmetics, the Boryeong Mud Festival has turned into a multi-day mud extravaganza. Mud is known for its many health benefits, and it grew from a small niche community to a large following that swears by the nutrients that can be found in the mud of South Korea.
From the creation of the festival in 1998, it has now grown into an event attracting millions of people to indulge in the mud-filled activities.
The activities include mud competitions, colored mud experiences, music performances, parades, and more. So if you enjoy getting mudbaths, the Boryeong Mud Festival could be a great idea for your next adventure. Dates have not been released for 2020 just yet, though in 2019 the festival was held in late July.
11. Avocado Festival in Carpinteria, California
About two hours north of Los Angeles is a small coastal town named Carpinteria. It's famous for beach camping, nearly perfect weather, and the annual Avocado Festival. 2020 will be the 34th annual festival, and it's free to attend. The organization that runs the festival is a nonprofit that is designed to assist other local nonprofits.
From October 2nd to 4th, there will be live music, endless vendors, contests, and of course the freshest avocado and guacamole samples available. This festival is perfect for anyone looking to enjoy the sun, surf, and outstanding guacamole.
12. Sat Nam Fest in Malibu, California
Staying on the West Coast, you will also be able to find a large community of "yogis" becoming fully immersed in the art of Kundalini yoga.
From May 6th to 10th, Sat Nam Fest Kundalini Yoga and Music Festival will take place in Malibu Canyon, California, about one hour from downtown Los Angeles. There will be presentations, workshops, vendors, and activities for all ages. As the event is in the middle of a canyon, there will be housing and food options available for those traveling for the festival.
13. Melt Festival in Gräfenhainichen, Germany
If you love a mix of different music genres and unique concert venues, Melt Festival is an absolute must-see in 2020. The yearly concert takes place at an open-air museum near Gräfenhainichen, Germany. The venue is unique, as it's located on a former opencast coal mine surrounded by industrial structures and iron cranes. This is where the name "Melt" originated from when the festival began in 1997. Since then, the festival has grown into a 20,000 person annual event.
With past headliners such as A$AP Rocky, Bon Iver, and Odesza, you will have an outstanding experience with a unique venue and multi-genre performances. Melt Festival in 2020 will be held on July 17 to 19, and tickets are available now.
Bottom line
Whether you know exactly what to expect as a yearly attendee of a concert or special holiday event, or it's your first time to the Olympics, the excitement of these festivities is what travel is all about.
However, it's also important to remain prepared in case things go awry. When you plan your travel around certain events, it may be a good idea to have travel insurance through one of your credit cards or separately in case the celebrations are cancelled or rescheduled.
Easy-to-Earn Unlimited Rewards
Earn 25,000 online bonus points after you make at least $1,000 in purchases in the first 90 days of account opening - that can be a $250 statement credit toward travel purchases
Earn 1.5 points per $1 spent on all purchases
Longer intro APR on qualifying purchases and balance transfers
No foreign transaction fees
Earn unlimited 1.5 points per $1 spent on all purchases, with no annual fee and no foreign transaction fees and your points don't expire.
25,000 online bonus points after you make at least $1,000 in purchases in the first 90 days of account opening - that can be a $250 statement credit toward travel purchases.
Use your card to book your trip how and where you want - you're not limited to specific websites with blackout dates or restrictions.
Redeem points for a statement credit to pay for travel or dining purchases, such as flights, hotel stays, car and vacation rentals, baggage fees, and also at restaurants including takeout.
If you're a Preferred Rewards member, you can earn 25%-75% more points on every purchase. That means instead of earning an unlimited 1.5 points for every $1, you could earn 1.87-2.62 points for every $1 you spend on purchases.
Contactless Cards - The security of a chip card, with the convenience of a tap.
This online only offer may not be available if you leave this page or if you visit a Bank of America financial center. You can take advantage of this offer when you apply now.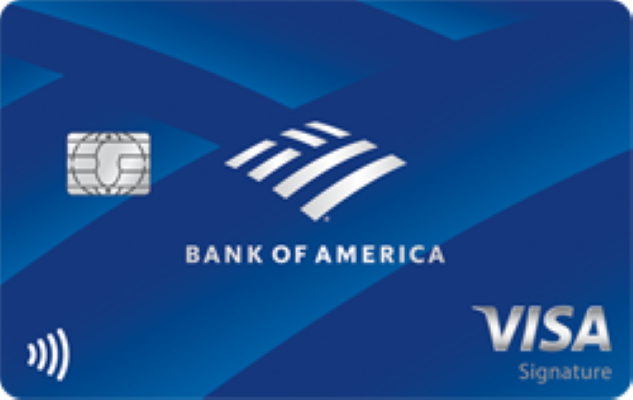 Apply Now
on Bank of America's secure website
Read Card Review
Intro Offer
Earn 25,000 online bonus points after you make at least $1,000 in purchases in the first 90 days of account opening - that can be a $250 statement credit toward travel purchases