With the world slowly opening up, summer 2022 is the first opportunity many people will have to get out of town for vacation for the first time in two years. Considering Oceania Cruises 2023 world cruise sold out in a single day, it's safe to say that many people are eager to ship out for their vacation.
With most cruise lines offering food, entertainment, shopping, childcare, and excursions to some of the coolest (and warmest) destinations in the world, their popularity makes a whole lot of sense. And if you're still brainstorming ideas for your next family vacation, you might want to join the cruise-loving crowd yourself. Like all forms of travel this year, cruises are going to be pricey. Consider these legit ways to make extra money to help offset the increase in travel costs.
Here are 10 reasons why you might take a cruise for your next family vacation.
Unlimited food
For many people, the best part of taking a vacation is the opportunity to have beautifully prepared meals for breakfast, lunch, and dinner that were made by someone else. But this can get pricey, and figuring out where to eat can grow tiresome.
The thing about cruises is that you get all the yummy food you can eat and it's all included in your fare. As for decision fatigue, you'll have plenty of shipboard options to choose from, but you won't have to scour an entire city trying to find a hidden gem for every meal.
An impressive variety of foods
If trying new restaurants is your favorite part of traveling, you'll have plenty to choose from on a cruise. Fortunately, there's something for everyone. 
If the kiddos won't eat anything that isn't doused in cheese, you won't struggle to find a restaurant that serves macaroni and cheese. If you have a gluten allergy, you will be able to find safe and scrumptious options. And if your dad simply won't survive a whole week without fried chicken, you can rest assured that his needs will be met many times over.
Lots of entertainment
If you're the type of vacationer who enjoys a good show, cruise ships are loaded with entertainment options. Experience a world-class pianist in concert, enjoy a Broadway-style cabaret show, or be mesmerized by a magician.
If you're more of a hands-on type who likes to participate in your entertainment, you can dance, take a class, or play games. The choices are endless on a cruise.
Activities for kids of all ages
The incredible entertainment options aren't just for adults. From water parks to activities designed for kids and facilitated by the cruise ship's staff, kids will likely be so busy trying out all the cool activities the ship has to offer that you'll hardly see them (unless you want to, of course).
Childminders
If having your kids go off and do their own thing most of the time sounds relaxing but also a little scary, you can rest easy knowing that all major cruise lines have childminders on staff. 
So, you can have a night of romance and dancing, and your kids will have the opportunity to play with children their own age while being supervised by staff who have planned the best activities to give your child a vacation full of fun.
Plenty of shopping
If one of your favorite parts of a vacation is the opportunity to shop at stores with merchandise you can't find anywhere else, you can find those on a cruise ship as well. Most cruises have at least five stores, and some of them even have designer stores like Coach and Guess.
Pro tip: Cruises can get expensive. If you're looking for ways to save money, check out these genius hacks for Costco shoppers. 
Incredible on-shore excursions
Maybe one of the reasons you're on the fence about taking a cruise is that you prefer your travel to be destination-oriented and not journey-oriented. But cruises offer excursions at ports along your route. You will have many opportunities to not only sightsee but to experience the culture of the different locales you visit.
Unpack once
One easy-to-overlook perk of cruise travel is that you only have to unpack once. Between outfit planning, wrinkle problems, and having to turn your suitcase inside out to find anything, unpacking for the journey can be a seriously underrated relief. You can fill the stateroom dresser, and live like you're at home.
Pro tip: If you unpack your suitcase only to find that you've forgotten some essential toiletries, take your cashback credit card to the cruise store and earn cash rewards while you rescue your vacation.
Get family discounts
If you like to vacation with your extended family, you can hardly do better than a cruise. Cruise lines often offer family discounts that will give you, your parents, your in-laws, and all of your grown siblings a vacation to remember.
Pro tip: If you're worried about the likelihood of an entire family being healthy and able to follow through on a travel commitment, invest in travel insurance and you'll be covered in case someone can't go.
Relax
There are generally two types of vacationers: The type who want to pack every single moment with an experience to remember and the type who just wants to unwind by the pool with a good book.
Cruises are absolutely brimming with activities and adventure, but they are also full of opportunities to lay back and take a nap. That's a perk of bundling your transportation and lodging with your vacation spot — you can duck out of the family activities for a relaxation session any time you please.
Bottom line
With cruise lines offering just about everything most people are looking for in a vacation, you can hardly go wrong by taking the whole family aboard a cruise ship this summer. Keep in mind that most cruise lines are requiring all passengers 18 and older to be fully vaccinated in order to board. Additionally, you can plan ahead by looking into legit ways to make extra money to help offset the increase in travel costs.
So, check your calendar and your destination bucket list and start searching for the perfect cruise for your next family vacation.
Easy-to-Earn Unlimited Rewards
Earn 25,000 online bonus points after you make at least $1,000 in purchases in the first 90 days of account opening - that can be a $250 statement credit toward travel purchases
Earn 1.5 points per $1 spent on all purchases
Longer intro APR on qualifying purchases and balance transfers
No foreign transaction fees
Earn unlimited 1.5 points per $1 spent on all purchases, with no annual fee and no foreign transaction fees and your points don't expire.
25,000 online bonus points after you make at least $1,000 in purchases in the first 90 days of account opening - that can be a $250 statement credit toward travel purchases.
Use your card to book your trip how and where you want - you're not limited to specific websites with blackout dates or restrictions.
Redeem points for a statement credit to pay for travel or dining purchases, such as flights, hotel stays, car and vacation rentals, baggage fees, and also at restaurants including takeout.
If you're a Preferred Rewards member, you can earn 25%-75% more points on every purchase. That means instead of earning an unlimited 1.5 points for every $1, you could earn 1.87-2.62 points for every $1 you spend on purchases.
Contactless Cards - The security of a chip card, with the convenience of a tap.
This online only offer may not be available if you leave this page or if you visit a Bank of America financial center. You can take advantage of this offer when you apply now.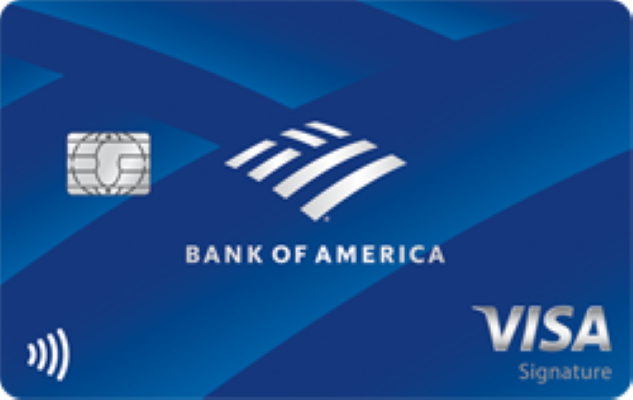 Apply Now
on Bank of America's secure website
Read Card Review
Intro Offer
Earn 25,000 online bonus points after you make at least $1,000 in purchases in the first 90 days of account opening - that can be a $250 statement credit toward travel purchases