Back in December 2019, our contest known as FinanceBuzz Gives the Gift of Points awarded five people with free airfare to the destinations of their choosing. The contest was our way of sharing the life-changing hobby of award travel, and the holiday season seemed like the perfect time to do that.
As a part of the contest, participants had to submit a story explaining how a free round-trip plane ticket would allow them to turn a special dream into a reality. Whether it was a chance to reconnect with a friend, take a transformative trip, or make a surprise visit home, we wanted to hear how this trip could forever change their lives.
One of our winners was Maher E. from Oklahoma. Maher left for his Gift of Points trip home to Libya back in early February, and recently I had a chance to talk with him to see how his trip went. As one of the winners of FinanceBuzz Gives the Gift of Points, free airfare meant a chance for Maher to fly home to spend time with his family whom he hasn't seen in almost three years.
Why Maher chose this trip home
Maher comes from a close-knit, conservative family. He's the youngest of six children, and an uncle to seven nieces and nephews. Maher told us that where he comes from, "family is of the utmost importance." But, as important as family is to Maher, he doesn't get to see them as often as he'd like.
Maher immigrated to the U.S. from Libya in 2009 to attend school. A couple years later, war broke out in Libya. Because of this and certain immigration restrictions that prevented Maher from leaving the U.S., traveling home to visit his family was not an option. With unreliable internet in Libya, simply talking to his family and seeing their faces was also challenging.
Eventually, Maher received his U.S. citizenship, allowing him to leave and enter the U.S. as he pleased, but due to the continued civil unrest in Libya, Maher's chances to fly home were few and far between. Luckily, recent conditions have improved, and travel to Libya is once again possible, though still expensive.
As one of the winners of FinanceBuzz Gives the Gift of Points, Maher was able to fly home to spend time with his family for the first time in years — and to visit them for the first time as a married man. This was especially important to Maher because his parents weren't able to secure visas to attend his wedding in the U.S. and, therefore, weren't able to take part in the many traditions when a son is married.
Winning this trip home gave Maher and his family the chance to celebrate his marriage once and for all. With wedding photos and videos in hand, Maher was able to show his family all the moments of his big day.
Reuniting with family
Maher spent nearly a month visiting with his family in Libya, and it couldn't have gone better. Previously, on the rare occasions when Maher had made it home, his brother, who lives and works in Malaysia, wasn't able to. When his brother could return home, Maher couldn't make it. This time, however, Maher's entire family was able to reunite for the first time in years.
Not being able to return home as often as he'd like, Maher also hadn't been able to celebrate any religious holidays with his family as he had growing up. As a Muslim, one of these celebrations is Eid al-Adha, also called the Festival of the Sacrifice. In commemoration of Ibrahim's sacrifice to Allah, an animal is ritually sacrificed and divided into three parts. One share is given to the needy, another is kept at home, and the third is given to relatives.
Although this holiday took place in August 2019, a few months before Maher flew home, his family recreated the celebration in honor of Maher when he returned. With all of his family there — including siblings, nieces, nephews, and cousins — they got a sheep in Maher's name, barbecued it, and celebrated their reunion.
"It was so much fun … it was a huge day," Maher says.
The last word on Maher's trip home
After not getting to see his family for three years, Maher's Gift of Points award allowed him to spend a lengthy amount of quality time with his loved ones. His father also gave him a trove of paperwork showing Maher's lineage in Libya. This included official documents and records of his family that dated back 400 years!
"The main thing was that I got to go home and share with my family that I got married," Maher says "But it's definitely more than that … This was really nice in that all of us were there at the same time, as a family."
We're honored to have been part of this experience for Maher.
One of the reasons we adore points from credit cards and miles so much here at FinanceBuzz is because of their potential. Whether you want to fund a relaxing vacation, travel for important medical procedures, or reunite with loved ones, points and miles can make it possible. Just one of the ways to earn points and miles is by having one of the best travel credit cards on hand for purchases. If you're interested in learning more about how you can use points and miles to take life-changing trips, start with our ultimate guide to travel rewards.
Easy-to-Earn Unlimited Rewards
Earn 25,000 online bonus points after you make at least $1,000 in purchases in the first 90 days of account opening - that can be a $250 statement credit toward travel purchases
Earn 1.5 points per $1 spent on all purchases
Longer intro APR on qualifying purchases and balance transfers
No foreign transaction fees
Earn unlimited 1.5 points per $1 spent on all purchases, with no annual fee and no foreign transaction fees and your points don't expire.
25,000 online bonus points after you make at least $1,000 in purchases in the first 90 days of account opening - that can be a $250 statement credit toward travel purchases.
Use your card to book your trip how and where you want - you're not limited to specific websites with blackout dates or restrictions.
Redeem points for a statement credit to pay for travel or dining purchases, such as flights, hotel stays, car and vacation rentals, baggage fees, and also at restaurants including takeout.
0% Introductory APR for 18 billing cycles for purchases, and for any balance transfers made in the first 60 days. After the intro APR offer ends, 17.99% - 27.99% Variable APR will apply. A 3% fee applies to all balance transfers.
If you're a Preferred Rewards member, you can earn 25%-75% more points on every purchase. That means instead of earning an unlimited 1.5 points for every $1, you could earn 1.87-2.62 points for every $1 you spend on purchases.
Contactless Cards - The security of a chip card, with the convenience of a tap.
This online only offer may not be available if you leave this page or if you visit a Bank of America financial center. You can take advantage of this offer when you apply now.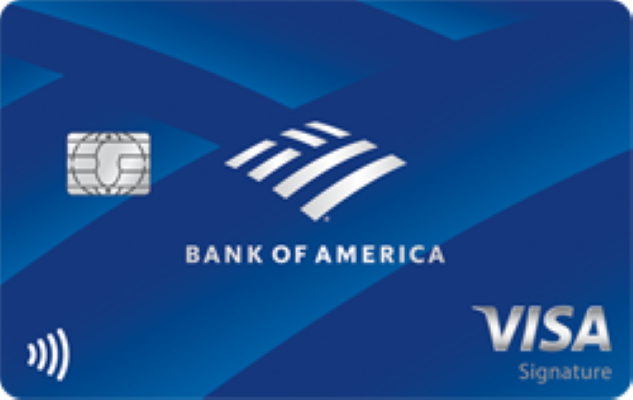 Apply Now
on Bank of America's secure website
Read Card Review
Intro Offer
Earn 25,000 online bonus points after you make at least $1,000 in purchases in the first 90 days of account opening - that can be a $250 statement credit toward travel purchases