Points and miles run deep here at FinanceBuzz — both personally and professionally. Award travel and using the best travel credit cards is a life-changing hobby that we love too much not to share. And what better time of year to share could there be than the holiday season?
So, we set out on a mission to give back to the FBZ community this year — in the form of, you guessed it, points and miles. We asked all of you for stories about how a free plane ticket would allow for a life-changing trip — and we got some amazing stories. As a result, we're giving away free round-trip flights to five people so that their dreams can come true.
We read and scored the entries, and now we're thrilled to announce the winners. Without further ado, here are the winners of FinanceBuzz Gives the Gift of Points.
Chris L. from Miami, Florida
No matter how long it's been, there's nothing quite like reuniting with your best friend. But when you live on opposite corners of the country, that's not always easy to do.
That's the case with Chris and his best friend, John, with whom he's been buddies since the age of 11. It took John moving away their junior year of high school for the two to be separated. Now, Chris lives in Miami, and John lives in Seattle. Although they've kept in touch over the years, being separated by 3,300 miles hasn't made it easy.
Despite the distance, John has always been the epitome of a true friend for Chris. And when Chris was asked where he would go with a free plane ticket, he said, "If I could fly anywhere in the world today, it would not necessarily be for an adventure, for a career goal, or even be anywhere new. It would be to Seattle, to see my oldest, best friend John."
Pack your bags Chris, because you're headed to Seattle.
Megan J. from Houston, Texas
For those who celebrate Christmas, there's no doubt about it — there's something truly magical about the Christmas season when you're a child. This is even more true if you grow up where the trademarks of the holiday are evident — playing in the snow, sipping hot chocolate, the warmth of a fire. Having grown up in Michigan, this is exactly what Megan's childhood was made of.
But how do you get to see your children enjoy your favorite past times if they grow up where snow isn't abundant? Well, you hop on a plane and take them to where the holiday season shines bright, of course!
"If I was given free airfare, I would love to take my son on a weekend trip to visit New York City during the holidays. A trip like that would allow him to FEEL the holiday magic. The gifts that I try to give my son are experiences because the memories will last forever."
Is that holiday magic in the air, Megan? Award travel tends to feel that way.
Maher E. from Oklahoma City, Oklahoma
Emigrating from your home country is as life-changing as it gets. And it can be even more of a challenge if you're forced to leave friends and family behind in the process. For Maher, a plane ticket is an opportunity to reunite with family in Libya — family he hasn't been able to visit in years.
"What makes this visit even more special is that I got married last year, and my 65+-year-old parents were denied visas to attend the wedding," said Maher. "So this is the first time I can come back as a married man. I plan on bringing all the wedding photos and videos to show them."
A chance to reconnect with family is one of the reasons award travel means so much to us here at FinanceBuzz.
Sara W. from Los Angeles, California
"Proud Aunt" might be an understatement but a proud aunt she is. Sara's niece, Victoria, is preparing to compete in the Vejle 2020 World Taekwondo Poomsae Championships in May — and there's nothing Sara wants more than to be there to support her.
"As one of her biggest fans, I can't express how proud I am, and I always try to be there to support her at her tournaments," said Sara. "She has once again proved her ability to reach her highest potential and will be competing at the world level against athletes from all over the world."
Team USA needs its support, and so does Victoria. Tell her to kick some butt.
Amanda G. from Burlington, North Carolina
Inspiration can come from anywhere. And sometimes, you can't recall the specific event that motivated you in the first place. But when inspiration comes from something as life-changing as 9/11, there's simply no confusion.
Amanda's husband is a career fireman who was inspired by the events of 9/11 to join the department. Currently, he's a paid fire captain for his city, as well as a volunteer fireman and instructor for their county. Although Amanda visited the 9/11 memorial when it was under construction years ago, her husband has never been there.
"He gives selflessly...to learn...and serve in the name of the fire service. It is truly an honor to be at his side, to support him and watch him change our little corner of the world," said Amanda. "His passion is truly inspiring and this trip would mean everything to him."
Get ready for take-off
We'll follow along as our FinanceBuzz Gives the Gift of Points winners take these trips of a lifetime, so stay tuned for in-depth reports after each winner's travels. We can't wait to share them with you.
Because, in the end, points and miles can be bigger than just credit cards — they're a source of opportunity. And when there's the opportunity to use points and miles to change someone's life, well, it doesn't get any more rewarding than that.
Easy-to-Earn Unlimited Rewards
Earn 25,000 online bonus points after you make at least $1,000 in purchases in the first 90 days of account opening - that can be a $250 statement credit toward travel purchases
Earn 1.5 points per $1 spent on all purchases
Longer intro APR on qualifying purchases and balance transfers
No foreign transaction fees
Earn unlimited 1.5 points per $1 spent on all purchases, with no annual fee and no foreign transaction fees and your points don't expire.
25,000 online bonus points after you make at least $1,000 in purchases in the first 90 days of account opening - that can be a $250 statement credit toward travel purchases.
Use your card to book your trip how and where you want - you're not limited to specific websites with blackout dates or restrictions.
Redeem points for a statement credit to pay for travel or dining purchases, such as flights, hotel stays, car and vacation rentals, baggage fees, and also at restaurants including takeout.
0% Introductory APR for 18 billing cycles for purchases, and for any balance transfers made in the first 60 days. After the intro APR offer ends, 17.99% - 27.99% Variable APR will apply. A 3% fee applies to all balance transfers.
If you're a Preferred Rewards member, you can earn 25%-75% more points on every purchase. That means instead of earning an unlimited 1.5 points for every $1, you could earn 1.87-2.62 points for every $1 you spend on purchases.
Contactless Cards - The security of a chip card, with the convenience of a tap.
This online only offer may not be available if you leave this page or if you visit a Bank of America financial center. You can take advantage of this offer when you apply now.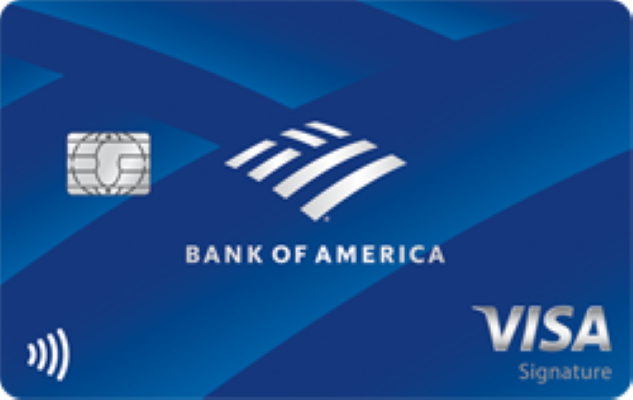 Apply Now
on Bank of America's secure website
Read Card Review
Intro Offer
Earn 25,000 online bonus points after you make at least $1,000 in purchases in the first 90 days of account opening - that can be a $250 statement credit toward travel purchases