Imagine having the money to retire today, walking into your boss' office and handing over your resignation letter. Feel great doesn't it?

If you're reading this, however, I'm guessing you're not quite there. You might think you need hundreds of thousands of dollars in the bank and a paid off mortgage to retire, but there are other ways to make it work.
Many investors today earn enough money each month through their investments that they can afford to retire now, with passive income streams replacing their paycheck.
It's surprisingly simple to get started - keep reading to find out the best passive income methods.
Invest in Real Estate
Real estate investing is one of the most tried and true ways of building wealth and generating extra income. In fact, a good portion of millionaires today made their fortunes in real estate. By investing in the right income-producing projects, it's possible to create a regular income stream from your investments while the value of the properties continues to rise.
Millionaire Spotlight:
Sean Conlon
Sean Conlon became a self-made millionaire from real estate after starting with just $500 in his pocket. He first started out buying small, older homes and converting them into multi-family buildings. He was able to scale this up into buying more and more homes, and eventually started his own real estate investing company. "I understood fairly quickly that real estate is a tangible path to wealth."
Getting started in real estate investing has traditionally been difficult, requiring high upfront costs and regular expenses. But Fundrise is disrupting the market by making it easier to get in on the ground floor of some of the most exclusive investment opportunities on the market.
Fundrise offers a simple Starter Portfolio that does all the heavy lifting for you. Simply log in to your online dashboard and you'll be able to review your investments in one place. With a minimum investment of just $500, you can co-own highly desired Regulation A+ real estate. And since their portfolios pay a quarterly dividend, you'll get a nice passive stream of cash that you can further roll over into other investments.
Take 2 minutes to sign up for Fundrise and start building your real estate wealth >>>
Build Wealth Through a Diversified Portfolio
Investing is one of the wisest ways to passively build income. Sometimes, though, it can feel restricted for the wealthy elite. But times are changing and now there are companies who make investing incredibly easy, and dare I say, downright fun. Getting started sooner rather than later is key to letting your returns compound.
Millionaire Spotlight:
Elle Kaplan
Elle Kaplan became a self-made millionaire from investing after starting with just $200 to her name. She founded her own New York-based wealth management firm and has become one of them most trusted advisors on Wall Street. "I made my first million by saving from every paycheck, and growing that wealth through investing."
Here are a few companies that take the intimidation out of investing by explaining portfolios in simple terms and helping customers easily understand how to set themselves up for the highest returns.
Wealthsimple is all about keeping things simple. They can help you build and diversify a healthy portfolio that includes services such as dividend reinvesting, tax-loss harvesting, and automatic rebalancing. With a $0 minimum investment and free money management on accounts up to $5,000, this socially responsible robo-advisor offers a high level of service usually reserved for investors with much larger portfolios.
Stash also takes the guesswork out of investing and can help you select a simple set of portfolios that reflect your goals, interests, and beliefs. With a minimum investment as little as $5 and a $1 monthly fee for balances under $5,000 (the first month is free), this app lets you choose exactly where to put your money while leaving the complicated investment terms out of it. Right now, FinanceBuzz has teamed up with Stash to fund your first investment, so you'll get a $5 bonus to get started!

Steal From Your Boss* (a.k.a. Invest in Yourself)
*We don't actually mean you should steal from your boss, but if you're not using this strategy, you're leaving money on the table!
Investing in yourself with a 401(k) is a powerful way to grow your net worth and set yourself up for passive income when you retire. If you aren't already investing today, at the very minimum you should be allocating enough to take advantage of your employer's match, which is often 3-6% annually.
Blooom, an SEC-registered investment advisory firm, helps you take it a step further by optimizing and monitoring your 401(k) for you. You'll no longer have to worry about overpaying on hidden fees, making poor investments, or choosing a suboptimal portfolio. Blooom deciphers it all and lends the support you need to make the best decision for your money.

Track Where Your Money Is Going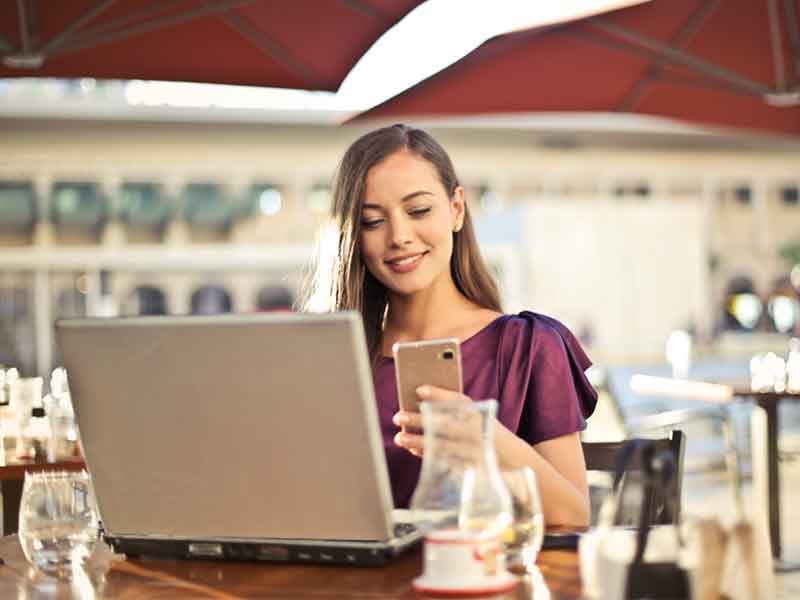 Tracking how you save and spend money is just as important to building long-term wealth as investing and diversifying. Each dollar you save on unnecessary expenses today is $1 more you can put into income-producing investments. Plus, it's easy and free with the right tools.
Tools like Trim analyze spending habits and can automatically negotiate bills down on your behalf – like your exorbitant Comcast cable bill – so you can rest easy and focus on growing your fortune in other ways.
Cinch is another tool whose mission is to provide a holistic overview of your finances (and how to make them work harder for you) in an unbiased way. Using their patented intelligence platform, they provide guidance on present and future money moves, just like a financial advisor without the cost.
Earn 100x More Interest on Your Bank Accounts
Now that you're on a path to becoming a millionaire, it no longer makes sense to use the "set it and forget it" approach to banking – like so many people do. But in fact, getting a better return on your bank deposits is one of the easiest moves you can make today to increase your passive income. Taking advantage of higher interest rates when you find one is always a smart move.
Modern banks like Aspiration offer generous interest rates on checking accounts (yes, checking) and a pay-what-you-want monthly fee (which can be $0). You can earn 1% interest on balances over $2,500 and 0.25% interest on balances below. Plus, you can use any ATM in the world for free, without worrying about fees.

This strategy alone won't make you rich, but at the end of the day, you end up with more money in your pocket for no additional effort.
Remember, starting where you are with what you have is the best money move you can make today. With all the opportunities out there, there's no better time to easily build wealth than right now.