Traveling abroad is one of the best ways to expand your cultural awareness. It exposes you to other cultures, people, and ways of life, helping you develop a global mindset and put your own life into perspective.
As life-changing as international travel can be, you don't always have to endure a 15-hour flight or spend a fortune to experience a different culture. From Greek sponge diving to Bavarian architecture to Japanese gardens, it turns out the United States is rich with communities where residents and locals keep a strong hold on their heritage.
Ranging from big city neighborhoods to places flowing with small town charm, these ideal travel destinations guarantee that you'll feel as though you're no longer in the United States — and visiting them will save you some time and money as well.
Holland, Michigan
Nestled just off the shores of Lake Michigan, the city of Holland is perhaps best known for preserving and celebrating its Dutch heritage. Founded in 1847 and named after the homeland of many of the immigrants who settled there, the city still showcases its Dutch influence today. Stroll the cobblestone sidewalks of the city's downtown and you'll find that influence in the Dutch architecture. Stop into a local shop or eatery and you'll taste it in the Dutch delicacies found within.
Visit Holland in the spring and you'll have an opportunity to witness an authentic Dutch experience as millions of tulips bloom throughout the area. For eight days (May 7-15, 2022), the city celebrates spring with the Tulip Time Festival. Along with the millions of tulips to see in the city's parks, the festival also showcases three Dutch-inspired parades and the Dutch Marktplaats where you can get plenty of authentic Dutch food.
Solvang, California
Located in Santa Barbara County, the city of Solvang was founded in 1911 by a group of adventurous Danish immigrants who left Iowa to establish a Danish community in the golden state of California. Having purchased 9,000 acres of the former Rancho San Carlos de Jonata land grant, they quickly established their new community with the construction of a Danish folk school and church, and later, Atterdag College.
Today, over one million people visit the "Danish Capital of America" each year to experience the northern European culture and cuisine. Stop by one of Solvang's five authentic Danish bakeries or take a ride on the Solvang trolley — a wooden, horse-drawn streetcar — between the colorful shops and boutique stores.
Fredericksburg, Texas
Nearly smack dab in the middle of the Lone Star State in the Texas Hill Country you'll find another slice of Europe in the city of Fredericksburg. Founded in 1846 by German immigrants, this Texas town keeps its German roots alive through its historic buildings along Main Street, German cuisine at local eateries, and many famous festivals held at Marktplatz (Market Square).
As you take in the colorful blend of western saloons and Bavarian architecture along Main Street, make sure to listen for the Texas-German language that's still spoken among the locals generations later.
Boston, Massachusetts
As you walk across the narrow cobblestone streets of Beacon Hill, and you pass the gas-lit lanterns and Federal-style row houses, there's no denying the once colonial outpost for the British empire hasn't forgotten how it started.
Not only does the city have its naming roots in old England (named after Boston, Lincolnshire, the town and small port north of London) but Boston's extensive use of brick materials, crooked street grid, and blend of modern and historic structures at its city's core makes for some serious resemblance to the big city across the pond.
For even more of a taste of Europe, stroll the scenic public plazas and squares, then drop into one of Boston's numerous Irish pubs before heading north to Boston's Little Italy.
Miami, Florida
There's more to Miami than its gorgeous beaches, nightclubs, and pastel-colored buildings. Some will say the real Miami begins when you bypass the beachgoers and head for the neighborhoods responsible for the city's cultural pulse.
Step into Little Havana and you'll find a colorful center of Hispanic culture riddled with Latin-inspired cafes, restaurants, and markets that give space and a voice to the variety of backgrounds that have taken root in the neighborhood.
While enjoying a backdrop of Cuban beats, do like a local and grab an afternoon cortado or enjoy authentic dishes from all over Latin America. Stroll along the vibrant Calle Ocho for, known for its Cuban restaurants, Cuban bakeries, and colorful street festivals. And on the last Friday of every month, Viernes Culturales celebrates the best of Cuban arts, culture, and music.
New Orleans, Louisiana
Although it's been over two centuries since the United States bought what is today known as Louisiana (and much more) from France for a meager $15 million, New Orleans remains forever shaped by its European heritage.
Founded in 1718 by French explorer Jean-Baptiste Le Moyne de Bienville, New Orleans was ceded to the Spanish Empire in 1763 after the signing of the Treaty of Paris. But then it went back to the French in 1800. The years the city was volleyed back and forth by the French and Spanish left an imprint that still remains today.
Though much of the French architecture was wiped out during the Great Fires of New Orleans and rebuilt with Spanish influence, which can be seen in the Baroque-looking buildings like the Cabildo and the Presbytere, many residents held onto their Francophile ways. Head to the French Quarter and you'll find it in the customs, cuisine, modern boutiques, and French market.
Hawaii
Travel outside the contiguous United States to Hawaii and you might automatically feel as though you're traveling internationally. Thanks to the presence of Japanese culture, Hawaii is a must-visit if you want a taste of a different world — and authentic Japanese cuisine — without having to travel abroad.
Whether you're slurping a bowl of ramen at Waikiki Yokocho (Japanese food hall, temporarily closed as of March 2022), finding your inner peace at Liliuokalani Park and Gardens, or taking a class on chado (the way of tea) or shodo (Japanese calligraphy) at the Japanese Cultural Center of Hawaii, there's no shortage of ways to experience Japan in Hawaii.
And, if you're around at the beginning of February, make sure to snap a selfie with a cherry blossom tree during the Cherry Blossom Heritage Festival.
Great Sand Dunes National Park, Colorado
If a trip to the Sahara Desert is on your bucket list but it's too far and too expensive to get there, travel instead to the Great Sand Dunes National Park in south-central Colorado.
There, you'll find the tallest sand dunes in North America, with a few dunes towering over 700 feet. With the majestic views of the dunes and the backdrop of the snow-capped peaks of the Sangre de Cristo Mountains, there's no shortage of photographic opportunities.
Enjoy a hike across this natural wonder, and for an easy trip back down the dunes, bring a sandboard or sand sled. You can also rent them in nearby towns. Be careful though, as you can pick up speed quickly on these steep hills.
Tarpon Springs, Florida
If you can't make it to the Greek island of Santorini, visiting Tarpon Springs can be a pretty close stand in. The city of around 25,000 residents has a higher percentage of Greek-Americans than any other American city. Immigrants began arriving from Greece in the 1880s, but the discovery of natural sponge beds in the early 1900s brought an influx of Greek sponge divers — quickly making Tarpon Springs the Sponge Capital of the World.
Today, with its abundance of Greek eateries lining the Gulf of Mexico waterfront, blue and white structures, Greek music, and the ornate, historic St. Nicholas Greek Orthodox Cathedral, Tarpon Springs can easily transport you thousands of miles away to a coastal village in Greece.
Venice, California
Though it doesn't compare to the original in terms of historical significance, Venice, California, can make for a suitable substitute if you can't visit the Venice across the pond. Founded in 1905 as a beach resort town, then 14 miles west of a much smaller Los Angeles, tobacco millionaire Abbot Kinney intended it to be the "Venice of America," evoking old-warm charm like that of its namesake in Italy.
While several of the original canals were filled with concrete as a way to adapt the city's transportation infrastructure for the automobile age, this Italian-inspired California neighborhood has held onto a handful of its canals that you can still visit today. Sidewalks and bridges run along these channels, so you can relax, walk, and take in the views of this beautiful area.
Lindsborg, Kansas
Known as "Little Sweden," this nearly 1.5-square mile Kansas town is abundant with Swedish heritage and is also home to the biennial celebration known as Svensk Hyllningsfest. Settled in 1869 by a group of Swedish immigrants from the Värmland province of Sweden, the community of Lindsborg still holds strongly to its Swedish values.
Visit Lindsborg, a haven for homemade Swedish crafts, and you'll find a picturesque downtown, painted dala horses lining the town's streets, and bakeries offering typical Swedish treats like lingonberry bars and pancakes.
Bottom line
The United States is full of places that allow you to get an international vibe without enduring a full day of travel to venture overseas. You don't have to spend a fortune either.
On top of saving money by traveling more "locally," you can also use rewards credit cards to earn cash back or points and miles on your travel purchases. Doing this can make future travel even more affordable. Whether you're taking a road trip or you're flying, within the United States or abroad, adding one of the best travel credit cards to your wallet can keep you traveling more for less. 

So, which "country" will you be visiting next?
Easy-to-Earn Unlimited Rewards
Earn 25,000 online bonus points after you make at least $1,000 in purchases in the first 90 days of account opening - that can be a $250 statement credit toward travel purchases
Earn 1.5 points per $1 spent on all purchases
Longer intro APR on qualifying purchases and balance transfers
No foreign transaction fees
Earn unlimited 1.5 points per $1 spent on all purchases, with no annual fee and no foreign transaction fees and your points don't expire.
25,000 online bonus points after you make at least $1,000 in purchases in the first 90 days of account opening - that can be a $250 statement credit toward travel purchases.
Use your card to book your trip how and where you want - you're not limited to specific websites with blackout dates or restrictions.
Redeem points for a statement credit to pay for travel or dining purchases, such as flights, hotel stays, car and vacation rentals, baggage fees, and also at restaurants including takeout.
0% Introductory APR for 18 billing cycles for purchases, and for any balance transfers made in the first 60 days. After the intro APR offer ends, 17.99% - 27.99% Variable APR will apply. A 3% fee applies to all balance transfers.
If you're a Preferred Rewards member, you can earn 25%-75% more points on every purchase. That means instead of earning an unlimited 1.5 points for every $1, you could earn 1.87-2.62 points for every $1 you spend on purchases.
Contactless Cards - The security of a chip card, with the convenience of a tap.
This online only offer may not be available if you leave this page or if you visit a Bank of America financial center. You can take advantage of this offer when you apply now.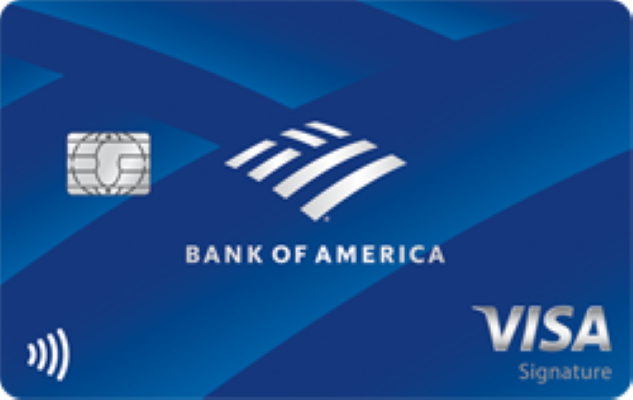 Apply Now
on Bank of America's secure website
Read Card Review
Intro Offer
Earn 25,000 online bonus points after you make at least $1,000 in purchases in the first 90 days of account opening - that can be a $250 statement credit toward travel purchases