JetBlue announced late last year that it was expanding service in Europe with low-cost flights to Paris. Those hoping for a delightful summer getaway may be able to nab a round-trip flight to the City of Light for less than $500. 
The airline offers many other great deals on international flights as well, for JetBlue credit card holders, TrueBlue loyalty program members, and anyone with the travel bug.
To help you plan your 2023 travel, here are 15 of JetBlue's best deals on international flights.
Aruba
JetBlue has amazing flight deals for destinations across the Caribbean, including Aruba. If you're looking to travel in early summer, the airline is offering a one-way ticket from New York City for $157 and Boston for $187.
There's no shortage of things to do on the island, from lounging on the gorgeous beaches to hitting the casinos to enjoying the bustling nightlife. Plus, summer is considered the "low season" so hotel rates may be cheaper.
The Bahamas
The airline has incredible deals from the New York area to the Bahamas, with round-trip flights throughout May and June for less than $300.
JetBlue also currently lists bargain one-way tickets from multiple Florida airports (Fort Lauderdale and Orlando for under $100 one way) and Boston ($148 one way).
Pro Tip: The airline offers package deals (hotel + flight) at popular destinations, like the Bahamas, that can save you hundreds. Choose the best travel credit card to save even more.
Bogotá, Colombia
JetBlue also travels to destinations across South America, including Bogotá, Colombia's capital city and one of its most popular tourist destinations. In June, JetBlue travelers can nab round-trip flights from the NYC area for under $400.
Through mid-June, the airline is also touting a bargain one-way trip from Florida — just $109 out of Fort Lauderdale.
Cancún, Mexico
The airline has several bargains for those looking to visit Cancún, known for its gorgeous beaches and thriving nightlife. Travelers from Florida can fly for as low as $121 one-way (or around $261 round-trip).
The airline is also running deals to Cancún from the New York area ($154 one way), Boston ($154 one way), North Carolina ($179 one way), and L.A. ($170 one way).
Cayman Islands
Those flying from New York and Boston can find great deals to the beautiful Cayman Islands, with one-way flights out of NYC as low as $112 and $204 out of Boston.
JetBlue's flights take travelers to Grand Cayman, one of three islands in this corner of the Caribbean where visitors can enjoy tranquil beaches, a vibrant foodie scene, amazing SCUBA diving, and incredible natural beauty.
Havana, Cuba
JetBlue is running a deal for those looking to cruise the historic streets of Old Havana and enjoy all the sights, sounds, and flavors Cuba's capital city has to offer.
From the New York City area, a one-way flight is as low as $256 and out of Fort Lauderdale, travelers can grab a one-way ticket for as low as $122.
Lima, Peru
Those looking to explore Peru's capital city can land a great deal if they travel before mid-June. JetBlue is offering one-way flights from Fort Lauderdale for $144. A round-trip ticket can also be purchased for as low as $338.
There's plenty to do in this lively city, from exploring the ancient city of Caral to strolling the beautiful, historic city center to dining on excellent local cuisine. And be sure to try Peru's favorite cocktail, the Pisco Sour.
London
London can be lovely in the springtime, and JetBlue is offering round-trip flights throughout May from the NYC area to London Heathrow for just over $600. 
It's a bit cheaper to fly into London-Gatwick airport. That's a great price if you want to be in town for the coronation of King Charles III on May 6.
But there's plenty to do in London year-round. Tour centuries-old castles, visit landmarks like Buckingham Palace, stroll in Hyde Park, or shop at Camden Market. Day trips to Bath or Brighton could round out your British sojourn.
Montego Bay, Jamaica
JetBlue is running several deals for travelers looking to visit Jamaica in late spring or early summer. The airline is offering discounted one-way flights from Orlando ($114), Fort Lauderdale ($121), the NYC area ($161 from JFK or $301 from Newark), and Boston ($281).
Montego Bay offers visitors a mix of gorgeous beaches, a bustling nightlife, incredible cuisine, and endless options for both excitement and relaxation.
Paris
It's near impossible to run out of things to do, see, and eat in Paris — from the Louvre to Versailles and everything in between. 
Starting at the end of June, JetBlue will begin taking travelers from NYC to Paris (at times, for less than $500 round trip). The airline has announced that it plans to add flights from Boston later this year.
Punta Cana, Dominican Republic
JetBlue has several ongoing deals for flights to Punta Cana, including an $84 one-way flight from Puerto Rico and several out of the New York and Boston areas for under $300 one-way.
The nation boasts one of the longest, most beautiful coastlines in the Caribbean and is known for all-inclusive resorts, gorgeous clear waters, and famed golf courses.
San José, Costa Rica
Costa Rica's capital city has much to offer travelers of all sorts. Aside from the area's breathtaking natural beauty, it boasts cultural landmarks, hot tourist spots like Avenida Central, fabulous bird-watching, and delectable dining.
If you fly from New York or Florida, JetBlue has some deals: $109 one way from NYC and $149 and $181 for Orlando and Fort Lauderdale, respectively.
Saint Lucia
Saint Lucia is another great option in the Caribbean. Whether you're looking to sunbathe, relax in a mud bath, bar hop, or zipline (or all of the above), the island has got you covered.
The airline currently has deals on spring travel from the New York City and Boston areas, offering one-way flights from $207 and $232, respectively.
Turks and Caicos
Whether you are in the market for a relaxing getaway or an activity-packed island adventure, Turks and Caicos (which is made up of more than 40 islands and cays) has much to offer.
JetBlue is running a spring deal on flights from the New York city area ($107 one way) and Boston ($266 one way).
Vancouver
The airline also flies north to Vancouver and is currently running a deal on flights from New York City ($197 one way). Those traveling in early summer may be able to snag a round-trip deal for around $370.
The largest city in British Columbia on Canada's west coast, Vancouver offers natural beauty (and an array of gorgeous parks to choose from), a thriving arts scene, and excellent dining options.
Bottom line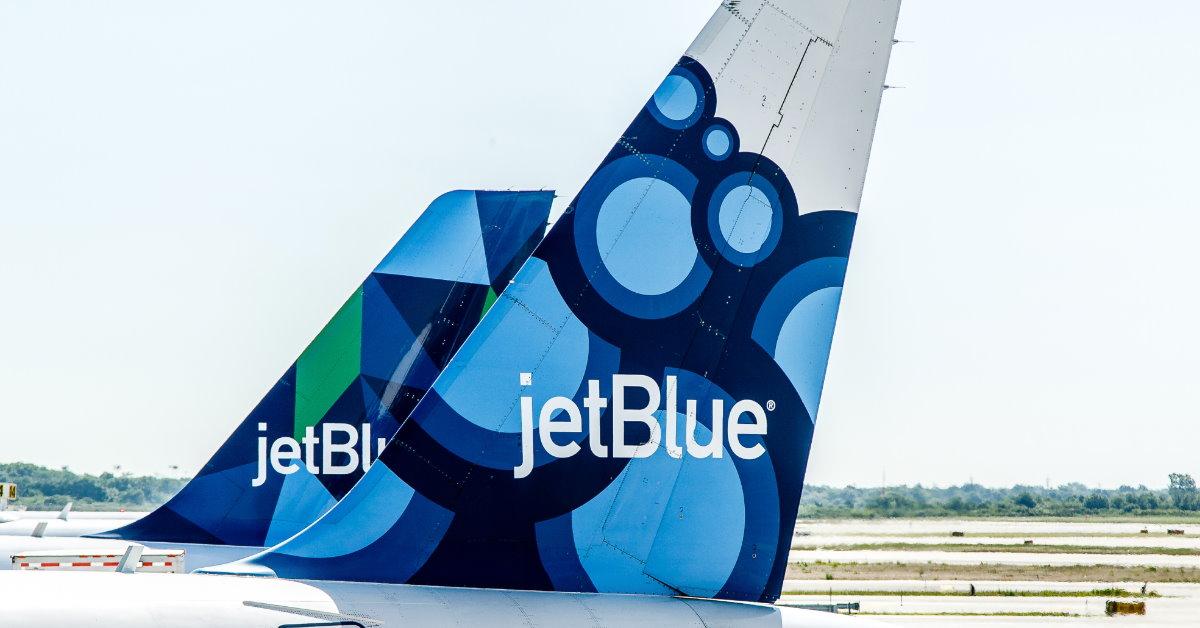 JetBlue continues to post deals throughout the year, so those worried about having to make extra cash to afford to travel should keep an eye out for new bargains popping up.
Flights to popular destinations (in the Caribbean in particular) tend to be offered at discounted rates often. You may also get a good deal if you opt for a package that covers your flight and hotel.
Easy-to-Earn Unlimited Rewards
Earn 25,000 online bonus points after you make at least $1,000 in purchases in the first 90 days of account opening - that can be a $250 statement credit toward travel purchases
Earn 1.5 points per $1 spent on all purchases
Longer intro APR on qualifying purchases and balance transfers
No foreign transaction fees
Earn unlimited 1.5 points per $1 spent on all purchases, with no annual fee and no foreign transaction fees and your points don't expire.
25,000 online bonus points after you make at least $1,000 in purchases in the first 90 days of account opening - that can be a $250 statement credit toward travel purchases.
Use your card to book your trip how and where you want - you're not limited to specific websites with blackout dates or restrictions.
Redeem points for a statement credit to pay for travel or dining purchases, such as flights, hotel stays, car and vacation rentals, baggage fees, and also at restaurants including takeout.
0% Introductory APR for 18 billing cycles for purchases, and for any balance transfers made in the first 60 days. After the intro APR offer ends, 17.99% - 27.99% Variable APR will apply. A 3% fee applies to all balance transfers.
If you're a Preferred Rewards member, you can earn 25%-75% more points on every purchase. That means instead of earning an unlimited 1.5 points for every $1, you could earn 1.87-2.62 points for every $1 you spend on purchases.
Contactless Cards - The security of a chip card, with the convenience of a tap.
This online only offer may not be available if you leave this page or if you visit a Bank of America financial center. You can take advantage of this offer when you apply now.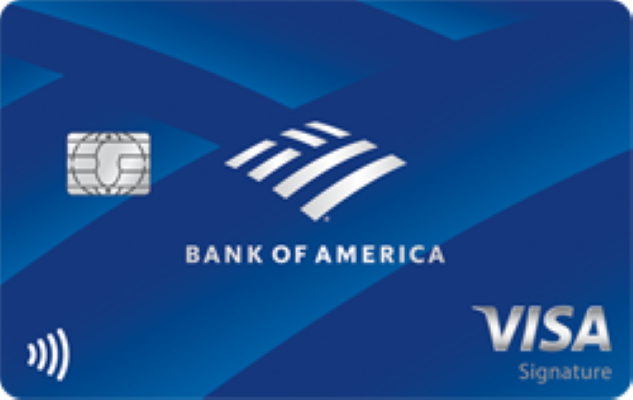 Apply Now
on Bank of America's secure website
Read Card Review
Intro Offer
Earn 25,000 online bonus points after you make at least $1,000 in purchases in the first 90 days of account opening - that can be a $250 statement credit toward travel purchases