The idea of taking a long train ride across a country is romantic to many travelers. Unlike air travel, many trains around the world offer passengers space to spread out, relax while taking in incredible views and potentially spend less than the cost of airfare. This unique mode of transportation allows travelers to get up close and personal with the towns, cities, or countryside they are passing through.
Why spend the time on a train when you could just as easily fly to your destination? Seasoned train travelers will tell you that scenic train rides are like a vacation all on their own. Here, we've put together a list of 12 luxury train rides around the world you have to see to believe.
Venice Simplon-Orient-Express, Europe
The Venice Simplon-Orient-Express is basically the standard for luxury train travel in Europe. The train stops in multiple destinations, from London to Venice to Paris, and guests can indulge in its vintage design, impeccable customer service, and delicious multi-course meals on these one-night journeys. After the meals, guests can simply take in the passing views.
The decadence is pricey, though. Trip costs vary based on destination and time of year, but the current going rate for a trip from Venice to Paris in May is more than $4,000.
California Zephyr, United States
The Zephyr runs from Chicago to San Francisco, with stops in Omaha, Nebraska, Denver, and Salt Lake City before the final stop in Emeryville, San Francisco.
The price of the trip, which takes more than 50 hours, varies depending on how luxurious you want to make it. While you can nab a coach seat for just a few hundred bucks, you could also book a room with beds for two, private restrooms, and complementary meals for just over $1,000.
Royal Canadian Pacific, Canada
The old-world feel of Royal Canadian Pacific's trains will truly take you back in time, if you can find it in your budget to book a luxury tour. Guests get the opportunity to speed through the Rocky Mountains in Alberta and British Columbia in ultimate decadence and comfort, but it'll cost you.
A four-day, five-night trip through the Canadian Rockies, beginning in Calgary, costs more than $11,000 per person.
Belmond Hiram Bingham, Peru
This luxurious train takes travelers to one of Peru's top destinations — Machu Picchu. During the ride, guests will get to enjoy views of Peru's gorgeous mountains and rivers, including the Sacred Valley of the Incas.
Travelers can also look forward to top notch Peruvian hospitality, from the food to the service and onboard entertainment. One-way tickets cost around $500, and travelers can also book a round-trip adventure.
The Pacific Surfliner, California, U.S.
The Pacific Surfliner offers amazing views of California's massive coast. Riders can hop on in San Diego, and ride all the way up through the counties of Orange, Los Angeles, Ventura, Santa Barbara, and into San Luis Obispo, with portions of the trip hugging the gorgeous SoCal coast.
The trip time varies depending on how many stops are on your ride, as do ticket prices. But most rides offer travelers the opportunity to choose coach or business class, which allows a bit more leg room for the roughly eight-hour trip.
Belmond Eastern & Oriental Express, Asia
Travelers will get to enjoy every luxury imaginable aboard Belmond's Eastern & Oriental Express, from the four-course dinners to the exquisite decor, to the guided tours through a Malaysian village.
The package from Singapore to Bangkok includes accommodations for two nights aboard, multi-course meals for dinner and lunch, a continental breakfast, afternoon tea, and guided tours, and costs just under $3,000 for the journey.
The Ghan, Australia
The legendary Ghan train in Australia offers a few different routes, as well as the opportunity to explore the wonders of the country's vast terrain while aboard.
The trips range in price depending on where the Ghan is going. A two-day, one-night trip from Adelaide to Alice Springs (or vice versa) costs $1,235 per person and includes dining, fine wines and beverages, and a delicious, regionally-inspired menu.
River Cruise Haerang, South Korea
The River Cruise Haerang across South Korea is more like a moving hotel, with inclusive packages that allow travelers to enjoy the country's landscapes while dining on delicious local food.
The train offers three different round-trip journeys, which each depart and arrive back in Seoul. The longest trip, The Grand Tour of Korea, starts at around $2,000 per room for a three-day ride and features stops like the Naganeupseong Folk Village, SEA LIFE Busan Aquarium, and a Gyeongju city tour.
The Maple Leaf Train, Canada and U.S.
The Maple Leaf, another Amtrak offering, carries passengers between Canada and the U.S. Boarding in New York City, travelers will head through Albany, Syracuse, Niagara Falls, and into Toronto.
The route provides breathtaking views of the Hudson River Valley and the Finger Lakes region on the way up to Canada and takes more than 12 hours. The route is currently suspended due to COVID-19 regulations, but Amtrak said it will likely resume in early 2022.
Belmond Royal Scotsman, Scotland
Belmond Royal Scotsman's Taste of the Highlands tour takes travelers on a journey through the heart of the Scottish Highlands. The three-day, two-night trip departs and arrives back at Edinburgh's Waverley Station.
The trip includes guided tours, multi-course meals, including a full Scottish breakfast every morning, and even on-board entertainment and costs just over $5,200 per traveler.
Seven Stars, Japan
The Seven Stars in Kyushu takes travelers on a four-day, three-night trip through the seven prefectures on the island of Kyushu, making stops at beautiful workshops, outdoor excursions, and shrines. Guests will also enjoy fine dining each day and can kick back in the lounge car and enjoy live entertainment after a long day.
The whole trip, including daily excursions, will cost around $6,700 per person.
Blue Train, South Africa
The Blue Train's route between Pretoria and Cape Town is a 31-hour journey that covers nearly 1,000 miles of gorgeous scenery. The train makes different stops depending on whether you are taking the northbound or southbound route.
Each train includes two lounge cars, dining cars, and an observation car. Guests will be served three meals, including an elegant dinner affair each night and post-dinner drinks.
How to save money on train travel
While taking one of the world's most scenic train trips allows passengers to enjoy their journey and their destination, it can get pricey — especially if you're planning to fly to another country to take a train trip. However, there are ways to reduce costs, including looking into the best travel credit cards.
Here are some tips to save money when planning a luxury train trip:
Find the best credit cards. Many credit cards offer rewards when you use them for travel-related purchases. If you're planning to take a few trips within the U.S, you may want to look into getting an Amtrak credit card.
Earn points. Stay on top of extra points and deals offered by your credit cards. You may even be able to store up points to book your big train trip. Amtrak also partners with hotel, retail, and car rental companies so you can earn points toward future train trips.
Avoid flying. If you're heading to another country or somewhere far away, make sure you crunch the numbers before booking a flight to your first destination. It may make sense to take a train or even drive, depending on distance and overall costs.
Come prepared. Although many of the trains on this list come with all-inclusive packages, it's smart to come prepared with supplies like snacks or toiletries, so you don't have to drop extra cash paying for these things in the middle of the trip.
Bottom line
If train travel is what you're after, there are incredible options all around the world. While many of these trips are pricey, it should be noted that they typically also include accommodations, food, drinks, and activities. So, prices may be quite comparable to paying for hotels, meals, and attractions on a typical vacation, which mean you'll likely save money in comparison with flying. 
It's a good idea to compare credit cards before booking one of these train packages, as some may offer extra points for travel purchases like these.
Easy-to-Earn Unlimited Rewards
Earn 25,000 online bonus points after you make at least $1,000 in purchases in the first 90 days of account opening - that can be a $250 statement credit toward travel purchases
Earn 1.5 points per $1 spent on all purchases
Longer intro APR on qualifying purchases and balance transfers
No foreign transaction fees
Earn unlimited 1.5 points per $1 spent on all purchases, with no annual fee and no foreign transaction fees and your points don't expire.
25,000 online bonus points after you make at least $1,000 in purchases in the first 90 days of account opening - that can be a $250 statement credit toward travel purchases.
Use your card to book your trip how and where you want - you're not limited to specific websites with blackout dates or restrictions.
Redeem points for a statement credit to pay for travel or dining purchases, such as flights, hotel stays, car and vacation rentals, baggage fees, and also at restaurants including takeout.
0% Introductory APR for 18 billing cycles for purchases, and for any balance transfers made in the first 60 days. After the intro APR offer ends, 17.74% - 27.74% Variable APR will apply. A 3% fee applies to all balance transfers.
If you're a Preferred Rewards member, you can earn 25%-75% more points on every purchase. That means instead of earning an unlimited 1.5 points for every $1, you could earn 1.87-2.62 points for every $1 you spend on purchases.
Contactless Cards - The security of a chip card, with the convenience of a tap.
This online only offer may not be available if you leave this page or if you visit a Bank of America financial center. You can take advantage of this offer when you apply now.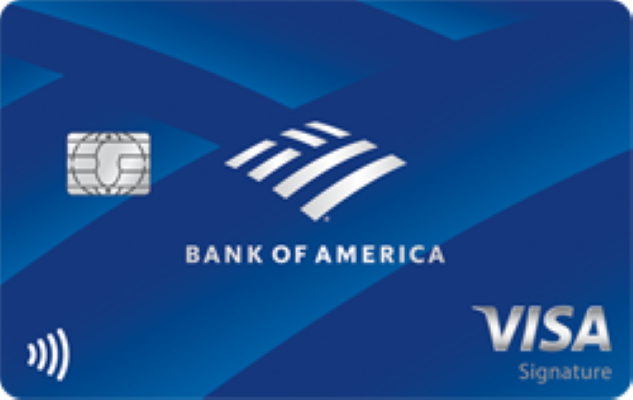 Apply Now
on Bank of America's secure website
Read Card Review
Intro Offer
Earn 25,000 online bonus points after you make at least $1,000 in purchases in the first 90 days of account opening - that can be a $250 statement credit toward travel purchases