Everyone needs a break from the hustle once in a while, ideally in a locale that lets you live your best possible life. That can be in a hammock overlooking the ocean, tucked away in a cozy mountain chalet, or on a cruise ship full of endless entertainment.
Since we all can't retire early, going on our dream vacation is the next best thing. But how can you make it happen smoothly and without incident?
Set up a budget to save money now
Long before you set foot on a plane you need to set up a budget for your dream vacation. It doesn't matter if it's months or years ahead, either, but the sooner you start saving the more luxe your getaway can be.
There are a few tactics you can adopt, so figure out which works best for you: setting up a separate bank account, squirreling away a set amount every month, or making sacrifices elsewhere in your budget can all help you reach your goal.
Use a travel rewards credit card
In addition to budgeting, properly using a travel rewards credit card can help you score all kinds of perks, from points to use at hotels to discounts on rental cars and more. You can also get a credit card from airlines directly, which can mean discounts and upgrades free of charge.
Just be sure to pay your balance off in full every month so your savings aren't eaten up by high interest rates. And, shop around for a card that has benefits that you'll use.
Get your documents in order
We've all heard the horror stories of people realizing that their passport has expired days before their flight takes off. They have to go through seriously expedited and costly renewal processes or worse, they miss their trip entirely.
That's why you need to check your documents – passports, licenses, vaccination status, etc. – six to eight months before you depart. You can take care of any needed paperwork and account for any extended wait times.
Consider working with a travel company
Yep, travel companies still exist, even in the era of Expedia and Airbnb. These can be great options if you aren't familiar with your destination or prefer to have a bit of hand-holding when deciding what activities you should do. Just be sure to select a reputable company.
If you're open-minded about your vacation destination, some budget travel companies offer extremely good deals to popular destinations like the Caribbean. Often they will include flight, transportation, and accommodations too, taking the guesswork out of it.
Decide what kind of vacation you want to take
Are you dreaming of a week at a resort with everything included? Or perhaps you're more of an eco-traveler and want to hike in nature and look for exotic wildlife. Or maybe you want to go somewhere cold and snowy where the slopes await.
Wherever you decide to go, it's prudent to book your activities beforehand so you don't miss out on anything. This is especially important when traveling to popular destinations like Disney World and other theme parks.
Figure out exactly where you want to go
Once you have decided what you want to do on your dream vacation, identify destinations that have what you need. For example, if you want to enjoy Mexican food, don't book a trip to Costa Rica. But do go there if you want an eco-beach trip without the long flight to Fiji.
Some destinations may be costlier than others, so a bit of flexibility can go a long way. For example, a ski trip to Switzerland can break the bank, but there's great downhill skiing in Upstate New York – a worthy alternative.
Assess the best time for your trip
If you want to go to the Caribbean in February to escape the winter blues, it's difficult to be flexible with timing, and that will cost you. But if you have flexibility as to when you can travel, you may save money by going during the off season… and the hotels, restaurants, hiking trails, and beaches may all be less crowded.
If you're heading somewhere for a specific event – say cherry blossom season in Japan – you won't have much flexibility. So make sure you book your trip early, and plan for when the trees are in bloom and not dormant for the duration of your stay.
Keep your eye on plane fares
Plane fares aren't static; they fluctuate throughout the year, sometimes in mysterious ways. Plenty of people have tried to crack the code on when to purchase tickets, too. Some say three months before you travel, while others say 70 days, and others only book on Tuesdays – and so on.
To take the guesswork out of it, start tracking prices yourself. There are some great apps available to do this; find one that can let you know if prices are higher or lower than average. And start early enough to get a feel for how prices can move. Then if you see a good deal, snag it.
Research your accommodations
There are more places to stay on your vacation now than ever before, thanks to the advent of sites like Airbnb and VRBO. Do you want to save money and stay in a shared house? Or do you prefer the comfort and dependability of a hotel? Maybe a resort is what you really want.
Once it's time to book, choose the best approach for your preference. You can go directly through Airbnb and VRBO, and that is also usually the best practice when it comes to resorts. For hotels, check websites like Expedia for discounts and shop around for the best deal. To take advantage of hotel loyalty programs, you'll have to book directly through the hotel, but most will match any discounts you find online and offer others as well.
Figure out ground transportation
Depending on your trip, your ground transportation needs will vary. For example, if you're heading to an all-inclusive resort with no plans of leaving the pool, then you probably don't need to rent a car – just book transfers. But if you have multiple destinations and excursions in mind, a car is a wise idea.
Just be sure to check the road conditions at your destination and make sure you're comfortable driving there. In remote locations booking transfers may be a better idea, as the locals will know the roads best.
Bottom line
You work hard, and you deserve to play hard -- or easy, or whatever you want to do. In any case, the more you know about planning your vacation, the better it is likely to be.
Just be sure to plan for the unexpected during your trip, as nasty surprises can ruin a vacation. So build room in your budget for emergencies and you'll breathe easier.
Easy-to-Earn Unlimited Rewards
Earn 25,000 online bonus points after you make at least $1,000 in purchases in the first 90 days of account opening - that can be a $250 statement credit toward travel purchases
Earn 1.5 points per $1 spent on all purchases
Longer intro APR on qualifying purchases and balance transfers
No foreign transaction fees
Earn unlimited 1.5 points per $1 spent on all purchases, with no annual fee and no foreign transaction fees and your points don't expire.
25,000 online bonus points after you make at least $1,000 in purchases in the first 90 days of account opening - that can be a $250 statement credit toward travel purchases.
Use your card to book your trip how and where you want - you're not limited to specific websites with blackout dates or restrictions.
Redeem points for a statement credit to pay for travel or dining purchases, such as flights, hotel stays, car and vacation rentals, baggage fees, and also at restaurants including takeout.
If you're a Preferred Rewards member, you can earn 25%-75% more points on every purchase. That means instead of earning an unlimited 1.5 points for every $1, you could earn 1.87-2.62 points for every $1 you spend on purchases.
Contactless Cards - The security of a chip card, with the convenience of a tap.
This online only offer may not be available if you leave this page or if you visit a Bank of America financial center. You can take advantage of this offer when you apply now.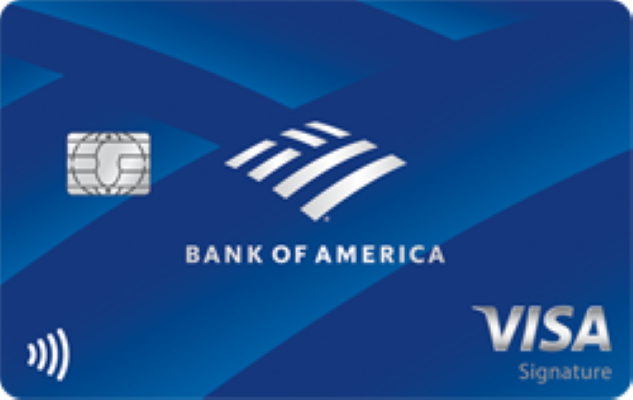 Apply Now
on Bank of America's secure website
Read Card Review
Intro Offer
Earn 25,000 online bonus points after you make at least $1,000 in purchases in the first 90 days of account opening - that can be a $250 statement credit toward travel purchases