Sometimes seen as a necessary obstacle before arriving at your destination, airports can be much more than that. Many airports offer travelers ways to stay entertained, and you might find certain attractions could help improve your entire travel experience.
If you're already planning to splurge your hard-earned money on a trip this year, why not make the most out of the journey? Learn about 10 amazing attractions you might not expect to find at an airport.
Airport tours, Zurich Airport
If you're going to be at the airport, you might as well check out your surroundings. At the Zurich Airport in Switzerland, visitors have multiple options for taking airport tours, including guided or bus tours. This is a unique opportunity to see areas of the airport you might not experience as a passenger in transit.
One unique tour package involves a former airline captain guiding you around. You'll get firsthand knowledge of the captain's experiences, as well as dinner in the historic control tower.
Pro tip: Use the best travel credit cards to help save money on travel.
Beer garden, Munich International Airport
Before you jet off from Germany, pay a visit to the Airbräu restaurant located within the Munich Airport. Airbräu features a covered beer garden and the world's first airport brewery, two things you likely wouldn't expect to find here.
The beer garden offers a relaxing atmosphere where travelers can enjoy food and drinks, though there's plenty of space in the main dining areas as well. Airbräu has been brewing its unique beers for over 20 years.
Fitness trail, Phoenix Sky Harbor International Airport
Phoenix Sky Harbor offers travelers an opportunity to stay active while seeing unique views of the surrounding area in Arizona. On the Sky Harbor Fitness Trail, you'll travel a little over a mile as you move from one end of the airport to the other.
The "trail" starts at gate A30 and ends at gate A8, allowing you views of Phoenix, Piestewa Peak, Camelback Mountain, the PHX Sky Train Bridge, and more along the way.
Pro tip: Check out the best airline credit cards to help fuel your travels with points and miles.
Indoor waterfall, Changi Airport
It's likely impossible to talk about airport attractions without mentioning Changi Airport in Singapore. This place is much more than airplanes, and consistently ranks as one of the top in the world because of multiple factors.
One particular attraction that's sure to catch your eye is the HSBC Rain Vortex, which is the world's tallest indoor waterfall. This cascade of water falls down seven storeys from the ceiling in the middle of lush, green gardens with multiple walking trails.
Light tunnel, Detroit Metro Airport
If you're moving between concourses at the Detroit Metro Airport in Michigan, you'll likely experience the massive LED tunnel found within. It connects concourses B and C with concourse A, providing a magical route to enhance your airport journey.
With nearly 9,000 feet of glass panels illuminating the 700-foot display, this isn't an everyday walk through terminals. The lighting is set to original music to help elevate the experience, but both the lights and sound can be suspended for five minutes at a time by pressing a button at either end of the tunnel.
Movie theater, Incheon International Airport
You've heard of in-flight entertainment, but what about in-airport entertainment? Rather than pulling up a show or movie on your small screen, check out the big screen at a movie theater inside an airport.
The CGV Incheon Airport theater at Incheon International in South Korea is a small movie theater, but it could still provide hours of entertainment during a long layover.
Nihonbashi Bridge, Haneda Airport
Whether you're connecting through or departing from Haneda Airport in Japan, it's nice to experience bits of Japanese culture within the airport. A small replica of the Nihonbashi Bridge from the ancient city of Edo offers an opportunity to relive a small piece of history.
Haneda Airport also features "Edo Street," or what a street may have looked like during the Edo Period of Japan.
Note: Certain shops along Edo Street may be temporarily closed.
Short films, Minneapolis-Saint Paul International Airport
Not quite what you might imagine as a full-blown movie theater, but the Minneapolis-Saint Paul Airport offers a film screening room where passengers can freely view short films that have a Minnesota connection. This could mean a film is made by a filmmaker from the state, or features content about or takes place there.
The films featured at See 18 cinema could be documentaries, music videos, or other types of short films. All films are less than 10 minutes long and have "G" ratings to adhere with the family-friendly atmosphere at the airport.
Swimming pool, Hamad International Airport (Qatar)
How does a few quick laps around the pool sound on your next layover? At some airport gyms, you have the opportunity to stay active rather than sit around for hours on a potentially uncomfortable seat.
At the Vitality Centre at Hamad International in Qatar, there's a fully-equipped gym, hydrotherapy tub, shower room, and a temperature-controlled swimming pool. If you're in need of some refreshing before you depart, there aren't many airports that offer a warm dip in the pool. Massages, facials, body treatments, and squash courts are also available.
TWA Hotel, John F. Kennedy International Airport
Trans World Airlines was once a major U.S. airline that ended operations in 2001 after being acquired by American Airlines. But for a blast from the past, and a convenient airport stay, you can stay at the TWA Hotel located in New York.
The TWA Hotel offers a rooftop pool where you can watch planes take off, as well as a roller rink for loads of roller skating fun. If you're traveling through New York, be sure to take advantage of some of the top U.S. airport lounges. 
Pro tip: Looking for airport lounge access? Check out these 7 credit cards that come with lounge privileges.
Bottom line
Waiting around in an airport might not be the preferred way to spend your time, but it's a common routine for many travelers. Traveling can get pricey, but if you want to improve your overall experience, consider the many attractions in different airports around the world. You may also want to consider ways to boost your wealth to help pay for upcoming trips. 
From indoor waterfalls to beer gardens, the available airport experiences could easily become a highlight of your next trip — or at least help you pass the time quicker while waiting for your flight. Remember to check what unique attractions are available the next time you're traveling through an airport for the first time.
Easy-to-Earn Unlimited Rewards
Earn 25,000 online bonus points after you make at least $1,000 in purchases in the first 90 days of account opening - that can be a $250 statement credit toward travel purchases
Earn 1.5 points per $1 spent on all purchases
Longer intro APR on qualifying purchases and balance transfers
No foreign transaction fees
Earn unlimited 1.5 points per $1 spent on all purchases, with no annual fee and no foreign transaction fees and your points don't expire.
25,000 online bonus points after you make at least $1,000 in purchases in the first 90 days of account opening - that can be a $250 statement credit toward travel purchases.
Use your card to book your trip how and where you want - you're not limited to specific websites with blackout dates or restrictions.
Redeem points for a statement credit to pay for travel or dining purchases, such as flights, hotel stays, car and vacation rentals, baggage fees, and also at restaurants including takeout.
0% Introductory APR for 18 billing cycles for purchases, and for any balance transfers made in the first 60 days. After the intro APR offer ends, 17.99% - 27.99% Variable APR will apply. A 3% fee applies to all balance transfers.
If you're a Preferred Rewards member, you can earn 25%-75% more points on every purchase. That means instead of earning an unlimited 1.5 points for every $1, you could earn 1.87-2.62 points for every $1 you spend on purchases.
Contactless Cards - The security of a chip card, with the convenience of a tap.
This online only offer may not be available if you leave this page or if you visit a Bank of America financial center. You can take advantage of this offer when you apply now.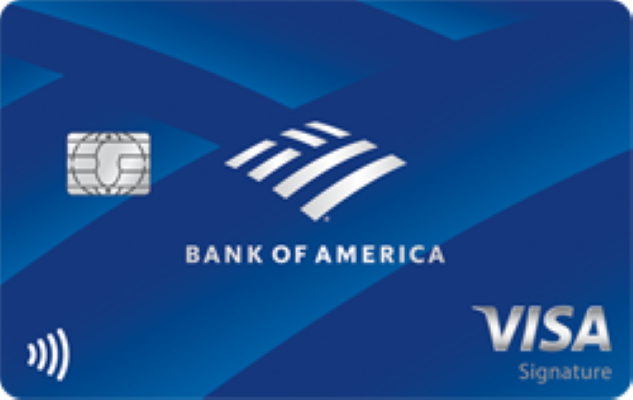 Apply Now
on Bank of America's secure website
Read Card Review
Intro Offer
Earn 25,000 online bonus points after you make at least $1,000 in purchases in the first 90 days of account opening - that can be a $250 statement credit toward travel purchases