Security at airports is generally tight, and for good reason. It's often an inconvenient experience to have your bags searched, given the protocols TSA security has to enforce. If you've ever purchased a really cool thing — like a large bottle of specialty hot sauce — and it gets confiscated, that can be sad, especially if the item cost a big chunk out of your paycheck. But these measures are in place to keep us all safe (and not from heartburn).
Contraband hot sauce is nothing compared to the things some people have tried to bring on a plane. Check out these outrageous items that the TSA has confiscated.
Burrito filled with drugs
It's become a habit for many of us to bring our own food through security, saving both money and time (who wants to pay $10 for an airport sandwich, anyway?). One person, however, took things a step further when they tried to hide illegal drugs in their meal.
One traveler at Hobby International Airport attempted to smuggle methamphetamine through TSA in a burrito. It must have felt like a Breaking Bad episode that day in the terminal.
Fireworks
It's a grand tradition in the United States to set off fireworks on the Fourth of July, commemorating our independence. But we all know that's not something you should take on a plane, right? Actually, no.
Someone at Syracuse Hancock Airport was apparently feeling festive (and daring) enough to bring fireworks in their checked baggage. Once discovered, it was confiscated, potentially ruining this person's Independence Day plans.
Pro tip: Not all banned items are known to travelers, so read up on what's allowed before you fly and learn all the travel tips you can.
Meat cleaver
The thought of someone having knives with them on a plane is disconcerting to people who want to feel safe in the air. That didn't stop someone at Harrisburg International Airport from attempting to bring a meat cleaver with them onto the plane.
It was reportedly a well-used cleaver, too. Perhaps a chef just didn't realize it wasn't allowed?
Machete
If you thought bringing a meat cleaver onto a plane was outrageous you're not wrong, but it's possible to outdo even that. How? Well, you'd have to ask the person who tried to bring a machete through TSA at Reagan Washington National Airport.
We're going to hazard a guess that they're definitely not a chef, which only leaves us scratching our heads more. Maybe they're in the agriculture business? How do you even pack that, anyway?
Pro tip: TSA PreCheck could help you through security more efficiently, but not if you have a machete.
Freddy Krueger hand
If you're familiar with A Nightmare on Elm Street, then you know who Freddy Krueger is — the terrifying villain with knives affixed to his hand. One traveler must have been a huge fan, as he had a replica hand with him in his luggage at Hartsfield-Jackson Atlanta International Airport.
TSA's Travel Tips & Dad Joke Hits hilarious Instagram page joked about it: "While worn out fedoras and tattered green and red sweaters are discouraged in the fashion world, they are permitted at TSA checkpoints."
Bear repellant
We get it: Flying on airplanes can be a generally uncomfortable experience, even if you're going on an amazing vacation. Air travel can be cramped and boring, and you have to deal with lots of other people.
Still, there's no reason to bring actual bear repellent on a plane with you though one person at Destin-Fort Walton Beach Airport attempted to do just that. Don't they know bears aren't allowed on planes? Seriously though, even if the spray is needed for a wilderness excursion, note to self that it must be purchased after arrival.
Pro tip: Use one of the best travel credit cards when making purchases to hopefully gain some rewards to use on future trips.
Gun-shaped toilet paper holder
People are certainly creative when it comes to home items and having a toilet paper holder shaped like a gun should be surprising, but it's not. Smuggling one of these items on a plane, though, is a bad idea and could ruin your decorating plan.
Someone at Newark International Airport tried to do precisely that, but items that look like weapons aren't allowed on planes. This is due to the delays and security issues they can cause. What a fascinating find, though!
Gun-shaped wine holder
You can't bring more than 3.4 ounces of liquid with you onto a plane — it's a steadfast rule. Fortunately you can bring empty bottles through TSA checkpoints, which you can then fill up at a water fountain, free of charge.
However, that doesn't mean you can bring a gun-shaped wine holder with you, though, as one passenger found out at Sacramento International Airport. (We're wondering if they know about the gun-shaped toilet paper holder.)
Vintage pistol
Possessing guns is both legal and popular in the United States as long as you follow the laws of your locale. However, it's not legal to bring a gun on a plane in your carry-on luggage … even if it's vintage.
Still, that didn't stop a traveler at Newark Liberty International Airport from attempting to get an old pistol through TSA. We can't help but wonder what happened to the collector's item.
Gun embedded in a belt buckle
The TSA allows guns and ammunition on a plane in your checked baggage only and you must transport the weapon unloaded and locked in a hard-sided container.
Not everyone wants to check their bags, though, which explains why one traveler at Honolulu International Airport got a little creative. They were wearing a customized belt buckle with a real gun embedded into it. Things didn't go as the passenger had hoped.
Bullets in a stick of deodorant
One traveler at Hartsfield-Jackson Atlanta International Airport really wanted to bring their bullets on the plane with them. However, they didn't just put them in a box or purse — they attempted to hide the bullets inside of a stick of deodorant.
Clever, yes, but it seems the TSA is two steps ahead. Deodorant might do its job to hide body odor, but not if you're literally sweating bullets.
Chainsaw
Guns, bullets, knives, drugs — that's quite a theme. Add chainsaw to the mix. One traveler tried to bring one of these monstrosities through TSA at New Orleans International Airport.
Tools are coveted items, for sure. Maybe they were headed to the Lumberjack World Championship event?
Bottom line
The TSA seems to have their hands full when it comes to unusual, outrageous, and even scary items they have to confiscate. Each year, they put out a top 10 list of the wildest items they have found and it doesn't disappoint.
It's comforting to know that when you fly the friendly skies, it's the TSA that helps make them friendlier, not only in the air, but once on land as well.
Easy-to-Earn Unlimited Rewards
Earn 25,000 online bonus points after you make at least $1,000 in purchases in the first 90 days of account opening - that can be a $250 statement credit toward travel purchases
Earn 1.5 points per $1 spent on all purchases
Longer intro APR on qualifying purchases and balance transfers
No foreign transaction fees
Earn unlimited 1.5 points per $1 spent on all purchases, with no annual fee and no foreign transaction fees and your points don't expire.
25,000 online bonus points after you make at least $1,000 in purchases in the first 90 days of account opening - that can be a $250 statement credit toward travel purchases.
Use your card to book your trip how and where you want - you're not limited to specific websites with blackout dates or restrictions.
Redeem points for a statement credit to pay for travel or dining purchases, such as flights, hotel stays, car and vacation rentals, baggage fees, and also at restaurants including takeout.
0% Introductory APR for 18 billing cycles for purchases, and for any balance transfers made in the first 60 days. After the intro APR offer ends, 17.99% - 27.99% Variable APR will apply. A 3% fee applies to all balance transfers.
If you're a Preferred Rewards member, you can earn 25%-75% more points on every purchase. That means instead of earning an unlimited 1.5 points for every $1, you could earn 1.87-2.62 points for every $1 you spend on purchases.
Contactless Cards - The security of a chip card, with the convenience of a tap.
This online only offer may not be available if you leave this page or if you visit a Bank of America financial center. You can take advantage of this offer when you apply now.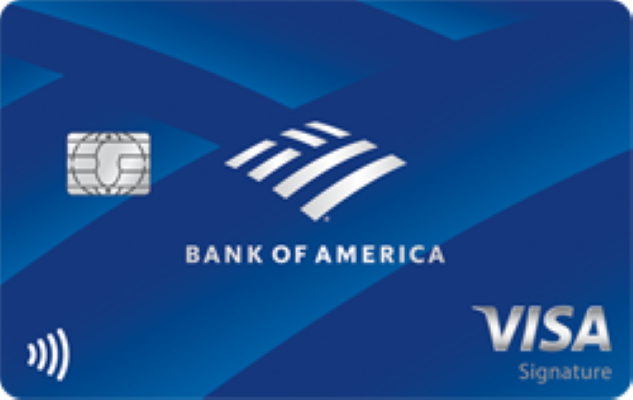 Apply Now
on Bank of America's secure website
Read Card Review
Intro Offer
Earn 25,000 online bonus points after you make at least $1,000 in purchases in the first 90 days of account opening - that can be a $250 statement credit toward travel purchases