A passport is your link to world travel. This makes it one of the most powerful documents that you'll ever own.
Here are some passport rules that can help you save money when you travel. We also included some facts that will help you understand the purpose and history of passports.
You may need a new passport if your appearance changes
If you go out and get a haircut, you won't need a new passport photo. However, if you undergo a considerable appearance change, you might be surprised to learn that you may need to get new passport photos taken.
The U.S. government says that dying or cutting your hair likely won't constitute the need for a change, but facial surgery, weight gain/loss, and certain facial piercings or tattoos might.
Even babies need a passport
As per U.S. law, a valid passport is required for all travelers, including infants. This makes for some pretty adorable passport photos.
Enhanced driver's license can act as proof of U.S. citizenship
A passport is required for most travel that Americans do, but there are exceptions. For example, American citizens can enter Canada and Mexico with only an enhanced driver's license (which is more secure than an ordinary driver's license).
Your passport can't be expired
This one might seem obvious, but there are still many travelers who try to travel with an expired passport every year. Unfortunately, an expired passport is not a valid form of ID.
There was some leniency with this at the beginning of the pandemic, but it seems like that flexibility has run its course.
Passport photo regulations are very strict
Don't expect to get your official passport photos from a selfie photo spree. You also can't use "social media filters" or take your photos in front of a "busy background."
Many people opt to get their photographs professionally taken to reduce the risk of them getting sent back.
A damaged passport could leave you stranded
Did you know that a damaged passport can be just as inconvenient as a lost passport? If your passport has water damage or is ripped, you'll have to pay for a replacement. You might also face long delays and detainment at international border crossings.
You may not be able to use your passport if it's expiring soon
If you're planning an international trip, make sure that you have enough time before your passport expires. Some countries may deny you entry if your passport expires within the next three months.
Don't fill up your passport pages
For many world travelers, collecting visa stickers and stamps are a point of pride. However satisfying it may feel to collect visas, you should be aware of the dangers of filling up your passport pages.
Some countries won't grant you entry if you lack the proper pages for a new stamp or visa, and you'll be left with no choice but to get a new passport.
The U.S. doesn't recognize dual citizenship
Do you have citizenship from more than one country? The United States does not officially recognize dual nationality in regard to travel and passports.
This means that U.S. citizens must use their American passport to enter the United States, even if they possess a passport from another nation.
There are different passport lengths
It might surprise you to learn that not all passports have the same number of pages contained within. In fact, U.S. citizens can choose between passports with either 28 or 52 pages.
The number of Americans with passports has increased
You might have heard someone say that only 10% of U.S. citizens have passports. While that was true in the 1990s, it's not any longer.
Today, upwards of 40% of U.S. citizens hold passports, and the number seems to be growing with every passing year.
Benjamin Franklin had the first U.S. passport
The first U.S. passport (that we know of) was held by Benjamin Franklin when he served as a minister to France during the War of Independence. It dates from 1869 and is held at the Smithsonian National Museum of American History.
Australia has the world's most expensive passport
Australian citizens have the pleasure of having to pay more for their passport documents than any other nation on Earth. A passport in Australia costs around $282 U.S. dollars.
Citizens of the Vatican have their own passports
Vatican City is the world's smallest sovereign state by land area. It may surprise you to hear that Vatican City residents have their own passports.
This is different from a passport to the Holy See, which is issued to Vatican City residents involved in the government of the Catholic church. This means that there are only around 450 people in the world with a passport from Vatican City.
Red is the most common passport color
Countries usually have symbolic reasons for choosing the color of their passports. For example, the U.S. passport's shade of blue matches the blue used on the flag. The U.S. aside, blue is a very common passport color for countries across the world.
However, green and red are also popularly used, with red being the most popular color of all. For example, nearly all EU states use a red passport.
Black is the least common passport color
Black is the least common of passport colors — likely because it's harder to hide tears and wear. Some of the countries that have black passports include New Zealand, Zambia, and Malawi.
The UAE has the world's most powerful passport
A website called the Passport Index maintains a list of the world's passports. It determines their power by looking at how many countries a passport holder can get into without hassle.
The ranking determined that citizens of the United Arab Emirates (UAE) have the easiest time entering countries around the world as a tourist.
Afghanistan has the world's least powerful passport
By the same measure, the Passport Index found that the Afghan passport is the world's least powerful. There are only three countries in the world where passport holders from Afghanistan can enter without a visa.
Bottom line
Understanding the rules and regulations surrounding your passport can help you avoid financial stress if your travel plans are ruined.
And by own, we mostly mean carry — your passport is technically the property of the US government and you can be ordered to relinquish it at any time.
As long as you follow the rules, this shouldn't be an issue, though. Happy travels!
Easy-to-Earn Unlimited Rewards
Earn 25,000 online bonus points after you make at least $1,000 in purchases in the first 90 days of account opening - that can be a $250 statement credit toward travel purchases
Earn 1.5 points per $1 spent on all purchases
Longer intro APR on qualifying purchases and balance transfers
No foreign transaction fees
Earn unlimited 1.5 points per $1 spent on all purchases, with no annual fee and no foreign transaction fees and your points don't expire.
25,000 online bonus points after you make at least $1,000 in purchases in the first 90 days of account opening - that can be a $250 statement credit toward travel purchases.
Use your card to book your trip how and where you want - you're not limited to specific websites with blackout dates or restrictions.
Redeem points for a statement credit to pay for travel or dining purchases, such as flights, hotel stays, car and vacation rentals, baggage fees, and also at restaurants including takeout.
0% Introductory APR for 18 billing cycles for purchases, and for any balance transfers made in the first 60 days. After the intro APR offer ends, 17.99% - 27.99% Variable APR will apply. A 3% fee applies to all balance transfers.
If you're a Preferred Rewards member, you can earn 25%-75% more points on every purchase. That means instead of earning an unlimited 1.5 points for every $1, you could earn 1.87-2.62 points for every $1 you spend on purchases.
Contactless Cards - The security of a chip card, with the convenience of a tap.
This online only offer may not be available if you leave this page or if you visit a Bank of America financial center. You can take advantage of this offer when you apply now.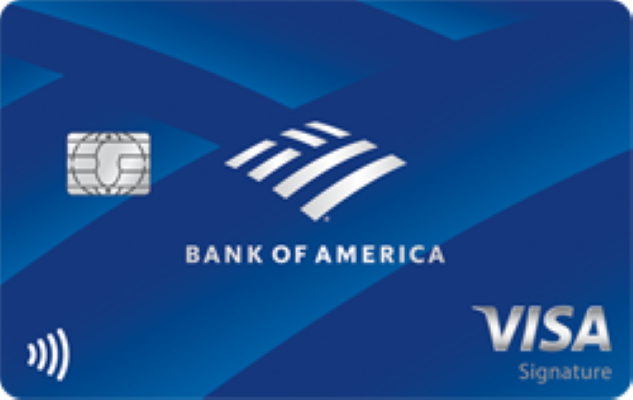 Apply Now
on Bank of America's secure website
Read Card Review
Intro Offer
Earn 25,000 online bonus points after you make at least $1,000 in purchases in the first 90 days of account opening - that can be a $250 statement credit toward travel purchases