As housing prices decline across the country, some potential buyers may see an opportunity to buy a vacation home.
Such a purchase can make sense for many people. But you should think long and hard before buying a vacation home.
A second property often comes with headaches. And that means a vacation property might not be a good lifestyle fit if you are busy with other things, or simply don't think you will use the home much.
Before you buy a vacation home, think twice if you are one of the following types of people. Skipping this purchase may be a great way to avoid wasting money.
Do you dream of retiring early?
Retiring early is a goal for many, but few of us have a plan for how to actually do it.
Instead we have questions like... How much money do we need? Where should we keep that money?
A financial advisor can help you sort through your options and come up with a solid plan. Get started today by taking this quiz from SmartAsset to get matched with a vetted financial advisor in your area.
Workaholics
Are you chained to your desk all the time? Buying a vacation home might seem like an excuse to get away from your job.
But if you are a workaholic, you are more likely to just grab your laptop and spend much of the time at the second property working instead of enjoying a vacation.
If you aren't taking advantage of vacation days now, expect to continue that habit even after you buy a second home.
Those who don't like to travel much
If you're a homebody, a vacation home might not be a great choice.
Chances are good that the second property will be some distance from your primary home. That means you will face the dreaded tasks of packing and driving or flying to a different location.
Those who dislike travel might enjoy less frequent getaways. If that sounds like you, skip the vacation home and stick with the occasional hotel or Airbnb.
Anyone who hasn't saved enough for other goals
Investing in a second property likely means a lot of your money will be tied up in two pieces of real estate. That leaves less cash for retirement accounts or saving for your kids' college tuition.
If the money in those other accounts isn't at the level you would like it to be, reconsider adding another home to your portfolio.
Pro tip: If you're trying to save money to meet financial goals, look into a high-yield savings account that can earn you extra cash.
People who like variety
Some people love to try a variety of new experiences when they travel or enjoy time off.
A vacation home, however, means you will be in the same place doing the same things vacation after vacation.
It's fine to crave variety when you're taking a break. But that spirit does not fit with owning a vacation home that you return to over and over again.
Those who already own multiple properties
Owning rental properties can be a rewarding way to make extra cash. But if you already have investments tied up in real estate, do you want to add more?
A vacation home — even if you plan to use it yourself — is another property in your portfolio. You might want to consider diversifying your investment portfolio instead of adding more real estate to it.
Folks who can't handle the extra costs
Before buying a vacation home, consider the extra costs. They might include:
Utilities
Insurance
Upkeep and repairs
Taxes
It's a good idea to sit down and create a budget for all your estimated costs. This might include everything from winterizing your home to hiring someone to care for it between visits from you.
Factor in any fees you'll have to pay to a rental agency if you plan to rent the home out when you're not there.
Busy people without time to keep up the place
A vacation home needs the same level of care as your main residence. You'll be responsible for mowing the lawn in the summer and removing snow in the winter. You should also take into account maintenance and repair issues.
It can be daunting to take over the care of two homes instead of just one. So, factor in any time you will have to spend caring for the property, or finding other people who can care for it while you're gone.
Investors who dream of owning an Airbnb
A vacation home can seem like both a good place to stay and something you can rent out to visitors when you're not there.
But do your homework first. Some cities and towns that are popular vacation destinations have increased regulations or even banned homeowners from using their homes as Airbnbs.
And even if you are allowed to rent out a vacation home, doing so can be more of a headache than you think.
Confused folks looking for a place to invest money
If you have a lot of money but don't know where to invest it, a vacation home can sound like a tempting solution.
But before you simply throw that excess cash into a vacation home, check with a financial advisor to get a better idea of what else you can do with the money. Perhaps there are other ways to invest it that make more sense than simply sinking cash into a vacation home.
Bottom line
For many people, buying a vacation home is not the right choice. However, others may feel differently.
Still want to own a vacation home? Check with lenders about rates and costs associated with closing on a vacation home.
If you buy a second home, get in touch with local rental agencies to see if there are ways to earn extra income with your property and boost your bank account when you're not using it.
Great travel rewards with no annual fee
Earn 25,000 online bonus points after you make at least $1,000 in purchases in the first 90 days of account opening - that can be a $250 statement credit toward travel purchases
Earn 1.5 points per $1 spent on all purchases
Longer intro APR on qualifying purchases and balance transfers
No foreign transaction fees
Earn unlimited 1.5 points per $1 spent on all purchases, with no annual fee and no foreign transaction fees and your points don't expire.
25,000 online bonus points after you make at least $1,000 in purchases in the first 90 days of account opening - that can be a $250 statement credit toward travel purchases.
Use your card to book your trip how and where you want - you're not limited to specific websites with blackout dates or restrictions.
Redeem points for a statement credit to pay for travel or dining purchases, such as flights, hotel stays, car and vacation rentals, baggage fees, and also at restaurants including takeout.
If you're a Preferred Rewards member, you can earn 25%-75% more points on every purchase. That means instead of earning an unlimited 1.5 points for every $1, you could earn 1.87-2.62 points for every $1 you spend on purchases.
Contactless Cards - The security of a chip card, with the convenience of a tap.
This online only offer may not be available if you leave this page or if you visit a Bank of America financial center. You can take advantage of this offer when you apply now.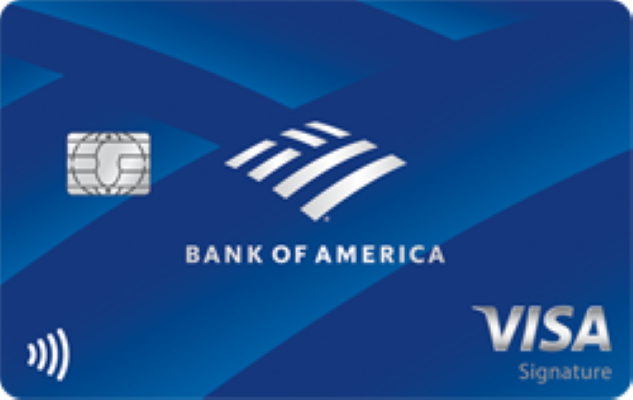 Apply Now

on Bank of America's secure website

Read Card Review
Lucrative welcome offer
Easy-to-earn points you can redeem for travel
$0 annual fee