Disney is a popular vacation destination, but that doesn't make it the best choice for every family.
Even if you loved visiting Disney in the past, you might find it less appealing in 2023. Changes to the park over the last few years could make your experience less than magical.
If any of these types of people sound like you, you might want to avoid wasting money on a trip to Disney this year.
People who hate waiting in lines
If you're not the patient type, you might want to skip visiting Disney World. You'll probably spend more time waiting in line than on rides since wait times for some rides can last an hour or more.
That's a long time for a 10-minute ride. And at the cost of tickets, it's a lot of money spent on standing around.
Rides aren't the only places you'll find yourself waiting in line. You can plan on waiting to meet some characters and for food throughout the parks.
People not into Disney characters
The characters are a main attraction at Disney. Meeting them is a lot of what makes a Disney vacation so magical. Rides, other attractions, and even the resorts have Disney character themes.
If you have little interest in Disney movies and their characters, your vacation isn't going to be much more than a theme park. And other theme parks will probably cost you a lot less money.
Parents with very young children
If your primary reason for taking a Disney vacation is for your children's enjoyment, consider their age before booking.
Babies and toddlers don't usually respond well to standing in long lines. You could face a lot of crying and meltdowns in between all the fun.
You might want to wait a few more years to visit Disney since your children will better understand the concept of waiting when they're older. Very young children may not remember all the great memories you made on the trip either.
So, if you want them to have more than the photos, don't rush to purchase those tickets.
Recent visitors
Since a Disney vacation is costly, you might find visiting too frequently disappointing. Without new attractions to see or new rides to ride, you're left paying for the same things you did last time.
You can save your money and book a trip when Disney adds some new features for you to enjoy. Or apply those savings and purchase some add-ons to make your next trip to Disney even more magical.
People who hate crowds
Disney parks are full of people. If you hate crowds, this probably isn't the right vacation spot for you. You can expect to find people everywhere, even in your personal space.
Between getting sandwiched between people in lines and pushing your way past groups of people, you might feel overwhelmed.
It isn't only the number of people that makes the crowds at Disney so overwhelming. There's a lot of noise too. And not all of it is laughing.
With so many young children at the parks, you can anticipate some screaming and crying too.
People who can't afford it
Disney vacations are expensive. That doesn't mean you shouldn't splurge, but consider all the expenses before you do.
There's more to think about than park tickets and resort stays. Expect to pay for everything from food to transportation.
Add-on options, like Genie+ and Memory Maker, can add up quickly. You might decide a Disney vacation is more expensive than you thought it was.
When creating your budget for a Disney vacation, it's a good idea to factor in all the costs you don't see when booking your trip.
People who don't like walking
Amusement parks aren't the best options for people who dislike being on their feet all day. It's enough to tire anyone out, especially children. You'll likely wind up carrying kids around before the day is over.
You can avoid some of the walking by limiting your time to specific areas of the parks. But at the price of tickets, you'll want your money's worth. Since you typically visit Disney for more than one day, you'll wake up and do all that walking again tomorrow.
People looking for the same experience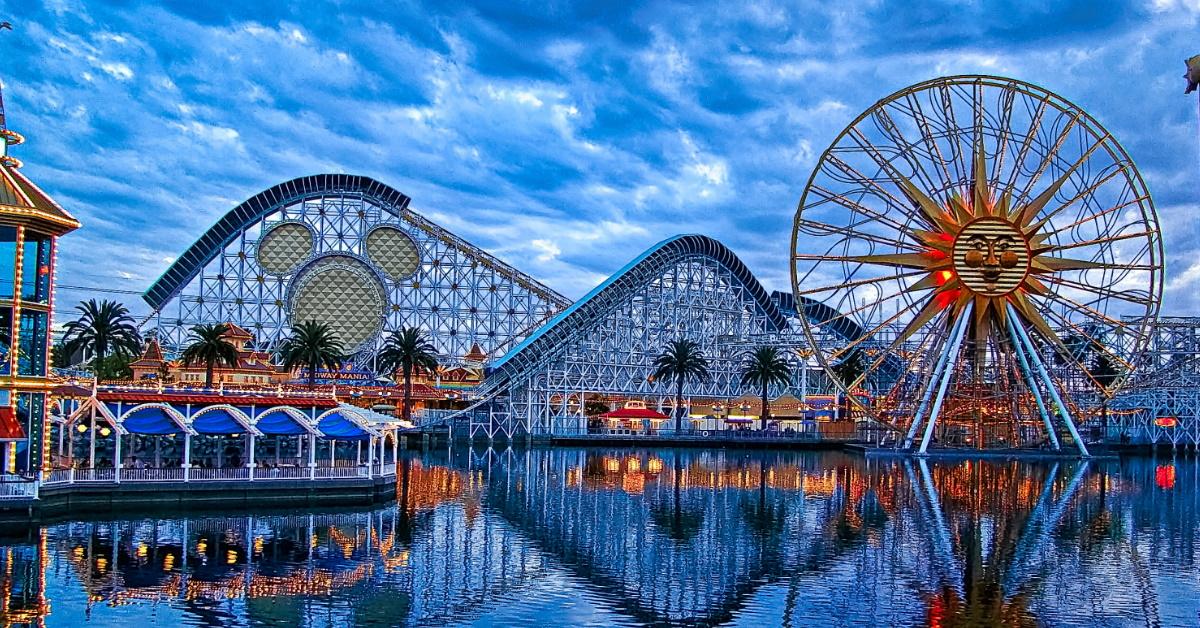 Disney World isn't the same as it was five years ago. If you haven't been in a while and expect the same experience you had before, you might face some disappointment.
Some of the perks guests once enjoyed for free now require you to fork over more money.
It's not just extra costs you'll face when visiting Disney. There have been changes to Park Hopping and reservation systems, which offer guests less flexibility than they once enjoyed.
People with unpredictable schedules
Unexpected things happen. The last thing you want is to spend thousands of dollars on a Disney vacation that you have to cancel. Losing out on the money you've spent is even worse.
Unless you feel confident you can commit to the dates you set for the vacation, you might want to wait until your schedule is more predictable.
If you decide to go ahead with booking the trip, consider purchasing travel insurance. Not all travel insurance is the same, however. Some only cover cancellations for listed reasons and may only reimburse a portion of your purchase.
Pro tip: Book your trip to Disney using one of these travel insurance credit cards for more protection on your trip.
Last minute planners
You'll want to plan your Disney vacation well ahead of time, especially if you want to visit during their busier times. The parks don't always have available reservations, and some rooms can sell out quickly.
Dining reservations can also sell out, and you'll need to choose which parks you visit in advance.
If you can't plan your schedule far enough ahead, you could miss out on having the Disney vacation you imagined.
Bottom line
If you're questioning whether a Disney vacation is for your family this year, hold off on spending the money. You might consider visiting the park next year or not at all and avoid wasting money.
If a Disney vacation still sounds like a great idea after reading this list, go for it! It is still among the best destinations for many families.
Just know that Disney World has undergone some major changes and updates to its rules. So it's good to know all the facts before you book, even if you've visited before.
Easy-to-Earn Unlimited Rewards
Earn 25,000 online bonus points after you make at least $1,000 in purchases in the first 90 days of account opening - that can be a $250 statement credit toward travel purchases
Earn 1.5 points per $1 spent on all purchases
Longer intro APR on qualifying purchases and balance transfers
No foreign transaction fees
Earn unlimited 1.5 points per $1 spent on all purchases, with no annual fee and no foreign transaction fees and your points don't expire.
25,000 online bonus points after you make at least $1,000 in purchases in the first 90 days of account opening - that can be a $250 statement credit toward travel purchases.
Use your card to book your trip how and where you want - you're not limited to specific websites with blackout dates or restrictions.
Redeem points for a statement credit to pay for travel or dining purchases, such as flights, hotel stays, car and vacation rentals, baggage fees, and also at restaurants including takeout.
0% Introductory APR for 18 billing cycles for purchases, and for any balance transfers made in the first 60 days. After the intro APR offer ends, 17.74% - 27.74% Variable APR will apply. A 3% fee applies to all balance transfers.
If you're a Preferred Rewards member, you can earn 25%-75% more points on every purchase. That means instead of earning an unlimited 1.5 points for every $1, you could earn 1.87-2.62 points for every $1 you spend on purchases.
Contactless Cards - The security of a chip card, with the convenience of a tap.
This online only offer may not be available if you leave this page or if you visit a Bank of America financial center. You can take advantage of this offer when you apply now.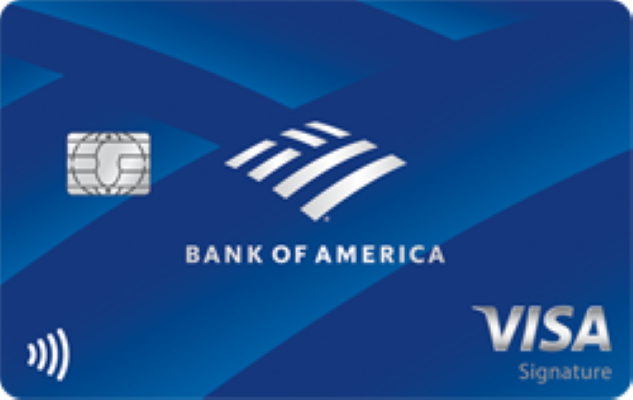 Apply Now
on Bank of America's secure website
Read Card Review
Intro Offer
Earn 25,000 online bonus points after you make at least $1,000 in purchases in the first 90 days of account opening - that can be a $250 statement credit toward travel purchases