The travel industry has been hit hard with the onset of COVID-19, and the economic impact has been significant. Oxford Economics estimates a total economic loss of $1.2 trillion due to the decline in U.S. travel spending.
Hotels are currently reeling from this travel recession, with a recent COVID-19 travel survey reporting 56% of people have already canceled their summer travel plans. But many hotels are looking to rebound with updated safety guidelines and procedures in place. Popular hotel chains such as Hilton and Marriott have already made announcements concerning their new cleaning standards and other hotels are predicted to follow suit.
The hotel experience we've come to love (or hate) will be changed as in-person interactions are reduced and items commonly touched by multiple people are removed. As a result, you might expect many items to disappear from hotel rooms and lobbies. Specific services may be suspended, perhaps indefinitely, or otherwise affected.
As we prepare for travel after COVID-19, let's take a look at 16 common things you might never see in a hotel again.
16 things you may never see in a hotel room (or hotel) again
1. Valet/bellhop
The valet or bellhop is often one of the first people to greet you upon arrival at the hotel. Their job is to assist you with your vehicle and/or luggage, as well as point you in the direction of the front desk so you can get checked in.
As hotels look to decrease person-to-person interaction and points of contact, you may have to forgo the friendly valet/bellhop the next time you arrive at a hotel. Although this may be concerning for some, it's all done in an effort to decrease the chances of coronavirus spreading. It's one or two fewer people you'll have to come into contact with, and nobody other than you may be handling your luggage or vehicle.
2. Face-to-face check-ins
The front desk check-in is a typical hotel experience that's bound for some big changes, including a plexiglass partition to help reduce contact between guests and employees. You shouldn't expect to pass over your ID card or hotel credit card during a new check-in experience because it would form a point of contact. Instead, hotels may transition to contactless payments and verification methods.
Don't be surprised if some hotels don't require a visit to the front desk at all, as this would be one of the best ways to limit human interaction and contact points. Digital check-ins via your compatible mobile device can replace the need for a physical front desk.
3. Key card
If you aren't going to pass a hotel employee an ID card or method of payment, hotels are also likely to transition away from their employees handing you a room key card. It's a safety risk for multiple people to handle the same item, so this action has to be reduced as much as possible.
For some hotels, such as Hilton hotels, the solution comes in the form of digital key cards you receive when you complete your digital check-in. You check in with your phone through the hotel app and a digital room key is generated, which you can also access through the app. You can then use your phone to get into your hotel room, thus eliminating the need for a physical key card.
4. TV remote
Hotel room TV remotes are touched all the time, possibly by each guest that stays in the room. As such, the TV remote presents a major health risk for hotel guests and employees and most likely won't meet new safety standards.
Fortunately, technology comes to the rescue again. To allow guests continued access to the hotel TV and the available channels, you can simply use your compatible mobile device as the remote. A quick scan of a QR code on the room's TV can give you full command of the TV's controls, straight from your phone or tablet.
5. Coffee maker
Coffee makers, both in-room and in the lobby, may be removed from hotels for the foreseeable future. They're great for a nice boost of energy whenever you need it during your stay, but they're a possible source of cross-contamination, which hotels need to be cautious about. Therefore, they're likely to disappear for at least a little while.
6. Minibar
The in-room minibar presents the same issue as the coffee makers. Guests will often open up minibars to see what's inside and may even touch a few things, whether they consume them or not. Removing the minibar helps reduce the risk of spreading germs, which aligns with updated safety guidelines.
Besides, it's still fairly easy to bring in your own snacks and drinks from a nearby supermarket or convenience store instead of paying for overpriced minibar selections.
7. Large-sized soaps and shampoos
Bulk soap and shampoo dispensers were becoming increasingly popular among hotels as a way to take a more environmentally-friendly stance. They require the use of less plastic, and they could be recycled more easily than tiny bottles of soap and shampoo. Now, because of coronavirus, these large dispensers present a health risk.
Large dispensers likely aren't replaced after every guest stay like the smaller bottles we've seen in the past. In fact, these large dispensers could be refilled by the hotel and used by many guests. Of course, that's another possible contact point between individuals within a hotel, so we could see hotels returning to the tiny, disposable bottles.
8. Extra towels and pillows
Large soap and shampoo dispensers won't be the only items to disappear from your hotel room. In fact, the room may look a little emptier than what you remember. Extra towels, pillows, bathrobes, and other items could become available by request only and won't be stocked in every room. This is to limit the amount of guest exposure to items within your hotel room that may have already been exposed to other guests.
Items could be exposed to previous guests if those items are already in the hotel room and the previous guest doesn't use them. Typically, if an extra towel isn't used, it's likely that it stays where it is, awaiting the next guest. Removing extra items from the hotel room may help reduce the spread of germs.
9. Housekeeping turndown service
Turndown service is one of the pleasures of staying in a hotel room, but that may no longer be the case. Many hotels have already implemented procedures to limit housekeeping services, including turndown service, until a guest's stay is over. This limits the number of people entering your hotel room to just you and your guests throughout your entire stay. In turn, the chances of germs spreading from interactions with the housekeeping staff are effectively reduced.
Instead of daily turndown service, hotel rooms may be deep-cleaned at the end of each stay. A 24-hour buffer may then be put in place until another guest can stay in that room.
10. Hangout areas in the lobby
The hotel lobby is the perfect place to grab a seat and kill some time while you're waiting to do something else. It's a comfortable environment with plenty of furniture and maybe even some reading material. But probably not anymore.
The hotel lobby could look a lot different than you remember, especially if all the furniture is gone. Because hotels want to reduce the risk of germs spreading between people, it makes sense to reduce opportunities for people to congregate. Without furniture or any real public area to hang out, people will be less inclined to do so and overall cleanliness will increase.
11. Self-serve breakfasts
The hotel breakfast area is another spot that gets a lot of traffic. Guests and employees are within close proximity to one other and everyone touches the same utensils to fill their plates. Unfortunately, the buffet-style hotel breakfasts are most likely going to disappear.
However, breakfast may not be called off altogether. Hotels may need to pivot and introduce to-go options when it comes to food, including breakfast. You may be able to pick up your to-go breakfast from a designated location within the hotel and then enjoy it in your room or outside the hotel. That way, you still get food in the morning, but hotels eliminate the crowded breakfast area and reduce the chances of cross-contamination.
12. Crowded hotel bars and restaurants
In the same vein as to-go boxes for hotel breakfasts, you may also see to-go options for hotel bars and restaurants. Many people with concerns about coronavirus aren't going to want to sit around a crowded hotel bar or head to the hotel restaurant, so hotels may have to get creative.
Although this might not happen in every hotel, you may see certain hotels offer packaged options for their food and beverage offerings. In effect, this would serve as another type of room service, in which you can order from other menus within a hotel other than the typical room service menu.
13. Room service menus
In the case of room service, you likely won't see a well-mannered hotel employee wheel in your culinary delights for the evening. To stick with distancing procedures, food may be left outside your hotel room, and you'll be notified it's there with a knock on the door.
The menu itself may also be different and non-disposable room service menus in hotel rooms could be a thing of the past. To reduce contact points within hotels, anything deemed surplus to requirements may be removed, including room service menus. Still, most hotels should continue with these services. You may have to access the menu online through your phone or tablet, or through a screen on your room's TV.
14. Shared business centers
Hotel business centers are an easy way to jump on a computer with an ethernet connection to take care of a few things. You can check email, print out itineraries, and more. They're convenient and easy to use, but they're also shared and can be accessed by any other hotel guest.
This presents a cross-contamination risk, so business centers will likely be shut down and you might not see their return. There may be no quick solution for this issue because it would be cost-prohibitive to provide each hotel room with its own business center services. This would also be adding a contact point into each room in the form of a hotel computer or tablet device.
15. Convention halls and conference rooms
If you're trying to keep people separated, convention halls and other event rooms within hotels may no longer be the best use of space. Some of these areas can often hold dozens of people at once, but that need has declined in the past few months. All travel has decreased, including business travel, and it may not soon recover.
If these areas are to be used again in hotels, you will likely see restrictions. The number of people may be limited, and you may need certain spacing requirements to hold an event. Or, entire groups of people that wish to use a conference room, convention hall, or other venue may need to pass applicable tests and screenings beforehand. Otherwise, these rooms could stay closed.
16. Passed hors d'oeuvres at events
If hotels are to continue holding events, you can expect the food and beverage scene at these events to be different. There likely won't be any waiters or waitresses going around passing out hors d'oeuvres and filling up glasses. It would involve individuals being too close together and food and drink passing from one person to another.
The final word on hotels post-COVID-19
The world is changing, and hotels have to adapt to these changes if they want to stay in business. Gratefully, hotels are often quick to adapt to any needed changes and we expect the hotel experience won't be changed for the worse. Some things may take getting used to, such as not interacting physically with many hotel employees, but it doesn't mean we won't be able to once again enjoy a nice weekend away at a hotel.
To prepare for your next getaway, consider researching the best hotel credit cards and the best travel credit cards while we adjust to a new normal way of living. The right credit cards offer a simple way to earn valuable rewards that will offset the cost of an upcoming trip (when the time is right). You could even use the travel rewards you earn to stay at hotels for free! 

Easy-to-Earn Unlimited Rewards
Earn 25,000 online bonus points after you make at least $1,000 in purchases in the first 90 days of account opening - that can be a $250 statement credit toward travel purchases
Earn 1.5 points per $1 spent on all purchases
Longer intro APR on qualifying purchases and balance transfers
No foreign transaction fees
Earn unlimited 1.5 points per $1 spent on all purchases, with no annual fee and no foreign transaction fees and your points don't expire.
25,000 online bonus points after you make at least $1,000 in purchases in the first 90 days of account opening - that can be a $250 statement credit toward travel purchases.
Use your card to book your trip how and where you want - you're not limited to specific websites with blackout dates or restrictions.
Redeem points for a statement credit to pay for travel or dining purchases, such as flights, hotel stays, car and vacation rentals, baggage fees, and also at restaurants including takeout.
0% Introductory APR for 18 billing cycles for purchases, and for any balance transfers made in the first 60 days. After the intro APR offer ends, 17.74% - 27.74% Variable APR will apply. A 3% fee applies to all balance transfers.
If you're a Preferred Rewards member, you can earn 25%-75% more points on every purchase. That means instead of earning an unlimited 1.5 points for every $1, you could earn 1.87-2.62 points for every $1 you spend on purchases.
Contactless Cards - The security of a chip card, with the convenience of a tap.
This online only offer may not be available if you leave this page or if you visit a Bank of America financial center. You can take advantage of this offer when you apply now.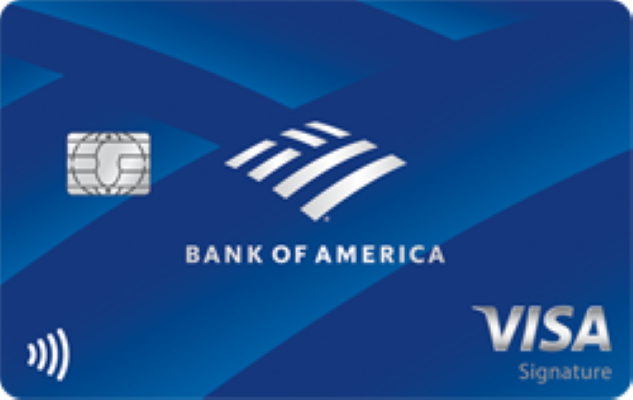 Apply Now
on Bank of America's secure website
Read Card Review
Intro Offer
Earn 25,000 online bonus points after you make at least $1,000 in purchases in the first 90 days of account opening - that can be a $250 statement credit toward travel purchases