RVs have become popular in recent years as more people have hit the road for their next adventure.
An RV can be a great way to see places because you have all your living arrangements with you so you don't have to worry about hotels. You also have the freedom to go wherever you want or change your itinerary on a whim.
But RVs can cost you some cash above and beyond the sticker price of the vehicle itself. Here are some hidden costs to consider to help you avoid money stress before you hit the open road.
Campsites
Just because you have a traveling home with you doesn't mean that you can just park anywhere for free. Some campsites have great amenities like showers and bathrooms. They also could have unique features like pools, spas, or outdoor activities.
But staying at one of these campsites usually means you have to pay a fee for a parking spot for your RV. Those fees can change depending on how popular the site is during peak travel times.
Waste
You may like the idea of traveling with your own bathroom in an RV, but emptying your waste can be a dirty job — and it can cost you money.
Some campsites may allow you to dump your waste for free if you paid for your parking spot. But other places may charge a fee to dump out your tanks before you hit the road again.
Insurance
You have to get insurance for your RV just as you would for a car or motorcycle, but you may be surprised at the cost. Insurance may be more expensive for a large vehicle like an RV compared to your typical car in your driveway.
It may be a good idea to call around and find out how much insurance for different sizes of RVs will cost you before you make a purchase.
Driver's training
Driving an RV is not like driving a car, so you'll want to consider taking a course specifically for RV drivers.
It's also a good idea to check with your state department of motor vehicles to see if they require you to have a specific license to operate an RV, which could also cost you more money in fees.
Gas
You may think you've calculated your gas costs, but filling up the tank of an RV can be expensive. Remember to account for how many miles per gallon your potential vehicle can handle and factor in any changes in cost depending on the places you may stop for gas.
Pro tip: Check out some of the best credit cards for gas to save a few extra dollars every time you fill up.
Registration
Registering your RV with your state department of motor vehicles costs money, and those fees are likely to be more expensive than when you register your car.
Check with your local DMV to see how much registration for your vehicle will cost and if those registration fees vary depending on the length of the vehicle.
Maintenance
Just like your car, you need to keep your RV maintained regularly with oil changes, tire rotation, and brake inspections. But those costs may be higher than you expect since your RV is a larger vehicle. You might also have to pay extra for a more specialized technician.
Storage
It can be difficult to park a large vehicle like an RV at your home, and some cities or homeowners associations may not permit you to do so.
It's a great idea to find a garage or some other storage facility that can accommodate your RV when you're not using it, but storage fees will add to the cost of your RV ownership.
Amenities
Utilities
You need things like electricity to run all the extras that an RV holds like your stove, lights, heating or cooling, and electronics. The great thing is that campsites may have electricity hook-ups to help you out, but that can add extra costs to your campsite fees.
Generator
You don't need an electric hook-up if you want to run those cool electric gadgets out on the open road, but you may need a generator.
Adding a generator to your RV could cost extra money. Don't forget to factor in the cost of gas to keep it running if you're not at a campsite with a hook-up to electricity.
Laundry
Your dirty clothes can pile up if you plan to go on the road for long periods. It may not be a big issue compared to some of the other items on your RV budget, but it's a good idea to factor in the cost of doing laundry when you're on the road.
Towing
You may want to bring along your car for day trips or small vehicles like an ATV for outdoor fun while using your RV as a base at a campsite. But bringing additional vehicles requires towing equipment, which can get expensive.
You also need to make sure you get equipment capable of handling the weight of whatever you're hauling behind you for your trips.
Tolls
The open road sometimes costs money, and those tolls can add up depending on where you're going.
Remember to bring change with you to get you through toll plazas quicker or invest in something like an EZ Pass, which can be used in several states to get past toll booths quicker.
Bottom line
The good news is there are ways to save money if you want to hit the open road in an RV.
Remember to pack some of the best travel credit cards to help you with your travels, and enjoy your next RV vacation.
Easy-to-Earn Unlimited Rewards
Earn 25,000 online bonus points after you make at least $1,000 in purchases in the first 90 days of account opening - that can be a $250 statement credit toward travel purchases
Earn 1.5 points per $1 spent on all purchases
Longer intro APR on qualifying purchases and balance transfers
No foreign transaction fees
Earn unlimited 1.5 points per $1 spent on all purchases, with no annual fee and no foreign transaction fees and your points don't expire.
25,000 online bonus points after you make at least $1,000 in purchases in the first 90 days of account opening - that can be a $250 statement credit toward travel purchases.
Use your card to book your trip how and where you want - you're not limited to specific websites with blackout dates or restrictions.
Redeem points for a statement credit to pay for travel or dining purchases, such as flights, hotel stays, car and vacation rentals, baggage fees, and also at restaurants including takeout.
0% Introductory APR for 18 billing cycles for purchases, and for any balance transfers made in the first 60 days. After the intro APR offer ends, 17.74% - 27.74% Variable APR will apply. A 3% fee applies to all balance transfers.
If you're a Preferred Rewards member, you can earn 25%-75% more points on every purchase. That means instead of earning an unlimited 1.5 points for every $1, you could earn 1.87-2.62 points for every $1 you spend on purchases.
Contactless Cards - The security of a chip card, with the convenience of a tap.
This online only offer may not be available if you leave this page or if you visit a Bank of America financial center. You can take advantage of this offer when you apply now.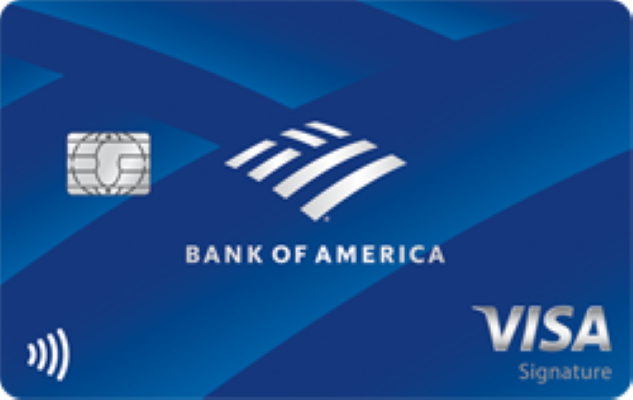 Apply Now
on Bank of America's secure website
Read Card Review
Intro Offer
Earn 25,000 online bonus points after you make at least $1,000 in purchases in the first 90 days of account opening - that can be a $250 statement credit toward travel purchases