Traveling in an RV is a fun way to take your time, visit places you enjoy, explore new frontiers, and spend time with loved ones — including your beloved pets. And as with any excursion, you'll want to best prepare so you can get maximum enjoyment out of your adventure. Pets add different challenges, but knowing what to look out for and anticipate might help make traveling even more fun.
Here are some tips to help you enjoy RV travel with your pets.
Acclimate your pet
It may be helpful to do some practice drives in the RV before your trip — if you are able. Look for signs of motion sickness or anxiety, and speak to your vet if you are concerned. It's a good idea to bring some of your pet's favorite items, like a bed or blanket, so they have their cozy spot within the RV that also reminds them of the security they know at home.
If you plan to keep them in a crate, let them examine it beforehand.
Visit the vet ahead of time
Schedule a veterinarian visit before your trip as a precaution and make sure they have all they need, health-wise, for your journey. You may want to consider flea and tick prevention, be sure immunizations are current, and have enough medication if your pet needs it.
Ask for a copy of your pet's records in case anything comes up during your trip. If you already have destinations in mind, ask for vet recommendations at your different locations. My Pet is a good tool to use if you need to find a vet while on the road.
Prepare your RV
Aside from making sure you bring along your pet's bed or other favorites, you'll want to attempt to designate a spot in the RV that is your pet's area. Granted, things may need to move around a bit, but having a secure spot for times like naps and bedtime — as well as when you're moving on the road — may help your pet feel most comfortable.
You'll also want to consider where you'll leave your pet when you're doing activities they can't participate in. If your pet will be crated, be sure they have some practice with it in the RV, especially if they aren't used to it.
Buy a pet first-aid kit
A good pet first aid kit should include all the important things you would have in your own kit, but with a few added things, including emergency contact information for vets. You could also include extra supplies like nail clippers, dog waste bags, an extra leash, and a muzzle for emergencies. Here you could keep any flea and tick prevention items. Be sure you have tweezers and extra gloves in case you run into any incidents where those will be needed.
Get pet insurance
Pet insurance may give you some peace of mind in the event of an emergency. Check the details on the policy to see what type of coverage is offered. You should look into the type of coverage for things like motor vehicle accidents, broken bones, poisoning, ingesting foreign bodies, and cuts or lacerations.
Pack your pet's bag
Your pet's travel bag could include extra waste bags, favorite toys, their medications, and their medical records for safe keeping. If your pet wears clothes when the weather is chilly or wet, be sure to bring them along too. You'll be packing their feeding and water bowls, along with their food and treats. Then pack extra food and treats. Being prepared with everything they need is a great way to make the trip more enjoyable.
Inquire about pet-specific details at RV parks
RV parks often have their own set of rules when it comes to pets, so be sure to look into this before, or upon, arrival. Some do not allow certain breeds of dogs or dogs of a certain size. You'll also want to check rules on portable fencing you may want to erect for your pet to enjoy the outside — this may or may not be allowed. Many parks also have leash requirements.
Check state and national parks rules
Enjoying the great outdoors with your pet can be amazing. When visiting a state or national park, check their specific rules, as there may be restrictions on where your pet can hike or camp with you. The National Park Service has an excellent guide to help you navigate what parks are pet-friendly, along with activities and events for you and your furry friend.
Remember to incorporate movement
RV life will often take you to urban and suburban environments. There are also days when you'll spend a lot more time driving. That doesn't mean your pet has to go without the physical activity they'd get at a major state or national park, you just might need to do a little more planning. Prepare for frequent pit-stops so everyone can get out and stretch.
Get acquainted with wildlife in your areas of interest
Some parts of the country are rife with different plants, creatures that have an appetite for unsuspecting animals, or may be a hotbed for ticks, fleas, and other insects. Familiarize yourself with wildlife that may affect the health and wellbeing of your pet.
Teach your pets to stay safe around plants, and make sure to feed them properly so they won't feel tempted to chew on anything they find on the road. The ASPCA Animal Poison Control Center is an excellent resource in an emergency. Call (888) 426-4435 if you think your pet may have ingested a potentially poisonous substance. There are always operators ready to take your call.
Bottom line
RV trips are a great way to spend time with family and create new experiences — and bringing your pet might make it all the more memorable. There are some drawbacks to RV life, but being prepared and knowing what to anticipate can help a lot.
With all that driving, research the best gas credit cards or use one of the best travel credit cards that offer valuable rewards. 
Easy-to-Earn Unlimited Rewards
Earn 25,000 online bonus points after you make at least $1,000 in purchases in the first 90 days of account opening - that can be a $250 statement credit toward travel purchases
Earn 1.5 points per $1 spent on all purchases
Longer intro APR on qualifying purchases and balance transfers
No foreign transaction fees
Earn unlimited 1.5 points per $1 spent on all purchases, with no annual fee and no foreign transaction fees and your points don't expire.
25,000 online bonus points after you make at least $1,000 in purchases in the first 90 days of account opening - that can be a $250 statement credit toward travel purchases.
Use your card to book your trip how and where you want - you're not limited to specific websites with blackout dates or restrictions.
Redeem points for a statement credit to pay for travel or dining purchases, such as flights, hotel stays, car and vacation rentals, baggage fees, and also at restaurants including takeout.
0% Introductory APR for 18 billing cycles for purchases, and for any balance transfers made in the first 60 days. After the intro APR offer ends, 17.99% - 27.99% Variable APR will apply. A 3% fee applies to all balance transfers.
If you're a Preferred Rewards member, you can earn 25%-75% more points on every purchase. That means instead of earning an unlimited 1.5 points for every $1, you could earn 1.87-2.62 points for every $1 you spend on purchases.
Contactless Cards - The security of a chip card, with the convenience of a tap.
This online only offer may not be available if you leave this page or if you visit a Bank of America financial center. You can take advantage of this offer when you apply now.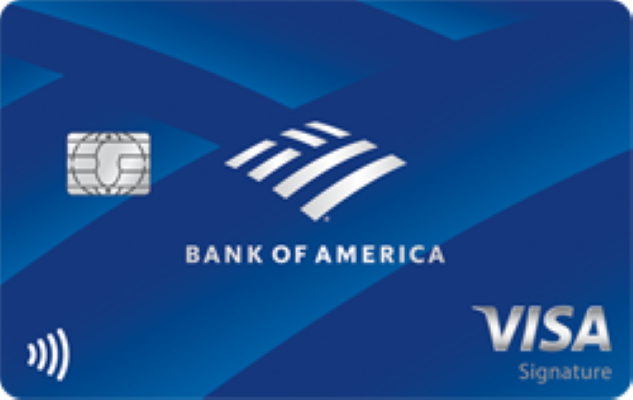 Apply Now
on Bank of America's secure website
Read Card Review
Intro Offer
Earn 25,000 online bonus points after you make at least $1,000 in purchases in the first 90 days of account opening - that can be a $250 statement credit toward travel purchases