Disney vacations are one-of-a-kind events, but they can get rather pricey. Park tickets, lodging, dining out, souvenirs, and other unexpected charges tend to pop up in the "happiest place on earth."
Many vacationers have trouble sticking to a budget at Disney. However, being smart about food choices can save you money and give your bank account a boost.
Following are 10 simple tricks to save big-time on food while visiting Disney parks.
Stick to water
Disney diners can shave a few dollars off every meal by asking for a cup of water when dining instead of springing for a soda, juice, or alcoholic beverage.
Visitors should be able to nab a cup of water for free at any dining establishment. That beats purchasing bottles of water at the park, where costs can really add up, especially on a hot day.
You can also bring nonalcoholic beverages into the park as long as they're not in glass containers.
Pack snacks
As with beverages, you can pack your own snacks — and even meals — when visiting Disney parks as long as they're not in glass containers.
Simple, transportable foods such as sandwiches, granola bars, fruits, and snack packs make great options and can keep park visitors satisfied throughout the day.
If you still want to try some of Disney's many dining options, pack snacks or small meals for most of the day and spring for a special lunch or dinner in one of the parks.
Opt for a kid's meal
For diners who prefer smaller portions, opting for a kid's meal at a restaurant or a quick-service station is a great option.
Visitors who aren't big eaters can also consider splitting a full-sized meal. Disney's portion sizes tend to be large, so try to avoid paying for a large meal if you know you won't eat the whole thing.
Skip 'character meals'
Restaurants that offer "character meals" tend to be some of the more expensive dining options at Disney. And while they can be an incredible experience, they're an easy thing to cut if you're trying to do Disney on a budget.
Many classic Disney characters participate in "meet and greets" around the parks, and visitors can also download the official My Disney Experience app for information on when and where to find their favorite characters.
Consider snacks (instead of full meals)
You don't always have to opt for a full meal when you're feeling a little hungry. There are plenty of snack stands around Disney parks that offer quick-and-easy options that are much cheaper than a full meal.
For instance, consider pretzels, popcorn, ice cream, and more to tide you over until the next big meal.
Visitors can save even more by following our earlier advice and coming prepared with their own snacks. After all, Disney's snack options may be cheaper than most meals, but snacking costs can still add up.
Pro tip: Planning to drive to Disney? Make sure to grab one of the best credit cards for gas so you can get cash back or points toward rewards each time you fill up.
Take advantage of quick-service dining
Each Disney park has its fair share of quick-service dining options. These establishments are similar to fast-food or fast-casual restaurants and don't include table service.
The food quality might not be quite as impressive as the table-service options at Disney, but you can still score some delicious fare for a significantly cheaper price.
Quick-service dining also means visitors don't have to factor tips into their meal prices.
Get refills
If you opt for a fountain drink while getting table service at Disney, you can get free refills if the self-service option is available.
Restaurants typically offer free refills on drinks such as tea and coffee as well. So if you need some extra caffeine, this is the spot to load up.
The rules when it comes to refills at quick-service options are a bit less clear and may vary from spot to spot. Not all quick-service options offer self-service sodas.
Bringing your own water bottle is also a great way to save on drinks, as you'll be able to refill throughout the day. Just remember that you can't bring glass bottles into the park.
Buy snacks/drinks in bulk before vacation
If you happen to be a member of a big-box store like Costco, consider stocking up on snacks you can bring to the parks beforehand.
Having some snack foods — such as bags of chips, cereals, granola bars, and the like — on hand can save you from splurging when you get hungry back at the hotel as well.
Hot tourist spots are known to jack up prices on grocery items, however. So, If you are going to have extra room in your suitcase, it can be a good idea to shop for snacks before you actually leave for vacation.
Consider Disney Dining Plans
If you're planning to stay at Disney from the time it opens until the firework show's finale, you're going to need some fuel. That is probably going to mean at least two meals per day during a park visit.
If that's your intention, consider buying a Disney Dining Plan.
Each plan offers at least two meals — at either a table-service or quick-service restaurant — as well as snacks and a refillable mug. You can add dining plans to a vacation package or an existing reservation.
Do your dining out in the morning
If you have your heart set on dining at one of the many Disney restaurants but still want to stick to a budget, opting for an earlier meal might be your best bet.
Breakfast foods tend to be cheaper than those for lunch and dinner. And there are also several buffet breakfast options to help you get more for your money.
Keep in mind that popular Disney restaurants tend to book up quickly. So, if you have your heart set on a specific dining experience, book early. Guests are permitted to make reservations up to 60 days in advance.
Bottom line
While Disney vacations do often require some budgeting, there are many ways to cut costs when inside the parks — particularly on dining.
To make the most of your vacation budget, it's also a good idea to use one of the best credit cards for travel so you can earn cash back or other perks each time you spend.
Easy-to-Earn Unlimited Rewards
Earn 25,000 online bonus points after you make at least $1,000 in purchases in the first 90 days of account opening - that can be a $250 statement credit toward travel purchases
Earn 1.5 points per $1 spent on all purchases
Longer intro APR on qualifying purchases and balance transfers
No foreign transaction fees
Earn unlimited 1.5 points per $1 spent on all purchases, with no annual fee and no foreign transaction fees and your points don't expire.
25,000 online bonus points after you make at least $1,000 in purchases in the first 90 days of account opening - that can be a $250 statement credit toward travel purchases.
Use your card to book your trip how and where you want - you're not limited to specific websites with blackout dates or restrictions.
Redeem points for a statement credit to pay for travel or dining purchases, such as flights, hotel stays, car and vacation rentals, baggage fees, and also at restaurants including takeout.
0% Introductory APR for 18 billing cycles for purchases, and for any balance transfers made in the first 60 days. After the intro APR offer ends, 17.99% - 27.99% Variable APR will apply. A 3% fee applies to all balance transfers.
If you're a Preferred Rewards member, you can earn 25%-75% more points on every purchase. That means instead of earning an unlimited 1.5 points for every $1, you could earn 1.87-2.62 points for every $1 you spend on purchases.
Contactless Cards - The security of a chip card, with the convenience of a tap.
This online only offer may not be available if you leave this page or if you visit a Bank of America financial center. You can take advantage of this offer when you apply now.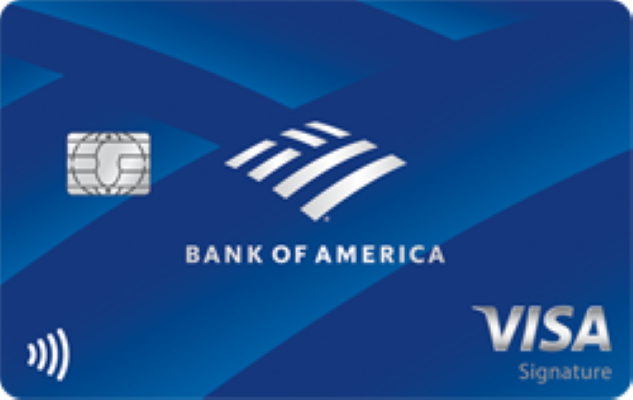 Apply Now
on Bank of America's secure website
Read Card Review
Intro Offer
Earn 25,000 online bonus points after you make at least $1,000 in purchases in the first 90 days of account opening - that can be a $250 statement credit toward travel purchases