If you love the thrill that only the shock of adrenaline can bring, then you've come to the right place. The following list details 15 of the most heart-pounding, thrill-seeking activities found around the globe, from swimming with apex predators to jumping out of planes in exotic locales. 
And, of course, you'll need to use the best travel credit cards on your adventures to maximize your travel budget, making room for more epic experiences.
Climb Mt. Everest
Let's get this out of the way first: Is there any adventure more worthy of bragging about than climbing the highest mountain in the world? 
If you scale Mt. Everest, you join an elite club of adventurers who have both the strength and the fortitude to conquer one of the longest and toughest treks in the world.
Scale El Capitan
If you have climbing ambitions but are looking to stay domestic, try your hand at scaling the famous El Capitan in Yosemite National Park in California. 
This famous rock has a 3,000-foot granite face that takes serious skill to summit. If you're feeling extra spicy, you can try conquering the dawn wall, one of the toughest hikes out there.
Hike an active volcano
Looking to add a little lava to your hiking experience? If so, then put exploring Cerro Negro on your bucket list. 
This active volcano in Nicaragua attracts daredevils who want to both summit a volcano as well as "volcano board" back down at up to 30 mph. That's two adrenaline-inducing adventures in one.
Bungee jump Mount Villarica
If you want to turn up the volume on your volcano experience, suit up and prepare to bungee jump over Mount Villarica in Chile. 
All you need to do is pony up the cash and you can leap out of a helicopter into the active crater, which is known to belch on occasion. Its most recent eruption was back in 1971.
Explore the Grand Canyon Skywalk
Arguably one of the tamer activities on this list, this will still get your heart pumping at one of the most iconic sites in the world. 
The Grand Canyon Skywalk takes you 4,000 feet in the air over the rim of the canyon, giving you eye-popping views of the landscape below. The walkway juts out 70 feet from the face of the rock.
Hike the Tianmen Mountain
Looking for something like the Skywalk but on steroids? Consider walking the Tianmen Mountain path, located near Zhangjiajie city in China. 
This dizzying trek will literally take you to "heaven's door," with 99 twists and turns and sections of glass walkways along the way. Softer folks may opt for the cable car ride, which is the longest of its kind.
Base jump in Angel Falls
Base jumping certainly isn't for the faint of heart in and of itself, but try throwing yourself off of Angel Falls in Venezuela, the highest waterfall in the world. 
Keep in mind you'll need to secure a permit for this, as well as either ride a horse or hike to the jumping-off point. The views will be well worth the effort, though.
Skydive in Victoria Falls
Speaking of waterfalls, just sitting on the edge of Victoria Falls — which straddles Zimbabwe and Zambia — is enough to get your heart racing. 
Why not combine that experience with skydiving over this wonder of the world? You can dance along the edge of the Devil's Pool one day, then leap out of a plane the next. Talk about a double shot.
Cliff dive at La Quebrada Cliffs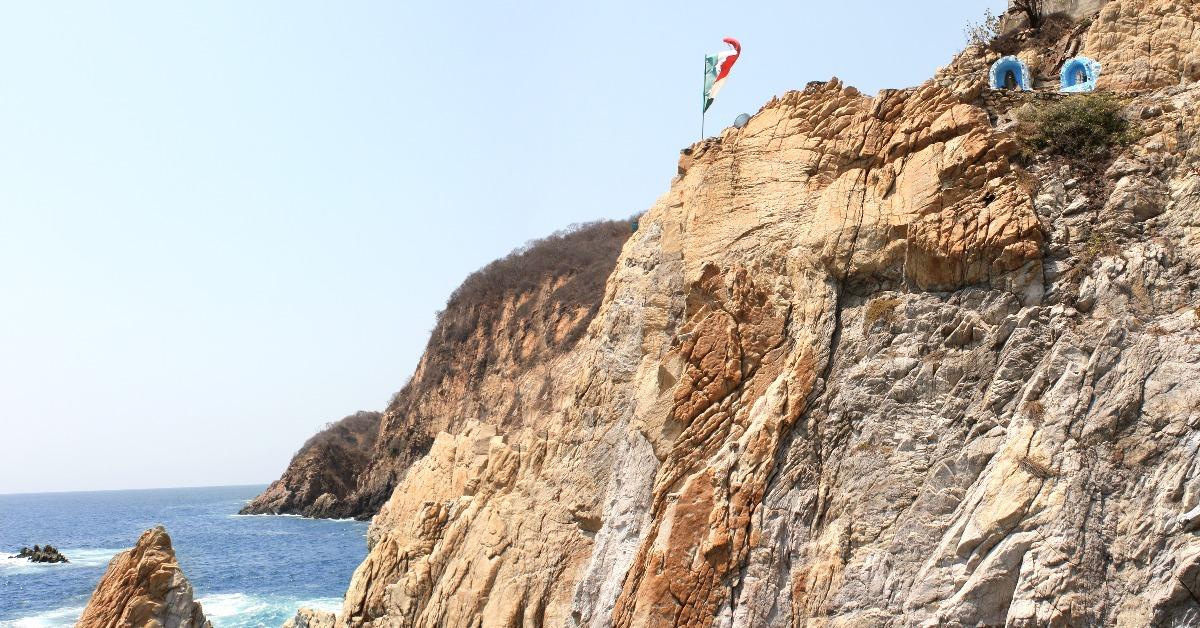 Think you have what it takes to keep up with locals honoring generations of daredevil tradition? Try your hand at cliff diving off the 135-foot La Quedabra Cliffs of Acapulco. 
Time it wrong and you'll meet an unfortunate end. Time it right and you're in for the adrenaline dose of a lifetime.
Climb Machu Picchu
If you've made enough money moves to boost your bank account, you can finally take that bucket list trip to Machu Picchu in Peru. Make sure to set aside about a week to explore this archeological wonder that is thought to have been a royal estate in the Inca empire. 
FYI, be prepared to acclimate to the altitude before hiking the Inca Trail to the top of this marvel.
Conquer the CN Tower Edgewalk
You may be tethered, but the feeling of walking on the CN Tower Edgewalk in Toronto will still leave you with goosebumps. 
Your harness will be the only thing securing you to the building that towers 116 floors above the Canadian metropolis. You can even lean over the edge without holding on if you have the gumption.
Snorkel the Great Barrier Reef
Snorkel enthusiasts absolutely can't miss the chance to explore the Great Barrier Reef off the coast of Queensland, Australia, the largest coral reef in the world. 
This unique ecosystem is home to countless species of flora and fauna, including some — like sharks — that are sure to get your pulse racing when they swim under you.
Go cage diving with sharks
While we've come a long way since "Jaws" panic was a thing, swimming with sharks is still a surefire way to remind yourself that you could be something's lunch. And while you can dive with these predators sans cage, we recommend the steel bars just in case. 
If you can swing it, a dive off the coast of Cape Town, South Africa, is an excellent option.
Surf Pe'ahi, Hawaii
If surfing is your thing, as opposed to snorkeling or diving, then catching a wave at Pe'ahi, Hawaii, is as exhilarating as it gets. Some of the largest giant waves in the world arrive here each year at a surf break known as Jaws, and it draws daredevil surfers and breathless spectators alike. 
Bear in mind that some of the waves are so intense that surfers need to be towed in via jet ski.
Dare the Sydney Bridge Climb
Bridges do more than connect point A to point B, and that's certainly the case with the Harbour Bridge in Sydney, Australia. 
For a reasonable price, you can scale this iconic bridge from base to summit, taking in stunning views of the Australian metropolis from the top. Unlike some of the activities on this list, this activity is accessible to most.
Bottom line
If this list has you looking for ways you can make extra money for traveling, then we've done our job in making you hungry for the craziest daredevil experiences. After all, you only live once.
But remember, there may be hidden jewels in your backyard that can raise your pulse just as much as one of these epic adventures. So keep your ear to the ground in your community.
Easy-to-Earn Unlimited Rewards
Earn 25,000 online bonus points after you make at least $1,000 in purchases in the first 90 days of account opening - that can be a $250 statement credit toward travel purchases
Earn 1.5 points per $1 spent on all purchases
Longer intro APR on qualifying purchases and balance transfers
No foreign transaction fees
Earn unlimited 1.5 points per $1 spent on all purchases, with no annual fee and no foreign transaction fees and your points don't expire.
25,000 online bonus points after you make at least $1,000 in purchases in the first 90 days of account opening - that can be a $250 statement credit toward travel purchases.
Use your card to book your trip how and where you want - you're not limited to specific websites with blackout dates or restrictions.
Redeem points for a statement credit to pay for travel or dining purchases, such as flights, hotel stays, car and vacation rentals, baggage fees, and also at restaurants including takeout.
0% Introductory APR for 18 billing cycles for purchases, and for any balance transfers made in the first 60 days. After the intro APR offer ends, 17.74% - 27.74% Variable APR will apply. A 3% fee applies to all balance transfers.
If you're a Preferred Rewards member, you can earn 25%-75% more points on every purchase. That means instead of earning an unlimited 1.5 points for every $1, you could earn 1.87-2.62 points for every $1 you spend on purchases.
Contactless Cards - The security of a chip card, with the convenience of a tap.
This online only offer may not be available if you leave this page or if you visit a Bank of America financial center. You can take advantage of this offer when you apply now.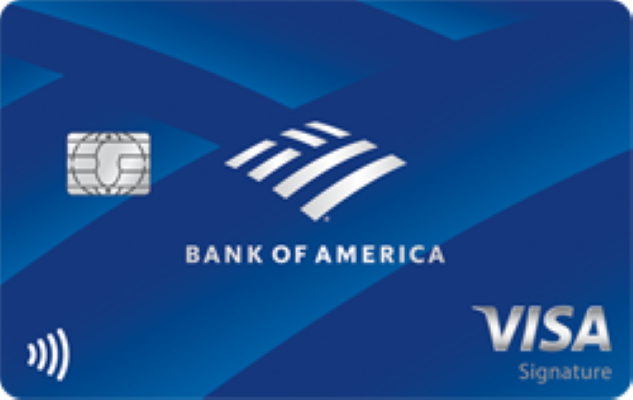 Apply Now
on Bank of America's secure website
Read Card Review
Intro Offer
Earn 25,000 online bonus points after you make at least $1,000 in purchases in the first 90 days of account opening - that can be a $250 statement credit toward travel purchases