Summer is getting closer and more people are ready to get out and travel after two years of COVID-19 restrictions. But as you pack your bags, are you aware of the strange, unexpected, or unusual laws at your destination?
It's always smart to have an idea of what to watch out for at your destination so you don't put a damper on your budget or vacation plans by unknowingly breaking the law.
Before you go, catch up on these foreign laws to avoid breaking them on your next trip.
Don't swim in fountains in Rome
Rome is known for its historic buildings and stunning tourist spots, but don't pack a bathing suit expecting to take a dip in the legendary Trevi Fountain. However, Rome's famous sights could get very crowded.
That's why the city has put in effect a zero-tolerance policy for swimming in its fountains. They've been known to fine anyone who decides to take a dip in one of the many water features in their city. Expect to pay about 450 euros, or about $490, if you can't keep out of the water.
Don't run out of gas in Germany
The Autobahn is a well-known stretch of road in Germany. It's a destination for gearheads who look forward to driving without a speed limit (although be aware that there are speed limits on some stretches of the Autobahn).
Stopping on the side of the Autobahn, however, is prohibited except for emergency situations. Running out of gas may not be viewed as an emergency. It might instead be seen as an avoidable occurrence, so make sure you fill up before you drive or you could face a fine for having to pull off to the side of the road.
Pro tip: Running out of gas on the Autobahn isn't the only restriction on drivers who hit the road in Germany. If you do plan to take a drive on the famed stretch, make sure you review the rules of the road. This way, you'll be prepared to handle the high speeds of this German highway.
Related: These are the best credit cards for gas.
Don't chew gum in Singapore
One of the more famous yet strange international travel tips you might want to follow would be avoiding chewing gum in Singapore. The ban was approved in 1992 in response to vandals sticking it on the doors of public transportation.
The ban also aims to get rid of chewing gum litter on streets, parks, and other common areas. There have been some lifting of the restrictions since 2004, but only for therapeutic use like nicotine gum or for dental reasons.
Don't wear high heels in Greece
In 2009, Greek officials put bans on several items in order to protect their famous archaeological sites. Now, visitors are not allowed to wear high heels for fear of damage to the ancient attractions that tourists flock to each year.
Food and drinks are also prohibited to protect these relics. In fact, maintenance crews had to remove more than 60 pounds of used chewing gum from a famed historic theater in Athens due to tourists not respecting the country's ancient sites.
Don't put a stamp of the Queen upside down in the UK
Sending postcards home when you're on vacation may be a fun thing to do, but be careful with those postage stamps in London.
If they have a picture of Queen Elizabeth II on them, it may be illegal to put the stamp upside down. It might be considered treason to do so, which is punishable but rarely enforced for a postage-stamp mishap.
Don't kiss in Dubai
The Middle Eastern city of Dubai in the United Arab Emirates has some strict laws when it comes to public decency. It's smart to research some of the restrictions about what is and is not allowed in public before you travel.
One of the restrictions is a ban on kissing on the lips in public. It could lead to a fine or even jail time if you are convicted.
Don't wear a bikini in Barcelona
Barcelona is known for its beaches along the Mediterranean Sea, and it's legal to wear a swimsuit while soaking up the sea and sun. But if you're on the streets of Barcelona, walking around in a bikini is not only frowned on but is against the law. Violating the no-bikini rule on the road could result in a fine.
Pro tip: Some countries may have different laws about what you can do in public, so research the laws for any country you visit before you arrive.
Don't feed the pigeons in Venice
Venice is known for its many beautiful attractions, including St. Mark's Square. But one of the things the square may be known for is its overpopulation of pigeons, which is becoming a problem for the historic landmark.
The city is concerned about pigeons damaging the legendary square, which is why it banned feeding the birds. So while it may have been a tourist tradition in the past, be wary as feeding birdseed to pigeons could get you a fine nowadays.
Don't insult the royal family in Thailand
Trying to joke about the royal family in Thailand is no joke. In fact, the country's "lèse-majesté laws" forbid anyone from insulting or defaming members of the Thai royal family. And the punishment could also be severe. The law allows the country to imprison someone for 3 to 15 years, depending on the case.
Don't take selfies in Sri Lanka
Sri Lanka banned selfies after several deaths linked to injuries that happened while taking selfies. The country is also home to many statues of Buddha, and it's considered disrespectful to turn your back on these statues to take a selfie.
You could be jailed or even deported if you are found to disregard these selfie restrictions. If you keep an eye on signs at some of the more popular attractions, you'll find reminders of this rule as well as other restrictions.
Bottom line
Don't be afraid to enjoy your next trip somewhere in the world. Any great trip could start with learning useful travel secrets and money-saving tips. But remember to do your research and be aware of any strange, quirky, or unusual restrictions you may run into during your travels.
You could also check out the United States travel advisories in case there are additional issues to be aware of before heading out on your next vacation.
Easy-to-Earn Unlimited Rewards
Earn 25,000 online bonus points after you make at least $1,000 in purchases in the first 90 days of account opening - that can be a $250 statement credit toward travel purchases
Earn 1.5 points per $1 spent on all purchases
Longer intro APR on qualifying purchases and balance transfers
No foreign transaction fees
Earn unlimited 1.5 points per $1 spent on all purchases, with no annual fee and no foreign transaction fees and your points don't expire.
25,000 online bonus points after you make at least $1,000 in purchases in the first 90 days of account opening - that can be a $250 statement credit toward travel purchases.
Use your card to book your trip how and where you want - you're not limited to specific websites with blackout dates or restrictions.
Redeem points for a statement credit to pay for travel or dining purchases, such as flights, hotel stays, car and vacation rentals, baggage fees, and also at restaurants including takeout.
0% Introductory APR for 18 billing cycles for purchases, and for any balance transfers made in the first 60 days. After the intro APR offer ends, 17.99% - 27.99% Variable APR will apply. A 3% fee applies to all balance transfers.
If you're a Preferred Rewards member, you can earn 25%-75% more points on every purchase. That means instead of earning an unlimited 1.5 points for every $1, you could earn 1.87-2.62 points for every $1 you spend on purchases.
Contactless Cards - The security of a chip card, with the convenience of a tap.
This online only offer may not be available if you leave this page or if you visit a Bank of America financial center. You can take advantage of this offer when you apply now.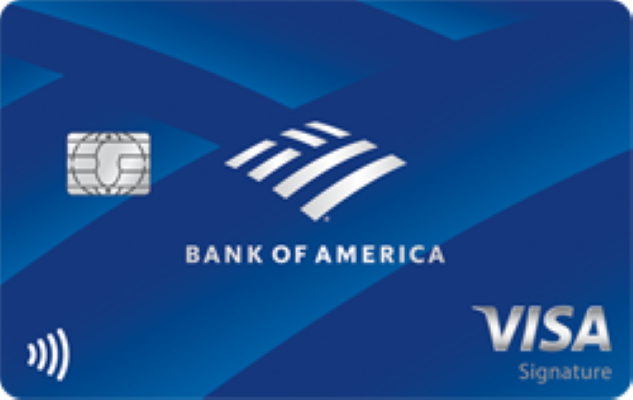 Apply Now
on Bank of America's secure website
Read Card Review
Intro Offer
Earn 25,000 online bonus points after you make at least $1,000 in purchases in the first 90 days of account opening - that can be a $250 statement credit toward travel purchases