Packing up the car and hitting the highway is a one-of-a-kind adventure. It broadens your horizons both literally and figuratively, builds character, and gives you new experiences you never would have otherwise.
Yes, getting on a plane and traveling to far-flung locales is something special, but there are so many reasons to stay domestic and hit the open road. For example, the ease of bringing your best furry buddy along.
These 15 reasons you should do it this summer will have you grabbing your best travel credit card and hitting the open road for an adventure you won't soon forget.
See parts of the country you haven't before
The U.S. is a fairly big country, with a host of fascinating cities, towns, parks, environmental gems, and more. Haven't you always wanted to see the ocean on both coasts?
See the skyscrapers of lower Manhattan? Explore the Grand Canyon. See Old Faithful in action?
Taking a road trip is a great way to do all of these things, seeing parts of the country you haven't before.
Bond with your family
In our day-to-day lives, we're all busy with school, work, and other obligations that keep family members separate and occupied.
On a road trip, you get the chance to truly be together, spending time talking to one another as the hours spent driving tick by.
Or if you prefer, you can go solo for some quality alone time.
You can bring your pup
Traveling with a pet on a plane is no picnic, especially if they have to go in the hold.
On a road trip, however, traveling with your dog can be an excellent opportunity to bond with them. Many dogs love riding in the car already, so it makes them happy as well.
If you have a cat your mileage may vary, but there's a chance they'd enjoy it as well.
Save money by not buying plane tickets
Let's face it, plane tickets aren't cheap, even if you're only flying for a couple of hours. They cost hundreds of dollars even just for a seat in coach, and upgrading costs you even more.
However, taking a road trip means not plunking down that cash for a ticket in the first place. You can also keep more money in your bank account if you bring your own food and beverages, but there are limits if you travel by plane.
Gas is more affordable this year
Gas prices in 2022 soared for several reasons, mainly the war that Russia has waged in Ukraine. That made filling up at the pump a painful experience for many.
Fortunately, gas prices have come down from those record highs, restoring normalcy to our commutes. That's another reason to take a road trip this summer.
You don't have to worry about delays
Airlines have become increasingly more unreliable in recent months – remember that Southwest debacle that grounded thousands of people?
Even when the airline isn't experiencing a technological mishap you never know if your fight will suddenly be delayed or worse, canceled.
Taking a road trip means not having to worry about any of that.
Set your own schedule
Traveling by plane means you are on the airline's schedule with little control over how long you wait when you take off, and when you land.
That's not the case on a road trip, as you are in charge of when you depart, how long you spend driving, and when it's time to stop for the night.
You can make the trip as relaxing or ambitious as your heart desires.
You have more room for stuff
There are limits as to how much you can take on a plane, and that can get expensive thanks to bag check limits.
But on a road trip, you're only limited by how much your trunk can carry. That means you can bring beach chairs, coolers, pop-up tents, you name it.
Enjoy driving your car
Some folks might not particularly enjoy driving, but many of us do. It can be enjoyable to chill out behind the wheel, watching the scenery change and admiring how pretty the sky can look.
If you have a particularly nice car, the simple act of driving can be pleasurable as well. Driving can also nurture your sense of independence and improve your mental health.
Listen to podcasts and books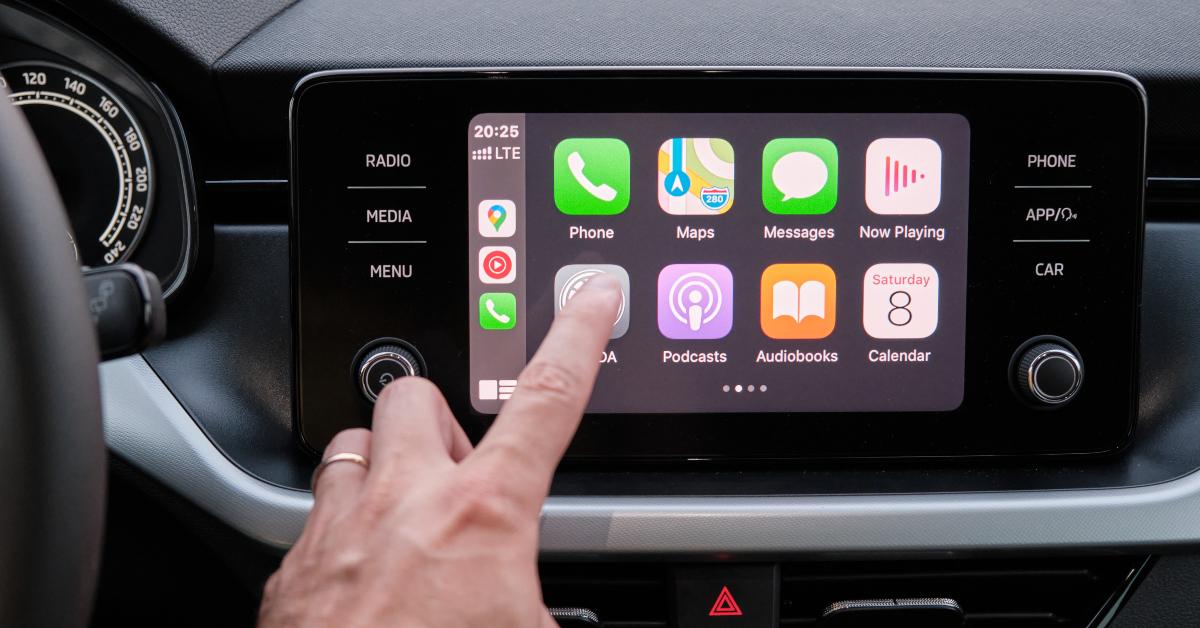 Long hours spent driving means you have plenty of time to binge your favorite podcast or listen to audiobooks.
That's a great way to keep your mind engaged while your eyes are focused on the road and your hands are occupied.
Of course, there's also the time-honored tradition of blasting your favorite songs, too.
Check out roadside attractions
Roadside attractions are a quirky American road trip tradition. There are many of them along the highway, including bigfoot museums, the world's largest X, clown motels, UFO-themed stops, and more.
These one-of-a-kind stops can be both weird and fun. Many have gift shops as well if you want to pick up one-of-a-kind souvenirs, which you'll have more room in your car to take home.
Stay in fun accommodations
Unless you have a camper or don't mind sleeping in your car (we do), you have to find places to stay when it's time to retire for the night.
Level up your road trip game by staying in fun Airbnbs, campgrounds, or themed motels that can add to the adventure.
Many hosts have activities you can do to get to know the local area better, too.
Go where the weather is nicer
Do you live in an area that gets lots of snow and ice in the winter? Drive south where the weather is warmer.
Or perhaps you live in Florida and want to avoid peak hurricane season; drive north and west to dodge those storms altogether.
This is easy to do as the U.S. is so large and has many different climates.
Discover hidden gems
Taking a road trip will also give you the chance to discover hidden gems you didn't know existed.
This can be as small as a park in a small town, or as dramatic as discovering a body of water that truly enchants, like a hidden waterfall.
The same is true for restaurants and gas stations with unique offerings you'd never visit otherwise.
Make memories that will endure
Folks who have taken a road trip for any reason will be the first to tell you that the memories endure.
Even if you're not on vacation, the sights you see and the people you meet stick with you. You may even find that your perspective shifts as you're exposed to new things.
It's a great way to develop as a person and broaden your horizons.
Bottom line
While traveling by plane can give you an international adventure, don't sleep on the idea of taking a road trip.
They have many advantages over plane travel, including financial ones, and can even make you a better and more experienced person.
To go the extra mile, plan visits to places that will benefit from your tourist dollar, which can give a boost to economies in need. It's a wonderful way to give back while you earn travel rewards and enjoy the open road.
Easy-to-Earn Unlimited Rewards
Earn 25,000 online bonus points after you make at least $1,000 in purchases in the first 90 days of account opening - that can be a $250 statement credit toward travel purchases
Earn 1.5 points per $1 spent on all purchases
Longer intro APR on qualifying purchases and balance transfers
No foreign transaction fees
Earn unlimited 1.5 points per $1 spent on all purchases, with no annual fee and no foreign transaction fees and your points don't expire.
25,000 online bonus points after you make at least $1,000 in purchases in the first 90 days of account opening - that can be a $250 statement credit toward travel purchases.
Use your card to book your trip how and where you want - you're not limited to specific websites with blackout dates or restrictions.
Redeem points for a statement credit to pay for travel or dining purchases, such as flights, hotel stays, car and vacation rentals, baggage fees, and also at restaurants including takeout.
0% Introductory APR for 18 billing cycles for purchases, and for any balance transfers made in the first 60 days. After the intro APR offer ends, 17.99% - 27.99% Variable APR will apply. A 3% fee applies to all balance transfers.
If you're a Preferred Rewards member, you can earn 25%-75% more points on every purchase. That means instead of earning an unlimited 1.5 points for every $1, you could earn 1.87-2.62 points for every $1 you spend on purchases.
Contactless Cards - The security of a chip card, with the convenience of a tap.
This online only offer may not be available if you leave this page or if you visit a Bank of America financial center. You can take advantage of this offer when you apply now.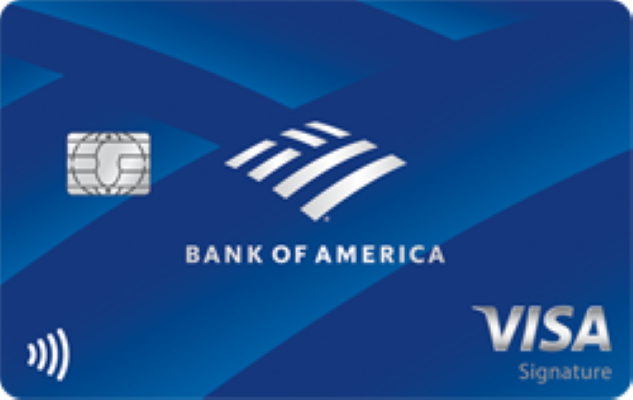 Apply Now
on Bank of America's secure website
Read Card Review
Intro Offer
Earn 25,000 online bonus points after you make at least $1,000 in purchases in the first 90 days of account opening - that can be a $250 statement credit toward travel purchases