The days are getting shorter, but that doesn't mean they're any less busy!
That's why it's crucial to save money and stock up on your favorite groceries so you can spend your time on other important things as fall rolls in.
And when you shop at Trader Joe's, you can save money on groceries and enjoy unique products you won't find anywhere else.
Editor's note: Prices are subject to change and may vary by location.
Get a protection plan on all your appliances
Did you know if your air conditioner stops working, your homeowner's insurance won't cover it? Same with plumbing, electrical issues, appliances, and more. Not being able to make repairs could leave you in a bad situation — but a home warranty could protect you against surprise expenses.
Whether you're a brand-new homeowner or you've owned your home for years, a plan from Choice Home Warranty could pick up the slack where homeowner's insurance falls short.
If a covered system in your home breaks down, you can call their hotline 24/7 for assistance to get it repaired. They have a network of over 15,000 technicians that can assist you, making sure any issue can be taken care of swiftly — without breaking the bank.
Not sure if it's for you? Rest easy: they were named one of the "Best Home Warranty Companies" by US News 360 Reviews and were awarded Best Company's 2020 Consumer's Choice Award. For a limited time, you can get your first month free when you sign up for a Single Payment home warranty plan.
Organic Coleslaw Kit
Price: $2.99
Bring this coleslaw kit to your next party for a delicious side.
This cost-effective product has everything in the bag to enjoy a delicious and fresh coleslaw. You can even try this on barbecue sandwiches for a tangy flavor.
Mediterranean-Style Hummus Snack Pack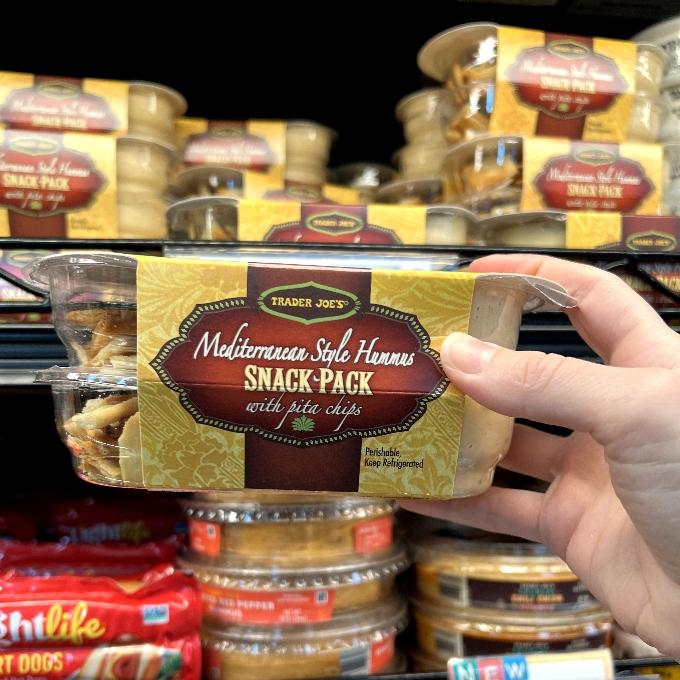 Price: $2.99
Pack your kids' school lunches with this handy and tasty snack.
These hummus snack packs come with creamy hummus and crispy pita chips. Even adults can bring these in their lunches at the office or on the go.
Grilled Chicken Fajitas
Price: $8.99
Fajita night just got simpler with this pack of chicken.
Savor seasoned chicken breast with roasted onions and bell peppers in one convenient package. All you need are tortillas to enjoy delicious fajitas in no time.
Stop overpaying when you shop online
Shopping online has its perks. It's super convenient, but it can be time consuming to find the best deals. Instead of hunting for coupon codes (that don't always work!) and opening tons of browser tabs comparing prices, you can try Capital One Shopping.
Capital One Shopping makes saving money effortless. Just add the browser extension and when you check out, it'll scour the internet for coupon codes to help you save cash. And before you check out at 25+ major retailers, Capital One Shopping will notify you with a friendly pop-up if the item you're buying is available cheaper somewhere else.
Capital One Shopping is free to use and won't show you ads. Add it today and stop overpaying!1
Ready to Bake Garlic and Herb Pizza Dough
Price: $1.69
Stock your fridge with these packs of dough for many fun pizza nights.

Spread your favorite sauce and toppings on this garlic and herb pizza dough for a taste that will rival delivery pizza.
Garlic Bread Cheese
Price: $4.29
The garlic bread cheese looks and tastes like garlic bread.
Dip it in a garlic or red sauce for a cheesy snack. Snag this limited-edition cheese while you can.
Organic Romaine and Chicory Blend
Price: $2.49
This salad blend can elevate any prepared lunch or easy dinner.
Add your favorite dressings and toppings for a healthy dose of greens. This mix also adds a much-needed crunch to any meal.
Fromage Pavé Red Chili Pepper
Price: $7.49
This is one new item you may want to try.
The soft-ripened cheese has red chili peppers for a bold zest. Add this to your charcuterie board for an unforgettable flavor.
Baby Corn
Price: $2.29
Bite into baby corn with this low-cost side.
It's already washed and ready to use for your tasty dinners that could use some veggies. And it makes a great addition to stir fry or fried rice.
Unexpected Cheddar Cheese Spread with Hatch Chile
Price: $4.99
Your favorite Trader Joe's cheese spread now has a kick.
The Unexpected Cheddar Cheese spread has a new seasonal flavor — hatch chile. Spread it on crackers, chips, and sandwiches for a spicy, cheesy taste.
Earn 2% cash rewards at grocery stores and Costco
The Wells Fargo Active Cash® Card(Rates and fees) is a powerful rewards card that allows you to earn unlimited 2% cash rewards on purchases — including on groceries, even at warehouse stores like Costco.

New cardholders can also earn a one-time cash rewards bonus — $200 cash rewards bonus after spending $500 in purchases in the first 3 months!
If you're looking for a powerful rewards card that offers an extended intro APR period, look no further, the Wells Fargo Active Cash® Card checks that box too!
This card also offers an intro APR of 0% for 15 months from account opening on purchases and qualifying balance transfers (then 20.24%, 25.24%, or 29.99% variable). Which is great for someone who wants a break from high interest rates, while still earning rewards.
The best part? There's no annual fee.
Click here to apply for the Wells Fargo Active Cash® Card now.
Dairy-Free Shredded Spicy Mexican-Style Cheese Alternative Blend
Price: $3.99
Here's a dairy-free cheese that may have you saying goodbye to the original.
Sprinkle this Mexican-style cheese alternative on your tacos, burrito bowls, and more for a zesty flavor. And it even melts like real cheese, making it perfect for nachos and cheesy dips.
Smoked Apple Chardonnay Chicken Sausage
Price: $4.29
Just heat and eat these tasty chicken sausages for an easy meal.

This chicken sausage has a smoky apple chardonnay flavor for richness and boldness in each bite. Fire these up on the grill for a night of smoked meats and vegetables.
Butcher Shop Extra Lean Ground Beef
Price: $7.49
This extra lean ground beef is a great staple ingredient for your fridge.
Use this meat for homemade burgers, meatballs, casseroles, and more. And at this affordable price, you can buy a few to stock your freezer, too.
Dill-icious Chopped Salad Kit
Price: $3.99
This chopped salad kit was made with pickle lovers in mind.
This salad kit has tons of fresh veggies and dill seasoning for a truly delightful side. It comes with everything you need to make a one-of-a-kind salad with a dill pickle taste.
Pesto Chicken Breast
Price: $8.99
Here's a convenient protein that's been seasoned for you already.
This pesto chicken breast can be cooked as is for a fresh, quick meal. Try it with some vegetables and sides from Trader Joe's for an affordable, flavorful dinner.
Cheese, Spinach, and Kale Egg Bites
Price: $3.49
These handy breakfast bites pack egg whites, spinach, and kale for a hearty meal.
Just heat these up and take them on the go for a wonderful start to your day. Or put them between your favorite breading, like biscuits and English muffins, for a breakfast sandwich.
Chocolate Milk (Fair Trade Cocoa)
Price: $3.99
Here's a classic drink that kids and adults alike love!
This creamy chocolate milk is made with fair-trade cocoa and whole milk for a nostalgic beverage. You can also try it blended in a milkshake or smoothie for an extra chocolatey flavor.
Lactose-Free Cream Cheese
Price: $3.79
Now you can enjoy rich and flavorful cream cheese without the lactose!
This lactose-free spread is perfect for bagels, sandwiches, scones, and more. And since it's lactose-free, most anyone can enjoy this tasty topper.
Bottom line
This September, spend less time grocery shopping and more time outdoors in the cooler weather. 
Early on, take a trip to Trader Joe's. It's an affordable store with plenty of unique finds and organic groceries perfect for filling your fridge.
Buying your must-haves in one fell swoop can cut your grocery costs and save time for the things (and people) you love.
Lucrative, Flat-Rate Cash Rewards
Current Offer
$200 cash rewards bonus after spending $500 in purchases in the first 3 months
Rewards Rate
Earn 2% cash rewards on purchases