You're packing up for that dream vacation, and can't wait to finally get away from home. But being in a large city or an area popular with tourists could also make you more vulnerable to being scammed. Knowing what to look for could save you from being a target anywhere — some of these con artist tactics might even be seen near your own home. Protect yourself and your belongings by keeping an eye out for these scams.
Broken taxi meter
This is particularly popular at airports, train stations, and other entry points that are filled with tourists. A driver will pull away from the curb, tell you their meter is broken, and then insist on a payment that is much more than the typical fare rate. To avoid it, make sure the meter is properly operating before you get in or negotiate a rate before pulling away. If the driver isn't willing to do so, be prepared to wait for another ride.
Misinformation about closures
You're excited to go to a local tourist attraction, but your taxi driver informs you that it's closed. This is a classic scam to direct you to a spot that will cost more in taxi fare or where your driver may be getting kickbacks for taking you there. Be insistent on going to your intended destination and check directly with them about possible closures instead of relying on the hearsay of others.
Pro tip: You may also want to call or check online to verify days or hours of operation before you even leave your hotel.
The accidental spill
A cafe is a wonderful place to sit and eat, but it's also a good spot for a classic scam. The "accidental" spill may really be from a thief looking to pickpocket as you help clean. Make sure a little spill or bump at a restaurant doesn't divert your attention from your belongings.
Is this your ring?
You're walking along the road when a "kind" stranger runs up to you with a ring and asks, "Is this yours?" Don't be fooled. It probably isn't. This is likely a scam artist seeing you as a target to pickpocket while you're distracted. It's better to answer a short "No" to their question and keep walking.
Pro tip: Leave your expensive jewelry at home. If you still want to wear a watch or ring on vacation, buy an inexpensive piece to wear before you go.
Breach of Wi-Fi security
Beware of local Wi-Fi hotspots in restaurants, airports, and hotels that are not secure — even in the U.S. — as they can open the door for hackers to steal your information. Instead, do some research before you go on vacation for VPN apps for your phone. These virtual private network programs may give you additional security to protect your information when you sign on to a Wi-Fi spot.
Pro tip: VPN stands for virtual private network, and it can be used to create a secure and encrypted connection between your devices and a Wi-Fi network. So even if you are in a place that may not have secure Wi-Fi, you can still work to protect your data and other sensitive information, such as passwords or credit card and banking details.
Can you sign this?
Someone approaches you with a clipboard and starts asking you to read it. Perhaps it's a petition they would like you to sign or they want you to fill out a tourist survey. What they may be trying to do is have you stop long enough for them to distract you while they heist your belongings. It's wise to turn down their request to stop, and keep heading to your destination.
Trust me, I'm a cop
A person in an official-looking uniform approaches you and wants to see your passport or ask you a few questions about something. You should never stop and pull out your passport for just anyone. This person, however, identified themselves as a police officer and they're dressed as one, so they must be legit, right? That's not necessarily true. To protect yourself in this case, ask if you can call local authorities to verify the person's identity or walk with them to the nearest police station before complying with any requests that may sound suspicious.
Want a bracelet?
As you're walking down the street, someone grabs your wrist, puts a string around it, and then starts braiding a lovely bracelet. This is another classic scam. When they're done with their work, they'll insist on payment and may get aggressive if you don't produce it. If someone tries to do this to you, pull your hand away before they can put anything on, and don't let anyone touch your body for any reason.
Have a drink
There have been reported incidents of tourists being approached by friendly locals who direct them to a restaurant or store, and then offer them heavily discounted food and drinks. But be aware that this could be a ploy by unscrupulous people to catch tourists off guard for an easy scam. You may want to stick to places you choose or are recommended to you by a trusted source like a tour guide or hotel concierge. Keep your guard up and question the authenticity of someone's offer.
Let me help you with your cash
Speaking of friendly locals, there may be one standing near you at the ATM offering to help you understand the language on the screen or trying to guide you on how to avoid the transaction fee. You likely wouldn't feel comfortable with someone standing next to you at your ATM when you're home, and you shouldn't be comfortable with it in anywhere. Cancel your transaction and walk away.
Pro tip: Instead of using cash, consider using a travel credit card that doesn't charge foreign transaction fees.
Bottom line
Knowing about potential scams can help to empower you, reducing your chances of becoming a victim. Being a little more attentive to your surroundings and your belongings is key. It is a good idea to research as many international travel tips as you can prior to leaving for vacation and stay alert while in any big city, even if you call one home.
Easy-to-Earn Unlimited Rewards
Earn 25,000 online bonus points after you make at least $1,000 in purchases in the first 90 days of account opening - that can be a $250 statement credit toward travel purchases
Earn 1.5 points per $1 spent on all purchases
Longer intro APR on qualifying purchases and balance transfers
No foreign transaction fees
Earn unlimited 1.5 points per $1 spent on all purchases, with no annual fee and no foreign transaction fees and your points don't expire.
25,000 online bonus points after you make at least $1,000 in purchases in the first 90 days of account opening - that can be a $250 statement credit toward travel purchases.
Use your card to book your trip how and where you want - you're not limited to specific websites with blackout dates or restrictions.
Redeem points for a statement credit to pay for travel or dining purchases, such as flights, hotel stays, car and vacation rentals, baggage fees, and also at restaurants including takeout.
0% Introductory APR for 18 billing cycles for purchases, and for any balance transfers made in the first 60 days. After the intro APR offer ends, 17.99% - 27.99% Variable APR will apply. A 3% fee applies to all balance transfers.
If you're a Preferred Rewards member, you can earn 25%-75% more points on every purchase. That means instead of earning an unlimited 1.5 points for every $1, you could earn 1.87-2.62 points for every $1 you spend on purchases.
Contactless Cards - The security of a chip card, with the convenience of a tap.
This online only offer may not be available if you leave this page or if you visit a Bank of America financial center. You can take advantage of this offer when you apply now.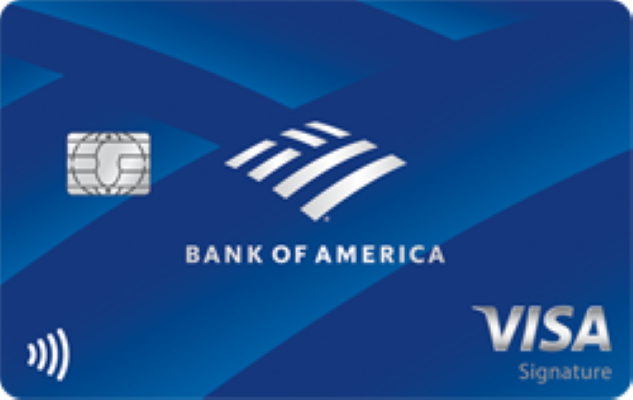 Apply Now
on Bank of America's secure website
Read Card Review
Intro Offer
Earn 25,000 online bonus points after you make at least $1,000 in purchases in the first 90 days of account opening - that can be a $250 statement credit toward travel purchases