Finding all you need to stock up your pantry this summer shouldn't be a huge undertaking. Thankfully, Trader Joe's has plenty of snacks, easy dinners, and more to fill your cupboard.
And with this popular store's affordable prices, you just may find new must-haves for the season while you save on groceries.
Editor's note: Prices are subject to change and may also vary by location.
Get a protection plan on all your appliances
Did you know if your air conditioner stops working, your homeowner's insurance won't cover it? Same with plumbing, electrical issues, appliances, and more. Not being able to make repairs could leave you in a bad situation — but a home warranty could protect you against surprise expenses.
Whether you're a brand-new homeowner or you've owned your home for years, a plan from Choice Home Warranty could pick up the slack where homeowner's insurance falls short.
If a covered system in your home breaks down, you can call their hotline 24/7 for assistance to get it repaired. They have a network of over 15,000 technicians that can assist you, making sure any issue can be taken care of swiftly — without breaking the bank.
Not sure if it's for you? Rest easy: they were named one of the "Best Home Warranty Companies" by US News 360 Reviews and were awarded Best Company's 2020 Consumer's Choice Award. For a limited time, you can get your first month free when you sign up for a Single Payment home warranty plan.
Ube Mochi Pancake and Waffle Mix
Price: $3.99
Add a little color to your breakfast with this ube pancake and waffle mix.

This pantry staple now has a fun twist with the flavor of ube. Add fresh fruit or chocolate chips to create bright and delicious pancakes and waffles for the family.
Everything But The Bagel Nut Duo
Price: $3.99
If you like Trader Joe's Everything But The Bagel line, you may want to try these.
These almonds and cashews are covered in the classic seasoning. You can grab a few bags for your summer road trip or camping excursion.
Almond Flour Chocolate Chip Cookie Baking Mix
Price: $4.99
Here's a baking mix that's gluten-free and vegan, so you can make chocolate chip cookies for parties and bake sales everyone can enjoy
You can also make homemade ice cream sandwiches with these and your favorite Trader Joe's pints.
Stop overpaying when you shop online
Shopping online has its perks. It's super convenient, but it can be time consuming to find the best deals. Instead of hunting for coupon codes (that don't always work!) and opening tons of browser tabs comparing prices, you can try Capital One Shopping.
Capital One Shopping makes saving money effortless. Just add the browser extension and when you check out, it'll scour the internet for coupon codes to help you save cash. And before you check out at 25+ major retailers, Capital One Shopping will notify you with a friendly pop-up if the item you're buying is available cheaper somewhere else.
Capital One Shopping is free to use and won't show you ads. Add it today and stop overpaying!1
Dark Chocolate Drizzled Plantain Chips
Price: $2.99
These bite-sized treats come at an affordable price.
Trader Joe's has drizzled their plantain chips in rich dark chocolate for a new spin. You may want to stock your pantry with this crunchy snack.
Strawberry Yogurt O's
Price: $3.79
This cereal adds a variety of strawberry flavors in each bite.
You get dried strawberries and a strawberry yogurt coating in your morning meal. And if you really want to elevate the strawberry flavor, try it with strawberry milk.
A Dozen Cousins Mexican Cowboy Pinto Beans
Price: $2.49
Need a quick and easy side for your taco night?

These spicy pinto beans have a nice kick for any fiesta. All you have to do is microwave for a minute, and they're ready to eat.
Korean Gochujang Sauce
Price: $3.49
Speaking of spice, make sure your pantry has this spicy sauce.
This affordable Gochujang is made in South Korea with flavorful and fiery ingredients. And this is one low price you may have trouble finding elsewhere.
Pranzo Gnocchi
Price: $1.99
Looking for an easy summertime supper?
This gnocchi cooks faster than most kinds of pasta. Pair it with your favorite marinara or Alfredo sauce for a quick dinner packed with a delicious taste.
Smoked Ghost Chilies
Price: $4.99
Here's one seasoning that may put the summer sun to shame!

This hot ingredient adds spice to any recipe or meal. Just use the grinder to inject your food with these smoked ghost chilies and have a glass of milk on standby.
Earn 2% cash rewards at grocery stores and Costco
The Wells Fargo Active Cash® Card(Rates and fees) is a powerful rewards card that allows you to earn unlimited 2% cash rewards on purchases — including on groceries, even at warehouse stores like Costco.

New cardholders can also earn a one-time cash rewards bonus — $200 cash rewards bonus after spending $500 in purchases in the first 3 months!
If you're looking for a powerful rewards card that offers an extended intro APR period, look no further, the Wells Fargo Active Cash® Card checks that box too!
This card also offers an intro APR of 0% for 15 months from account opening on purchases and qualifying balance transfers (then 20.24%, 25.24%, or 29.99% variable). Which is great for someone who wants a break from high interest rates, while still earning rewards.
The best part? There's no annual fee.
Click here to apply for the Wells Fargo Active Cash® Card now.
Sipping Chocolate Cocoa Mix
Price: $5.99
Hot chocolate isn't just for the fall and winter months.
This sipping chocolate mix is European-inspired and has a rich taste. Add a few teaspoons to your favorite milk or dairy-free beverage for a comforting cup.
Way More Chocolate Chips Cookies
Price: $4.99
Can't get enough chocolate chips in your cookies? Then these Trader Joe's snacks may just do the trick!
You can get a ton of chocolate-packed cookies at a bargain price.
Chile Spiced Dried Pineapple Rings
Price: $3.99
If you're looking for a sweet and spicy snack, you may want to grab a bag of these on your next trip to Trader Joe's.
These dried pineapple rings are covered in a chile spice for a unique, tropical flavor. You can even try a slice in your favorite cocktail or mixed drink for a bold taste.
Unsweetened Instant Oatmeal
Price: $3.79
Start your busy summer day off right with a hearty breakfast.
This unsweetened oatmeal is ready within minutes whether you're on the go or looking for something easy. Plus, you can add in your favorite toppings like honey, fruit, or brown sugar.
Coconut Flavored Almonds
Price: $3.99
This pantry snack might just be your new favorite Almond Joy alternative.
These almonds are dipped in a coconut layer for a tasty treat that can be taken anywhere. Eat these on their own, or add them to your ice cream sundae for a sweet and salty crunch.
Organic Mini Peanut Butter Sandwich Crackers
Price: $3.29
This on-the-go snack is an excellent choice for midday pick-me-ups.
Pack a few of these peanut butter crackers for your office or car, or just keep them in your pantry for quick snacking. Their bite-size also makes them great for kids.
Medium Roast Whole Bean Arabica Coffee
Price: $4.99
Here's a whole-bean coffee in a classic Trader Joe's package.
This medium roast is organically grown and provides rich, bold flavors for your morning cup. If you're feeling adventurous, you can even try this with the maple agave syrup mentioned below.
Organic Maple Agave Syrup Blend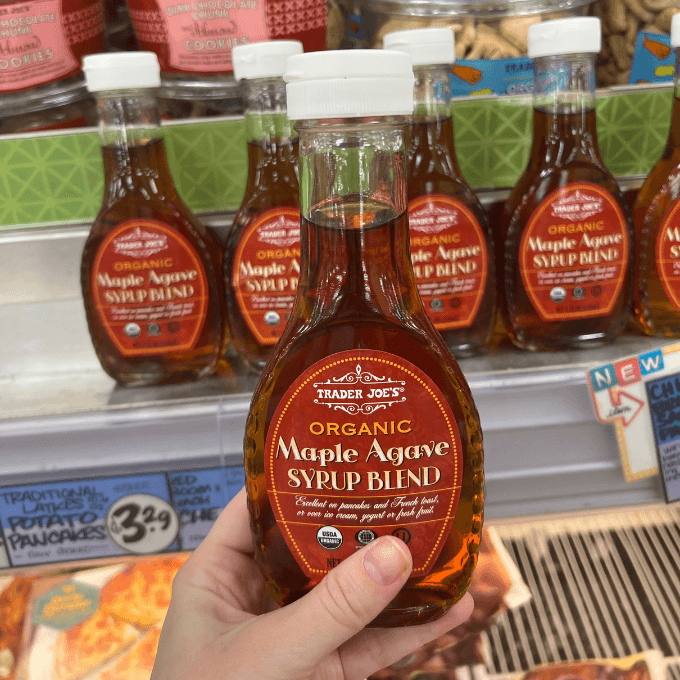 Price: $3.49
Trader Joe's has elevated their maple syrup with a bit of agave.
This sweet syrup is perfect for pancakes, ice creams, and other treats that could use smoother flavor. Try this blend before the summer ends!
Strawberry Basil Vinaigrette
Price: $3.99
Strawberry seems to be the summer fruit at Trader Joe's.

This vinaigrette uses strawberry and basil to tame the tanginess. Pour this over your grilled meats, salads, and more for a burst of exciting flavor.
BBQ Rub and Seasoning with Coffee and Garlic
Price: $2.29
Planning your summer barbecue just got a whole lot easier.
With this rub and seasoning, you can add it to any grilled meat and side for a robust barbecue taste. And at this low price, you may want to snag a few of these before they sell out!
Pro tip: Consider making your purchases with a credit card that enables you to earn cash back in order to make your money go even further. 
Bottom line
Trader Joe's has a wide range of pantry items to choose from, but they often only have seasonal items in stock for a limited time.
It's worth stopping by your local store to see what's new and filling your food cupboard with all you need for a more relaxing summer.
And you can always count on them to have low prices and one-of-a-kind products to help you beat the rising cost of groceries.
Lucrative, Flat-Rate Cash Rewards
Current Offer
$200 cash rewards bonus after spending $500 in purchases in the first 3 months
Rewards Rate
Earn 2% cash rewards on purchases