In a recent Transamerica survey, 62% of Americans said they planned to travel once they'd retired, which makes travel the most common retirement dream in the country. 
But even though retirees spend an average of $11,000 a year on travel, millions of retired Americans net under $26,000 annually. 
For many retirees, the dream of traveling during retirement remains just a dream — even if they find ways to supplement their Social Security.
If you want to travel, then you'd be smart not to put it off until retirement. Below, we explore 10 reasons to travel now, not later.
You don't know how long you'll be in good health
No one likes to think about their own mortality, but the harsh reality of reaching retirement age is that you just don't know how long your good health will last. 
According to one British study, the average man enjoys six decades of good health followed by 16 years of poor health. The average woman, meanwhile, experiences up to 19 years of poor health.
So, even though the average American lives around 76 years, you shouldn't count on feeling healthy enough to travel during all or even most of those years.
Your mobility typically declines as you get older
Hoping to hike the Appalachian Trail or see the entire Jurassic Coast? Worsening balance and the loss of strength are natural consequences of aging, so you might want to get out and complete the hike of your dreams while you know you still can. 
And while you might plan to find ways to make extra money after you retire, doing so might be harder than you think once your mobility starts to decline.
Plus, staying fit while you're younger increases your chances of remaining healthy, mobile, and active later in life. When you think of it in those terms, taking that vacation now can be an investment in your post-retirement quality of life.
You'll have other major expenses besides travel
At $11,000 a year, travel expenses are no joke. But they're far from the biggest expense on a retiree's radar. 
For instance, even if you and your partner start your retirement while relatively healthy, you should plan to have upward of $315,000 in savings dedicated solely to health care. 
Plus, if you retire early, you'll probably have to pay for health care out of pocket before you're old enough to qualify for Medicare. Costs that high can make budgeting for travel harder.
You may run out of money
Financial advisors typically recommend that you plan to live on 80% of your current salary during each year of your retirement. 
However, few Americans have saved that much when they leave the workforce. In addition, the amount of money you need depends in no small part on how long you live and how good your health is.
Maybe you'll end up living just a few years after your retirement. On the flip side, you could live well beyond the lifespan of an average American. If you live until you're 96 but only planned for 15 years of retirement, you'll almost certainly run out of money. 
And sure, you can always use a travel credit card to vacation if your finances run low, but paying off debt is hard enough when you aren't on a fixed income.
Travel may cost more later
As we saw this year, costs can spike unexpectedly and stubbornly refuse to go down, no matter how high the Fed raises interest rates. 
Thanks to inflation, your dollar went much further in 2019 than it did in 2022, and travel is exponentially higher this year than it was in the past. 
Hopefully, we won't experience another 40-year inflation high for a few more decades after current prices drop, but lower inflation isn't exactly something you can count on.
Another worldwide pandemic could pause travel
A handful of people probably saw the 2020 pandemic coming. But the rest of us had no idea a global pandemic caused by a new virus was even a possibility, much less something that could shut down the travel industry for the better part of a year.
Unfortunately, the chances of another pandemic locking us all down out of the blue aren't zero. Far from it, in fact: In our globalized world, the risk of a pandemic goes up year after year. 
The quick response to COVID-19, including the rapid vaccine rollout, hopefully, shows that humans can handle another pandemic. 
Nevertheless, every year counts when you're retired, and losing a year or two of travel time to an unexpected, catastrophic world event can halt your retirement travel plans indefinitely.
Cost of living could keep going up
While inflation doesn't usually send the cost of living into the stratosphere like it did this year, the cost of living usually does go up year over year. 
That's why the Social Security Administration assesses its payments each year and adjusts them as needed based on the current cost of living. 
If costs keep trending upward, even gradually, a vacation you can afford now could be out of reach a decade down the road.
Working without breaks leads to burnout
Everyone needs a break from work. You deserve time to focus on your non-work relationships, take care of yourself, and enjoy life. And if you love to travel, then traveling can give you a much-needed rejuvenating break from work long before you retire.
Sure, it could be just fine to save your month-long, multi-generational cruise until retirement. 
But denying yourself the occasional weekend trip or even a week-long vacation once every six months won't hurt your chances of going on a series of amazing trips once you retire. 
Instead, it might just mean you burn out faster, which is bad for your mental health, physical health, and work reputation.
Traveling is for more than rest and relaxation
Lounging by a poolside is enjoyable no matter your age, but leisure isn't the only reason people travel. 
Engaging with new cultures, meeting new people, and getting outside your comfort zone can enrich your life now and in the future. 
Putting off traveling until after you retire means depriving yourself of the value traveling can add to your life long before you leave the workforce.
Family vacations can be harder to plan with adult children
Planning a family vacation with your kids is much easier when you all live under the same roof. Once your kids become adults, it can be much harder to find a vacation time that works with everyone's work schedules. 
Plus, planning to vacation with your kids only after you retire means you won't have the experience of traveling with them while they're young, making formative memories that can last them a lifetime.
Bottom line
Planning for retirement is always a good idea, both in terms of finances and your future goals. But while you save for retirement and fantasize about your dream getaways, don't forget to live in the now. 
Traveling before retirement can be extremely rewarding. Especially if you use one of the top travel credit cards that offer points and cash back.
Since you never know what the future holds, it's worth visiting your top travel destinations now, not later.
Easy-to-Earn Unlimited Rewards
Earn 25,000 online bonus points after you make at least $1,000 in purchases in the first 90 days of account opening - that can be a $250 statement credit toward travel purchases
Earn 1.5 points per $1 spent on all purchases
Longer intro APR on qualifying purchases and balance transfers
No foreign transaction fees
Earn unlimited 1.5 points per $1 spent on all purchases, with no annual fee and no foreign transaction fees and your points don't expire.
25,000 online bonus points after you make at least $1,000 in purchases in the first 90 days of account opening - that can be a $250 statement credit toward travel purchases.
Use your card to book your trip how and where you want - you're not limited to specific websites with blackout dates or restrictions.
Redeem points for a statement credit to pay for travel or dining purchases, such as flights, hotel stays, car and vacation rentals, baggage fees, and also at restaurants including takeout.
0% Introductory APR for 18 billing cycles for purchases, and for any balance transfers made in the first 60 days. After the intro APR offer ends, 17.99% - 27.99% Variable APR will apply. A 3% fee applies to all balance transfers.
If you're a Preferred Rewards member, you can earn 25%-75% more points on every purchase. That means instead of earning an unlimited 1.5 points for every $1, you could earn 1.87-2.62 points for every $1 you spend on purchases.
Contactless Cards - The security of a chip card, with the convenience of a tap.
This online only offer may not be available if you leave this page or if you visit a Bank of America financial center. You can take advantage of this offer when you apply now.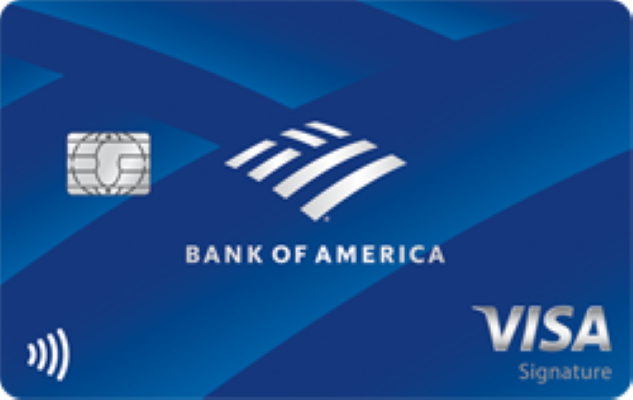 Apply Now
on Bank of America's secure website
Read Card Review
Intro Offer
Earn 25,000 online bonus points after you make at least $1,000 in purchases in the first 90 days of account opening - that can be a $250 statement credit toward travel purchases