History is the story of humanity and its tales of triumphs, failures, and everything in between. As a history buff, you obviously have a deep appreciation for the past and how it shapes the world we live in today.
What better way to indulge in your passion than by traveling to the places where history comes alive? Especially if you can travel nearly for free.
Whether you're fascinated by ancient civilizations, breathtaking architecture, or unsolved historical mysteries, there are countless international destinations that offer a glimpse into the past.
Here are the 15 best places to visit for history buffs that won't break the bank.
Kyoto, Japan
The rich history of Kyoto, the former imperial capital of Japan, is evident in its stunning temples, shrines, and gardens.
One example is the Kiyomizu-Dera Temple, a UNESCO World Heritage Site that dates back to 778 BCE and offers a breathtaking view of the city.
The Fushimi Inari-Taisha Shrine, famous for its thousands of torii gates, is another highlight.
Angkor, Cambodia
Angkor, Cambodia was the center of the Khmer Empire and is home to temples, palaces, and other impressive structures dating back to the 9th century.
The iconic Angkor Wat, the world's largest religious monument, is a sight to behold, as are the Bayon Temple's 200 smiling faces.
You can save both money and headaches by renting a tuk-tuk for about $25 per day. They can zip you around fast and drivers know the sites well.
Shaanxi, China
Shaanxi province in China has a plethora of temples, pagodas, and cultural landmarks. It was once the home to China's emperors, too.
The Terracotta Army in Xi'an – a collection of thousands of life-sized sculptures created over 2,000 years ago – is just one highlight.
If you want to save some cash, there are some great hostels that cater to tourists but won't break the bank.
Agra, India
Agra, India is, of course, home to the magnificent Taj Mahal, one of the Seven Wonders of the World.
The city also has several other UNESCO World Heritage sites you should check out, including the Agra Fort and Fatehpur Sikri, which showcase the grandeur and opulence of the Mughal era.
It may not be cheap to get to India by plane, but Ubers are inexpensive when you're on the ground. Accommodations in Agra can be found at an affordable price as well.
Petra, Jordan
Few experiences compare to the feeling of walking through the siq and emerging to see the splendor of the treasury towering before you.
That's just one of the carved red structures that await you in Petra, a Nabatean hub from the 4th century BCE through the early common era.
While getting to Petra isn't cheap, the village of Wadi Musa has many affordable shops, hotels, and cafes for your hospitality.
Jerusalem, Israel
While religious texts aren't by definition historical, the ancient traditions of Jerusalem are undeniable, from the city walls to the famed religious holy sites. Each quarter has a different flavor, brought to life by residents, pilgrims, and tourists.
Let's face it, travel and accommodations here aren't cheap, so a great strategy is to utilize rewards from a top credit card.
Cairo and Luxor, Egypt
Arguably home to the most important historical sites in the world, Egypt is an absolute must-do for history buffs.
There are the Great Pyramids of Giza, the Valleys of the Kings and Queens, and King Tut's tomb.
Pro-tip: Food from street vendors is both super cheap and delicious in Egypt. Also, buy a Cairo Pass and a Luxor Pass to see all of the major archeological wonders for less.
Istanbul, Turkey
East meets West in Istanbul, which was the capital of the Roman, Byzantine, and Ottoman Empires, so cultural diffusion has been happening here for centuries.
You can explore iconic Islamic landmarks such as the Hagia Sophia and the Blue Mosque, as well as visit the famed Grand Bazaar.
The best news? Traveling in Istanbul is cheap compared to Western destinations like Europe, especially if you're a savvy traveler.
Athens, Greece
Everyone knows that Athens is home to some of the most important landmarks of Western civilization, such as the Acropolis, the Parthenon, and the Temple of Olympian Zeus.
There's no end to the wonders you'll find in the birthplace of Western democracy.
Athens may be a tourist hub, but there are plenty of good hotels that are super cheap. And the more you walk in this "open-air museum" of a city, the less you'll spend on wheels.
Rome, Italy
The Eternal City is home to some of the most famous landmarks in the world, such as the Colosseum, the Roman Forum, and the Pantheon.
You can also explore the Vatican Museums, home to priceless treasures from the Renaissance, including the Sistine Chapel. Even the cuisine here is infused with history.
Like Jerusalem, Rome isn't cheap, so use those points you squirreled away on your hotel rewards credit card to offset costs.
Budapest, Hungary
There are some incredibly historic sites in Budapest, including Buda Castle Hill, the Great Synagogue, and St. Stephen's Basilica, to name just a few.
World War II buffs can't miss the Hospital in the Rock, an underground bunker built in the tunnels underneath Castle Hill.
Budapest is in general fairly inexpensive for tourists, especially compared to travel in Western Europe. The city is also super walkable, saving you money on transportation.
Berlin, Germany
From the medieval architecture of Heidelberg Castle to the somber reminders of World War II at the Holocaust Memorial, Germany offers a glimpse into a complex and compelling past. You can also explore the legacy of the Reformation at the Lutherhaus in Wittenberg.
Berlin is one of the cheaper countries in Western Europe, but it does have its costs. So use public transportation and check out which sites are free to visit, like the Berlin Wall memorial.
Stonehenge, England
Built over 5,000 years ago, Stonehenge likely served as a place of spiritual and celestial rituals for centuries.
Walking among the towering stones, you can experience the awe-inspiring scale and imagine what life was like back then. Talk about a bucket list trip!
Admission into Stonehenge itself isn't expensive and the bus from London is reasonable. However, London itself is very expensive for both tourists and residents.
Machu Picchu, Peru
This 15th-century citadel, built by the ancient Inca high up in the Andes mountains, was once a thriving city.
Today, it is considered one of the world's most important archaeological sites and attracts history buffs from all over the world.
You can get to Machu Picchu on the cheap, though the more bells and whistles you add to your trek or train ride, the more expensive it will be. Cusco is a fairly affordable city, too.
Rapa Nui (Easter Island), Polynesia
The mysterious island is home to over 1,000 Moai statues, giant stone figures that have fascinated visitors for centuries.
These statues give us some insight into the Rapa Nui culture, which thrived on the island for hundreds of years. In addition to the Moai, the rugged landscape is dotted with petroglyphs and other archaeological sites.
Because Rapa Nui is so remote it is, quite simply, an expensive place to visit.
Bottom line
There are many destinations around the world that offer history buffs a chance to explore and experience the past.
While some destinations may require more expensive travel, accommodations, or attractions, there are always ways to save money, such as utilizing public transportation, taking advantage of travel rewards, or choosing inexpensive dining options.
By combining historical exploration with savvy spending, you can have a fulfilling trip that satisfies your passion for the past.
Easy-to-Earn Unlimited Rewards
Earn 25,000 online bonus points after you make at least $1,000 in purchases in the first 90 days of account opening - that can be a $250 statement credit toward travel purchases
Earn 1.5 points per $1 spent on all purchases
Longer intro APR on qualifying purchases and balance transfers
No foreign transaction fees
Earn unlimited 1.5 points per $1 spent on all purchases, with no annual fee and no foreign transaction fees and your points don't expire.
25,000 online bonus points after you make at least $1,000 in purchases in the first 90 days of account opening - that can be a $250 statement credit toward travel purchases.
Use your card to book your trip how and where you want - you're not limited to specific websites with blackout dates or restrictions.
Redeem points for a statement credit to pay for travel or dining purchases, such as flights, hotel stays, car and vacation rentals, baggage fees, and also at restaurants including takeout.
If you're a Preferred Rewards member, you can earn 25%-75% more points on every purchase. That means instead of earning an unlimited 1.5 points for every $1, you could earn 1.87-2.62 points for every $1 you spend on purchases.
Contactless Cards - The security of a chip card, with the convenience of a tap.
This online only offer may not be available if you leave this page or if you visit a Bank of America financial center. You can take advantage of this offer when you apply now.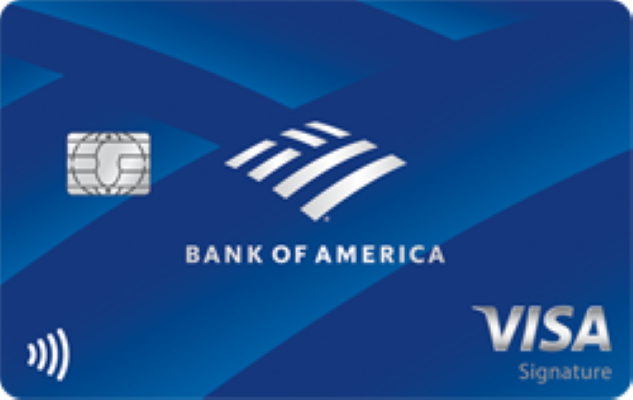 Apply Now
on Bank of America's secure website
Read Card Review
Intro Offer
Earn 25,000 online bonus points after you make at least $1,000 in purchases in the first 90 days of account opening - that can be a $250 statement credit toward travel purchases