The coronavirus pandemic has wreaked havoc on the global travel industry. Even if Americans wanted to travel abroad, there are only eight countries (as of September 2020) we can travel to without any restrictions — there are several more that allow tourists, but requirements such as a negative COVID test and/or quarantine may apply.
Even domestic travel has been difficult, with many travelers feeling uncomfortable flying, even with airlines providing several safety measures. According to the Transportation Security Administration, the number of people going through airport security between April and August 2020 was just 18% of the number from the same period a year ago.
In March, I had to make the tough decision to cancel a trip to Vienna, then I had to cancel five more trips I had planned throughout the year. And for the first couple months after I started self-isolating, I was resigned to the idea that I might not be able to travel until 2021 or even later. But since May, I've taken three summer road trips that have given me hope that, though I can't travel as I want, I can still find opportunities to explore the world close by.
How I've satisfied my wanderlust during COVID
I've never been a big fan of road trips. I don't mind a long flight because I can fire up my laptop, pay for Wi-Fi, and work while the plane makes its way to my destination.
But I have a hard time focusing on anything but the road when I'm in a car. Otherwise, I get car sick. But with no real alternatives that I feel comfortable with, I took my first short road trip in May, then two more in July and August. And I did it all without points and miles.
Southern Utah
I was born and raised near Salt Lake City, Utah, but my family didn't travel much when I was growing up. I vaguely remember visiting Bryce Canyon in southern Utah once when I was young, but that's it.
So in early May, a friend and I took a trip down to the area. At that time, national parks were still closed to the public, so we weren't allowed to enter Bryce Canyon. But much of the area, which includes one of the most scenic roads in America (Highway 12), was open.
The drive from where I live to Tropic, Utah, was just under four hours. My friend and I booked an entire house on Airbnb for about $300 for two nights, which is incredibly cheap compared with what we'd normally pay during the busy season — if we could even find a place to stay.
During the full day we were there, my friend and I hiked through a beautiful slot canyon — my first such experience — then enjoyed the sand pipe rock formations and desert landscape of Kodachrome Basin State Park.
Because of time constraints, the trip was relatively short. But getting out and exploring a new place for the first time in months was just what I needed.
Lake Tahoe
In July, my sister and I drove a little fewer than nine hours from the Salt Lake City area to Lake Tahoe on the California-Nevada border. There, we met up with my sister's boyfriend, who lives in the San Francisco Bay Area, along with a few of his friends.
We shared an Airbnb house, which cost a few hundred dollars per person, including food. There, we spent most of our time relaxing and enjoying the cooler weather — around 80 degrees versus the nearly 100 degrees we had in northern Utah at the time.
I also got the chance to sneak away and hike to a place called Castle Rock, which gave me a stunning view of the entire valley and lake.
On our last day in the area, we tried to visit one of the local beaches, but they were completely packed, and we didn't feel comfortable with it. But again, the mere fact that I was in a different place made the trip, including the long drive, worth it.
Island Park and Yellowstone
In August, I made a snap decision on a Sunday to book an Airbnb apartment in Island Park, Idaho, for three nights, starting the next day. The cost of the place was about $210 per night, which wasn't cheap. But compared to normal times, the price would've been much higher, and I likely wouldn't have found a place at such short notice.
From the Salt Lake City area, it was a four-and-a-half-hour drive, and I stopped in Idaho Falls on the way to visit a friend. The next day, that friend and I took a long hike in Harriman State Park and visited Mesa Falls, which stands more than 10 stories high.
On my second full day, I drove into Yellowstone National Park and visited as many landmarks as I could, including Mammoth Hot Springs, Norris Geyser Basin, Grand Prismatic Spring, and more. Because I have an America the Beautiful – The National Parks and Federal Recreational Lands pass, my entrance to the park was free.
The last time I visited Yellowstone was when I was very young, and I only remember seeing Old Faithful. So for most of the experience, it felt like it was my first time seeing the geothermal pools, incredible waterfalls, and beautiful valleys and mountains.
How to prepare for a road trip during COVID
Road tripping isn't my favorite way to travel, but it's given me some opportunities to scratch my travel itch during the pandemic.
But enjoying a successful road trip requires more than just hopping in a car and driving. Here are some ways I've managed to improve the experience:
Bring a variety of entertainment. Proper entertainment is a road trip essential. I like to listen to audiobooks when I drive, but when you're hearing the same voice for hours on end, it can get tiresome. To shake things up, I also downloaded a few different playlists on Spotify and some podcast episodes, so I could switch back and forth when I wanted something new. And if you have kids like I do, bring more entertainment than you think they'll need for the long drive. Remember, downloading is key because there are long stretches of highway in the U.S. on which you'll get little or no cell service.
Bring healthy snacks. You may be surprised, but sitting in a car for several hours can put a strain on your body. I'm always exhausted by the end of the day, and eating junk food usually makes it worse. So instead of junk, I like to bring healthy snacks, including fruit, vegetables, and beef jerky to enjoy on the road. In addition to healthy snacks, it's recommended to stop every two or three hours so you can get out of the car, work your muscles, and keep your blood circulating.
Communicate with travel buddies. If you're road tripping with other people, it's crucial that you communicate before and throughout the trip. Different people may have different tastes in music and varying ideas of how often to stop, what to eat, and more. You're going to be stuck in a car with your travel companions for several hours, and maintaining communication about each aspect of the trip is essential.
3 tips for staying safe while traveling
The nature of a road trip makes it relatively safe during the pandemic. To maximize safety on the road and at your destination, though, here are some tips:
Limit stops. If you bring enough water and snacks, you can restrict your stops to fuel stops, bathroom breaks, and the drive-thru window for meals — and you can even avoid that last one if you pack your meals in a cooler.
Bring cleaning supplies. Every Airbnb host I've worked with the past few months has taken extra steps to clean and disinfect the places I've stayed. But for additional safety, I've brought my own cleaning supplies and wiped down surfaces. Although the Centers for Disease Control now states that touching surfaces and objects isn't the main way the coronavirus is transmitted, it's still possible, so this process gives me some peace of mind.
Stick to outdoor activities. Just as you would at home, it's best to avoid crowds and indoor activities while you're traveling during the pandemic. For me, this meant missing out on the beach at Lake Tahoe, getting takeout pizza instead of dining in, and doing a lot of hiking.
The bottom line
Travel during the coronavirus pandemic is extremely limited, and it's been challenging for many, me included. But with the right safety measures, I've found an opportunity to still satisfy my wanderlust through road trips. It's not exactly what I had in mind when I planned my trips for 2020. But considering the insanity of this year, it's helped make the situation feel a little more normal.
And although I didn't use travel rewards for these road trips, I racked up a fair amount of points on my credit cards. If you're considering a road trip, take a look at some of the best travel credit cards to see whether you can use rewards to help pay for your accommodations and other travel-related expenses.
Easy-to-Earn Unlimited Rewards
Earn 25,000 online bonus points after you make at least $1,000 in purchases in the first 90 days of account opening - that can be a $250 statement credit toward travel purchases
Earn 1.5 points per $1 spent on all purchases
Longer intro APR on qualifying purchases and balance transfers
No foreign transaction fees
Earn unlimited 1.5 points per $1 spent on all purchases, with no annual fee and no foreign transaction fees and your points don't expire.
25,000 online bonus points after you make at least $1,000 in purchases in the first 90 days of account opening - that can be a $250 statement credit toward travel purchases.
Use your card to book your trip how and where you want - you're not limited to specific websites with blackout dates or restrictions.
Redeem points for a statement credit to pay for travel or dining purchases, such as flights, hotel stays, car and vacation rentals, baggage fees, and also at restaurants including takeout.
0% Introductory APR for 18 billing cycles for purchases, and for any balance transfers made in the first 60 days. After the intro APR offer ends, 17.99% - 27.99% Variable APR will apply. A 3% fee applies to all balance transfers.
If you're a Preferred Rewards member, you can earn 25%-75% more points on every purchase. That means instead of earning an unlimited 1.5 points for every $1, you could earn 1.87-2.62 points for every $1 you spend on purchases.
Contactless Cards - The security of a chip card, with the convenience of a tap.
This online only offer may not be available if you leave this page or if you visit a Bank of America financial center. You can take advantage of this offer when you apply now.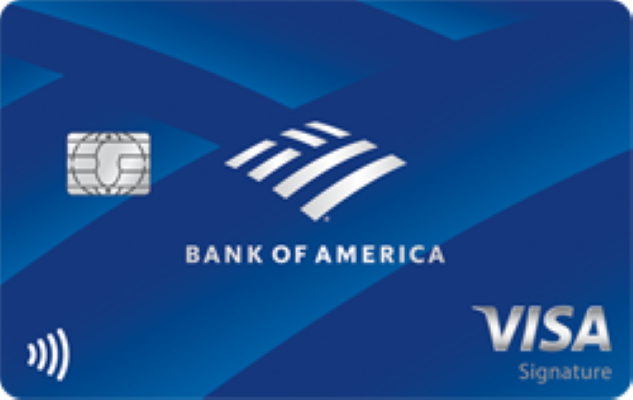 Apply Now
on Bank of America's secure website
Read Card Review
Intro Offer
Earn 25,000 online bonus points after you make at least $1,000 in purchases in the first 90 days of account opening - that can be a $250 statement credit toward travel purchases