If you're working from home and ready for a change of scenery, why not swap your permanent home for a temporary one? Airbnb has more than 5 million active listings worldwide, which means there's plenty to choose from, even if you're sticking to domestic travel.
Besides, everyone's doing it — or at least a lot of Americans are thinking about it.
According to a recent Airbnb survey, 83% of respondents were in favor of relocating if they were working remotely. So whether you chose or were forced by circumstances to earn money from your house, who's to say you have to stay in your actual house to work remotely?
Unique experiences await on Airbnb, including locations with amenities that remote workers need. All 16 Airbnbs below were selected because they provide Wi-Fi, which is a remote worker staple. In addition, each property has at least one area where you could reasonably set up a laptop and get some work done.
You'll also find features that make each Airbnb unique, so keep an eye out for stunning views, incredible architecture, and extra amenities to help make your stay more enjoyable.
ABODE³ at East Zion: Orderville, Utah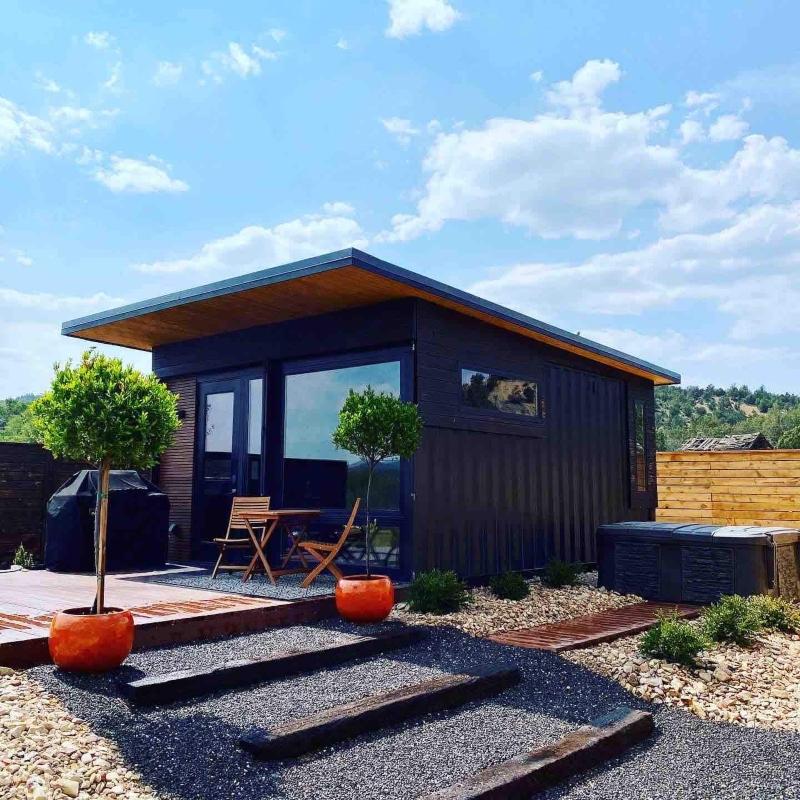 This tiny container home has everything you need to to work in peace in southern Utah. It's mere minutes from Zion National Park and includes a queen bed, washer and dryer, kitchen, and outdoor hot tub.
Set up your workstation right at the coffee table in the living area or move outside to the table on the deck. Hint: the outside setup may help you better enjoy the views of nearby alfalfa farms and the East Zion White Cliffs.
The Box Hop - Hocking Hills: Rockbridge, Ohio
The Hocking Hills area in southeastern Ohio is known for its many state parks and outdoor recreation, which makes it the perfect location for The Box Hop Airbnb. This amazing shipping container cabin is built on 18.5 acres of land and has room for up to six guests.
Prime workspaces include the dining room table, a spot next to the outdoor fire table, or nestled into the swinging chair. When you're ready for a break, relax in the hot tub or head off on a hike in the woods.
Joshua Tree Green Haus: Yucca Valley, California
The Joshua Tree Green Haus in Yucca Valley, California, provides an isolated getaway near Joshua Tree National Park. With room for up to six people, bring along the family or some close friends.
Choose from spaces to work inside or outside, including from the couch or at the kitchen island. The peaceful desert atmosphere should offer an ideal working environment, with plenty of amazing views all around. Plus, you can soak in the outdoor hot tub whenever you want.
MGM Jacuzzi Penthouse: Las Vegas, Nevada
Working remotely doesn't mean you have to leave the city. Instead, you could opt for a penthouse in the sky. This 38th-floor suite sits atop Tower 2 of the Signature at MGM Grand in Las Vegas, Nevada, and comfortably accommodates up to two guests.
Get to work from the dedicated workspace next to the full-length windows or set up shop at the couch and coffee table. Suite amenities include complimentary access to the fitness center and your own in-room jacuzzi.
Tree House ~ Whidbey Island: Freelance, Washington
This treehouse just north of Seattle, Washington, is an ideal option for getting away from the city or simply having a home away from home for a while. The space is surrounded by trees and many forms of wildlife live in the area.
Work inside or outside on the deck while staying here. Be sure to take your hosts up on their daily offered breakfast. If you want to explore, the beach is less than half a mile away and provides a prime sunset-viewing location.
The Warrington House: Santa Rosa, California
As the description says, "Think Joni Mitchell meets Willie Nelson meets Stevie Nicks." The Warrington House is a free-spirited northern California getaway located on 8 acres of private land in Santa Rosa. Up to eight guests can stay in the home if you include the detached "Hobbit House," so there's plenty of room for your family or other members of your pod.
Take your pick of workspaces among Warrington House's many wooden tables and sitting areas. If you can pull yourself away from the charm and character of your new home, you're a short drive from the ocean, Sonoma, and Napa.
Charming Lake Cottage: Wrentham, Massachusetts
This cozy cottage was built in 1905 and sits nearly halfway between Boston and Providence in Wrentham, Massachusetts. Lake Pearl sits at the end of the cottage's private road, and the public beach and boat launch are only a few minutes away.
The open floor plan is welcoming and you have plenty of space to find a spot to work, including the dedicated workspace or the deck right outside.
Wings Neck Lighthouse: Pocasset, Massachusetts
If you want to get more New England than a charming lake cottage, consider staying in a lighthouse next to the Atlantic Ocean. This property has a private beach for residents and amazing water views throughout the home.
If you work better with a nice view, you can't get much better than this. And you can bring the whole family, as there's room for up to eight guests.
Tiny House Paradise: Bradenton, Florida
For a unique escape from routine life, check out this tiny home experience in Bradenton, Florida. You get access to a pool, hot tub, and outdoor fire pit. In addition, you're close to everything you might need, whether it's groceries or a walk along the beach. The property can fit up to four guests, though it's likely more comfortable for two or three.
Tiny homes aren't known for having a lot of space, but there's still enough room to work from inside or outside. And with Wi-Fi speeds of around 300 megabits per second, there's no trouble connecting to the internet in paradise.
Beautiful Views Cabin: Gatlinburg, Tennessee
Cabins in the woods sound like great retreats because you get to unplug for a while and relax in the outdoors. However, unplugging isn't an option if you need to work. Fortunately, this cabin with views of the Great Smoky Mountains comes with Wi-Fi and isn't far from downtown Gatlinburg, Tennessee. You get all the joys of cabin living plus the convenience of modern technology.
Traveler's Rest: St. Stephens Church, Virginia
Ready for a historical and adventurous getaway? The Traveler's Rest property is a 23-acre farm that was a historic waypoint for travelers in the area, including one semi-famous individual, George Washington himself.
Now the renovated home provides an ideal location to enjoy the countryside in an idyllic setting. This includes canoeing, fishing, and paid horseback riding lessons. There's room to work inside, but the gorgeous scenery might end up pulling you outdoors, anyway.
Eco Tiny House: Lake Placid, New York
This two-bedroom home in upstate New York fits the bill for being unique, having an amazing location, and being eco-friendly. The wooden siding of the house fits perfectly into the wooded environment of the Adirondack Mountains, which you'll notice from the windows when working at the table inside.
Your stay will be influenced by eco-friendly elements, including natural cooling properties from the concrete floor instead of air conditioning, mattresses made from organic foam, and carpet tiles from an eco-friendly company.
Salvation Cabin: Wimberley, Texas
If you need to be saved from your typical environment, head to Salvation Cabin in Wimberley, Texas, between Austin and San Antonio. This cabin sits in Texas Hill Country, right next to the Blanco River, so you can get your fill of wildlife and the outdoors.
The porch and deck overlooking the area offer excellent areas to work outside, or you can find a cozy spot indoors. Nearby attractions include Blue Hole Regional Park and the Jacob's Well Natural Area.
Extraordinary Treehouse Escape: Dallas, Texas
Treehouses in cities are becoming more common, but that doesn't make them any less unique. This treehouse in Dallas, Texas, seemingly transports you to another part of the world, nowhere near the bustling streets of one of Texas' largest cities.
Instead, enjoy the sounds of a babbling brook among Japanese Maple trees as you walk along gravel footpaths. The inside of the Bauhaus- and rustic-themed home also provides an ideal location for working in comfort.
Modern Solar Home: Marfa, Texas
Off-grid, but not without electricity, this modern home south of Marfa, Texas, is isolated and powered by solar panels. You likely won't get any cell service, but the Wi-Fi works fine and you have access to a hard-line telephone if you need it.
Large, full-length glass panels make it easy to look out across vast desert wilderness as you're working. If you're lucky, you'll catch glimpses of local wildlife, including wild javelinas.
Spencer Mountain Solar Yurt: Whitefish, Montana
Yurts and Wi-Fi don't seem like they should mix, but in this case, they do. All the better if you're in the area of Whitefish, Montana, to mix some outdoor recreation with remote work. This solar-powered yurt sits on 5 acres of land and provides easy access to loads of hiking, biking, and horseback riding trails. In fact, you're nearly on the doorstep of Glacier National Park. So when you're done wrapping up spreadsheets, be sure to get outside and enjoy the area.
How to get a remote job
If you're wondering how to stay in fun and exciting places like these while working remotely, you're likely not the only one. Learning how to make money as a remote worker isn't typically something you stumble into. But with some time and research, you can find the best jobs.
Here are a few tips to consider when looking for a remote job:
Check the right websites. The best sites to find remote work may not be the normal job boards you're used to checking. Websites like FlexJobs, We Work Remotely, and Virtual Vocations provide specific work opportunities for remote workers.
Educate yourself. Once you've familiarized yourself with remote work job boards, see what kinds of jobs are common and available. You may need to get a certification or take specific courses to meet the requirements for your dream remote job.
Keep tabs on certain companies. Not every company has the same outlook on hiring remote workers, so it makes sense to see which companies offer the best remote work opportunities. You can review job listings on a company's careers page to check for remote work options. If there's a company you like, keep tabs on its listings and apply for a job when you're ready.
Start small and build up. Many people started working remotely after gaining experience in their field. If you want to get to that point, you may need to start adding to your resume with freelance opportunities or side hustles until you're able to qualify for a full-time remote position.
Bottom line
The remote workforce has grown with the global coronavirus pandemic, and people are ready to get out of their houses and travel. However, travel is more restricted than before and safety is a top concern. Fortunately, places like Airbnbs can provide a welcome escape for multiple reasons: you get to travel and you get to work out of your house.
If this sounds appealing to you, be sure to do your research on the types of remote jobs you'd be most interested in. And remember, remote work isn't a vacation. Planning a work-cation has its own difficulties that you have to overcome. But on the other hand, it's a lot of fun to have the flexibility to work from nearly anywhere.

Search Over 80,000 Care and Service-Related Jobs
Connect with paying families looking for care and service-related work. Available jobs include child care, tutoring, senior care, pet care, and housekeeping.
Sign up for Care.com now
Earn Great Pay Working From Home
Free 3-class intro teaches you how to launch a bookkeeping business
Access the training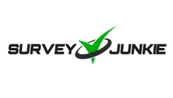 Earn Cash Taking Surveys
Join a community of 20M+ lifetime members who have been paid $76 million to date.
Sign up today